The 2017 TCM Calendar is ready to order for just $14.  Order yours today and read the truck camping adventure stories behind these remarkable photographs.  New bucket list entry; Monument Rocks in Kansas.

CLICK HERE TO ORDER THE 2017 TCM CALENDAR
Be sure to check Lulu for discounts before you order.

The quality and quantity of photographs entered in this year's calendar contest completely blew us away.  Not only did we hit a new record for the number of entries, but the level of photography on display was truly incredible.  Maybe the annual calendar contest is not only inspiring us all to go truck camping in new places, but also making us all better photographers.  It's certainly pushed our photography skills forward.
Speaking of photography, we have been admiring and showing off the printed 2017 Truck Camper Magazine Calendar proof at TCM HQ for a few days.  The full-color high-resolution images look stunning in print.  These are the kind of photographs that hang in a work cubicle and remind folks of why they're looking forward to retirement.  Of course they may also be the kind of images that make folks stand on their desks, yell "Take this job and shove it!", and buy a truck camper rig on their way home.  It's always an option.
Still Horizontal Line Free.
For 2017, we are again sticking with Lulu.com and their high quality, but horizontal line-less calendar.  We continue looking at other on demand calendar printers but find their prices and/or print quality aren't competitive with Lulu.
Lulu has coupons, so check their website before ordering.  Other printers are nearly twice the price, and don't have Lulu's proven track record.  As we do every year, we have ordered and checked a calendar proof in advance and are very impressed with the print quality of the 2017 TCM Calendar.  It's awesome.
Thank You For Entering!
Every year the calendar entries inspire a few more must-see places.  This year we added Monument Rocks in Kansas and Eleven Mile Reservoir in Guffey, Colorado to our truck camping bucket list.  Seeing fellow truck campers enjoying the scenery in these images is almost too much.  Now we have to go see and experience these places for ourselves.
Thank you to everyone who entered the 2017 TCM Calendar Contest.  Once again, you have inspired our truck camping community to explore new places, and visit old favorites again.  Thank you!
COVER: Russell and Gretchen Berquam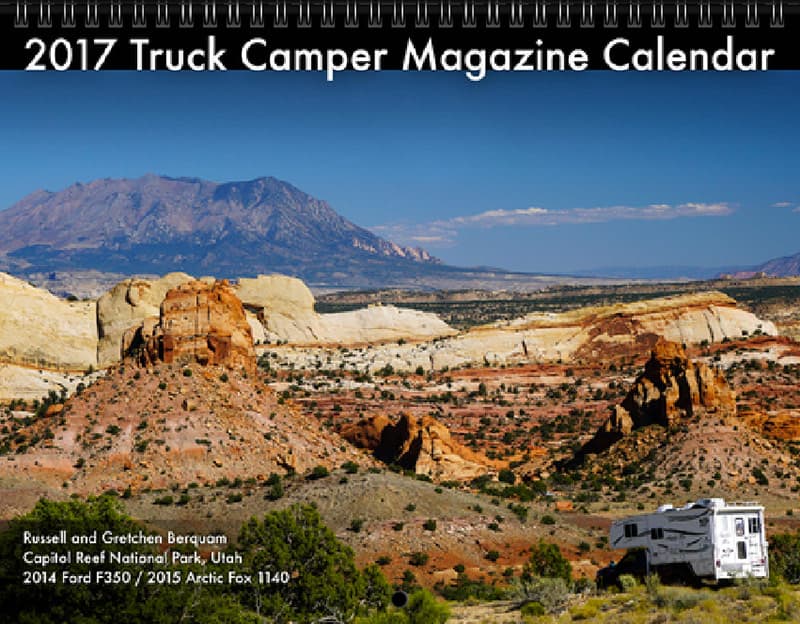 Photo Location: Capitol Reef National Park, Utah
Truck: 2014 Ford F350
Camper: 2015 Arctic Fox 1140
Our goal this summer was to visit a few of the must-see national parks still on our list. We also had to revisit Yellowstone National Park and Grand Teton National Park.
Afterwards we decided to head south towards Bryce National Park, Red Rock Canyon National Preservation Area, and Capitol Reef National Park.
Well, no one can go to south Utah and not drive along the Burr Trail.  The Burr Trail is sort of like a trip down the Colorado River, but on a road.  We were looking for fall colors but never quite managed that.
The colors of the Waterpocket Fold in Capitol Reef National Park are always breath taking.  As we were heading down the hill towards Capitol Reef, Gretchen said, "Stop, I see a picture".  So this is her picture of our travels down the Burr Trail.
We didn't make it all the way to Capitol Reef National Park on this road because it had washed out and was no longer passable.  We camped nearby on the Burr Trail and checked out a slot canyon.  The sheer vertical sandstone walls covered with Navajo varnish was also a great photo.  We did finally make it to Capitol Reef National Park and picked enough apples for a few pies.