The 2017 TCM Calendar is ready to order for just $14.  Order yours today and read the truck camping adventure stories behind these remarkable photographs.  New bucket list entry; Monument Rocks in Kansas.

CLICK HERE TO ORDER THE 2017 TCM CALENDAR
Be sure to check Lulu for discounts before you order.

The quality and quantity of photographs entered in this year's calendar contest completely blew us away.  Not only did we hit a new record for the number of entries, but the level of photography on display was truly incredible.  Maybe the annual calendar contest is not only inspiring us all to go truck camping in new places, but also making us all better photographers.  It's certainly pushed our photography skills forward.
Speaking of photography, we have been admiring and showing off the printed 2017 Truck Camper Magazine Calendar proof at TCM HQ for a few days.  The full-color high-resolution images look stunning in print.  These are the kind of photographs that hang in a work cubicle and remind folks of why they're looking forward to retirement.  Of course they may also be the kind of images that make folks stand on their desks, yell "Take this job and shove it!", and buy a truck camper rig on their way home.  It's always an option.
Still Horizontal Line Free.
For 2017, we are again sticking with Lulu.com and their high quality, but horizontal line-less calendar.  We continue looking at other on demand calendar printers but find their prices and/or print quality aren't competitive with Lulu.
Lulu has coupons, so check their website before ordering.  Other printers are nearly twice the price, and don't have Lulu's proven track record.  As we do every year, we have ordered and checked a calendar proof in advance and are very impressed with the print quality of the 2017 TCM Calendar.  It's awesome.
Thank You For Entering!
Every year the calendar entries inspire a few more must-see places.  This year we added Monument Rocks in Kansas and Eleven Mile Reservoir in Guffey, Colorado to our truck camping bucket list.  Seeing fellow truck campers enjoying the scenery in these images is almost too much.  Now we have to go see and experience these places for ourselves.
Thank you to everyone who entered the 2017 TCM Calendar Contest.  Once again, you have inspired our truck camping community to explore new places, and visit old favorites again.  Thank you!
COVER: Russell and Gretchen Berquam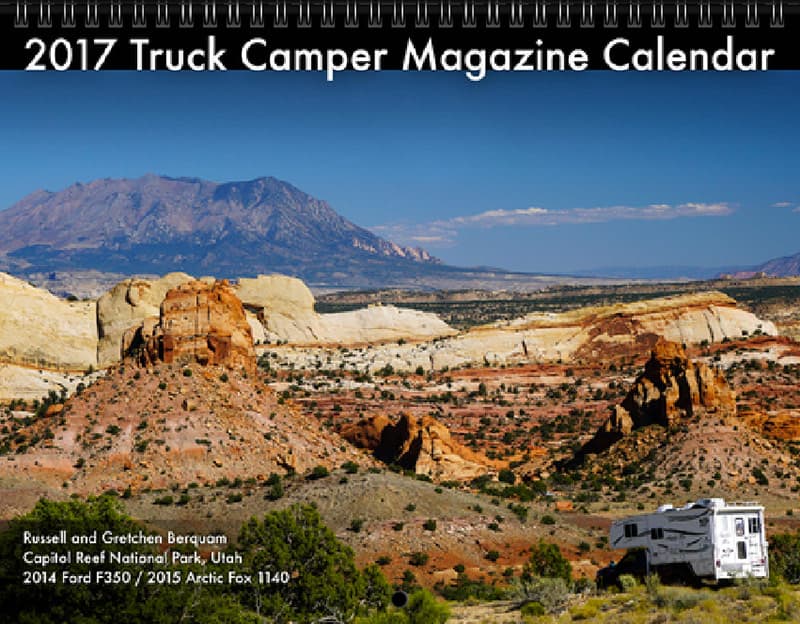 Photo Location: Capitol Reef National Park, Utah
Truck: 2014 Ford F350
Camper: 2015 Arctic Fox 1140
Our goal this summer was to visit a few of the must-see national parks still on our list. We also had to revisit Yellowstone National Park and Grand Teton National Park.
Afterwards we decided to head south towards Bryce National Park, Red Rock Canyon National Preservation Area, and Capitol Reef National Park.
Well, no one can go to south Utah and not drive along the Burr Trail.  The Burr Trail is sort of like a trip down the Colorado River, but on a road.  We were looking for fall colors but never quite managed that.
The colors of the Waterpocket Fold in Capitol Reef National Park are always breath taking.  As we were heading down the hill towards Capitol Reef, Gretchen said, "Stop, I see a picture".  So this is her picture of our travels down the Burr Trail.
We didn't make it all the way to Capitol Reef National Park on this road because it had washed out and was no longer passable.  We camped nearby on the Burr Trail and checked out a slot canyon.  The sheer vertical sandstone walls covered with Navajo varnish was also a great photo.  We did finally make it to Capitol Reef National Park and picked enough apples for a few pies.
JANUARY: Kim and Bruce Scott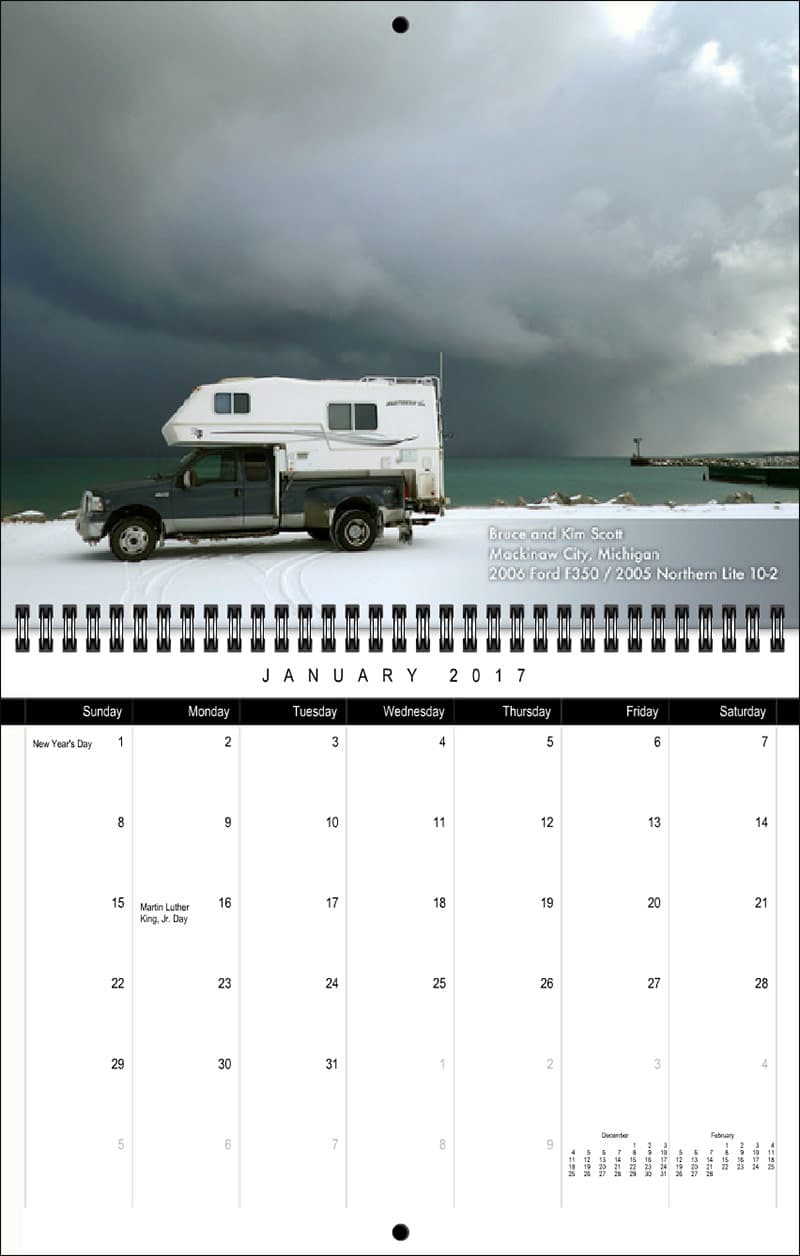 Photo Location: Mackinaw City, Michigan
Truck: 2006 Ford F350
Camper: 2005 Northern Lite 10-2CD
Since we both had the week off for Thanksgiving, we decided to take a trip to Michigan's Upper Peninsula to see as many waterfalls as possible and a few other sights while we were at it.
We stopped in Mackinaw City to see the infamous Wienerlicious Hot Dog.  We also wanted to see the bridge from different locations.  While we were there we saw this storm rolling in.
From there we went on to see freighters passing through the Soo Locks, many waterfalls, the Au Sable Lighthouse, the remains of a shipwreck on the beach, and tons of hiking in the woods and along the lake shore.
It was a great trip and our Northern Lite truck camper handled the 20 degree weather quite well.  We did have a vent pipe break from the bumpy trails we were on.  The F-350 also handled well other than some broken wheel studs.  We figure that the inconveniences are just the price of admission.
Where to next, Captain?
FEBRUARY: Peter Mason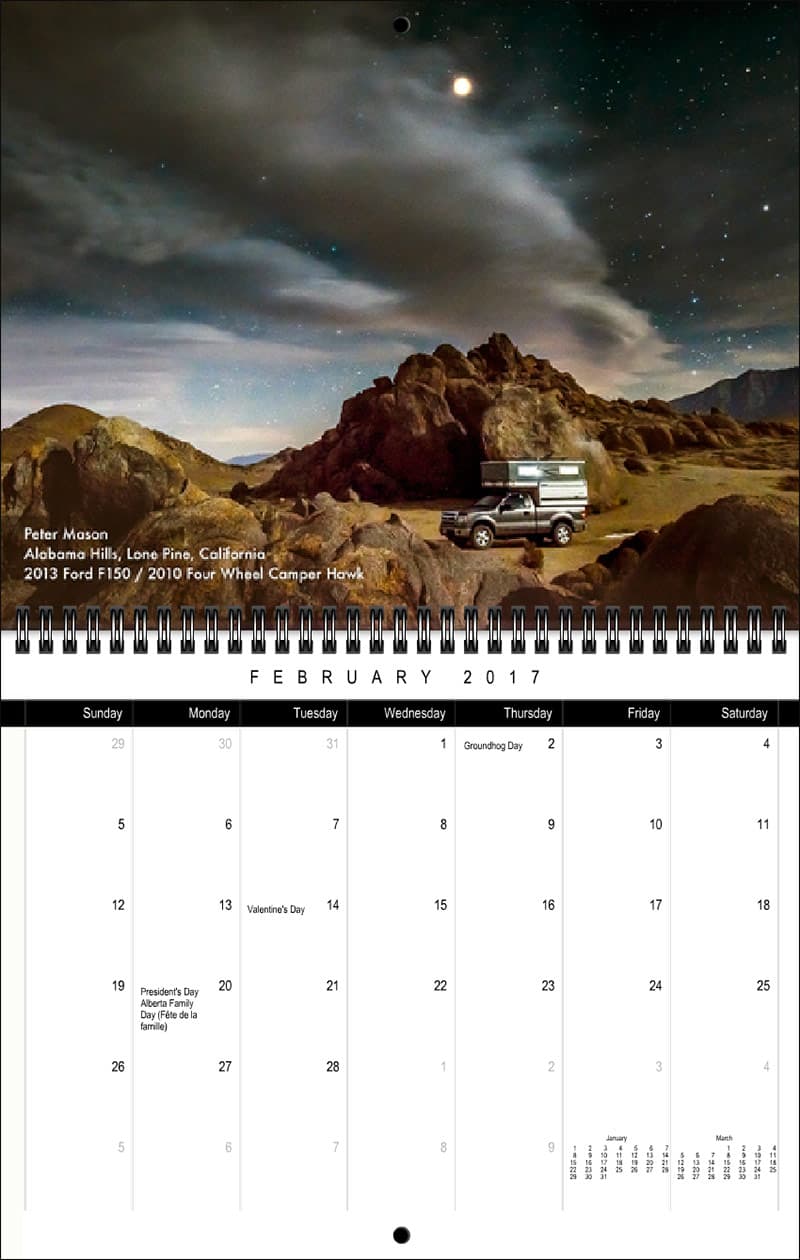 Photo Location: Alabama Hills, Lone Pine, California
Truck: 2013 Ford F150
Camper: 2010 Four Wheel Camper Hawk
This past June I was volunteering at the Museum of Western Film History in Lone Pine, California and spent several nights in the nearby Alabama Hills.  This is one of my favorite places to camp and to photograph.
As I arrived at this spot, it was already dark.  The moon was about to set behind the Sierra Nevada Mountain range to the West.  Jupiter and Mars were high above to the South. The high clouds first caught my eye and they were moving to the east.
I rushed to find this spot and make the first of several exposures.  Next, I experimented with lighting the inside of the camper, which was tricky since the light had to match the starlight outside.  This is a twenty second exposure.
MARCH: Dan Daddieco and Sheri Craig
Photo Location: K-Country Highway 40, Alberta, Canada
Truck: 2015 Ram 3500
Camper: 2015 Eagle Cap 1165
This shot was taken at a stop we made on Highway 40 in K-Country, Alberta, Canada also known as the Kananaskis Trail.  We were headed home from our two month Alaska journey.
On this day we had departed out of Banff, Alberta, heading for Waterton Lakes, Alberta.  After turning off the Trans-Canada Highway, we entered Kananaskis Country by heading South on Highway 40.
In Kananaskis Country, you enter another world.  This is a place where civilization, as you may know it, disappears.  Massive granite walls rise around you like the ramparts of a gigantic dream castle, the air is scented with pine, and the reception bars on your cell phone completely disappear.  We were once again completely off-the-grid and officially on our own.
This part of the route is paved, but serves as an introduction to what's ahead; big mountains and deep forests that are ruled by wildlife, not humans.  This section of roadway is only open from July to November allowing the wildlife to roam free, perform their natural callings, unencumbered by humans.
This shot was taken on what we considered one of the wildest and most scenic stretches of highway in Canada.  We will surely someday return.
APRIL: Steve McKay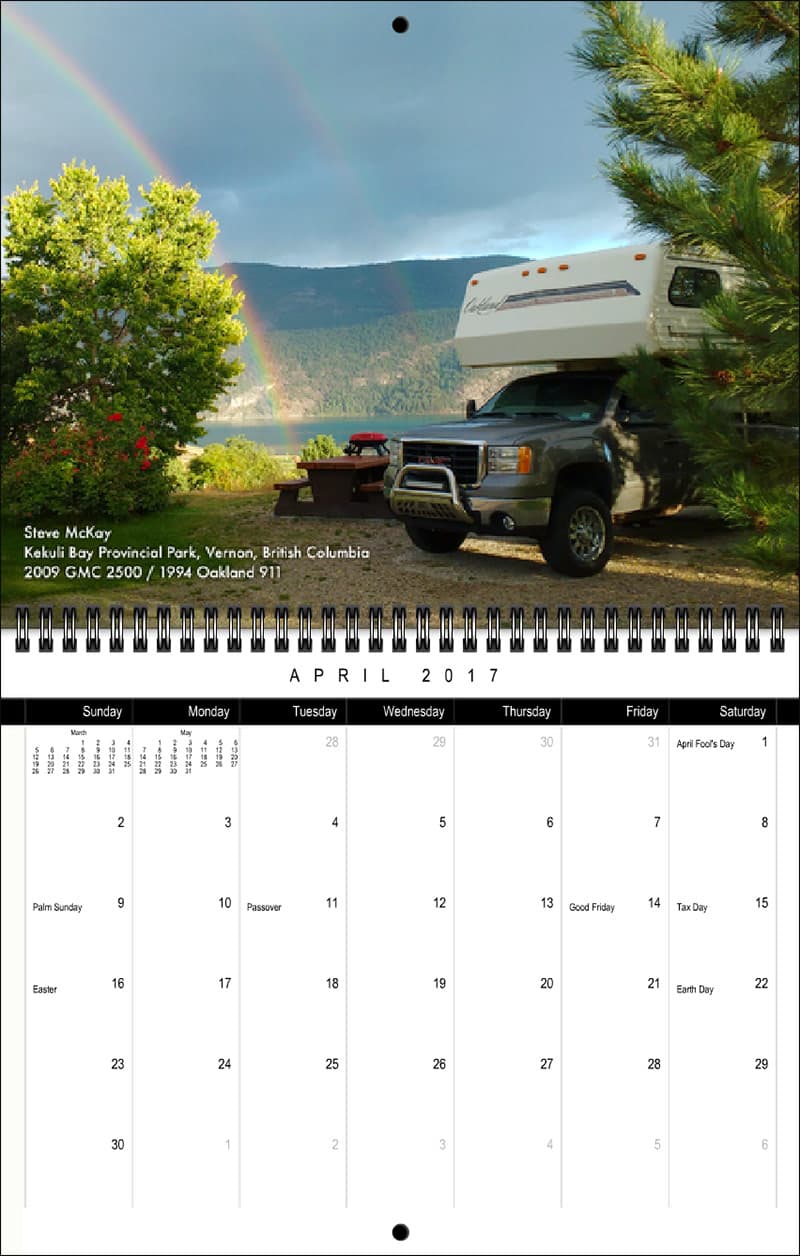 Photo Location: Kekuli Bay Provincial Park, Vernon, British Columbia
Truck: 2009 GMC Sierra 2500HD
Camper: 1994 Oakland 911
The photo was taken while returning from a road trip across British Columbia.  This is the after the storm scenario just in time for happy hour.  Tumultuous rain and hail moments before gave way to this scene.
MAY: Randy Ford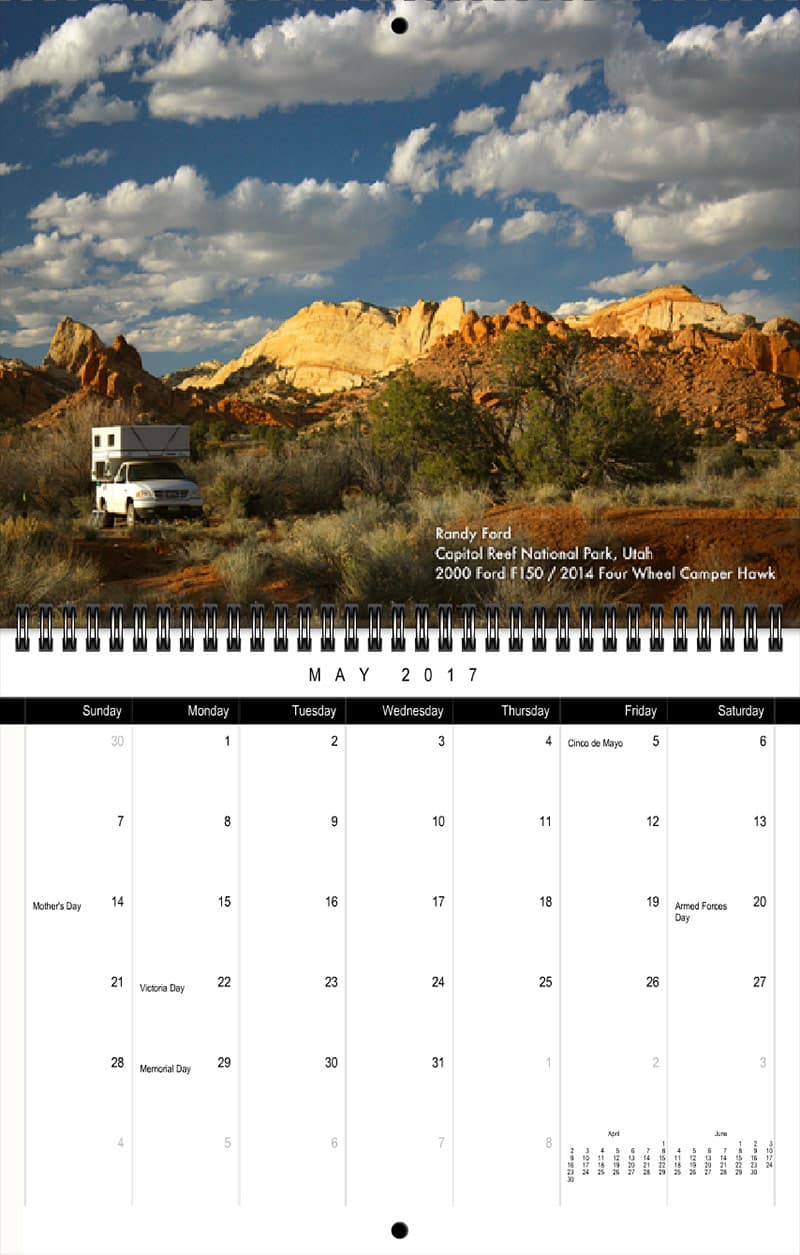 Photo Location: Just off the Burr Trail, in Capitol Reef National Park, Utah
Truck: 2000 Ford F150
Camper: 2014 Four Wheel Camper Hawk
This picture was taken some thirty-three miles from Boulder, Utah, just off The Burr Trail Road.  It's an asphalt road that used to be a cattle drive way and is now a favorite because of its passage through very beautiful Long Canyon.  It is also a jumping-off place that will take you into the far-be-gones.
It runs some 35 miles east from Highway 12 in Boulder to the Notom-Bullfrog Road.  Notom-Bullfrog Road takes you either to Capitol Reef National Park and Highway 24 some 45 miles north, or south, into one of the more sparsely populated areas in an area known for its sparse population, eventually coming to Bulfrog on Lake Powell.
Before it joins the Northampton Road, The Burr Trail Road literally goes over the cliff above Burr Canyon.  From there it uses the Burr Trail switchbacks to descend the almost sheer wall.
Half a mile west of the switchbacks, and just inside of the boundaries of Capitol Reef National Park, there is a two-track that goes south for a half mile to a corral and watering hole, and ends in a little pinion lined loop.
This picture was taken from that location looking north with Upper Muley Twist Canyon in the background.  It's mid to late afternoon in the middle of fall.  We were on our way home to Rifle, Colorado after hiking two slot canyons south of Escalante.  We stayed here two days while I took pictures.
JUNE: David Jolly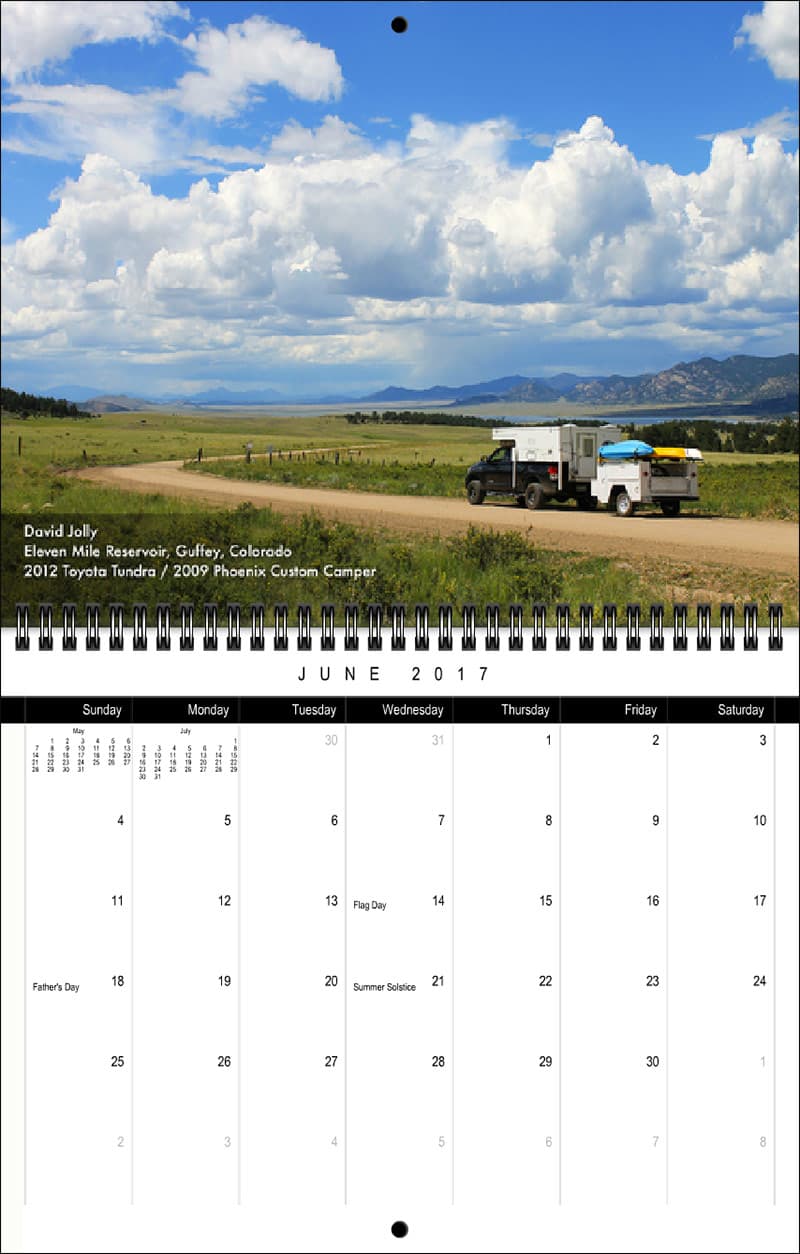 Photo Location: Eleven Mile Reservoir, Guffey, Colorado
Truck: 2012 Toyota Tundra
Camper: 2009 Phoenix Truck Camper
This photo is from my summer road trip to Colorado with my thirteen year old son and ten year old daughter.  I was supposed to be cutting through mountain roads to get to Pikes Peak, yet was more of a scenic drive and my passengers were passed out asleep.
I had not put the kayaks in water yet, so I pulled up the map and noticed that I was about to pass a large body of water.  It just so happened to be Eleven Mile Reservoir.
Since I do not make travel plans, I pulled right in.  I got closer to the lake and it looked like a dream or a widescreen HD Bob Ross painting.  It was awesome and that's where I took the shot.  We camped there overnight and swam at a nearby local swim hole called Paradise Cove.  We also kayaked the lake and had a great time.
JULY: Scott and Lora Zeitler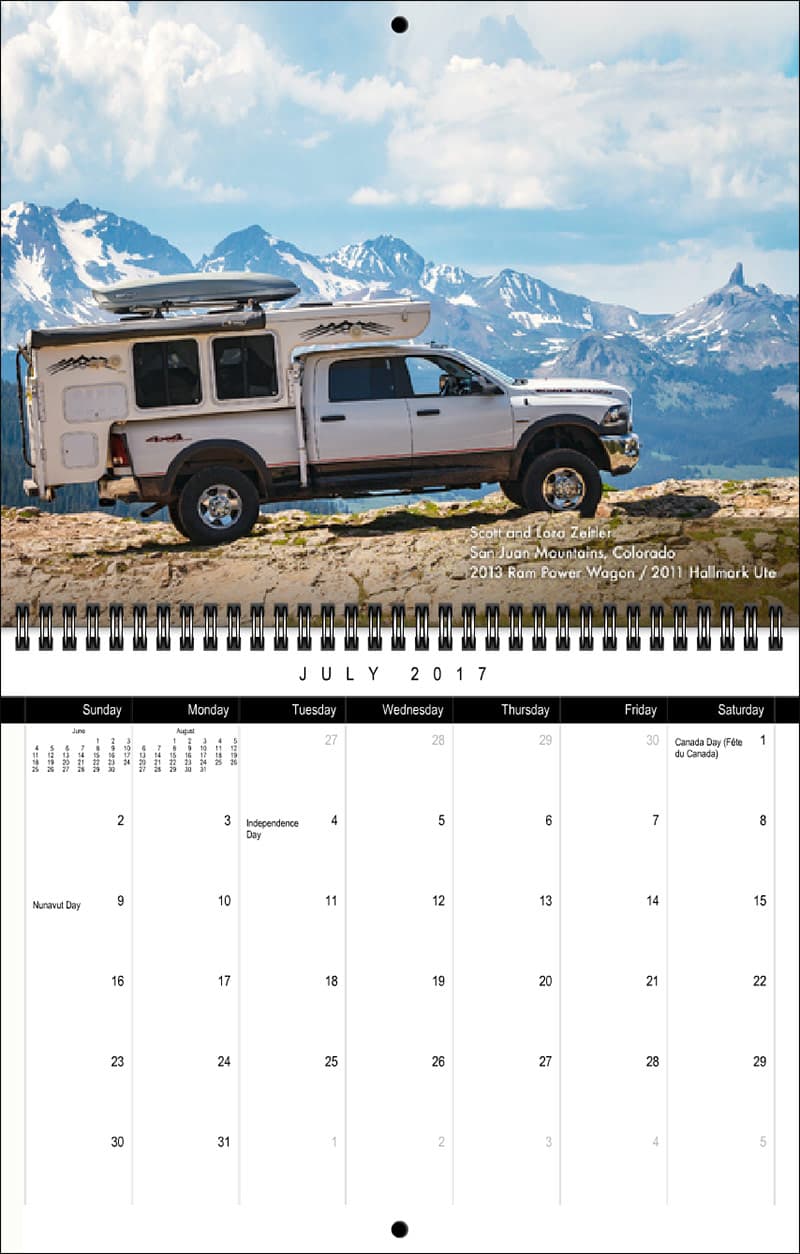 Photo Location: Bolam Pass, San Juan Mountains, Colorado
Truck: 2013 Ram Power Wagon
Camper: 2011 Hallmark Ute
One of our favorite spots to visit in the summer and camp is Bolam Pass.  This picture was taken June 23, 2016 at the top of Bolam Pass which is at 11,433 feet.  The weather was beautiful and most of the snow had melted by this time.
Bolam Pass is a dirt road that runs from Highway 550 to Highway 145 and is labeled Colorado Road 39 or Forest Road/County Road 578.  It's about twenty-five miles and can be driven in either direction.  We started from Purgatory Ski Resort which is about thirty minutes north of Durango, Colorado.  The road can be fairly rutted and has several tight switchbacks with a couple stream crossings that are pretty mild.
On Bolam Pass there are beautiful views of the San Juan Mountains and Lizard Head Mountain.
AUGUST: Brett and Celina Binns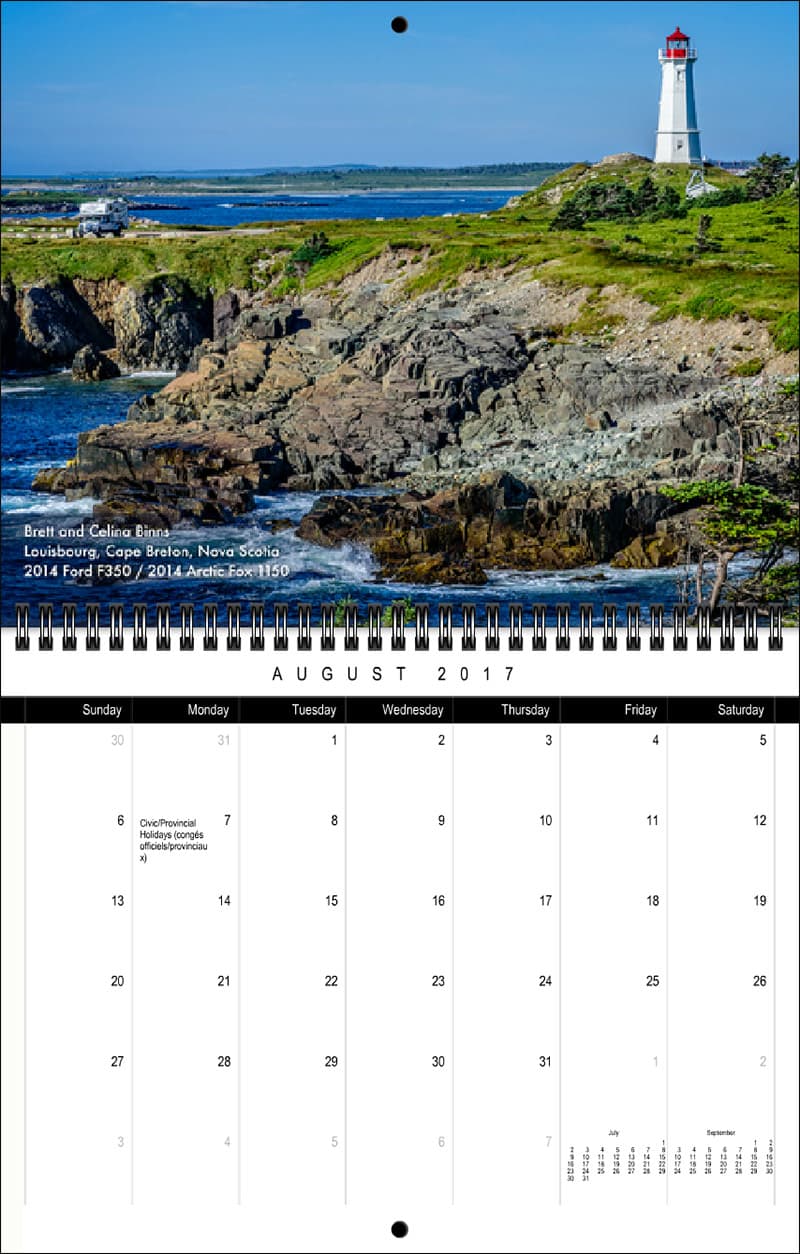 Photo Location: Louisbourg Lighthouse, Cape Breton, Nova Scotia
Truck: 2014 Ford F350
Camper: 2014 Arctic Fox 1150
The photograph was taken while we were on a three week camping trip through New Brunswick and Nova Scotia.  The lighthouse pictured is on Cape Breton in Nova Scotia.
We spent a couple of nights at a campground in the village of Louisbourg, primarily so we could visit the Fortress of Louisbourg which is a wonderful historic site run by Parcs Canada.
We got an early start one day.  The Fortress wasn't open yet so we decided to drive out to the lighthouse at the opposite end of town.  We walked a small distance down the coastal trail to a view point.  The picture is the view we had when looking back towards the lighthouse.
SEPTEMBER: Chris McKillican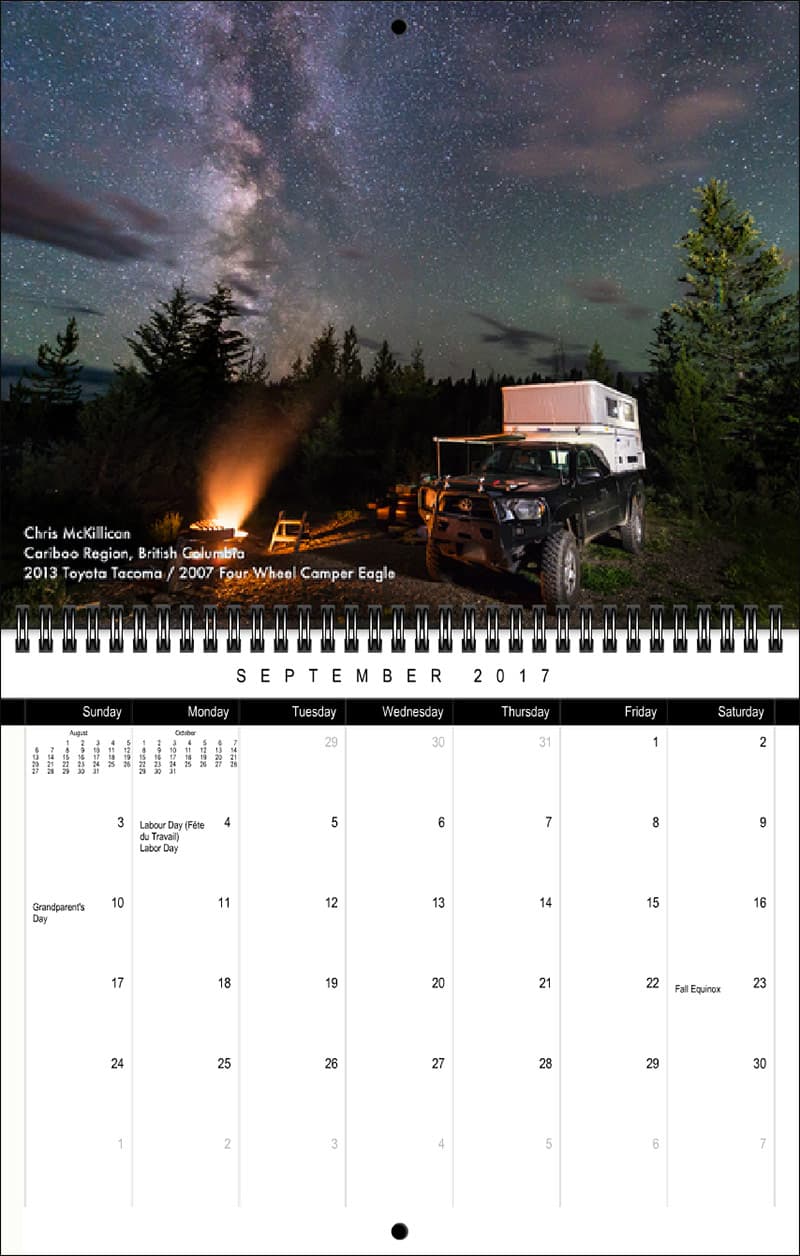 Photo Location: Cariboo Region, British Columbia
Truck: 2013 Toyota Tacoma
Camper: 2007 Eagle Four Wheel Camper
To a photographer, the night skies offer a whole new wilderness setting.  I often plan my trips around the night sky forecast.  I only spent one night in this area, but picked this spot for its high location and its orientation to the Milky Way.  Adding in the fire pit was another bonus.
For the technically minded, this photo was made with two off camera lights; one large LED light to the right of the camera bounced through a diffusion, and another small LED inside the camper.  The campfire flare was a matter of trial and error.  In the end I found with this long 20-second exposure that one only needed a few hot coals to produce some type of fire.
OCTOBER: Chuck and Jodie Ramsey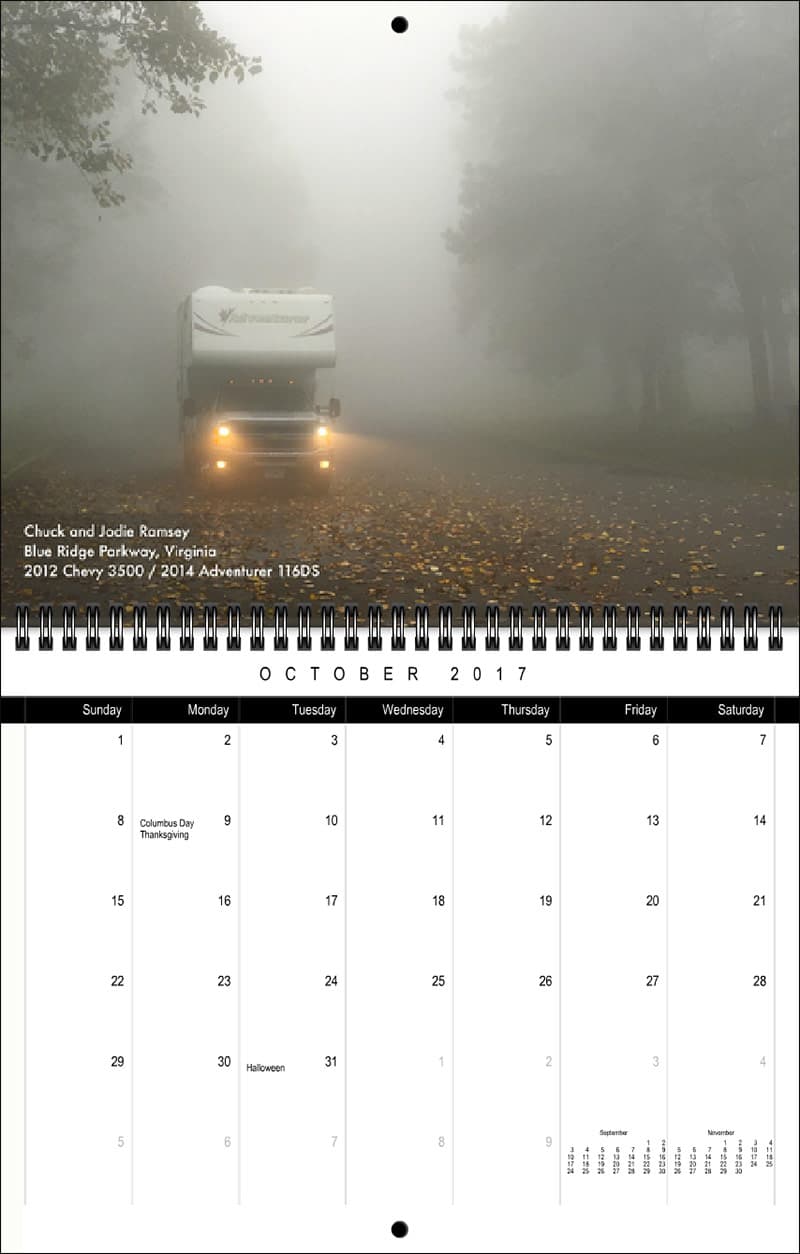 Photo Location: Blue Ridge Parkway, Virginia
Truck: 2012 Chevy 3500
Camper: 2014 Adventurer 116DS
Over the years, we have traveled through numerous communities that share my husband's name in some form (Charlestown, Charleston, etc).  This summer we even visited a community with the same name as our dog, Rugby (in North Dakota).
Needless to say, I was feeling a little left out of the opportunity to visit a town with my name.  That all changed when I found a community that not only shared my name, but even the same spelling.  Can you say Bucket List destination?
After winding up our visits with family in the northeast corridor, we turned our attention to finding Jodie, West Virginia.  While we share driving duties, I am the primary navigator for our journeys.
I'm always looking for the road less traveled or with scenic destinations and do my best at avoiding interstate highways.  When our trip routing gave us the option of I-81 or the Blue Ridge Parkway for a portion of the trip, we opted for the Blue Ridge Parkway.
It was a beautiful blue sky day as we approached the entrance of the parkway, and we started anticipating the spectacular views the roadway is supposed to offer travelers.
Within the first mile of getting on the parkway, we were greeted by the thickest fog we had ever experienced.  Visibility was a hundred feet or less in some pockets, making driving a white knuckle experience.  Fortunately, there was no traffic (well, we couldn't see any) as we inched our way along.
While I was cautiously trying to feel my way along the twists and turns of the road, hubby mused from the passenger's seat, "Find a pullout, this would make a great photo op for Truck Camper Magazine's calendar contest".  We found a safe, double ended pullout along the road and thought it was eerie how the headlights pierced through the fog.
NOVEMBER: Rachel A. Davis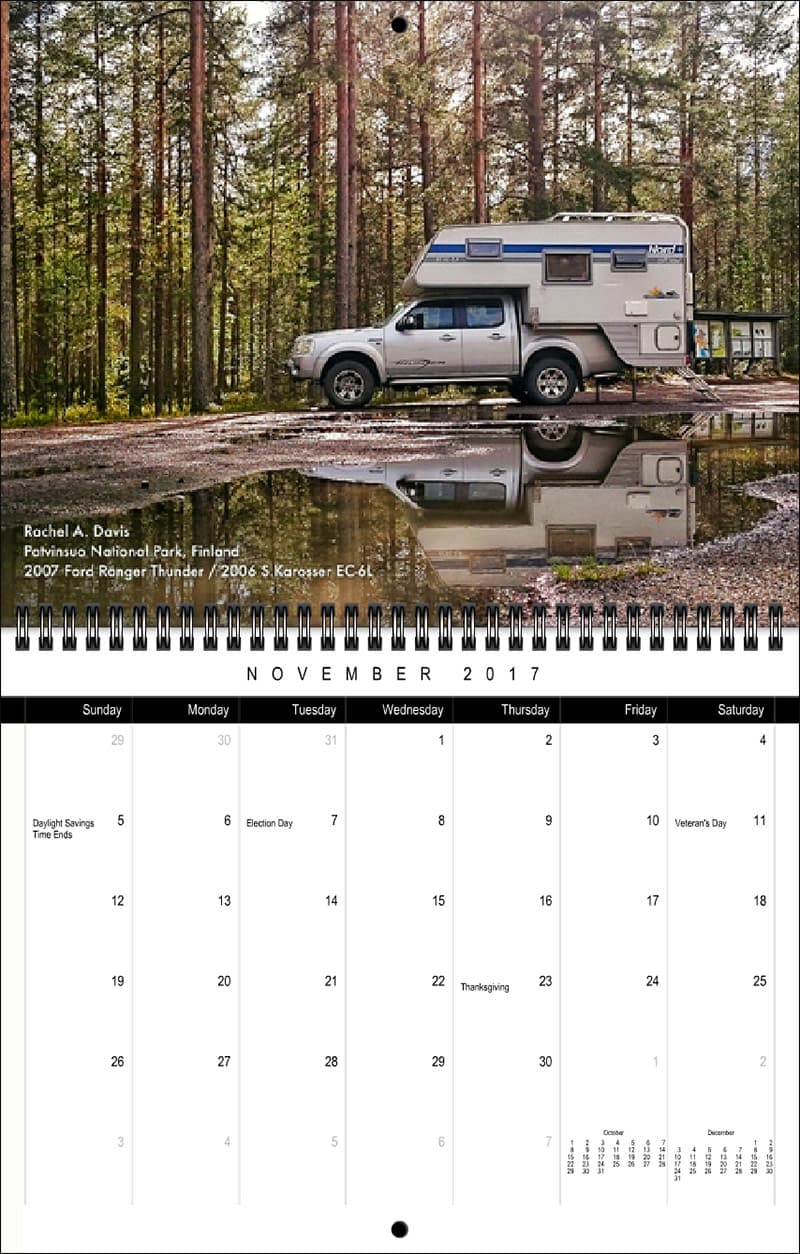 Photo Location: Patvinsuo National Park, Finland
Truck: 2007 Ford Ranger Thunder
Camper: 2006 S.Karosser EC-6L
Chris and I are from the United Kingdom.  We took an extended trip over the summer exploring Denmark, Norway, Finland, and Sweden in our truck camper.
We drove along a long winding unpaved road to reach Patvinsuo National Park in eastern Finland, near to the border with Russia.  The road weaved along a forested ridge, taking us deep into the forest wilderness.
Finland has 39 National Parks, and it gains a 40th in 2017 to celebrate 100 years of Finland being an independent country.  Most of the parks have parking areas that are ideal to camp for the night, and we stayed in many such as this one.  From this spot it was a short walk to a beautiful lake to swim.  The forest floor was carpeted with blueberries, free for the taking.
This photo was taken just after a brief but heavy rain shower which left big puddles, perfect for a reflection shot.  A long golden evening followed; the sun sets just briefly in Finland in midsummer.  We took a walk in the forest, outpacing the mosquitoes, to see if we could spot beavers.  We found their dam but no animals.  Instead we picked a mugful of blueberries to take back to the camper for breakfast.
We have been living full-time in our Swedish-built S.Karosser truck camper since April 2015, splitting our time mostly between Scotland, England, and Scandinavia.  Chris is a wildlife photographer and he also works as an aurora photography guide over the winter in arctic Sweden.
The camper is designed for Sweden's freezing winters.  It gives us the opportunity for year-round comfort and the freedom to go wherever we want to go.  I document our life on Instagram @drivingchriscrazy.
DECEMBER: Jim McCoy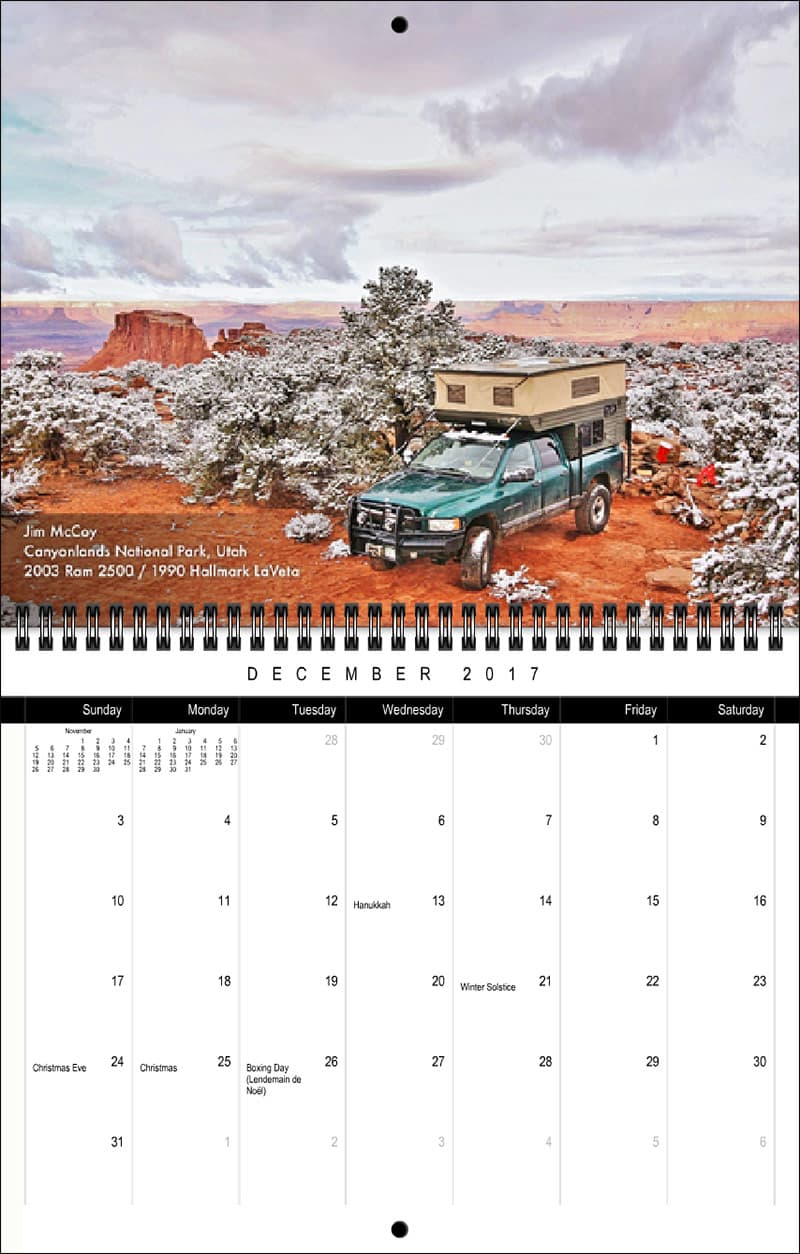 Photo Location: Hatch Point area, Canyonlands, Utah
Truck: 2003 Ram 2500
Camper: 1990 Hallmark LaVeta
As you know, I love the Canyonlands area, and spend a lot of time there exploring.  I have visited all seasons out there; hot, cold, and perfect weather.  But, the one thing I hadn't done was be out there for a snow storm, and see canyon and desert country covered in snow.
In early December last year I had a few days off and was working on Christmas card ideas.  I saw that some snow was forecast for Canyonlands and thought that could be a good opportunity.  I checked the propane in the camper, grabbed some supplies, and headed west.  It's only about seven hours to Moab for me.  In Moab I double checked the local weather from NOAA, looked at maps, and picked an area to try to find some good scenery.  Yeah, like that was going to be hard.
I headed south to the Hatch Point and Needles Overlook area and wandered some Jeep trails until I found what looked like a good area.  I did some hiking around and dialed in my location a little finer and set up camp before the weather moved in.  I had a great spot with an awesome established fire ring that was almost like a fireplace.  I was pretty close to the mesa's edge with great views into Lockhart Basin and across to the Dead Horse point area.  I brought some Christmas decorations and lights to set up for my card photo, and waited for mother nature to do her part.  Bring some snow!
The snow started late in the afternoon and fell through the night.  There was only about three to four inches, but it was perfect.  My Hallmark camper is well insulated and the heater kept it toasty inside.  I got some great night photos with the campfire, snow falling, Christmas stocking, hat and lights.  I made a holiday greeting video, too.  It was a great morning the next day taking photos as the weather began to lift.  That's when I took the shot that made the TCM calendar.
Here is the Christmas greeting video I made from my visit there. Nice weather in canyon country is great, but there is something special about catching a snowfall there as well.
CLICK HERE TO ORDER THE 2017 TCM CALENDAR
For today, Friday, November 25, 2006 Lulu.com is offering 35% coupon or $4.90 off because of Black Friday.  Put in code NIGEL35 to get your calendar for $9.10 plus shipping.  Great deal!