Celebrate the new year with 13 incredible truck camping adventure photographs.  Read the truck camping stories behind the images, and order your copy today for just $9.99.

CLICK HERE TO ORDER THE 2016 TCM CALENDAR
Looking at the annual  TCM calendar I almost feel sorry for folks who own the other RV types.  If they were to look at the calendars from the past nine years (we often do) they would be faced with an unsettling reality.  They can't go where we go.  They can't do what we do.  Truck campers rule.  The pictures prove it.
The other thought I have is this overwhelming sense that there are so many more places to go and experience.  It's funny how you can travel the United States and Canada for a decade and only scratch the surface of what's out there.  Then again, we did see a fifty foot hot dog on top of a building this year.  I didn't even have that on my bucket list, but I immediately wrote it in and checked it off moments later.  Hot dog!
A Few Lines About Lines
Last year we had a good number of readers suggest that we print the calendar pages with horizontal lines to better separate the days.  We completely agreed with this suggestion and contacted the printer, Lulu.com, for a way to make this change.  Unfortunately, Lulu.com does not allow a full-page image (no border) with their calendars featuring horizontal lines.  They were also unable to make an exception for us, even when I threatened to drop an enormous hot dog on their building.
We explored the option of using other vendors, but found they were twice the price, or had less than favorable online ratings.  The idea of charging double, or risking a vendor that had questionable print quality, was a non-starter.
For 2016, we are sticking with lulu.com, and their horizontal line-less calendar.  Yes, we are disappointed and yes, we will keep looking for another option.  In the mean time, the calendar is for sale at cost ($9.99).  As we figured, most of us would rather ruler in the lines than pay twice as much, or risk a bad print job.  We already have the 2016 calendar and, except for the missing lines, couldn't be happier.
Thank You!
Angela, Harley, and I want to thank everyone who entered photographs for the 2016 calendar contest.  Once again, you have inspired our community to explore new places.  Think about that for a second.  Your photographs have inspired fellow and future truck camper owners to see things they might not have seen had your pictures not inspired them.  Thank you!
COVER: John and Judy Russell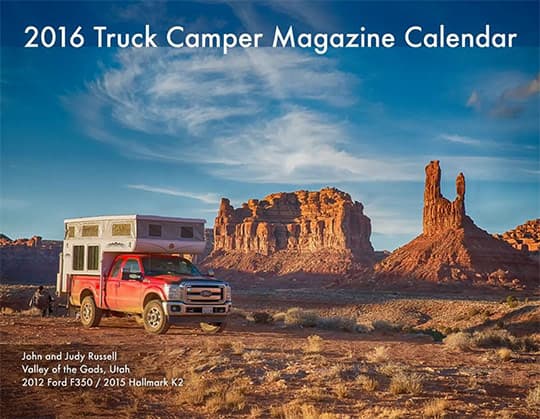 Photo Location: Valley of the Gods, Utah
Truck: 2012 Ford F350
Camper: 2015 Hallmark K2
We had just picked up our new camper from Hallmark, northeast of Denver, in late January.  We wanted to get as much use and exploring as we could for the trip home to Washington with the limited time we had.
From Hallmark, we went down through the four corners area and spent some of our first nights at Valley of the Gods in southeast Utah.  Other than a couple of day trippers driving through, and a road crew, we had the entire region to ourselves.
There was surprisingly mild weather for late January which made for an enjoyable time with the incredible scenery, exploring some of the back canyons, and relaxing as we watched the sunset.
JANUARY: Joerg and Simone Rossberg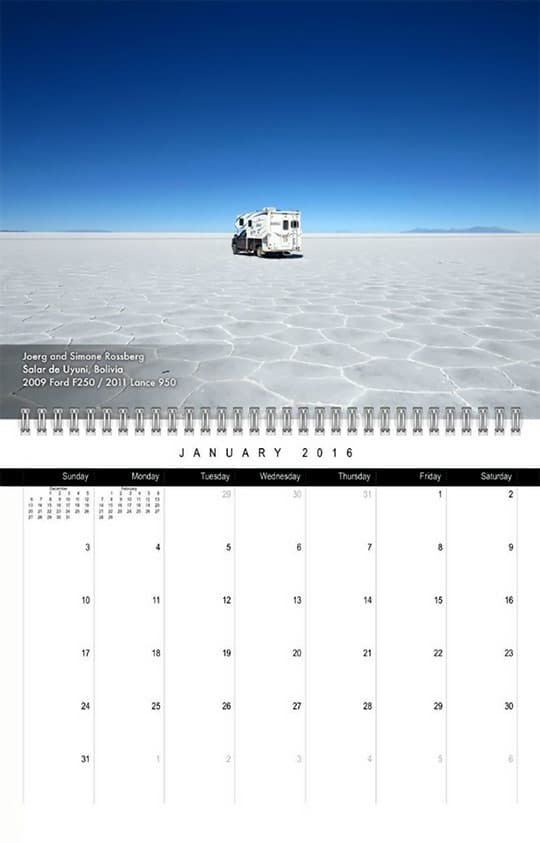 Photo Location: Salar de Uyuni, Bolivia
Truck: 2009 Ford F250
Camper: 2011 Lance 950
Salar de Uyuni is one of the most spectacular places on our planet.  This was the biggest salt lake we visited on our road trip from Alaska to Patagonia in June of 2015.
We camped directly in the center of the dry lake and enjoyed the clear and frosty weather.  At night we saw lots of stars.  The elevation was about 12,000 feet.  We were in freezing temperatures which was a big challenge for Simone and me, and for our camper and truck.
Right now we are in Patagonia after more than 77,000 miles and four years on the road.  The Ford Super Duty has done a very good job even though the fuel quality south of the United States isn't good and the roads are sometimes crazy.
FEBRUARY: Julie and Monte Hendricks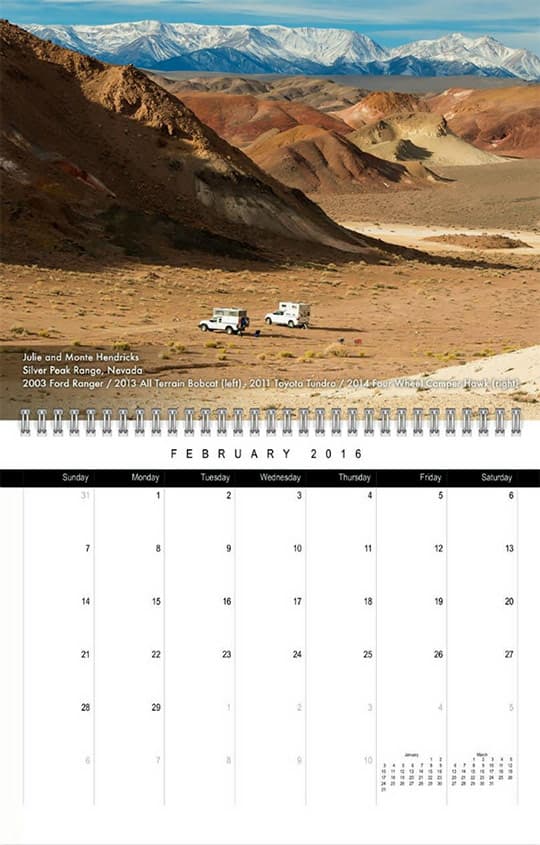 Photo Location: Silver Peak Range, Nevada
Trucks: 2003 Ford Ranger / 2011 Toyota Tundra
Campers: 2013 All Terrain Camper Bobcat / 2014 Four Wheel Camper Hawk
"Where are we going?" Julie asked as we were making dinner.  She's a middle school teacher and her four day weekend break for Presidents' Day was approaching.  It was a great question, and with clear weather predicted over a large area, we had a lot of possibilities.
We brought up Google Earth on the computer and found a large area with vivid, and almost unbelievable, colors.  It stood out from space.  Along with our friends, Donna and Ted Treleven, we spent a wonderful holiday exploring a remote Nevada wonderland.
Julie and I were up before the sun on this cold February morning.  We climbed the high points around our camp for the views and watched the light come with changing colors across the dramatic landscape.  We returned to camp and this photo was our view toward our cozy truck camper home.  We were convinced that presidents hardly ever have it as good as this.
MARCH: Nolan Sturgeon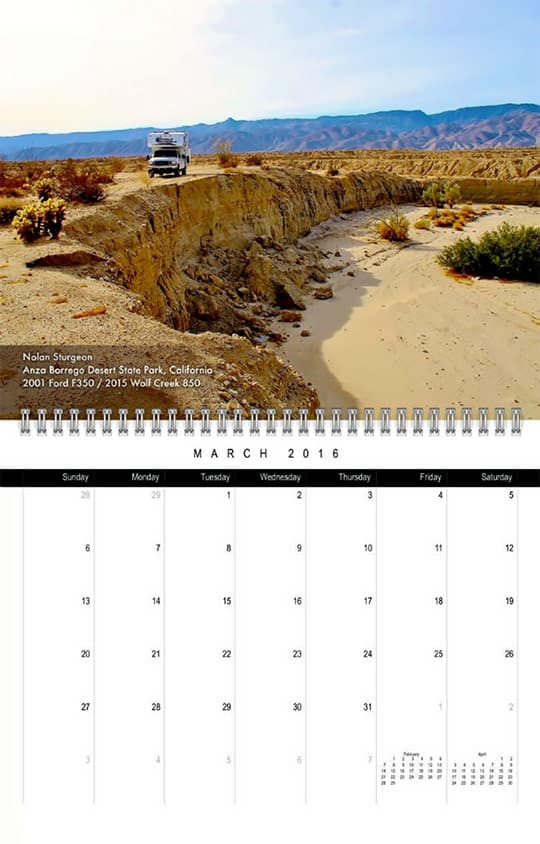 Photo Location: Anza Borrego Desert State Park, California
Truck: 2001 Ford F350
Camper: 2015 Wolf Creek 850
This photo was taken about eleven miles from the pavement on the bypass road from Arroyo Tapiado to Arroyo Seco del Diablo in Anza Borrego Desert State Park.  Arroyo Tapiado is known for the mud caves, which we visited, and then moved on to the seldom visited Arroyo Seco Del Diablo, which displays unique uplifted sandstone formations.
Arroyo Tapiado is the perfect wash to drive your truck camper through, and much of it can be done in two-wheel drive but, as soon as you pass the mud caves, four-wheel drive is required.  The bypass road brings you out of the wash, is rutted out, and very tight in a few spots.
Getting beyond the campground is what off-road truck camping is all about.  I also had concerns about getting high centered but, with the help of  my eight year old and ten year old, we got this awesome picture of the victory pose up and out of Arroyo Tapiado.  I also love seeing Sombrero Peak in the distance, which is the peak right next to the truck camper.
APRIL: Kris and Savanna Cassidy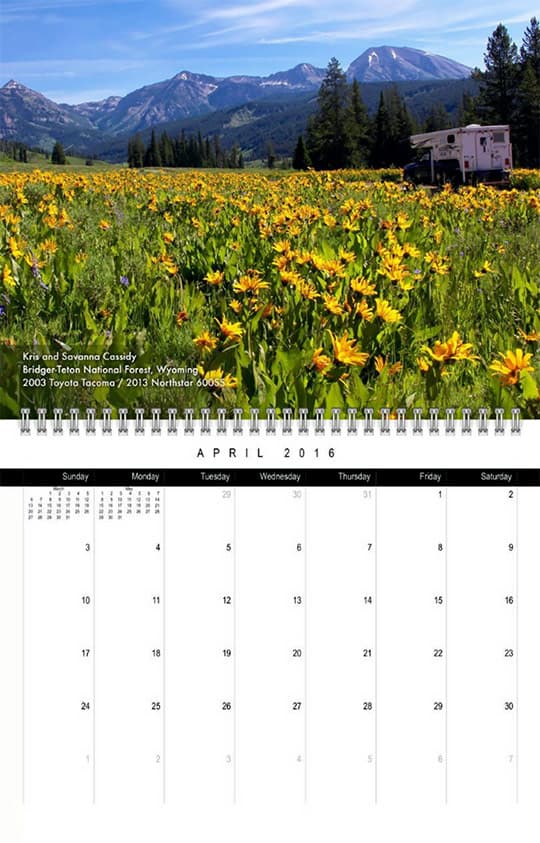 Photo Location: Bridger-Teton National Forest, Wyoming
Truck: 2003 Toyota Tacoma
Camper: 2013 Northstar 600ss
We were heading home to Colorado Springs at the end of June after a wonderful week at the Grand Tetons.  It was a fine morning and we decided to go take a soak at the picturesque Granite Falls hot springs, which we had visited once before.
Turning off the highway we immediately found that the valley was awash with multi-colored wild flowers in all directions, an unbelievable palette of other-worldly beauty.  The photo was taken in a field of Arnica.
Afterwards we enjoyed a long soak amid the mountain peaks, which was especially appreciated after not showering for a few days!
MAY: Scott and Lora Zeitler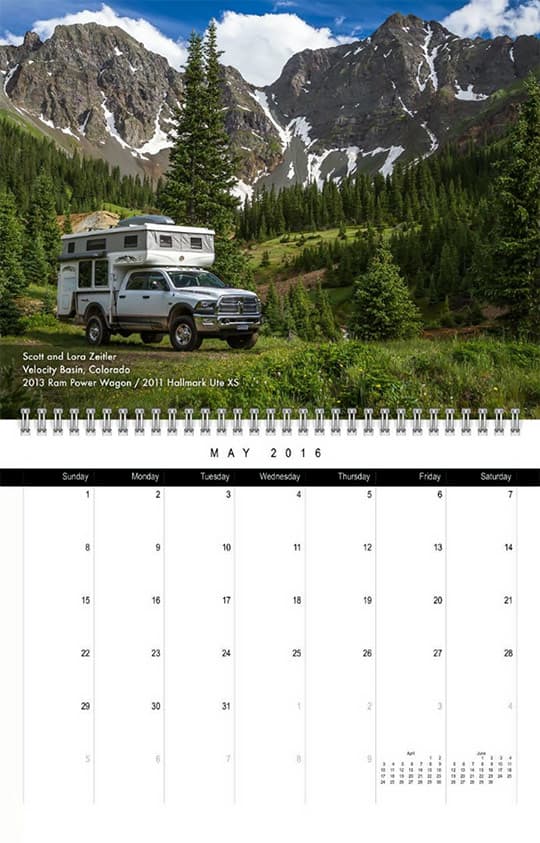 Photo Location: Velocity Basin, Colorado
Truck: 2013 Ram Power Wagon
Camper: 2011 Hallmark Ute XS
During a long weekend in the middle of July, Lora and I were looking for a good place where we could hike, photograph some wild flowers, and pretty much get away from the crowds.  We drove to the trailhead of one of our favorite spots, but there were already about fifteen cars in the parking lot.
We then decided to explore some new trails we had previously looked at on the map, but had never actually been to.  The new found piece of paradise didn't disappoint.  The weather that weekend was wonderful and the wild flowers were spectacular.
With the campsite sitting at just below 11,000 feet, and the surrounding peaks at 13,500 feet, you're definitely in the high country.  The area around Silverton has so many backcountry roads and old mines that, with a little effort, and a decent four-wheel drive truck, you can find some pretty amazing places to call your own little piece of paradise.
JUNE: Chuck and Jodie Ramsey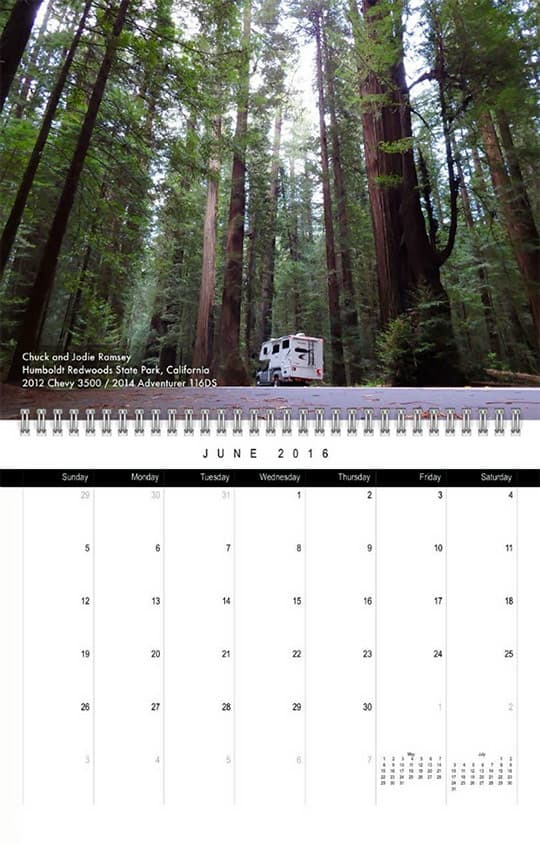 Photo Location: Avenue of the Giants, Humboldt Redwoods State Park, California
Truck: 2012 Chevy Silverado 3500
Camper: 2014 Adventurer 116DS
While staying at a California winery one night, our host inquired as to where our next destination was.  We said we were thinking of the National Redwood Forest.  Our host recommended that we include a drive along the Avenue of the Giants on our way to the Redwood Forest.
Driving along the Avenue of the Giants we started to feel very small in size.  The overall size of the trees and the fact that they were hundreds of years old amazed us.  We pulled off the road near the Mahan Plaque, located about half-way on the auto tour and walked along a trail looking for Bigfoot but had no luck finding it.
Wanting to take a picture to show the height of the trees along with that of our camper, I crossed the road and put the camera down on the ground to take my photo.  Our Adventurer 116DS is one of the largest truck campers built.  When loaded on our truck, we are twenty-five feet long and nearly thirteen feet tall.  Compared in size to the magnificent redwood trees, we refer to this image as our Matchbox Camper.
JULY: Philip and Karen Kuntz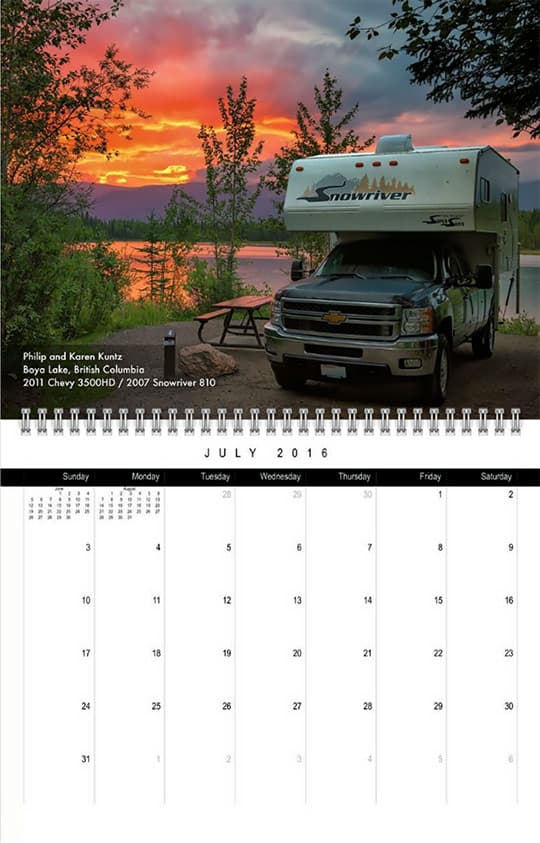 Photo Location: Boya Lake, British Columbia
Truck: 2011 Chevrolet Silverado 3500HD
Camper: 2007 SnowRiver 810
That morning was August 7th, 2015.  I was on a road trip from Spokane, Washington to Alaska.  On my fourth night out I camped at Boya Lake, which is along the Cassiar Highway in northern British Columbia.
The skies were turning stormy when I went to bed.  As a photographer I get up before the sun to see the show, and capture it if worthy.  It was raining when the beauty began.  A fellow in a red canoe just happened to serendipitously be paddling toward me.  No one else was up but us two.  Loons, ducks, and grebes serenaded us.  I got drenched, but I got the shot I wanted.  It was a glorious morning that I'll never forget.
My wife had to work so it was just me and my grizzly protector, Theodore; all ten pounds of him.  He is a great traveling companion.  I did meet up with many other fellow photographers and friends along the way.  It was an unforgettable 7,500 mile trip that I hope to repeat again with my wife.  I just hope they have the Yukon stretch of the Alcan in better shape.  That was wicked.
AUGUST: John, Becky, and Aubrey Cain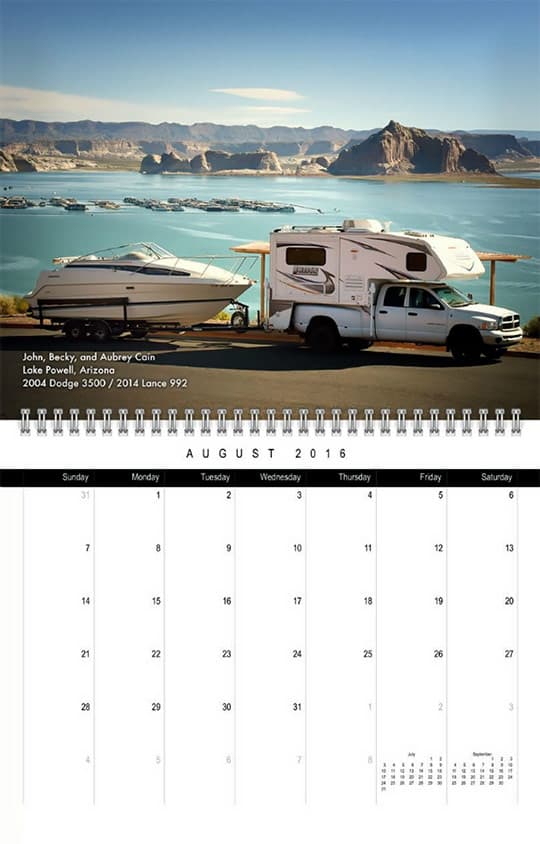 Photo Location: Lake Powell, Arizona
Truck: 2004 Dodge 3500
Camper: 2014 Lance 992
Northern Arizona and Southern Utah have been our playgrounds for most of our lives.  The beauty and solitude is what we take great pleasure in.   We consider ourselves very fortunate to also call this area home.
Our Lance camper and truck setup has given us the opportunity to combine our three loves; family time, camping, and boating.  We try to spend as much time as possible exploring and relaxing in these areas.
We frequent Lake Powell in the summer and fall months.  This photo was taken as we were heading home to Flagstaff.  We decided to pull off at the viewpoint to Lake Powell and capture a shot of our rig and the lake.
Thank you Truck Camper Magazine and all of our fellow truck camper enthusiasts who voted for us!
SEPTEMBER: Bryan Appleby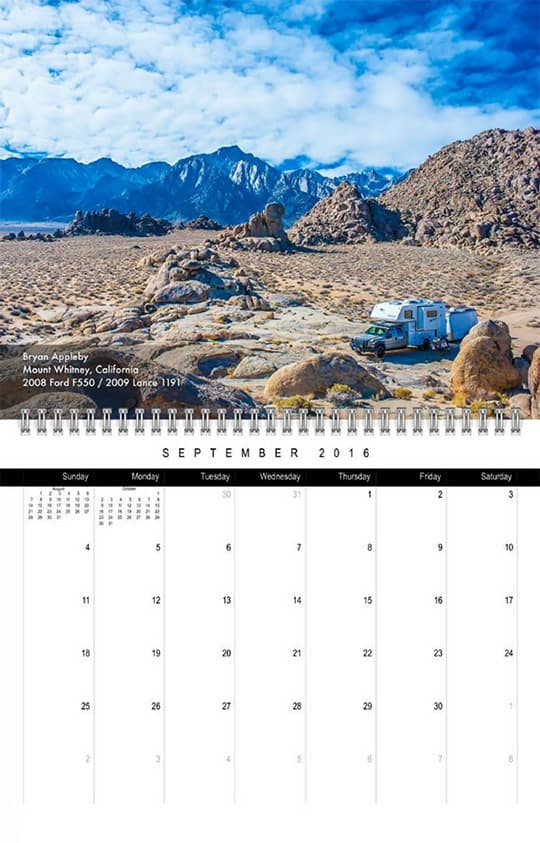 Photo Location: Mt Whitney, California
Truck: 2008 Ford F550
Camper: 2009 Lance 1191
When I view this photograph, I think of someone I left behind here.  It is because I took this photograph later in the day of the most challenging day I have ever had, while traveling in my truck camper.  My story of that day, follows;
Goodbye, my Keiss . . .
The long handle blended into the browns and gray hues of the desert.  It was only broken by the haphazardness of the mesquite bushes that dotted the expanse beyond my window.  My thoughts cried loudly within my head knowing what was below the handle.  The broad edge had been thrust into the crust below it, now more than six hours before.  The wind was stronger and rearranging the desert floor that had earlier been disturbed, soon to erase any signs anyone had been here.
Nothing could be shared to appease the sadness that was weighing heavily upon me this day.  The years seemed to have flown by since the moment a little black whirling blur, with two pointy ears, had been carried through our door.  Its excited tumbling and sliding upon the wood floors, pulling at everyone's heart within.
The slight nudge of Keiss's head, against my leg, would be the tell-tale sign he had returned from his brief night stroll on this moonless night.  He was invisible in the darkness and almost silent, until his nudge.
The later years arrived much too soon and the infirmaries of slowing gait, confusion, and night battles with unseen squirrels as they raced through his dreams.  The bright sparkle of his eyes, filtering through the hair around his eyes, watched me dropping the crumbs of the finished bag of cookies into his dish.  Without a doubt, anticipating the moment he could then lick them out.  A pleasure he received on occasion, for the many times he provided pleasure for our family.
Walking out the door of my truck camper, to retrieve the shovel set into the desert by me, I noticed the silver bag containing the cookie crumbs he didn't get to finish, the day he left us . . . me.  I had stood over him seeing the brightness of his eyes, as we looked at each other, as the drug's cloud of euphoria cascaded through him.  Within my thoughts I held strong as his inability to be able to stand up and walk beside me, these recent weeks.  The nights as we struggled to find something he could swallow and eat, weighed on me as much as his whines of hunger.  I was feeling his weight shifting from his legs to my arms and hands.  I began to hold him ever tighter and his head leaned into my arm, for the final time.
A pet provides so many pleasures in life.  A child provides happiness that is unfathomable.  Parents and family provide the guidance and love that sustains all of us.  Friends provide the comfort all of us want, without ever asking.  The loss of any of this causes sadness that only time will heal.  Time, please come quickly.
For this is what this photography shows to me.
Goodbye my Keiss, your being here brought such great pleasure and unconditional love.
OCTOBER: Eddie and Pat Hayden
Photo Location: Amanita Lake Campground, McGregor, British Columbia
Truck: 2005 Dodge Ram 2500
Camper: 2013 Palomino Bronco 1251
On September 7th, my wife and I headed out on our fall adventure.  Our plan was to fast track it to Hyder, Alaska to photograph the bears and hopefully a wolf or two at Fish Creek.  Then, we would work our way down through the Canadian Rockies, Glacier, Yellowstone, the Tetons, and a few stops in Utah and New Mexico.
When we stopped for our first night we met a couple in a remote little camp area in the Texas panhandle.  They asked how we found this camping area, and it was Google, of course.  They told us about an App they had use on their trip called Allstays.  We downloaded this app the first chance we had good service and we proceeded on our journey.
We used this app in Northern Montana where we stayed in a city run park.  The next time we used this app was in British Columbia where this photo was shot.  We followed the GPS and we arrived in this little free campground.  The locals were surprised to see a truck camper pull in with Texas plates, but they were friendly and directed us to an open spot to park.
I have only submitted photos that have been taken late in the evening or night.  I like working with the Milky Way or during the blue hour.  This photo was shot from a tripod.  The exposure was 20-second at f/2.8, and ISO 1250.  Since this was shot during the blue hour, I used my LED headlight to light paint the side of the camper to balance the exposure.  This took a few tries to get the time right.  During the 20-second exposure I turned on my headlight for about three seconds.  Photography is what motivates us to travel.
We continued on with our journey of five weeks and, 8,835 miles later, we made it back home.  I have to say the app mentioned above saved us money and headaches finding a place to stay.  It covers Canada and the United States.
NOVEMBER: Thomas and Lynda Denny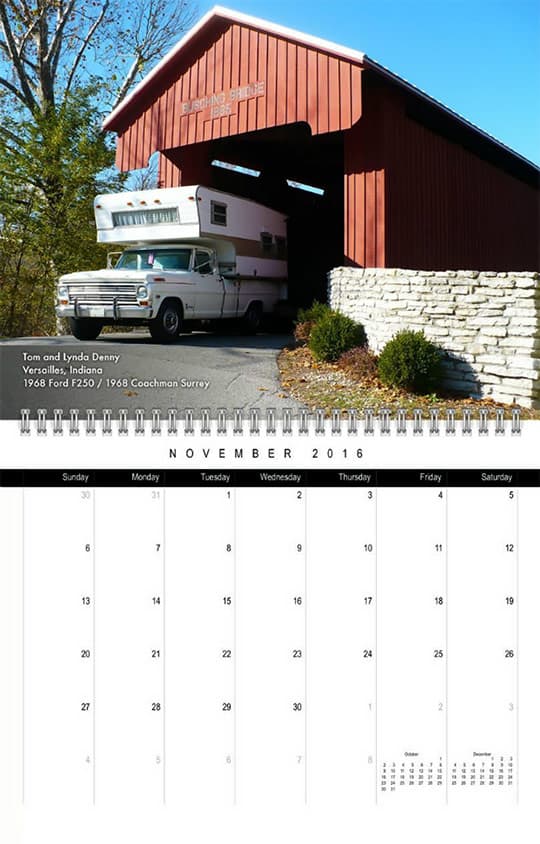 Photo Location: Versailles, Indiana
Truck: 1968 Ford F250 Camper Special
Camper: 1968 Coachmen Surrey 8.5'
My wife Lynda and I had set out for some early fall camping.  We were informed that a Bluegrass festival was to be held at a campground in Southeast Indiana.  We made a plan and headed that direction.
The weather turned stormy and the event was cancelled, but we stayed sheltered from the elements until it passed some eight hours later.  What we received in return was a burst of fall color and a chance to walk and explore the surroundings.
We also did some driving and drove through the Busching covered bridge.  It was originally built in 1885 and restored in 2005 for vehicular traffic.  It was a photo op we couldn't resist.
My wife and I truly enjoy all that this truck and camper combination has given us, along with the ability to be truly among nature and the fellowship of other truck campers.
DECEMBER: Mike and Kim Baird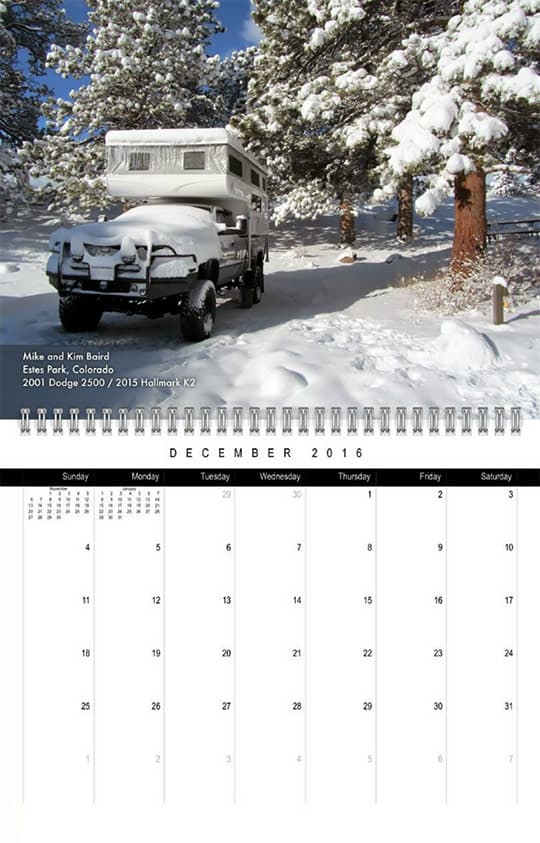 Photo Location: Moraine Park Campground, Estes Park, Colorado
Truck: 2001 Dodge 2500
Camper: 2015 Hallmark K2
We are from Alberta, Canada and had traveled down to the Hallmark factory in Fort Lupton, Colorado to pick up our new camper.  This photo was taken on our first night spent in the camper and her maiden voyage.
The Ward family of Hallmark RV had suggested that we use the camper for a couple of days around the area to familiarize ourselves with it, and make sure everything functioned correctly before the long trip back home.  We decided to head up to Estes Park and do some sightseeing and camping.
We arrived in town where locals advised us of a snowstorm that was heading our way.  The wipers on the truck were going full blast as we navigated the high mountain road.  We pushed on to the only winter camping sites open in the area at Moraine Park.  Moraine Park was mostly empty except for some die hard people in tents!  We got set up and started the first night in our new Hallmark pop-up.
This would prove to be a great test as the snow was falling at an exceptionally high rate and the temperatures dropping significantly.  In a short period of time the snow had accumulated with over 12-inches falling and covering the truck, camper, and the roads!
Our new Hallmark K2 survived the night (as expected).  We were awakened to a snow plow clearing a path for wayward campers and opening access to the main road.  As we exited the camper, we were greeted with some of the best views and colors that we had ever seen.  The camera couldn't capture everything.
We made our way back to Estes Park town where the town's people were digging out the roads and sidewalks and where we saw more exhilarating scenery.  Our route home placed us in five different states where we experienced fun times, met nice folks, and did a little boondocking.  We arrived back home and now use the camper every chance we can.  We also turn a lot of heads with our new rig.