Celebrate the new year with 13 incredible truck camping adventure photographs.  Read the truck camping stories behind the images, and order your copy today for just $9.99.

CLICK HERE TO ORDER THE 2016 TCM CALENDAR
Looking at the annual  TCM calendar I almost feel sorry for folks who own the other RV types.  If they were to look at the calendars from the past nine years (we often do) they would be faced with an unsettling reality.  They can't go where we go.  They can't do what we do.  Truck campers rule.  The pictures prove it.
The other thought I have is this overwhelming sense that there are so many more places to go and experience.  It's funny how you can travel the United States and Canada for a decade and only scratch the surface of what's out there.  Then again, we did see a fifty foot hot dog on top of a building this year.  I didn't even have that on my bucket list, but I immediately wrote it in and checked it off moments later.  Hot dog!
A Few Lines About Lines
Last year we had a good number of readers suggest that we print the calendar pages with horizontal lines to better separate the days.  We completely agreed with this suggestion and contacted the printer, Lulu.com, for a way to make this change.  Unfortunately, Lulu.com does not allow a full-page image (no border) with their calendars featuring horizontal lines.  They were also unable to make an exception for us, even when I threatened to drop an enormous hot dog on their building.
We explored the option of using other vendors, but found they were twice the price, or had less than favorable online ratings.  The idea of charging double, or risking a vendor that had questionable print quality, was a non-starter.
For 2016, we are sticking with lulu.com, and their horizontal line-less calendar.  Yes, we are disappointed and yes, we will keep looking for another option.  In the mean time, the calendar is for sale at cost ($9.99).  As we figured, most of us would rather ruler in the lines than pay twice as much, or risk a bad print job.  We already have the 2016 calendar and, except for the missing lines, couldn't be happier.
Thank You!
Angela, Harley, and I want to thank everyone who entered photographs for the 2016 calendar contest.  Once again, you have inspired our community to explore new places.  Think about that for a second.  Your photographs have inspired fellow and future truck camper owners to see things they might not have seen had your pictures not inspired them.  Thank you!
COVER: John and Judy Russell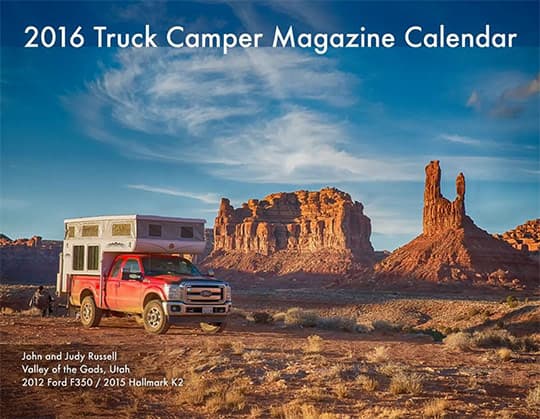 Photo Location: Valley of the Gods, Utah
Truck: 2012 Ford F350
Camper: 2015 Hallmark K2
We had just picked up our new camper from Hallmark, northeast of Denver, in late January.  We wanted to get as much use and exploring as we could for the trip home to Washington with the limited time we had.
From Hallmark, we went down through the four corners area and spent some of our first nights at Valley of the Gods in southeast Utah.  Other than a couple of day trippers driving through, and a road crew, we had the entire region to ourselves.
There was surprisingly mild weather for late January which made for an enjoyable time with the incredible scenery, exploring some of the back canyons, and relaxing as we watched the sunset.
JANUARY: Joerg and Simone Rossberg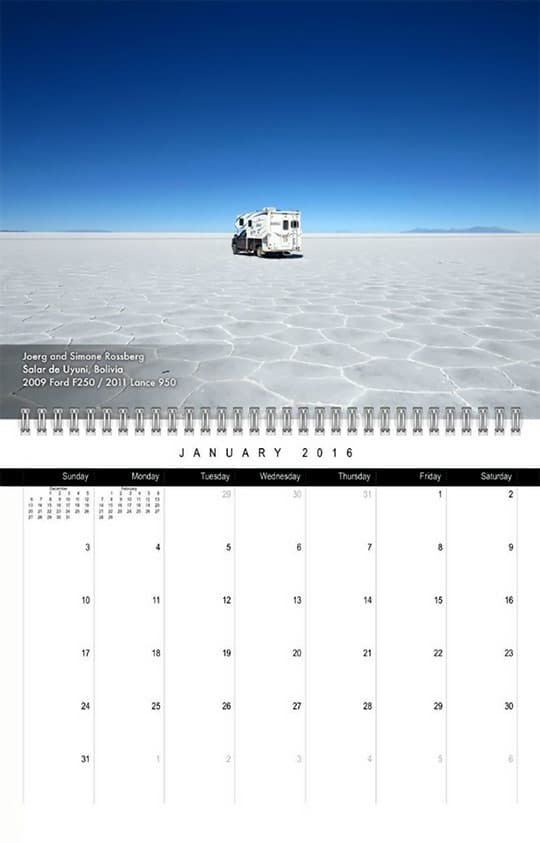 Photo Location: Salar de Uyuni, Bolivia