The 2015 Truck Camper Magazine Calendar winning photographs are even more stunning printed in full-color and high-resolution.  Read the amazing stories, and then order your copy!

CLICK HERE TO ORDER THE 2015 TCM CALENDAR
Every year we greet the FedEx dude hopping-up-and-down excited when the new Truck Camper Magazine calendar is delivered.  And every year, the FedEx delivery dude, glancing at us like we're nuts, hands us the package and bolts like a Major League Baseball player trying to make to first on a bunt.  We can literally feel the wind of their drop-and-roll delivery as they drive away.
But that's not what happened this year.  To avoid our usual door step enthusiasm, the FedEx team went into super stealth mode, cloaking their arrival, silently depositing the calendar at our doorstep, and disappearing without detection.  We only discovered the calendar when we went to get the mail.  Those sneaky FedEx dudes!
When you click on the link above, you will be taken to Lulu.com to order the calendar.
Thank you to everyone who participated in the 2015 Truck Camper Magazine Calendar contest.  We have added quite a few must-see bucket list locations from your amazing photographs.  Thank you!
COVER: Jorn Vangoidtsenhoven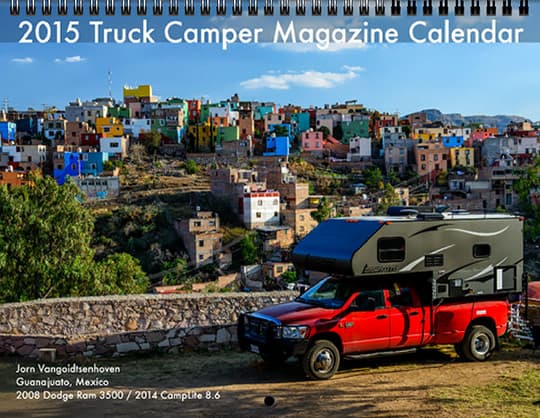 Photo Location: Guanajuato, Mexico
Truck: 2008 Dodge Ram 3500
Camper: 2014 CampLite 8.6
Guanajuato is one of Mexico's prettiest colonial cities and a UNESCO World Heritage Site.  We visited Guanajuato on our road trip through Central America and we stayed at the only campground in the city, as pictured just before sunset.
The entire town is built in between the mountains and the campground provides great views of the colorful architecture that surrounds you.  Even the local church is painted in bright yellow!  Located in the central highlands of Mexico, Guanajuato's climate is amazing; warm during the day, and chilly at night.
The town has a great colonial center where the main sights are within walking distance.  The town being crammed in between mountains, exploring the center requires a workout.  As with any historical town, the downtown map looks like a maze.  However, most of the attractions in Guanajuato are situated along four streets that form a rectangle.
This rectangle brings you to such sights as the local university building, the Plaza de la Paz, Mercado Hidalgo, Teatro Jardin and Jardin de la Union (the city's main plaza).  A quick side trip on a cable car lifts you up to one of the surrounding mountains, providing a great panoramic view of the entire valley.
Being food lovers, our favorite stop was the local municipal market, the Mercado Hidalgo.  Lots of vendors sell popular dishes, including tostados covered with octopus (pulpo), shrimp (camarones) and ceviche; affordable and delicious.
On a final note, the campground's location is great for exploring the city center, but he barking dogs in the surrounding mountains (echo!) make it difficult to fall asleep at night and the locals who start picking up their cars at 6:00 AM make sure you wake up early.
JANUARY: Chris Janeway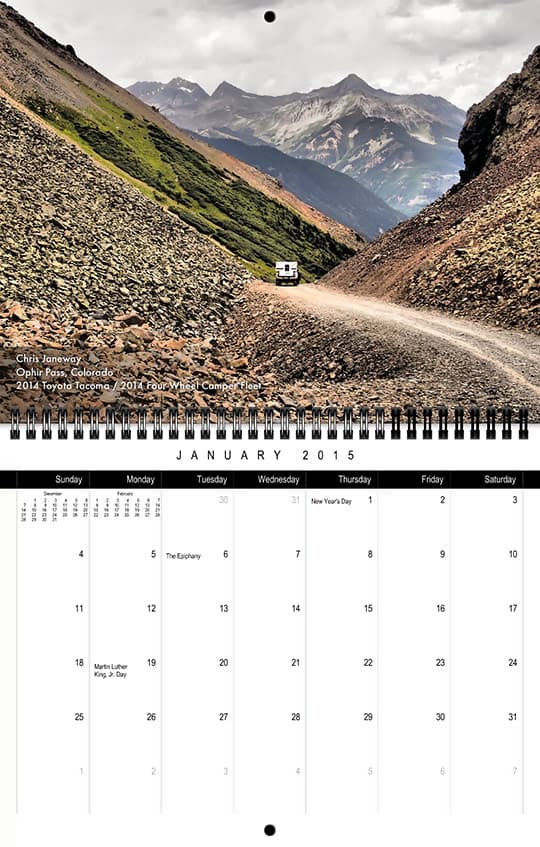 Photo Location: Ophir Pass, Colorado
Truck: 2014 Toyota Tacoma
Camper: 2014 Four Wheel Camper Fleet
This photo was taken during a short camping trip my wife, Lisa, and I took over our wedding anniversary.  Ophir Pass was a road we hadn't driven yet and we camped around that area during this trip.  The day was grey and nobody was around so we stopped near the summit to take a few photos.  Even though it was overcast, it was still a beautiful sight.