The 2015 Truck Camper Magazine Calendar winning photographs are even more stunning printed in full-color and high-resolution.  Read the amazing stories, and then order your copy!

CLICK HERE TO ORDER THE 2015 TCM CALENDAR
Every year we greet the FedEx dude hopping-up-and-down excited when the new Truck Camper Magazine calendar is delivered.  And every year, the FedEx delivery dude, glancing at us like we're nuts, hands us the package and bolts like a Major League Baseball player trying to make to first on a bunt.  We can literally feel the wind of their drop-and-roll delivery as they drive away.
But that's not what happened this year.  To avoid our usual door step enthusiasm, the FedEx team went into super stealth mode, cloaking their arrival, silently depositing the calendar at our doorstep, and disappearing without detection.  We only discovered the calendar when we went to get the mail.  Those sneaky FedEx dudes!
When you click on the link above, you will be taken to Lulu.com to order the calendar.
Thank you to everyone who participated in the 2015 Truck Camper Magazine Calendar contest.  We have added quite a few must-see bucket list locations from your amazing photographs.  Thank you!
COVER: Jorn Vangoidtsenhoven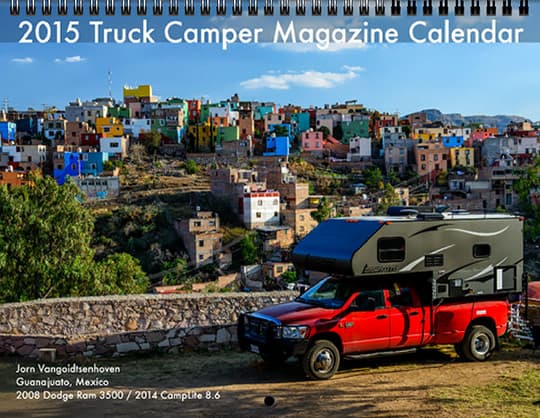 Photo Location: Guanajuato, Mexico
Truck: 2008 Dodge Ram 3500
Camper: 2014 CampLite 8.6
Guanajuato is one of Mexico's prettiest colonial cities and a UNESCO World Heritage Site.  We visited Guanajuato on our road trip through Central America and we stayed at the only campground in the city, as pictured just before sunset.
The entire town is built in between the mountains and the campground provides great views of the colorful architecture that surrounds you.  Even the local church is painted in bright yellow!  Located in the central highlands of Mexico, Guanajuato's climate is amazing; warm during the day, and chilly at night.
The town has a great colonial center where the main sights are within walking distance.  The town being crammed in between mountains, exploring the center requires a workout.  As with any historical town, the downtown map looks like a maze.  However, most of the attractions in Guanajuato are situated along four streets that form a rectangle.
This rectangle brings you to such sights as the local university building, the Plaza de la Paz, Mercado Hidalgo, Teatro Jardin and Jardin de la Union (the city's main plaza).  A quick side trip on a cable car lifts you up to one of the surrounding mountains, providing a great panoramic view of the entire valley.
Being food lovers, our favorite stop was the local municipal market, the Mercado Hidalgo.  Lots of vendors sell popular dishes, including tostados covered with octopus (pulpo), shrimp (camarones) and ceviche; affordable and delicious.
On a final note, the campground's location is great for exploring the city center, but he barking dogs in the surrounding mountains (echo!) make it difficult to fall asleep at night and the locals who start picking up their cars at 6:00 AM make sure you wake up early.
JANUARY: Chris Janeway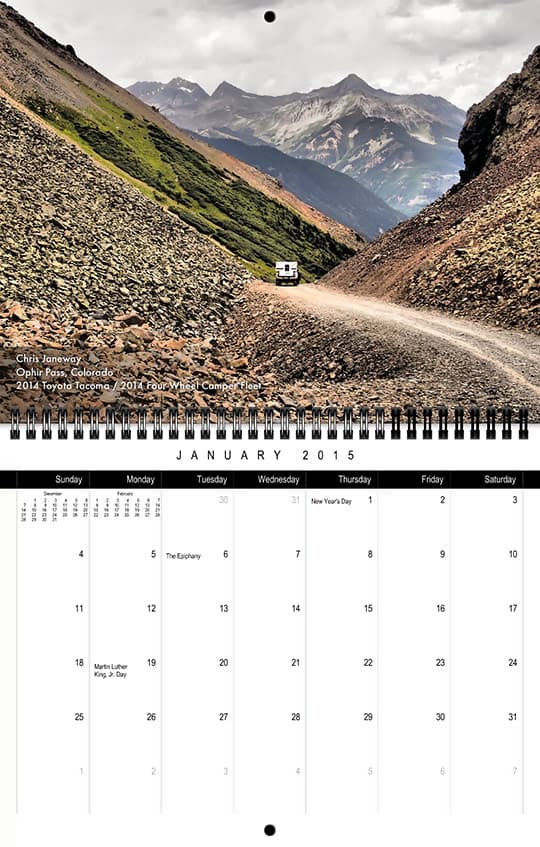 Photo Location: Ophir Pass, Colorado
Truck: 2014 Toyota Tacoma
Camper: 2014 Four Wheel Camper Fleet
This photo was taken during a short camping trip my wife, Lisa, and I took over our wedding anniversary.  Ophir Pass was a road we hadn't driven yet and we camped around that area during this trip.  The day was grey and nobody was around so we stopped near the summit to take a few photos.  Even though it was overcast, it was still a beautiful sight.
FEBRUARY: Sylvie and Sylvain Robin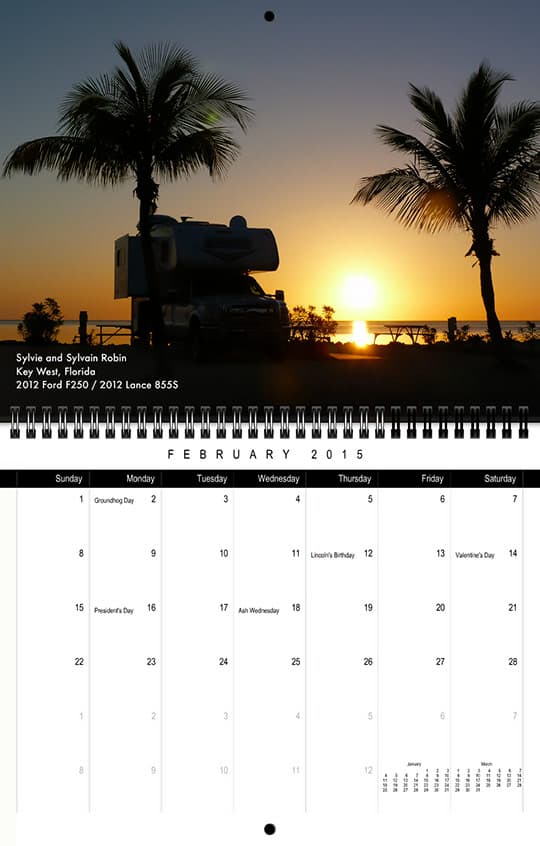 Photo Location: Key West, Florida
Truck: 2012 Ford F250
Camper: 2012 Lance 855S
This photo was taken April 12, 2014 at the Fiesta Key Campground in Key West.  We are a newly retired couple and we wanted to tour Florida and discover places that we would not have gone with other means of transport.  We left Québec in late March for five weeks with our hotel room on the back of our truck!
The first stop was in Tampa Bay.  On April 1st we saw the Tampa Bay Lightning against the Montreal Canadians – a must!  We continued our way on the west coast by Highway 41, visiting museums, exhibition halls, the great inventors, and their fields.  We stopped in the Everglades, continuing by way of A1A to Key West for beautiful scenery.
On the way back, we stopped at the Fiesta Key Campground to chill out and relax with a good book and a glass of wine at the beach.  The picture was of our haven.  On the way north, we went on A1A on the East Coast to the historic city of St. Augustine.  We visited several interesting places on the way.  It was a great trip.  Bon voyage to all!
MARCH: Trevor Case
Photo Location: Jasper National Park, Alberta, Canada
Truck: 2013 Chevy Silverado 3500HD
Camper: 2014 Arctic Fox 992
In early May, after spending the night in Jasper, I headed south on the Icefields Parkway.  It was a gorgeous day to be exploring the Rockies after a long and brutal winter.  The sun was shining brightly, the wind was calm and, because it was early in the season, there were very few visitors in the park.  This was my first longer trip with this truck camper rig and I'll never forget the feeling of freedom as I drove down the stunning highway that morning.
The Icefields Parkway follows the Athabasca River, which was relatively low at that time of year.  As I drove, I kept my eye out for a place to stop, walk down to the river, and explore the rocky bed and swiftly flowing water.  Roughly half an hour after leaving the Jasper townsite, I found a perfect place to park my rig.
After stumbling around on the rocks in the river bed and snapping a couple of really nice photos of the surrounding mountains, I turned around to head back to my truck.  As I walked, I was struck by the beauty of the vibrant blue sky filled with wispy clouds against the lush trees and snow-capped mountain peaks.  I made sure to include my truck and camper in the photo to capture our first big mountain excursion, and the start of many more to come!

APRIL: Stu and Karla Dekkenga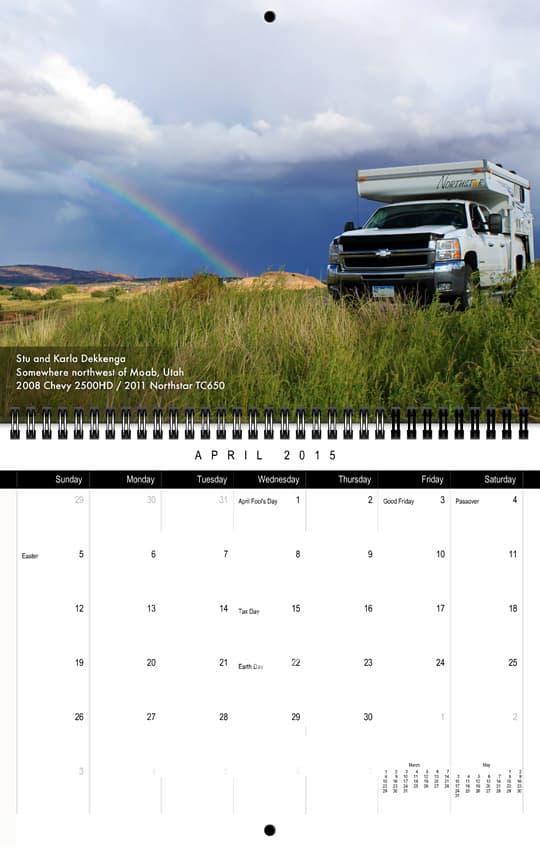 Photo Location: Somewhere northwest of Moab, Utah
Truck: 2008 Chevy 2500HD
Camper: 2011 Northstar TC650
Stu and I had left Iowa in our pickup camper to start our vacation by attending our son's wedding on September 7th, which was held at an outdoor venue in the mountains outside of Boulder, Colorado.  On September 9th, we took a scenic route from northwest Colorado to the Moab area and encountered rain much of the way.  We even had several areas along Colorado Highway 139 where the heavy rains had washed deep mud over the road.
After arriving in the Moab area, we were in search of BLM grounds for camping.  Moab is full of RV parks, but we were wanting to experience the beautiful area in a more natural setting.  So armed with a listing of BLM campsites, we headed north to Highway 313 in search of solitude.
This picture was taken at a pull off spot along Highway 313 somewhere before Lone Mesa Campground.  A new storm was off to the east, and rainbows were showing up the rest of the afternoon.  It seemed like a great spot to capture one of the rainbows while we tried to figure out where we were.  At one point, we were blessed to see a triple rainbow, which neither of us had ever seen before.
We ended up driving a little further, and found Lone Mesa campground.  Lone Mesa is actually a group campsite area, but we were the only ones there.  It was amazingly beautiful!
MAY: Julie and Monte Hendricks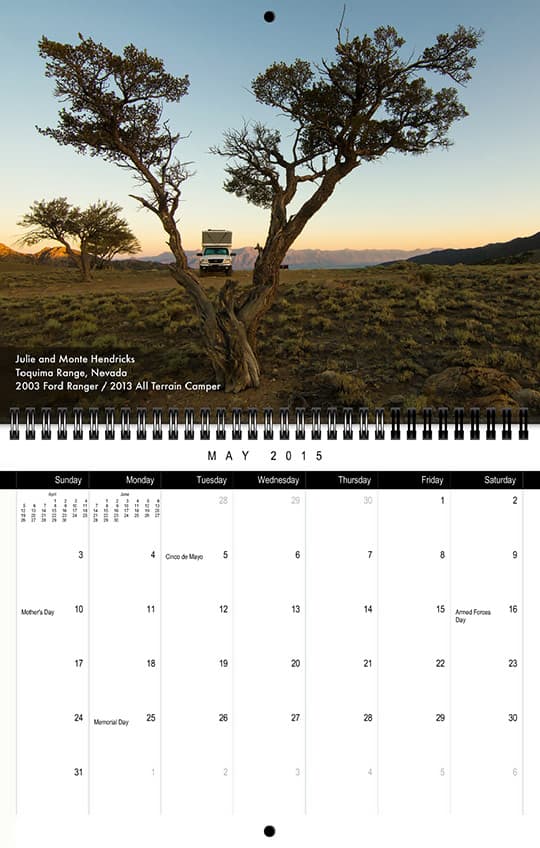 Photo Location: Toquima Range, Nevada
Truck: 2003 Ford Ranger
Camper: 2013 All Terrain Camper
Julie and I had just spent wonderful days doing some of the classic High Sierra Nevada hikes in the Bishop, California area.  The Fourth of July holiday was approaching and so were the crowds.  What to do?
We headed east into Nevada because having neighbors settle in around us is just not our thing.  We also had the idea that a wonderful celebration of Independence Day would be climbing Mount Jefferson, the high point of the Toquima Range.  We would be almost guaranteed the solitude we seek out and enjoy; our personal brand of independence.
The Toquima Range is breached by one four wheel drive road that crosses the crest just south of Mount Jefferson and the Alta Toquima Wilderness area.  This is a favorite place of ours, a refuge we can count on.  It was perfect; a high perch for us and our camper with a 360 degree view of some of the best Nevada has to offer.
Our Independence Day was also perfection with another great hike to the top of Jefferson.  We were alone, except for the rock wrens fussing on the summit, a golden eagle streaking by, and bighorn ewes with their lambs on the broad plateau of the Jefferson massif below.
This photo was taken the morning of July 5th as we prepared to head home.  Up early, we always try to start our day watching a sunrise unfold.  The camera and tripod was set up to catch the first view of the sun crest the Monitor Range to the east.  As we waited, I turned and saw first light hitting the Toiyabe Range to the west and our truck framed by one of the sparse mountain mahoganies in this high place.  This was the most interesting picture and better captured the spirit of our Fourth of July getaway.
JUNE: Alex and Julie Blasingame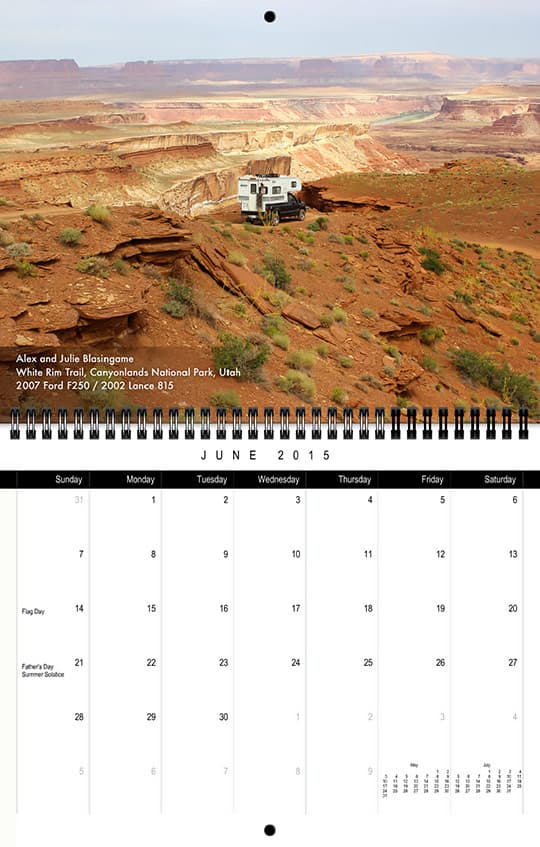 Photo Location: Murphy's Hog Back, White Rim Trail, Canyonlands National Park, Utah
Truck: 2007 Ford F250
Camper: 2002 Lance 815
It was July 3rd, 2014, and we were into our second day on the White Rim Trail in the Island in the Sky region of Canyonlands National Park.  This would be my fourth adventure on this wonderful trail, and Julie's third.
The day started out cloud covered, keeping the temperatures down and very comfortable.  Since the days were still long, we took advantage of that to cover a lot of ground.
Why go so many times on this trail?  It's simple.  On previous trips, we never made it all the way around due to the Green River flooding over in the Upheaval area.  I wanted to complete this trail.  Given the favorable conditions, there was a very good chance of making it all the way this time.
Once leaving Muscle Man Arch, we didn't see another soul until the end of the trail near Mineral Road.  All of the campsites were empty the entire way.  Even though we had marched along this trail in the past, it still presented new surprises of greenery and flowers and the ever chancing trail itself.
We reached the Murphy's Hog Back climb early in the day.  This climb, for our type of rigs, requires the use of low range four wheel drive.  It's not that difficult to get to the plateau where the campsites are located.  We ate an early lunch near the west side of the plateau before deceasing down the Green River side of Murphy's Hog Back.
My Julie was taking most of the photos while I drove down Murphy's.  She also happened to take this photo showing where I stopped on a level section just before the Billcaps formations.  In the photo you can see part of the Green River and some of the Glen Canyon Recreational Area on the other side of the Green River.
We completed the White Rim Trail this time, enjoying the many natural wonders along the way.
JULY: Cheryl and Ted White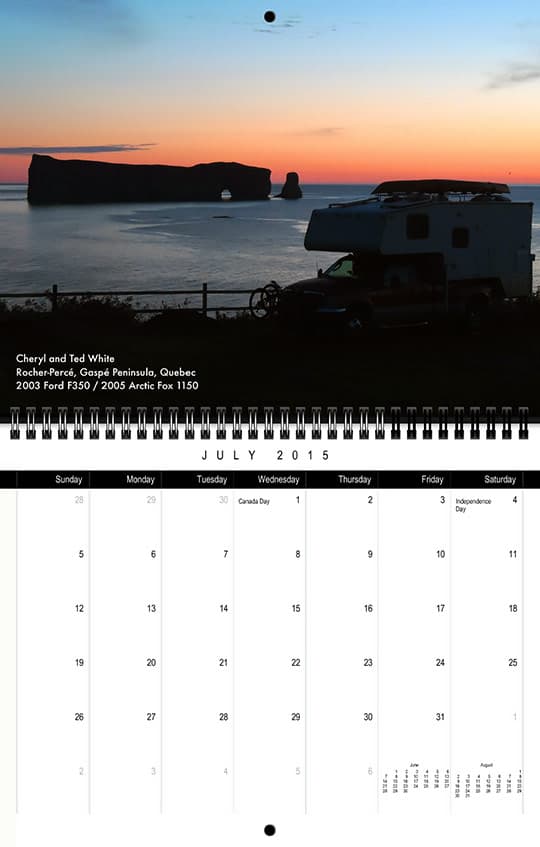 Location: Rocher-Percé, Gaspé Peninsula, Quebec
Truck: 2003 Ford F350 Super Duty
Camper: 2005 Arctic Fox 1150
It was mid-September, 2014.  Finally we were on our way, taking a month to explore the shores and mountains of the Gaspé Peninsula of Quebec.  Long on our bucket list, we researched places we did not want to miss, along with the best direction to start our self-guided tour.
We had decided on the Northern shore first, but it was all turned upside down when a local said, "You have to do it from South to North so you can see Rocher-Percé (Percé Rock) as you approach town.  Since Percé Rock was one highlight of our trip, we took her advice and it was spot on.  We found many campgrounds and sights along the southern route and slowly worked our way out to the end where we would begin our turn to the north.  Percé!
We were so taken by the view as we approached.  We looked for a campground that would allow us to see it the entire time we were there.  Finding campgrounds to be mostly in the off season, we were happily camping in solitary, or close to it, and found a corner site right on a cliff high above the water.  With sunsets, sunrises and a bonus view of Parc National de Ľîle-Bonaventure, we settled in.
Watching the gannets diving proved to be greatly entertaining.  A boat trip out to Bonaventure Island allowed us not only a close-up view of Rocher-Percé, but also the opportunity to spend the day hiking from the boat landing over the island.  We saw many seals and the Gannet colonies with one hundred twenty thousand of these birds in various stages; from fluffy white chicks, to gray juveniles preparing wings for flight, to beautiful sleek adults.
We were within walking distance of the town, which is a bit touristy, but also delightful with museums, waterside walkways, Adirondack chairs painted like gannets, cafes, hikes, and other points of interest.  Each day brought new scenes from our perch.  This photo was one of them, early on a chilly morning before the sun was up.
AUGUST: D. Gorton and Jane Adams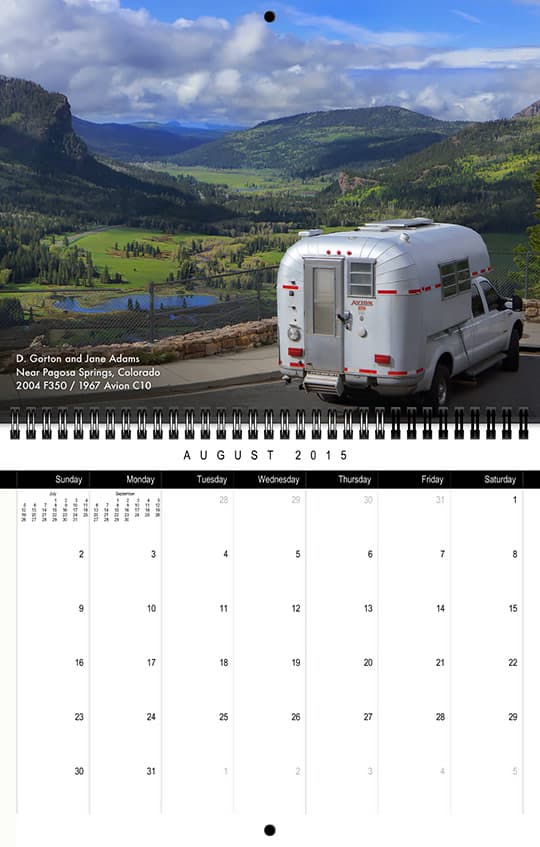 Photo Location: Overlooking the San Juan River near Pagosa Springs, Colorado
Truck: 2004 Ford F350
Camper: 1967 Avion C-10
Jane and I attended Overland Expo West in May of this year.  After the Expo, we decided to revisit places where we had each camped in the 1970s, especially Capitol Reef National Park.  The trip through the Southwest turned into an unending experience of awesome beauty as rains broke the drought and made the desert bloom.
Heading home to Illinois, we camped at fellow truck campers, Doug and Sue Ramsey's Durango, Colorado, sheep farm.  That night it rained torrents.  We departed in our Avion before daybreak in a steady shower.
Climbing highway 160 through the San Juan Mountains the skies were roiling dark clouds.  Gradually it lightened and then the sun broke through.  We pulled over and brewed morning coffee while gazing over the magnificent scene spread before us.
SEPTEMBER: Bryan Appleby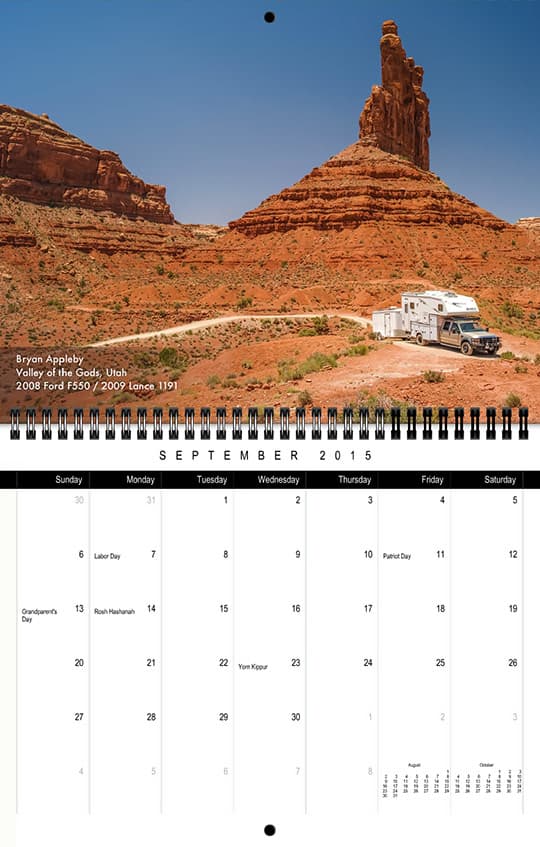 Photo Location: Valley of the Gods, Utah
Truck: 2008 Ford F550
Camper: 2009 Lance 1191
Spending a few weeks boondocking in the Valley of the Gods, in the Four Corners area of southeast Utah, I was moving from one camp to another.  While heading to my third camp, I climbed up on a ridge to photograph some of the area's dramatic landscape.  It was when I was on my way down that to I caught this photograph.
Stopping in the Valley of the Gods is a frequent destination of exploring the surrounding area on my motorcycle and hiking the trails.
OCTOBER: Erica and Sam Christiansen / Chloé and Toby Conroy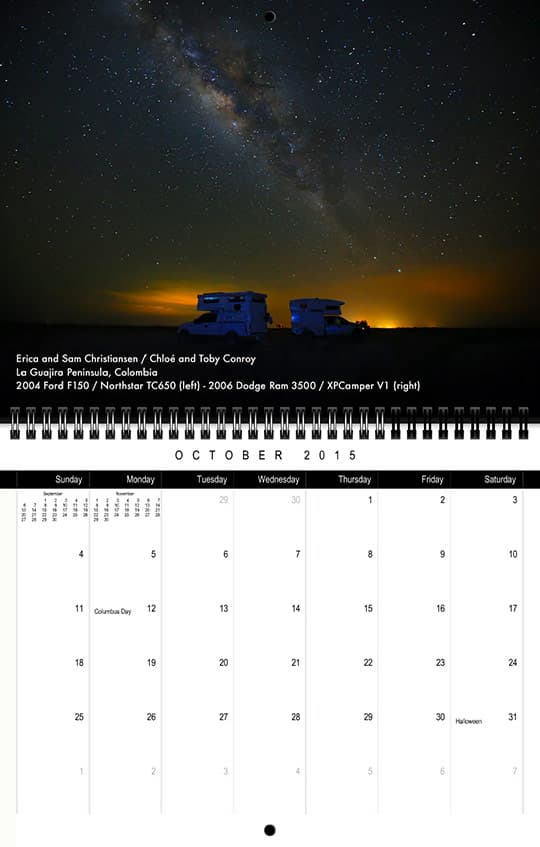 Photo Location: La Guajira Peninsula, Colombia
Truck: 2006 Dodge RAM 3500 / 2004 Ford F-150
Camper: XPCamper V1 / Northstar TC650
Just over a year ago, we decided to sell everything we own to take the trip of a lifetime, traveling down the Pan-American highway from Alaska to Patagonia in our Dodge Ram 3500 and XPCamper V1.  Just before we left, we met Toby and Chloe Conroy who were also headed to South America in a Ford F150 with a Northstar TC650.  We've been traveling with Toby and Chloe on and off since Mexico.
In July, we found ourselves in Cartagena, Colombia searching for our next adventure.  We kept hearing about the Guajira Peninsula.  The Guajira Peninsula stretches across northern Colombia and Venezuela and it contains the northern-most point in South America.  The Wayuu people are the only people who have inhabited this barren desert that is filled with green Caribbean waters and red sand dunes.  In the Wayuu language, La Guajira means the "land of death and dreams".  How could we skip an opportunity to explore a place with a name like that?
We were told that La Guajira Peninsula is a place that is so remote that you should only travel there with other people.  We asked Toby and Chloe to join us as we explored La Guajira, and our adventure was soon underway.  We spent over a week driving across red sand dunes, bush-camping along the beaches, swimming in the green Caribbean waters, and trying to avoid the wind that blasts across the land.
This photo was taken on our last night on the peninsula.  We were camping on a beach on the western shores of the peninsula.  It was the first night that we were able to see the southern cross constellation, which prompted us to pull out the camera and take some photos.  La Guajira is far away from the light pollution of any major cities, and the Milky Way was glowing as we had never seen it before.  We used a small flash light to help light up the truck campers during the fifteen-second exposure.
NOVEMBER: Peter Mason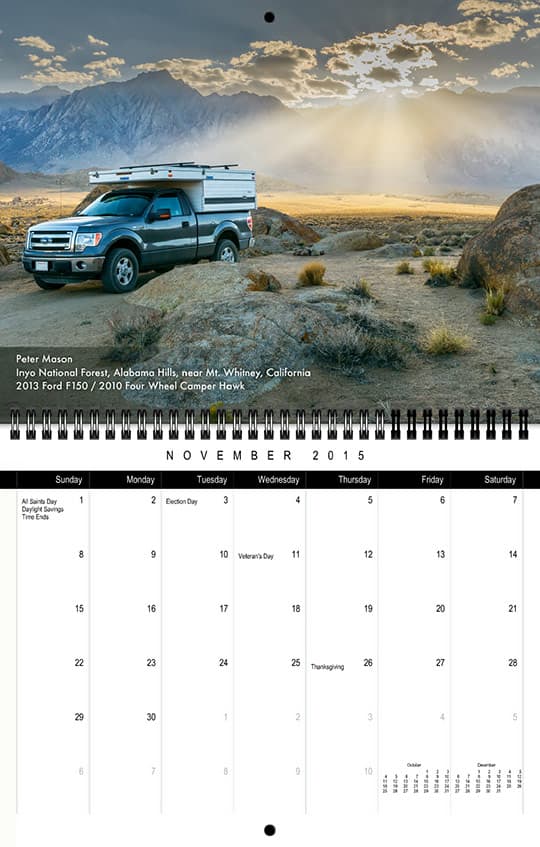 Photo Location: Inyo National Forest, Alabama Hills, near Mt. Whitney, California
Truck: 2013 Ford F-150
Camper: 2010 Four Wheel Camper Hawk
It's been just over a year ago since I purchased my camper and celebrated becoming a retired engineering consultant.  Ever since high school, I enjoyed taking and printing photographs.  Now technology makes the process much easier and, on the road, my Four Wheel camper becomes my electronic darkroom each evening.
My goal is to expand my pallet as a photographer, to capture and create fine art images that communicate some of the the emotions I experience in the natural landscape.
This year I spent thirty-five days exploring parts of Texas, New Mexico, Colorado, Utah, and Nevada.  In the summer, I visited some favorite areas of California including several weeks in Yosemite National Park and several visits to the Eastern side of the Sierra Nevada range along Highway 395.  John Muir proclaimed the Sierra to be the "Range of Light", and it truly is.
The photo was taken in mid-October on the homeward leg of a trip to the Volcanic Tablelands northwest of Bishop, California.  I spent several days camping with friends and exploring the area's rich history, visiting numerous rock art sites that were created by the ancient Paiute – Shoshone inhabitants.
The last day I was solo, heading home via Lone Pine California, gateway to Mount Whitney, the highest peak in the Continental United States.  In the foothills there are many famous rock formations known collectively as the Alabama Hills.  This area has been used to film many movies and TV shows, especially westerns.  I arrived in the area just as the sun was beginning to set behind Mount Whitney.  It's a huge area managed by the BLM and there are many locations where one can boondock.
I quickly selected this site and began to search for a composition which would include the mountains, sun's rays, and some rocks in the foreground.  The camera was set on a tripod and several exposures were taken before the sun dipped behind the range.  I did not even have time to pop-up the top of the camper!
As you might imagine, this is a wonderful place to make photographs.  In its own way, my calendar entry is an homage to one of my photographic heroes, Ansel Adams.  Ansel made an iconic image just north of this spot, also featuring the sun's rays streaming through the clouds.  The backdrop for his famous composition is Mt. Williamson.
Later that evening, after dinner, I photographed a huge egg shaped rock.  Imagine an Alien spaceship landing with the Milky Way extending overhead.  Indeed, it was a fine day.
DECEMBER: Barry and Carol Schoenwetter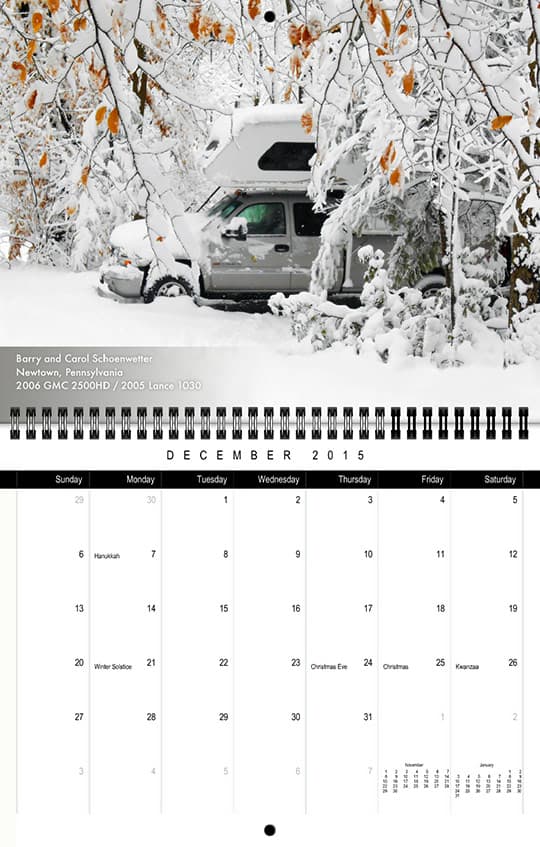 Photo Location: Newtown, Pennsylvania
Truck: 2006 GMC 2500HD
Camper: 2005 Lance 1030
This photo was taken at my sister's home in Newtown, Pennsylvania.  We were on our way home from our Disney truck camper vacation in January of 2014.  We had to squeeze between deep freeze and cold to get up the coast.  We stopped for an overnight at my sister's home.  That had to be extended to wait for the weather and roads to be clear enough to continue our drive to Vermont.  The camper was warm on the inside.