Truck: 2003 Dodge Ram 2500
Camper: 1990 Hallmark LaVeta
"In May of 2013, I had taken time off around the dates of the Overland Expo.  Having been to the Overland Expo a few times already, and the previous two years in a row, I thought I would take that time and explore a new place instead.  I still had the option to make a last second change of mind and drop in, but that did not end up happening.
Chris Janeway and I had shared some information about a remote section of the Arizona strip that lead to the edge of the Grand Canyon on the north rim.  I traveled to Kanab, Utah and supplied up in Fredonia, Arizona.  I then headed southwest into the Grand Canyon, Parashant National Monument, and BLM lands.  A sixty mile trip on bumpy dirt roads led me to the area Chris and I talked about.
It was a very remote place that usually doesn't have many visitors on the north rim edge of the Grand Canyon.  Interestingly, this visit was not as uninhabited as anticipated.  It seemed that during that week leading up to Overland Expo, a bunch of people were overlanding to the Expo with a few day stop over there.  It was easy talking with everyone having that Expo connection.
One of my goals at this location was to hike to the bottom of the canyon, about 3,000 feet down to Lava Falls.  However, hotter than predicted temperatures and good advice from a volunteer park ranger changed my mind on an attempt at that time.
The ranger did have a great alternate suggestion, if I didn't mind journeying another sixty bumpy miles, plus seven moderate four-wheel drive miles, to get ten miles down river to a better location for a bottom of the canyon hike.  I took that information and ran, rather four-wheeled, to the Whitmore Canyon overlook area.
It was quite the drive to a fantastic remote location, with a better hiking trail to the river 1,000 feet below at that location.  I spent five days there, including a backpack trip down to the canyon bottom.  I camped three days and two nights on the river.  I fell in love with the location and stayed there instead of trying to make the Overland Expo.  I took my winning calendar shot up on the edge of the overlook, parked on an ancient lava flow.
It was a fantastically remote location.  The only other visitors topside were some folks staying at a dude ranch about ten miles away that stopped by on an ATV day trip, and a few rattlesnakes slithering through camp.  And, on the river, I had some rafters visit my campsite.  I'll most definitely revisit this place." – James McCoy
MAY: Lucien and Helen Langlois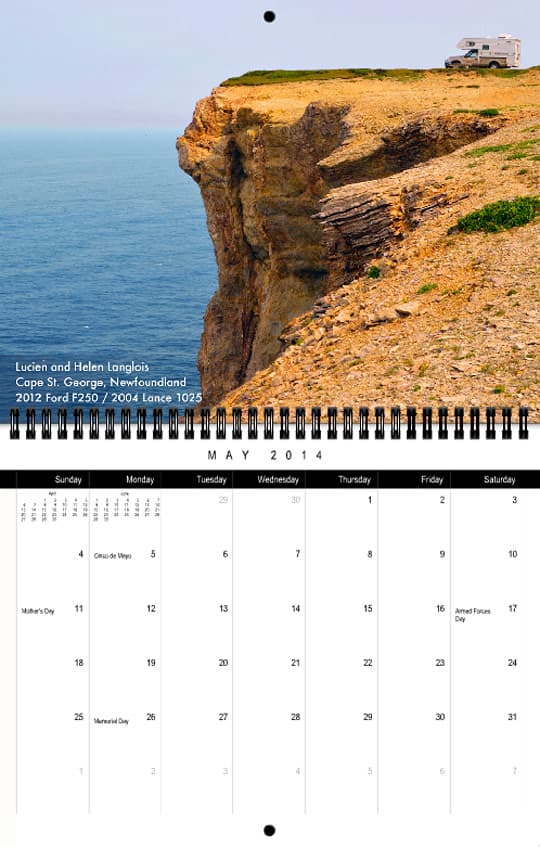 Location: Cape St George, Newfoundland
Truck: 2012 Ford F-250
Camper: 2004 Lance 1025
"This picture was taken July 19, 2013 on a trip that was supposed to take us on a giant circle encompassing Labrador, Newfoundland, Nova Scotia, and New Brunswick.  A forest fire in Labrador changed our route and we had to back track and reverse our trip.
My favorite line is, "We are in a canoe floating down a river without paddles".  Let the truck camper bring us to new adventures!  That is what we did as we started to explore this large island of Newfoundland, Canada.
Cape St. George is located in the southwest corner.  The road brought us to the overlook that most tourists stop at to view and take pictures.  I noticed a small rocky road headed further up to the heights of the land.  I couldn't resist gearing down and locking into four wheel drive.
The climb wasn't bad at all.  I could see that ATVs also used this road.  Soon we were at the top and very near the three hundred or so foot drop-off to the ocean below.  My wife, Helen, started to say my name, "Lucien", which was a sure sign that she was getting nervous about the proximity to the edge.
We watched the many nesting birds on the cliffs below and I took my pictures.  Ironically, at the time, I said to myself, "This would make a good calendar picture for the Truck Camper Magazine contest!" – Lucien and Helen Langlois
JUNE – Dan Gindling
Photo Location: Flaming Gorge National Recreation Area, Wyoming
Truck: 2011 Toyota Tundra
Camper: 2005 Four Wheel Camper Grandby
"I had only planned on spending one night at Flaming Gorge but, on my morning drive through the park, I saw a dirt road to what appeared to be a killer promontory.  I parked my truck and walked up the dirt road to make sure it was passable.  I discovered one short section of steep, loose dirt but I thought I could make it.  So I put my Toyota into four-wheel drive low and let her rip.
On the steep section, the truck hesitated and then found its grip.  I made it to the top of the incline and then backed onto a shelf that overlooked the river.  It's one of the most incredible camping spots I've found in four years of dry camping.  That evening, the magic hour for taking photos arrived, and I made the photo." – Dan Gindling