Photo Location: Dempster Highway, Yukon Territory
Truck: 1996 Ford F250
Camper: 1997 Sun Lite Eagle
"We are a Chilean couple driving from Alaska to Chile in our truck camper powered by used cooking oil.  This photo was taken in mid-September 2013, the second month of our year long trip, just after visiting Alaska.
We went to drive on the Dempster Highway, a very remote road in the north of Canada, for five days.  We had amazing weather the first four days, until the last night.  We woke up and it was very cold.  There was snow outside, which was a great surprise for us, since we did not expect it.
We drove to a lookout and it was so cloudy that we couldn't get to see anything but snow on the hills.  I decided to jump out of the truck and take a picture of our dirty truck on the snowy road." – Carola Teixidó and Victor Millán
FEBRUARY: Alberto Sacio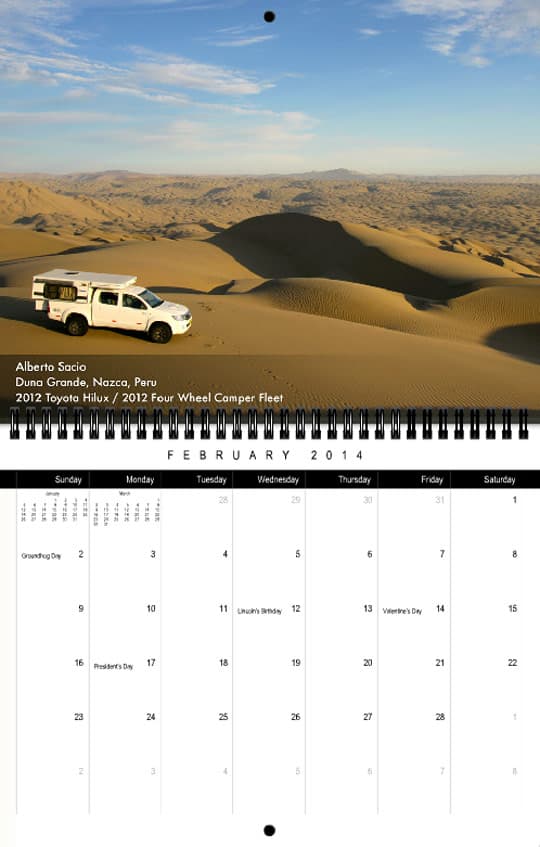 Photo Location: Duna Grande, Nazca, Peru
Truck: 2012 Toyota Hilux
Camper: 2012 Four Wheel Camper Fleet
"Duna Grande, a 6,000 foot dune in Nazca, is the Holy Grail of Peruvian off-roaders.  Once a year, a group of locals organize a three-day camping trip that ends with all one hundred fifty participants scrambling the last 3,000 feet to the top.
This year, I attended in my Hilux and Four Wheel Camper.  Needless to say, I did not have a chance against unloaded trucks, so I dropped the camper and joined in on the fun.  That evening, everyone else headed home, while I camped another night and enjoyed the desert.
The next morning, I heard voices and I am quite sure they were challenging me to be the first camper to ever reach the top of a 6,000 foot sand dune.  So I gunned it.  I think I might have set a record.  I spent another night at the top; that 360 view of the desert cannot be described in words." – Alberto Sacio
MARCH: Nolan Sturgeon
Photo Location: Canyon Sin Nombre, Anza Borrego Desert State Park, California
Truck: 2001 Ford F350
Camper: 2004 Eagle Cap 800
"This was during one of those winter storms in Southern California where the storm will get hung up in the foothills and fail to reach the desert.  It will be pouring rain at my house in Ramona, but the desert is dry and clean.
I decided to take a trip out into the desert rather than be stuck inside watching the rain come down.  The wind can be pretty fierce.  Canyon sin Nombre in Anza Borrego Desert gives some protection from the wind and also provides a spectacular slot canyon hike where the walls get so tight you have to turn sideways to squeeze through them.  I climbed up the cliff to take some pictures as my kids were warm and cozy watching Star Wars in the camper.
Canyon sin Nombre in Anza Borrego Desert State Park represents a transition from marine to non-marine where a shallow sea once existed and the ancestral Colorado River delta once flowed.  The Elsinore fault twists and contorts this canyon apart.
Over 200 invertebrate fossil species such as snails, starfish, sea urchins, barnacles, corals, oysters and clams have been found and still lay and wait for the adventurous soul.  Nearby, the remains of ancient Lake Tapaido, a shallow fresh water lake where vertebrate fossils of ancient camels, horses, sloths and feline species have also been found.  Canyon Sin Nombre is truly a geological and truck camper wonderland." – Nolan Sturgeon
APRIL: James McCoy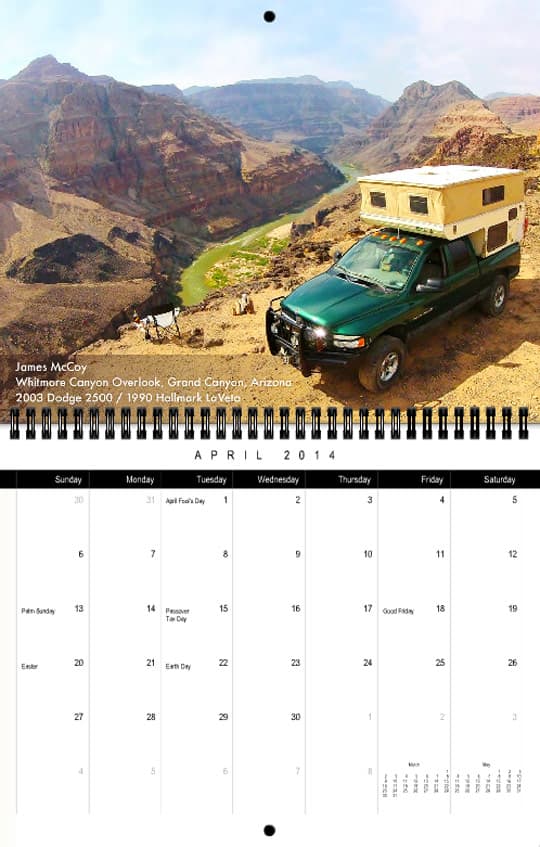 Photo Location: Whitmore Canyon Overlook, North Rim of the Grand Canyon, Arizona