The 2014 Truck Camper Magazine Calendar winning photographs are even more stunning printed in full-color and high-resolution.  Read the amazing stories, and then order your copy!

It's always a thrill to open up a new TCM Calendar and see how amazing the winning photographs look printed in high-resolution and full-color.  The electrons on our computer screens simply can't do these incredible photographs justice.
We all but tackle the poor FedEx guy every year when he pulls up with the new calendar.  The Lulu.com box opens and the oohs and aahs begin with every month reveal.  This is how it goes down at TCM HQ year after year.  We love the calendars!
Thanks to everyone who participated in the 2014 Truck Camper Magazine Calendar contest.  We were deeply inspired by your photography and can't wait to visit some of the places you showed us.  Thank you!
COVER: Andrés Schiele and Astrid Rosas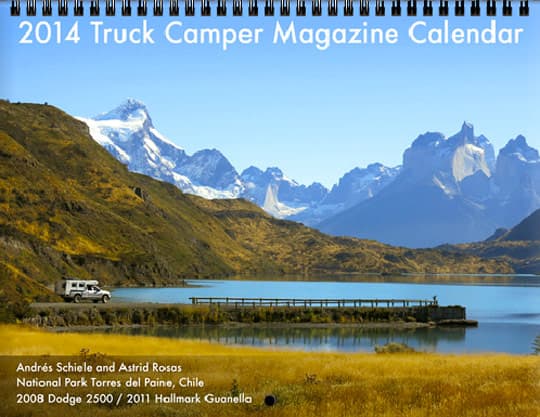 Photo Location: Torres del Paine National Park, Chile
Truck: 2008 Dodge Ram 2500
Camper: 2011 Hallmark Guanella
"In southern Chile, right near the Magellan Strait, and within the lands of Chilean Patagonia, stands one of the most amazing places in the world, Torres del Paine National Park.  The park is paradise for intrepid climbers, idolized by nature lovers, and a stunning challenge for hikers looking for a beautiful landscape.
Torres del Paine National Park is one of the components of the National System of Protected Forested Areas of Chile and was created on May 13, 1959.  The park averages around 150,000 visitors a year, of which sixty percent are foreign tourists who come from all over the world.
The park is known worldwide for the massifs that give it its name.  The best-known and most spectacular summits are the three Towers of Paine; in Spanish, Torres del Paine.  They are gigantic granite monoliths shaped by the forces of glacial ice.  In addition to the Torres del Paine, the horns, Cuernos del Paine, are also part of the massif of the same name.
You can enjoy mountains, glaciers, lakes, and rivers in southern Chilean Patagonia.  Guanacos (a smaller cousin to the alpaca and llama), Rheas (large fast birds, like an ostrich), and Condors are just some of the local wildlife to be seen.  Torres del Paine National Park is a UNESCO Biosphere Reserve.
The mountains of the Paine Range are obviously the main attraction of the park.  The park lies in a transition area between the Magellanic sub-polar forests and the Patagonian Steppes.
This area also receives some of the worst weather in the world.  The locals usually say that Patagonia is one place you could experience all four seasons in the same day, and the local joke is, "if you don't like the weather just wait a minute".  It can change that fast!
The exact location of our photo corresponds to the Paine River at the site of the old Weber bridge.  Actually, there is no bridge there because a new bridge was constructed close to it.  Looking at the background, you can see the mountains of the Paine Range and the famous Horns of Paine.  The photo was taken in March of 2013 on a sunny and zero wind day.  It was a perfect day to hike, take photos and enjoy of the peace you can find in this remote area of the world.
During our 100 days trip to Patagonia, we visited the park two times; first in January with some really windy days, and then in March when we had the best weather we could wish for.  We stayed at the park for seven days and enjoyed the good weather and hiking, especially the hike that took us eight hours to reach the base of the towers.
In the park there are camping facilities to spend the night.  There are also restaurants where you can enjoy the food and the wonderful scenery.
Without a doubt, it's a remote and beautiful place where you don't know what to expect from the weather, but it is worth the visit.  Truck campers are the perfect vehicle to tour the park and Patagonia." – Andrés Schiele and Astrid Rosas
JANUARY: Carola Teixidó and Victor Millán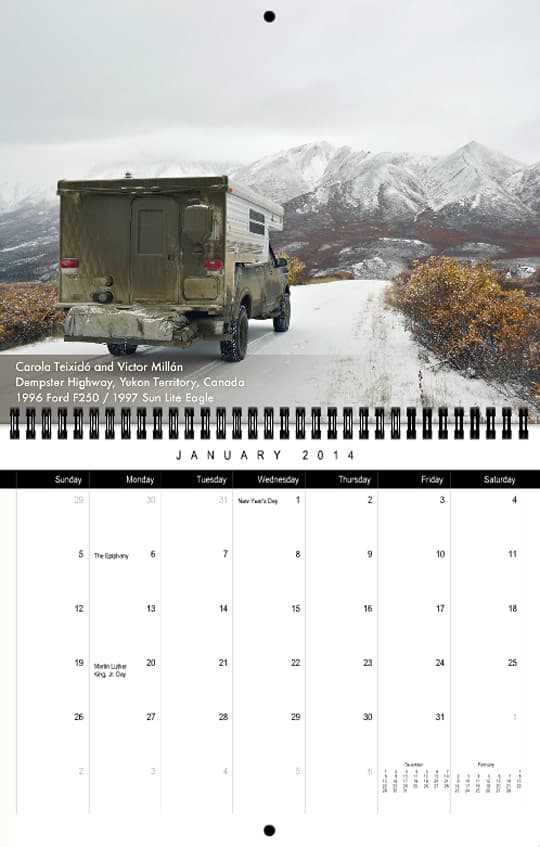 Photo Location: Dempster Highway, Yukon Territory
Truck: 1996 Ford F250
Camper: 1997 Sun Lite Eagle
"We are a Chilean couple driving from Alaska to Chile in our truck camper powered by used cooking oil.  This photo was taken in mid-September 2013, the second month of our year long trip, just after visiting Alaska.
We went to drive on the Dempster Highway, a very remote road in the north of Canada, for five days.  We had amazing weather the first four days, until the last night.  We woke up and it was very cold.  There was snow outside, which was a great surprise for us, since we did not expect it.
We drove to a lookout and it was so cloudy that we couldn't get to see anything but snow on the hills.  I decided to jump out of the truck and take a picture of our dirty truck on the snowy road." – Carola Teixidó and Victor Millán
FEBRUARY: Alberto Sacio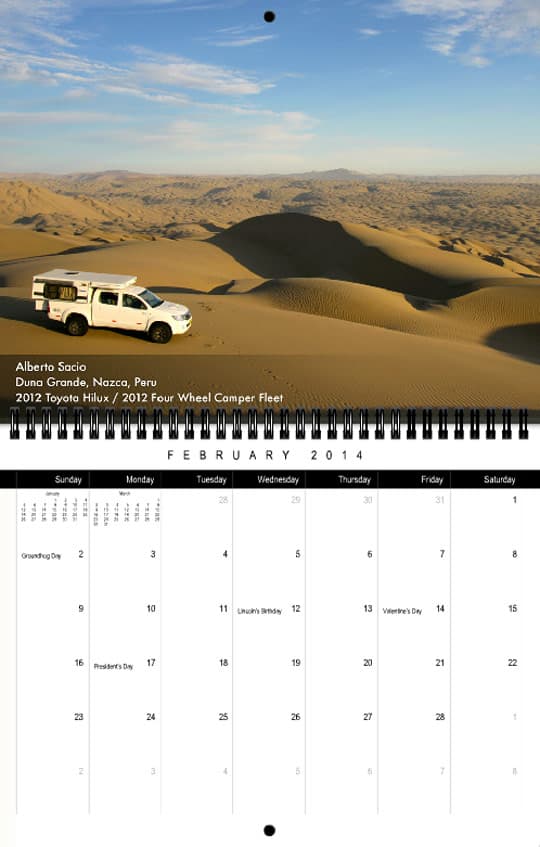 Photo Location: Duna Grande, Nazca, Peru
Truck: 2012 Toyota Hilux
Camper: 2012 Four Wheel Camper Fleet
"Duna Grande, a 6,000 foot dune in Nazca, is the Holy Grail of Peruvian off-roaders.  Once a year, a group of locals organize a three-day camping trip that ends with all one hundred fifty participants scrambling the last 3,000 feet to the top.
This year, I attended in my Hilux and Four Wheel Camper.  Needless to say, I did not have a chance against unloaded trucks, so I dropped the camper and joined in on the fun.  That evening, everyone else headed home, while I camped another night and enjoyed the desert.
The next morning, I heard voices and I am quite sure they were challenging me to be the first camper to ever reach the top of a 6,000 foot sand dune.  So I gunned it.  I think I might have set a record.  I spent another night at the top; that 360 view of the desert cannot be described in words." – Alberto Sacio
MARCH: Nolan Sturgeon
Photo Location: Canyon Sin Nombre, Anza Borrego Desert State Park, California
Truck: 2001 Ford F350
Camper: 2004 Eagle Cap 800
"This was during one of those winter storms in Southern California where the storm will get hung up in the foothills and fail to reach the desert.  It will be pouring rain at my house in Ramona, but the desert is dry and clean.
I decided to take a trip out into the desert rather than be stuck inside watching the rain come down.  The wind can be pretty fierce.  Canyon sin Nombre in Anza Borrego Desert gives some protection from the wind and also provides a spectacular slot canyon hike where the walls get so tight you have to turn sideways to squeeze through them.  I climbed up the cliff to take some pictures as my kids were warm and cozy watching Star Wars in the camper.
Canyon sin Nombre in Anza Borrego Desert State Park represents a transition from marine to non-marine where a shallow sea once existed and the ancestral Colorado River delta once flowed.  The Elsinore fault twists and contorts this canyon apart.
Over 200 invertebrate fossil species such as snails, starfish, sea urchins, barnacles, corals, oysters and clams have been found and still lay and wait for the adventurous soul.  Nearby, the remains of ancient Lake Tapaido, a shallow fresh water lake where vertebrate fossils of ancient camels, horses, sloths and feline species have also been found.  Canyon Sin Nombre is truly a geological and truck camper wonderland." – Nolan Sturgeon
APRIL: James McCoy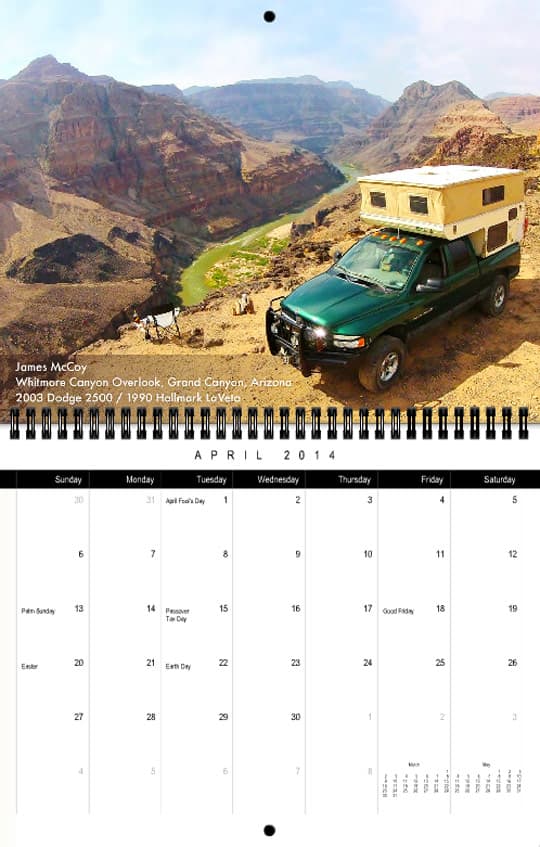 Photo Location: Whitmore Canyon Overlook, North Rim of the Grand Canyon, Arizona
Truck: 2003 Dodge Ram 2500
Camper: 1990 Hallmark LaVeta
"In May of 2013, I had taken time off around the dates of the Overland Expo.  Having been to the Overland Expo a few times already, and the previous two years in a row, I thought I would take that time and explore a new place instead.  I still had the option to make a last second change of mind and drop in, but that did not end up happening.
Chris Janeway and I had shared some information about a remote section of the Arizona strip that lead to the edge of the Grand Canyon on the north rim.  I traveled to Kanab, Utah and supplied up in Fredonia, Arizona.  I then headed southwest into the Grand Canyon, Parashant National Monument, and BLM lands.  A sixty mile trip on bumpy dirt roads led me to the area Chris and I talked about.
It was a very remote place that usually doesn't have many visitors on the north rim edge of the Grand Canyon.  Interestingly, this visit was not as uninhabited as anticipated.  It seemed that during that week leading up to Overland Expo, a bunch of people were overlanding to the Expo with a few day stop over there.  It was easy talking with everyone having that Expo connection.
One of my goals at this location was to hike to the bottom of the canyon, about 3,000 feet down to Lava Falls.  However, hotter than predicted temperatures and good advice from a volunteer park ranger changed my mind on an attempt at that time.
The ranger did have a great alternate suggestion, if I didn't mind journeying another sixty bumpy miles, plus seven moderate four-wheel drive miles, to get ten miles down river to a better location for a bottom of the canyon hike.  I took that information and ran, rather four-wheeled, to the Whitmore Canyon overlook area.
It was quite the drive to a fantastic remote location, with a better hiking trail to the river 1,000 feet below at that location.  I spent five days there, including a backpack trip down to the canyon bottom.  I camped three days and two nights on the river.  I fell in love with the location and stayed there instead of trying to make the Overland Expo.  I took my winning calendar shot up on the edge of the overlook, parked on an ancient lava flow.
It was a fantastically remote location.  The only other visitors topside were some folks staying at a dude ranch about ten miles away that stopped by on an ATV day trip, and a few rattlesnakes slithering through camp.  And, on the river, I had some rafters visit my campsite.  I'll most definitely revisit this place." – James McCoy
MAY: Lucien and Helen Langlois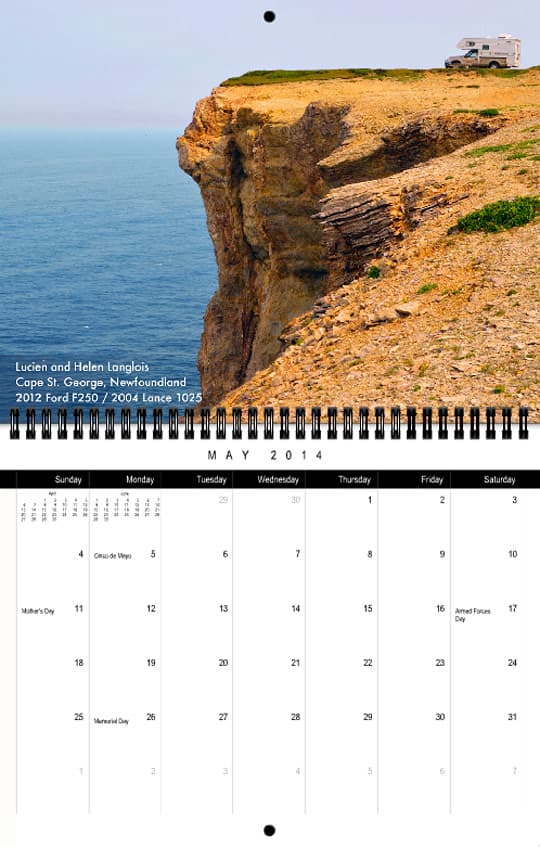 Location: Cape St George, Newfoundland
Truck: 2012 Ford F-250
Camper: 2004 Lance 1025
"This picture was taken July 19, 2013 on a trip that was supposed to take us on a giant circle encompassing Labrador, Newfoundland, Nova Scotia, and New Brunswick.  A forest fire in Labrador changed our route and we had to back track and reverse our trip.
My favorite line is, "We are in a canoe floating down a river without paddles".  Let the truck camper bring us to new adventures!  That is what we did as we started to explore this large island of Newfoundland, Canada.
Cape St. George is located in the southwest corner.  The road brought us to the overlook that most tourists stop at to view and take pictures.  I noticed a small rocky road headed further up to the heights of the land.  I couldn't resist gearing down and locking into four wheel drive.
The climb wasn't bad at all.  I could see that ATVs also used this road.  Soon we were at the top and very near the three hundred or so foot drop-off to the ocean below.  My wife, Helen, started to say my name, "Lucien", which was a sure sign that she was getting nervous about the proximity to the edge.
We watched the many nesting birds on the cliffs below and I took my pictures.  Ironically, at the time, I said to myself, "This would make a good calendar picture for the Truck Camper Magazine contest!" – Lucien and Helen Langlois
JUNE – Dan Gindling
Photo Location: Flaming Gorge National Recreation Area, Wyoming
Truck: 2011 Toyota Tundra
Camper: 2005 Four Wheel Camper Grandby
"I had only planned on spending one night at Flaming Gorge but, on my morning drive through the park, I saw a dirt road to what appeared to be a killer promontory.  I parked my truck and walked up the dirt road to make sure it was passable.  I discovered one short section of steep, loose dirt but I thought I could make it.  So I put my Toyota into four-wheel drive low and let her rip.
On the steep section, the truck hesitated and then found its grip.  I made it to the top of the incline and then backed onto a shelf that overlooked the river.  It's one of the most incredible camping spots I've found in four years of dry camping.  That evening, the magic hour for taking photos arrived, and I made the photo." – Dan Gindling
JULY: JJ Catlett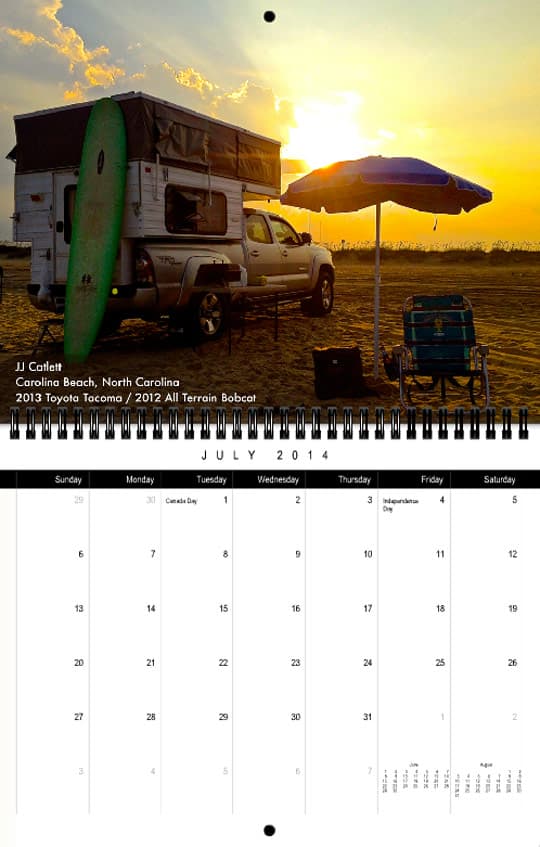 Photo Location: Carolina Beach, North Carolina
Truck: 2013 Toyota Tacoma
Camper: 2012 All Terrain Bobcat
"This photo was taken in late September of this year during an amazing camping time at Freeman Park in Carolina Beach.  I live only forty-five minutes from this spot so I like to camp there as often as possible.
The weather in North Carolina in the fall is perfect, without much humidity.  And the crowds are gone.  Usually in the summer in the park there are hundreds of campers.  I was excited when I pulled into camp for the night and there wasn't another truck within 100 yards either way.  I was camping alone as I was getting married a couple weeks later and wanted a night of reflection.  It was a perfect evening.
This spot is ideal because the sun rises from the ocean and sets just behind you toward the intercoastal waterway.  This night (as usual) the sunset was starting to really show the golden and orange colors with the perfect amount of clouds to filter it.  I chose to photograph it using the camper and umbrella to contrast the sunset.  I had just finished a fun surf session and had propped my surfboard against the truck, and it was a perfect addition to the picture.
Afterwards, I started a campfire and gazed at the stars for hours.  This park is a must for anyone with a truck camper, but definitely avoid the crazy months of June through August if possible.  You can camp at Freeman Park year round which is pretty nice." – JJ Catlett
AUGUST: Mike and Lisa Johnson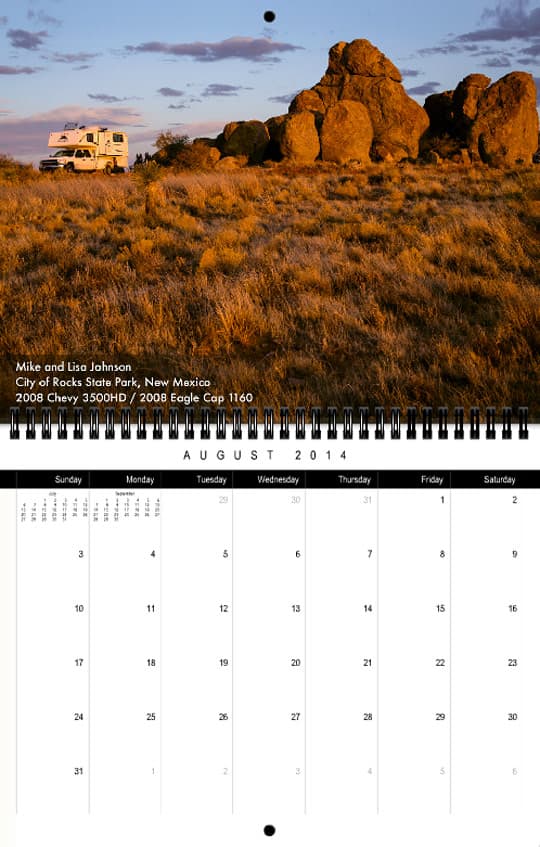 Photo Location: City of Rocks State Park, New Mexico
Truck: 2008 Chevrolet Silverado 3500 HD
Camper: 2008 Eagle Cap 1160
"Back in the spring, me, my wife Lisa, our two Weimaraners (Sibley and Delaney) as well as my mom and dad, headed to Louisiana and Texas to see the spring bird migration.
Each spring, songbirds make their journey flying 500 miles over the Gulf of Mexico and crash into our coastline in an incredible spectacle.  There are a handful of specialty birds that only come to the United States at the very tip of southern Texas, so we looked for as many of them as we could find as well.
In southern Texas, it started to get hot and, with two dogs in the camper, we needed to find cooler weather.  With limited time left on the trip we wanted to get somewhere quick so we could enjoy the remainder of our journey.  Remembering a previous trip to the mountains of Gila, New Mexico we headed off in a mad dash.
En route, we stopped at one of the neatest campgrounds called City of Rocks State Park.  City of Rocks has several unique attractions.  The large rock outcropping in the middle of the desert tops the list, however it is also a great place for astronomy, and there is an amazing number of the largest rabbits you have ever seen.
Knowing we needed to get a good photo for the calendar, I headed out one afternoon to capture the moment.  With the setting sun creating long shadows and an awesome golden glow, I set up and captured the perfect light forever." – Mike and Lisa Johnson
SEPTEMBER – Andre and Marcia Pereira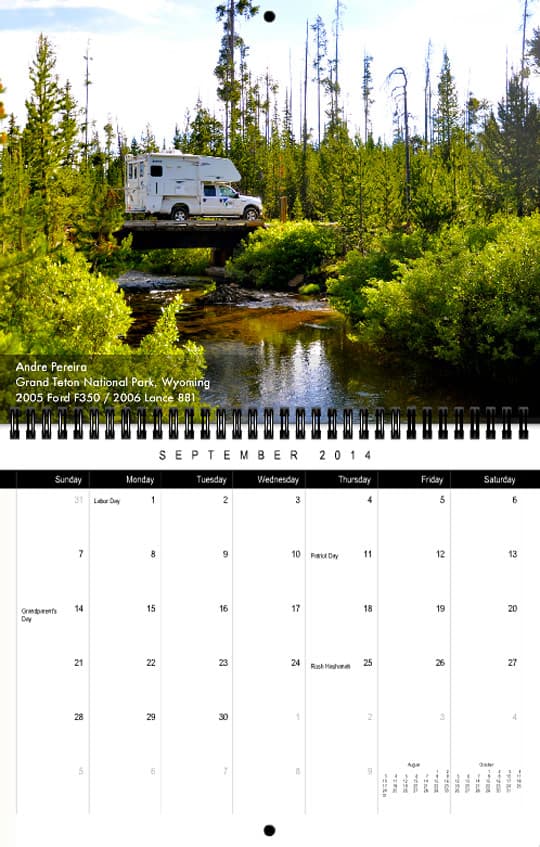 Photo Location: Grand Teton National Park, Wyoming
Truck: 2005 Ford F350
Camper: 2006 Lance 881
"We're Andre, Marcia, and Olivia, and we're overlanding our way from the USA to Ushuaia, in Argentina.  Then we'll travel to Brazil, where we're originally from.  Our adventure is called "De Uma America a Outra" which means, in Portuguese, from one America to the other.
We arrived at the Grand Teton National Park very late.  We did not find any vacancy at the campsites, so we had to spend the night at a free site that was reachable by a ten mile dirt road.  The road was full of signs "be aware of bears" and that just creeped the heck out of us.
It was so dark that we couldn't even see where we were, but got rewarded the next morning with a gorgeous view.  I drove the rig to the bridge, Marcia took the picture and ran away fearing a bear would eat her alive!" – Andre and Marcia Pereira
OCTOBER – Michael Smith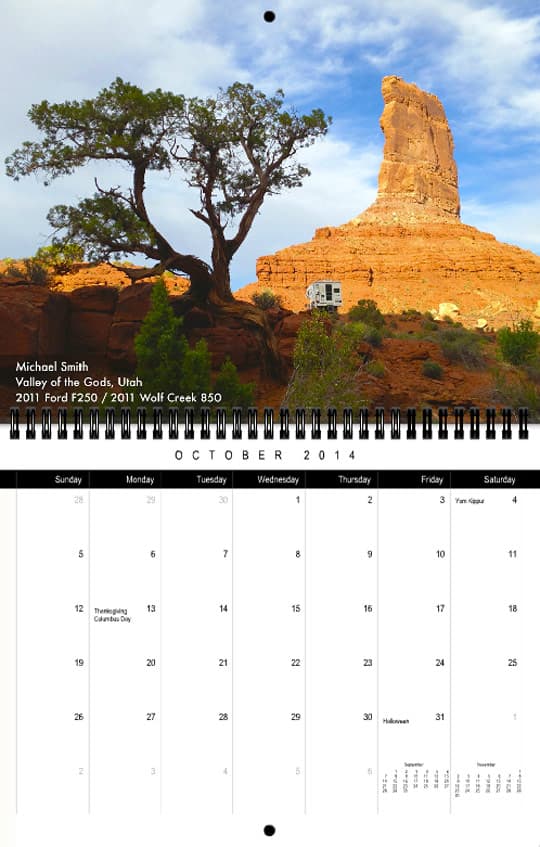 Photo Location: Valley of the Gods, Utah
Truck: 2011 Ford F250
Camper: 2011 Wolf Creek 850
"This photograph was taken in late May 2013 at one of my all-time favorite locations in the great state of Utah, Valley of the Gods.  The valley is located on public land managed by the Bureau of Land Management, so boondocking is permitted at designed locations.
My wife and I took hundreds of photos during our two-day visit of the valley, but this one particular shot of our campsite was taken a few hours before sunset during our first day.
Located on the western side of the valley, the location of our campsite was pretty spectacular.  We were nestled between three massive buttes affectionately known as General de Gualle and his Troops, Santa and Rudolph, and the one shown in the picture, the Castle.  We were pretty much alone in the entire valley.  Only one other RV was camped for the night.
The photo was taken in a large wash at the end of one of our hikes as we approached our campsite from the west.  The combination of the sunlit butte and the blackened mesquite tree caught my eye and was a photo I couldn't pass up." – Michael Smith
NOVEMBER – Eddie Hayden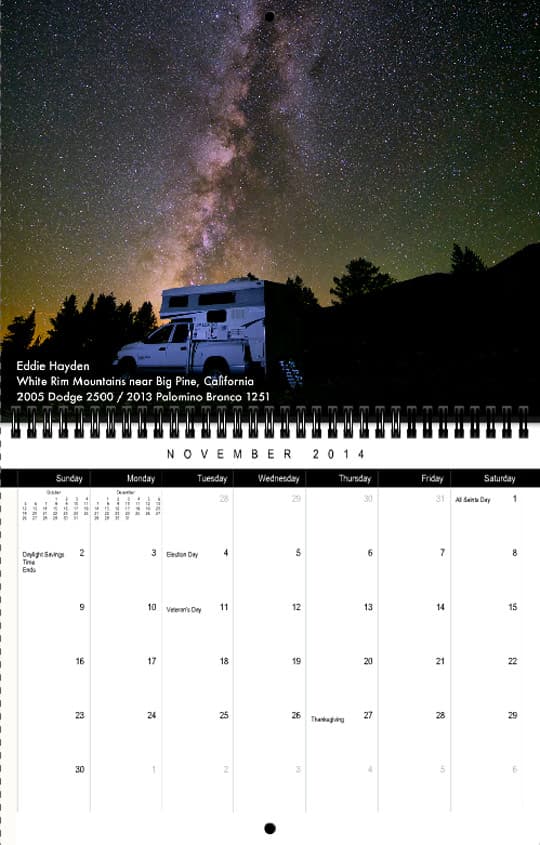 Photo Location: White Mountains near Big Pine, California
Truck: 2005 Dodge Ram 2500
Camper: 2013 Palomino Bronco 1251
"My wife and I recently retired and bought our first truck camper.  We spent almost a year planning a six week camping trip.  I was interested in the Ancient Bristlecone Pine Forest near Big Pine California as the bristlecone pines are among the oldest trees in the world.  After researching the area we added it to our itinerary as a must see location.  We left our home in Texas on August 24, 2013 and covered over 9,000 miles driving through eleven states and three Canadian provinces.
The main goal of this stop was to photograph the bristlecone pines with the Milky Way as a backdrop.  There is a campground before the visitor center that is on a first come basis with the only provision being vault toilets.  This is where we planned to camp for the night.
This photo was taken in an area known as The Patriarch Grove.  It is located twelve miles past the visitor center at 11,000 feet.  Trees in this grove have been dated to over 4,000 years old.  Camping is not allowed in the Grove but this is a popular spot for astrophotographers and there is no curfew.  We parked in the designated area and popped up the camper to get to warm clothes and our camera gear.
After taking photos of the pines I was walking back to the camper and took this photo.  I have to admit the camper with the Milky Way was an after thought as I had forgotten about the Calendar Contest.  This won't happen again!" – Eddie Hayden
DECEMBER – Meg and Jed Wolfrom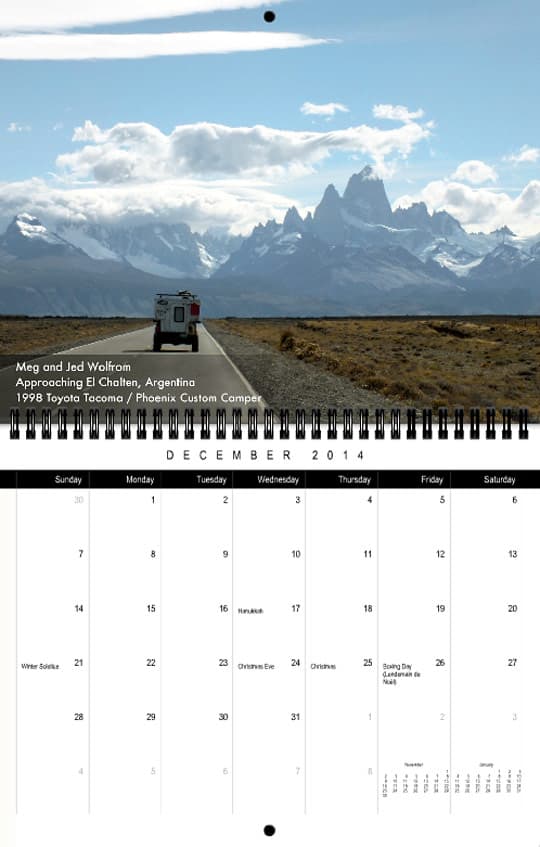 Photo Location: Approaching El Chalten, Argentina
Truck: 1998 Toyota Tacoma
Camper: 2012 Phoenix Pop-up Camper
"This photo was taken near the end of our year and half long journey to the southern tip of Argentina.  We had seen some amazing scenery along the way, but this spot was simply awe inspiring.  At the time, we were traveling with some friends we had met along the road who were also driving their own rig through the Americas.  They captured this moment for us as they followed behind.
The mountains in the background are part of the Fitz Roy range, a hulking mass of 3,000 foot tall cliffs surrounded by glaciers and tundra.  The days there were spent scrambling among them, exploring the amazing beauty.  However, the wind in that area is horrendous and the weather is constantly changing do to its close proximity to the ocean and glaciers, so camping at night meant finding a wind break, like trees or a building, and bracing your self up as close to it as possible.
Thank goodness we were in our Phoenix camper where we were warm and cozy.  It was nice to have road buddies to share bottles of wine with!" – Meg and Jed Wolfrom