The 2013 Truck Camper Magazine Calendar is ready!  Even better, we have the stories behind the winning photographs and reveal which photograph made the cover.

Angela was on a story interview for the magazine when our first copy of the 2013 Truck Camper Magazine Calendar showed up at our door this week.  I didn't dare open it myself, but waited patiently, anxiously, with tremendous and almost unbearable anticipation for Angela to finish her interview.  Then, at long last, Angela and I opened the box and saw the 2013 TCM calendar for the first time.  It's a beauty!  The winning photographs look fantastic printed in full-color and high-resolution.  You're going to love it!
CLICK HERE TO ORDER THE 2013 TCM CALENDAR
COVER: Mike Sullivan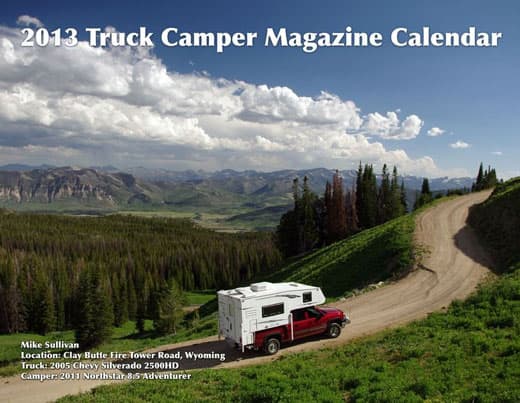 Photo Location: Clay Butte Fire Tower Road, Wyoming
Truck: 2005 Chevy Silverado 2500HD
Camper: 2011 Northstar 8.5 Adventurer
"This photo was taken in July on the road up to the Clay Butte Fire lookout, elevation 9,811 feet.  It's located off of Highway 212 in Wyoming, also known as the Beartooth Highway.  The lookout has not been in service since 1960 and was closed to visitors at the time this picture was taken.  The drive up the dirt road is spectacular and stops at a locked gate where it's just a short hike up to the lookout.
The views from the lookout are incredible.  You can see panoramas of the Beartooth Plateau, Absaroka Mountains, lush green valleys, and maybe even catch a moose sighting or an elk herd near Beartooth Lake.  It's one of our favorite spots to just kick back on a mountainside and relax for a couple of hours while taking in the incredible scenery and wildlife.
Be sure to check under your vehicle and under the hood before driving back down as the marmots love to make a 'Jungle Gym' out of your vehicle's underside.  We found four of them having a good ol' time under our truck." – Mike, Maria, and Natalie Sullivan
JANUARY: Philip Welty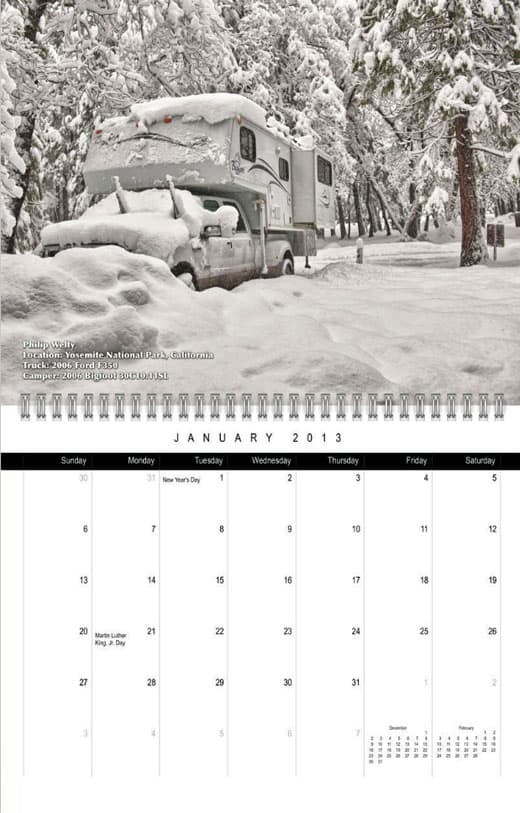 Photo Location: Yosemite National Park, California
Truck: 2006 Ford F350
Camper: 2006 Bigfoot 30C10.11SL
"Yosemite National Park is a great destination for winter photography and often the best pictures are a function of timing.  The weather forecast indicated that Yosemite was going to have a major winter event so I prepared the truck for an extended stay in the snow.
As we rolled into the valley, a stream of people were heading out ahead of the pending storm.  Even the rangers were warning us that the weather was going to be a problem as we rolled into the valley.
We were surprised to see that less than ten campsites were occupied, mostly with fellow truck campers.  The snow started falling as the sun set and came down hard all night.  Several times during the night I was woken up by the sound of snow sliding off the front of the camper.
In the morning, the valley was amazing.  Three to four feet of fluffy fresh snow blanketed the park.  I took the picture of my truck as the sun was rising over the park.  You can see the snow line across the front of the camper were the snow broke away and covered the front of the truck cab.  As for the the valley, fresh snow makes Yosemite the most amazing place to photograph." – Philip Welty
FEBRUARY: Aaron Summers