The anticipation has kept you up nights.  You can no longer concentrate, or even twist spaghetti.  Finally, the big moment is here.
Can you believe this is our fifth annual calendar?  The idea for a calendar contest was one of the first ideas I had a few days after launching the magazine and realizing, "I actually have to come up with stuff now".  Little did I know that the calendar would become one of the most popular things we do every year.  Angela and I love it and jump for joy when the UPS guy or gal shows up with our new calendar very year.
COVER: Mike and Lisa Johnson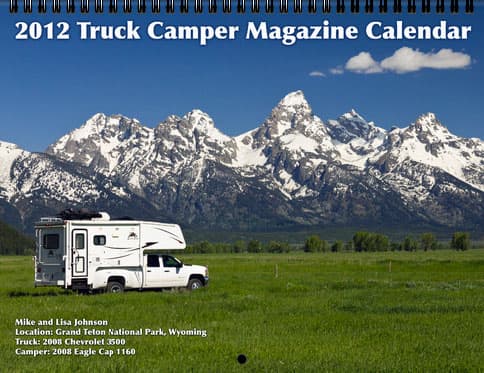 Photo Location: Grand Teton National Park, Wyoming
Truck: 2008 Chevrolet 3500
Camper: 2008 Eagle Cap 1160
"Lisa and I spent a couple of weeks in the Spring at the magnificent Yellowstone National Park and Grand Teton National Park.  Knowing we weren't going to travel much in 2011, we were constantly looking for the right photo opportunity.  As a photographer, we had to spend some time on the world famous Mormon Row.  This is an area the Mormons settled in the late 1800s.  Today the area is one of the most photographed places in the National Park system.  As we drove, we noticed the lush green in the foreground of a rugged mountain scene and knew this was the calendar shot.  I waded through the waist-high grass to the right spot and 'click' the shot was complete." – Mike Johnson
JANUARY: Neal and Kris Campbell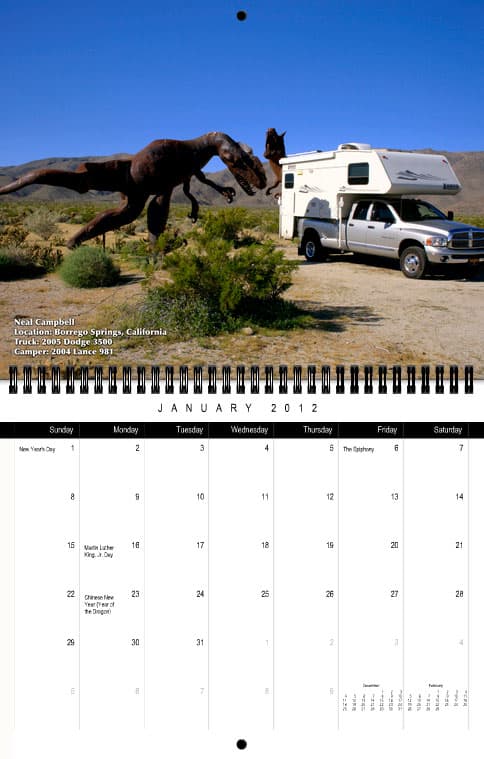 Photo Location: Borrego Springs, California
Truck: 2005 Dodge 3500
Camper: 2004 Lance 981
"We had been boondock camping in the Anza-Borrego Desert State Park in southern California for about a week.  While on a trip to town to re-supply, we saw these magnificent metal sculptures.  At the town tourist office we picked up a leaflet on their story.  There are over twenty of them scattered around the outskirts of town.  The artist is Ricardo Breceda, working with a commission from Dennis Avery of Galleta Meadows, a local developer.  We chose this one to photograph because we could position the truck and camper as shown.  Nearly all of the scuptures are accessible by vehicle." – Neal and Kris Campbell
FEBRUARY: Bill and Jan Johnson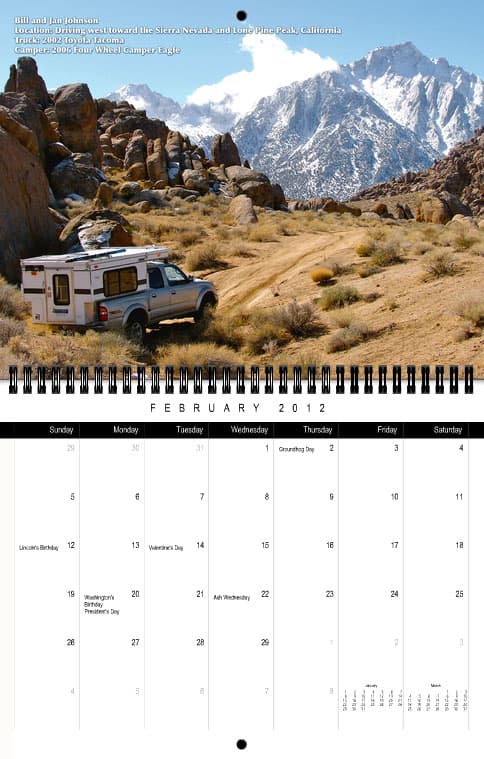 Photo Location: Alabama Hills, California driving west toward the Sierra Nevada with Lone Pine Peak in the distance
Truck: 2002 Toyota Tacoma
Camper: 2006 Eagle Four Wheel Camper
"The photo was taken on February 20th at 1:04 pm.  When traveling north on US 395, we often spend a night in the Alabama Hills.  This time, however, our visit was a retreat from the White Mountains where we had camped to do a little cross country skiing.  On our second night in the Whites, the outside thermometer read 11º just after sunset which meant that subzero temperatures were due that night.  So we drove down to the lower and warmer elevations east of Lone Pine.
The next morning a pair of F-16 jet fighters on a training flight provided an air show above our heads for about thirty minutes.  After breaking camp, we drove around the hills to see if any friends were in the area.  We took a circuitous route over to the Shark's Fin and spotted this photo opportunity.  A nephew said that the photograph reminded him the Hindu Kush mountains in Afghanistan.  Hundreds of movies from science fiction to westerns have been filmed in the area and it's a wonderful place to mountain bike and climb.
We want to thank the readers of our blog for encouraging us to enter the contest and everyone who voted for our photo." – Bill and Jan Johnson
MARCH: Eric Smith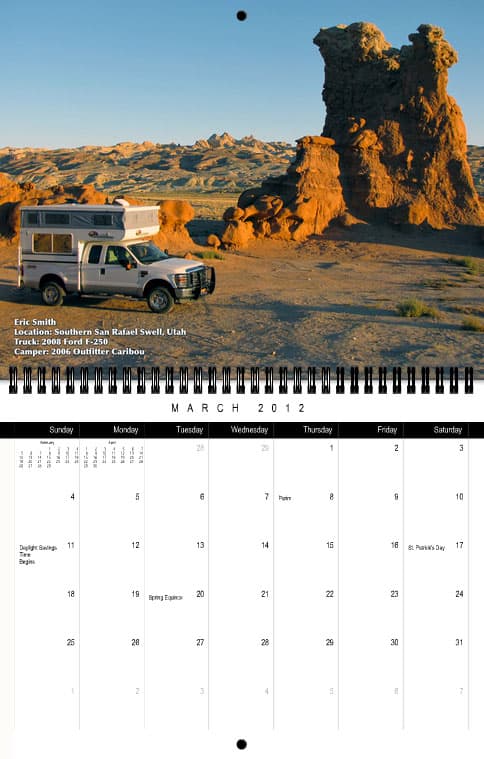 Photo Location: Southern San Rafael Swell, Utah