The anticipation has kept you up nights.  You can no longer concentrate, or even twist spaghetti.  Finally, the big moment is here.
Can you believe this is our fifth annual calendar?  The idea for a calendar contest was one of the first ideas I had a few days after launching the magazine and realizing, "I actually have to come up with stuff now".  Little did I know that the calendar would become one of the most popular things we do every year.  Angela and I love it and jump for joy when the UPS guy or gal shows up with our new calendar very year.
COVER: Mike and Lisa Johnson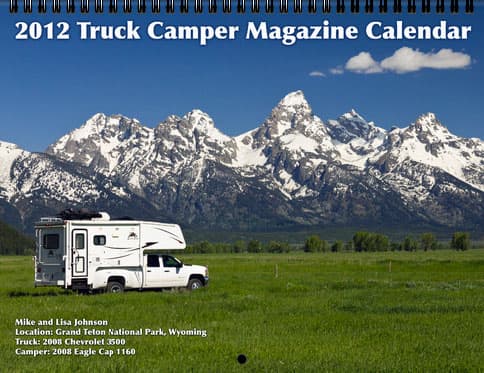 Photo Location: Grand Teton National Park, Wyoming
Truck: 2008 Chevrolet 3500
Camper: 2008 Eagle Cap 1160
"Lisa and I spent a couple of weeks in the Spring at the magnificent Yellowstone National Park and Grand Teton National Park.  Knowing we weren't going to travel much in 2011, we were constantly looking for the right photo opportunity.  As a photographer, we had to spend some time on the world famous Mormon Row.  This is an area the Mormons settled in the late 1800s.  Today the area is one of the most photographed places in the National Park system.  As we drove, we noticed the lush green in the foreground of a rugged mountain scene and knew this was the calendar shot.  I waded through the waist-high grass to the right spot and 'click' the shot was complete." – Mike Johnson
JANUARY: Neal and Kris Campbell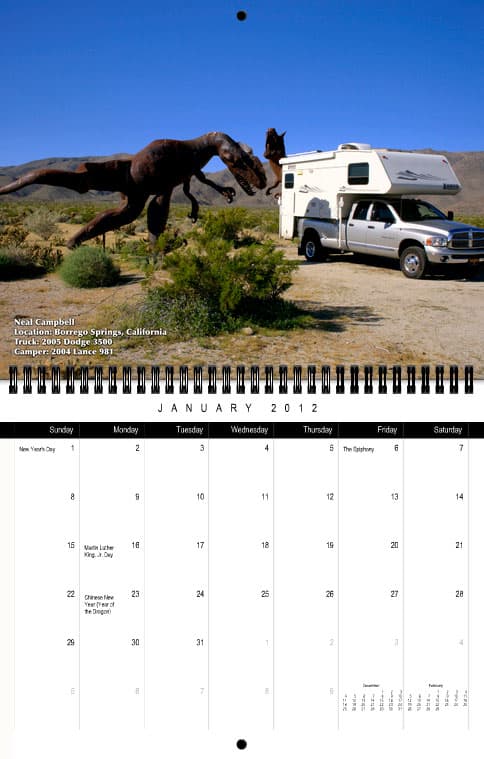 Photo Location: Borrego Springs, California
Truck: 2005 Dodge 3500
Camper: 2004 Lance 981
"We had been boondock camping in the Anza-Borrego Desert State Park in southern California for about a week.  While on a trip to town to re-supply, we saw these magnificent metal sculptures.  At the town tourist office we picked up a leaflet on their story.  There are over twenty of them scattered around the outskirts of town.  The artist is Ricardo Breceda, working with a commission from Dennis Avery of Galleta Meadows, a local developer.  We chose this one to photograph because we could position the truck and camper as shown.  Nearly all of the scuptures are accessible by vehicle." – Neal and Kris Campbell
FEBRUARY: Bill and Jan Johnson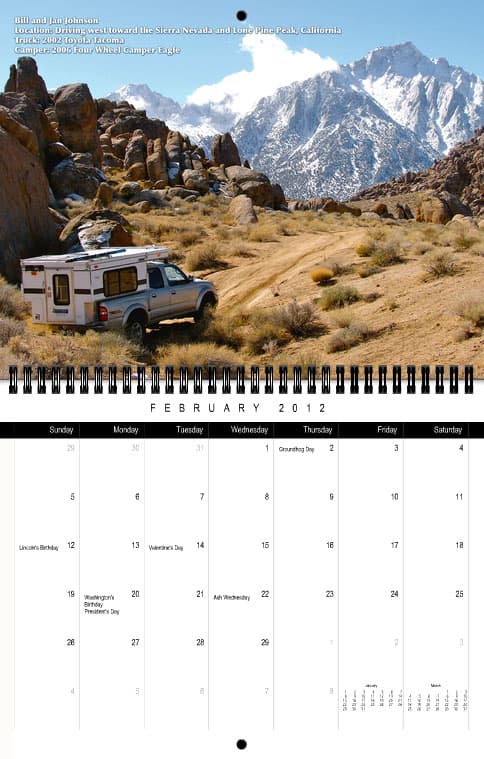 Photo Location: Alabama Hills, California driving west toward the Sierra Nevada with Lone Pine Peak in the distance
Truck: 2002 Toyota Tacoma
Camper: 2006 Eagle Four Wheel Camper
"The photo was taken on February 20th at 1:04 pm.  When traveling north on US 395, we often spend a night in the Alabama Hills.  This time, however, our visit was a retreat from the White Mountains where we had camped to do a little cross country skiing.  On our second night in the Whites, the outside thermometer read 11º just after sunset which meant that subzero temperatures were due that night.  So we drove down to the lower and warmer elevations east of Lone Pine.
The next morning a pair of F-16 jet fighters on a training flight provided an air show above our heads for about thirty minutes.  After breaking camp, we drove around the hills to see if any friends were in the area.  We took a circuitous route over to the Shark's Fin and spotted this photo opportunity.  A nephew said that the photograph reminded him the Hindu Kush mountains in Afghanistan.  Hundreds of movies from science fiction to westerns have been filmed in the area and it's a wonderful place to mountain bike and climb.
We want to thank the readers of our blog for encouraging us to enter the contest and everyone who voted for our photo." – Bill and Jan Johnson
MARCH: Eric Smith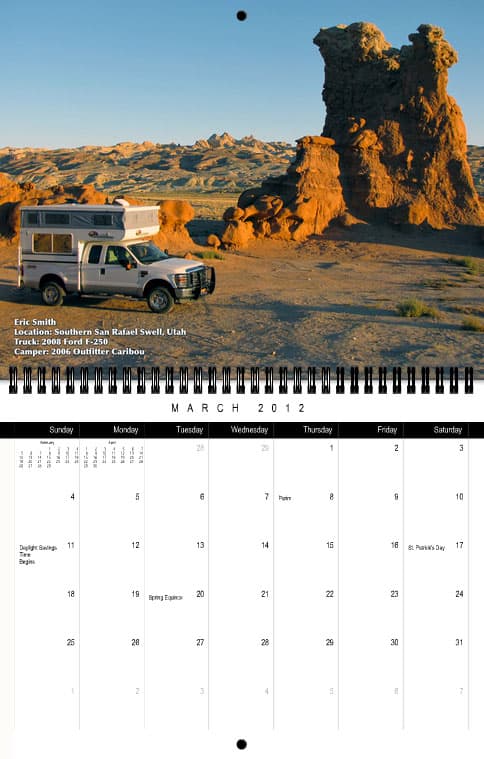 Photo Location: Southern San Rafael Swell, Utah
Truck: 2008 Ford F-250
Camper: 2006 Outfitter Caribou
"In October I was visiting the southern end of the San Rafael Swell including the fantastical Goblin Valley nearby.  Although Goblin Valley has a small but well ordered campground, my preference is always to boondock wherever possible.  I was traveling a spur road which leads to Little Wild Horse Canyon when I spotted this dirt road leading to the base of the cliffs.  I found a great spot to spend the night and awoke refreshed the next morning to a glorious sunrise and a day of exploration in the canyons of the San Rafael." – Eric Smith
APRIL: Doug Packer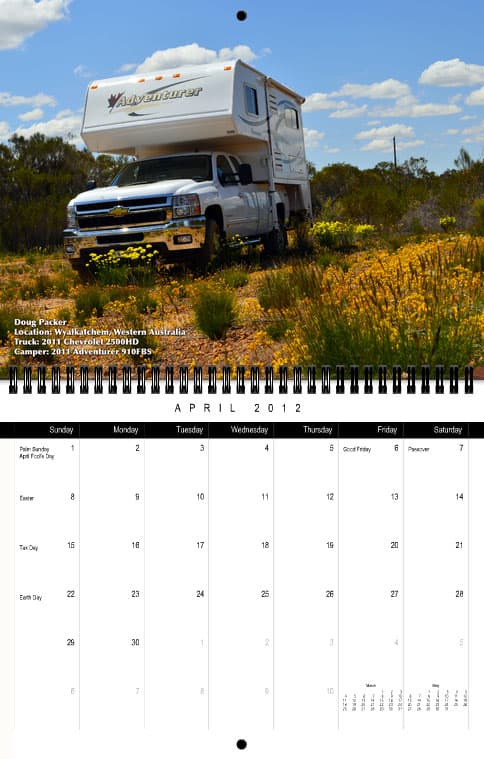 Photo Location: Wyalkatchem, Western Australia
Truck: 2011 Chevrolet 2500HD
Camper: 2011 Adventurer 910FBS
"This was our maiden trip in our new camper and truck.  Rose and I saw an old rail line on the side of the road.  As we turned off Highway 50, in the mid south west wheat belt, we hunted for wildflowers at the Granite Loop Wildflower Trail in Wyalkatchem.  Then, we stopped for afternoon tea." – Doug Packer
MAY: Jim McCoy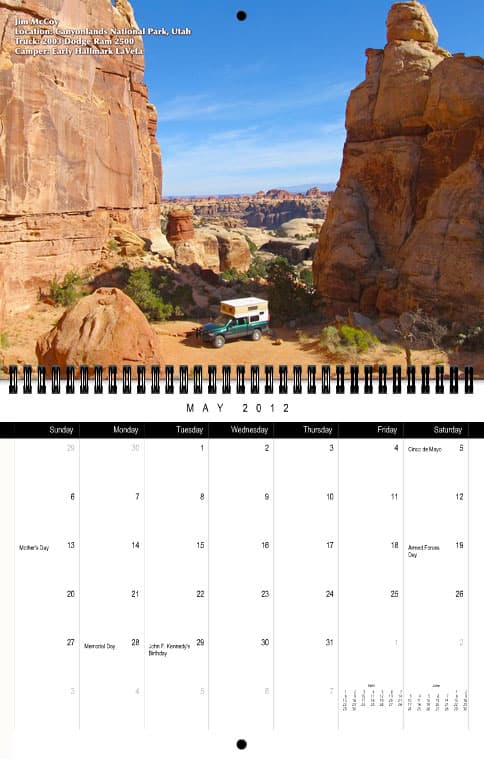 Photo Location: Camped at The Dollhouse in the Maze District of Canyonlands
Truck: 2003 Dodge Ram 2500
Camper: Early Hallmark LaVeta pop-up
"In October of 2011, I had a few weeks off.  I usually hit Moab and The Needles of Canyonlands in the fall, but this year I wanted to see some new territory.  Being an avid outdoor adventurer, I have always been fascinated by the Aron Ralston story, and his harrowing experience in Bluejohn Canyon contiguous with Bluejohn Canyon is Horseshoe Canyon, which contains The Great Gallery pictograph panel.  I set my sights on visiting those canyons, and hit the on and off road, traveling solo on this trip from Colorado.
From Utah Highway 24 near Goblin Valley State Park, I left the pavement, and wouldn't see it again for 200 miles. It is a twenty-five mile bumpy ride in from the pavement along the dirt Robbers Roost Road, into the San Rafael desert to the Horseshoe Unit of Canyonlands National Park.  After two days and fifteen miles of hiking and visiting the petroglyphs and pictographs in the canyons there, I decided, since I was this far into the desert, to hit the Maze District of Canyonlands, and check that out.  It was eighteen more bumpy back road miles, to the Hans Flat Ranger Station, so off I headed.
I've always wanted to visit the very remote Doll House area of The Maze District.  Luck had it that camp site #1, one of only three back country 4×4 camp sites at The Doll House, was available.  It's a forty-two mile, six hour, 4×4 journey to reach The Doll House from the ranger station.  Some sections of 4×4 road have moderate to difficult ratings.  I had always figured I'd take my Jeep down there someday, but there I was with my truck camper.
I left the ranger station about noon, and pulled into camp at Doll House #1 just before sunset. It was one long day of wheeling.  I spent four days and three nights camped there, and exploring the area.  I was very content that my truck and camper modifications handled the rough terrain there and back without issue.  I had put 200 miles of backcountry and 4×4 roads behind me, from the time I left the highway near Goblin Valley, to the time I got back to Green River, Utah.
This photo was as much about the long and sometimes tough journey to get there, as it was about the amazing scenery and area surrounding me." – Jim McCoy
JUNE: Stu and Karla Dekkenga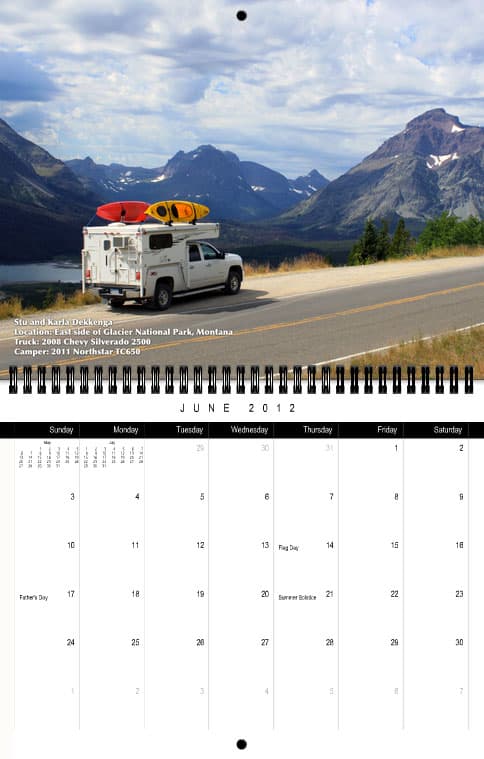 Photo Location: East side of Glacier National Park, Montana
Truck: 2008 Chevy Silverado 2500HD
Camper: 2011 Northstar TC650
"Prior to this picture being shot, we had just spent five wonderful days on the west side of Glacier National Park.  We did some hiking, avoided the high population of Grizzlys, went camping and kayaked on beautiful Bowman Lake in the Northwest corner of Glacier.  It was pristine!
Our original intention was to take the Going To The Sun Road through Glacier (the only road through the park), but had had been told by a park ranger that we shouldn't attempt this with the camper and kayaks on top because we were too tall.
We had no idea what the views would be like on the east side of the park, but made our way there around the perimeter of the park.  Once we got to the junction of highways 2 and 49, we decided to take 49 to stay closer to the park.  The picture was taken overlooking Lower Two Medicine Lake somewhere along highway 49.   It was amazing!
Highway 49 is a narrow and winding road, so when we saw this turn out, we had to stop to take it all in!  The views on the east side of Glacier were just one jaw-dropping site after another!" – Karla Dekkenga
JULY: Jim Duarte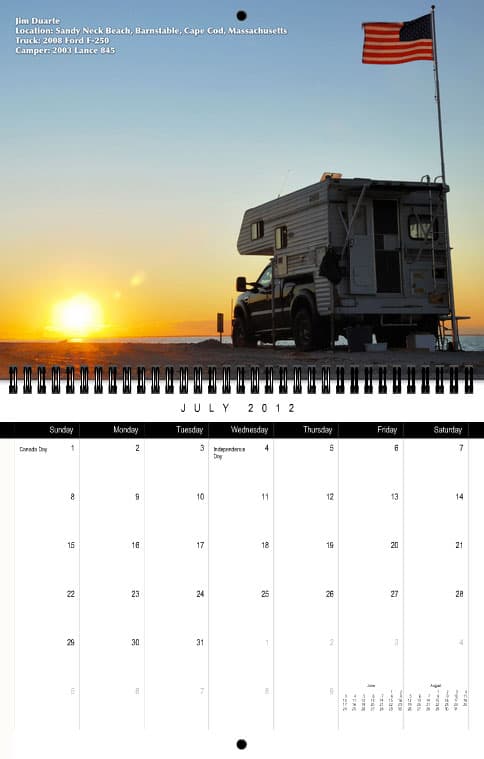 Photo Location: Sandy Neck Beach, Barnstable, Cape Cod, Massachusetts
Truck: 2008 Ford F-250
Camper: 2003 Lance 845
"I hadn't done any camping since my early twenties.  I'm 61 now.  We purchased an ORV (off-road vehicle) Sticker in 2007 and started driving my 2007 Ford Ranger out onto Sandy Neck Beach for day trips.  After leaving several evenings after sunset, my wife said to me "What do we have to do to stay overnight here like these other people?"  I replied, "Get a bigger truck and a camper."  She replied, "Can we?"  That's all I needed.
I traded the Ranger in for a 2008 Ford F250 Super Duty, and we bought a 2003 Lance 845.  Our new love affair began – beach camping.
Sandy Neck runs east/west so we get to see the sun rise in the morning and then watch it set every evening.  There's four and a half miles of beach so photographs like these are routine.  It's beautiful.  Falling asleep to the solitude of the waves lapping the beach right outside your camper.  There's nothing like it!
Thanks for the votes to everyone who voted for me and congratulations to the other winners."  – Jim Duarte
AUGUST: Jim Davis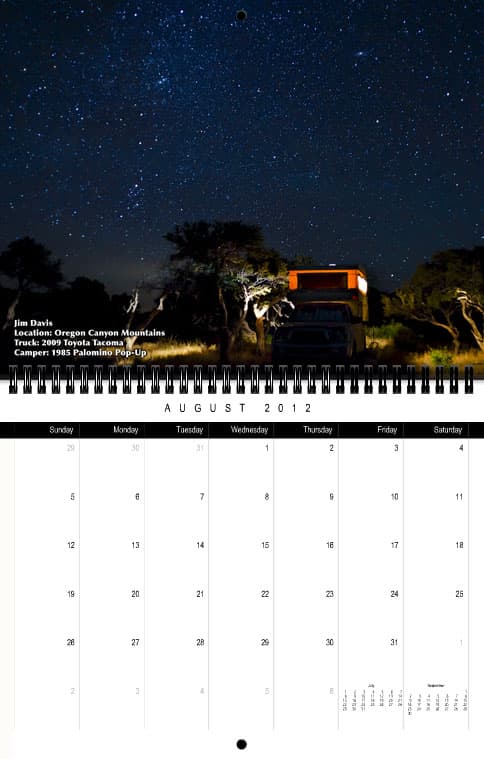 Photo Location: Oregon Canyon Mountains
Truck: 2009 Toyota Tacoma
Camper: 1985 Palomino pop-up
"Over the years, the Oregon Canyon Mountains have always been lurking in the background of some of my favorite views of Oregon's desert country.  For me, it seemed odd that I had been unable to make the time to go, or cipher the usual maze of desert roads to get there.  It's just far enough away from my home base in Bend, Oregon to not be within reach of my usual epic weekend drives.
The usual for me consists of busting my butt to get all the way out there for one night, frantically driving and hiking to be in position for the sweet photographic light that comes at the edges of the day.  A long August weekend finally gave me a couple of days to spare and the opportunity to reach this classic high elevation campsite.
Feeling really lucky to have this magical mountain mahogany grove to complement the crystal clear desert skies, I could not resist the trip out for one more shot, well after sunset." – Jim Davis
SEPTEMBER: Cheryl White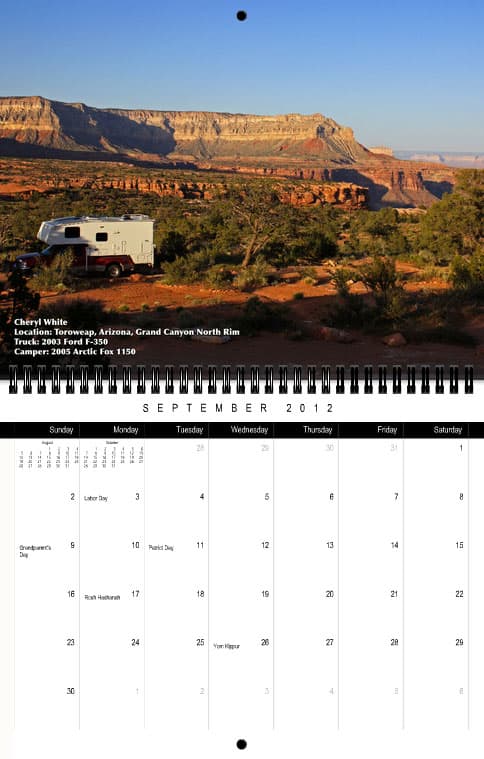 Photo Location: Toroweap (remote North Rim Grand Canyon location), Arizona
Truck: 2003 Ford F-350
Camper: 2005 Arctic Fox 1150
"While out on this years multi-month adventure, and after years of passing by the end of Mt. Trumbull Road, the road to Toroweap, we made a totally spur of the moment decision.  It was time to tackle the sixty-one miles (and three hours) of gravel/slick rock road, the last few miles taking an hour.
To do this is to claim great rewards; few people, only ten remote campsites, spectacular views out the back door, and miles of scenic biking and hiking down and along the canyon rim.  It is well worth the trip and necessary to be prepared in advance as this is a pack in/pack out camping gem without water, electricity, cell phone service, safety rails, paved walkways, convenience stores or the like.
It is down in the raw canyon, very peaceful, and closer to the Colorado River than the more popular Grand Canyon sites.  We arrived later in the day and found the last available site, and a small metal box with brochures listing some area hikes.  The wind was howling and we settled in, smiling and content.
This sunset photo was taken April 25th and was typical of our six days at Toroweap, with ever changing skies, shadows on the canyon walls, wonderful colors and flowers.  Thanks to all for voting." – Cheryl White
OCTOBER: Phil Slocum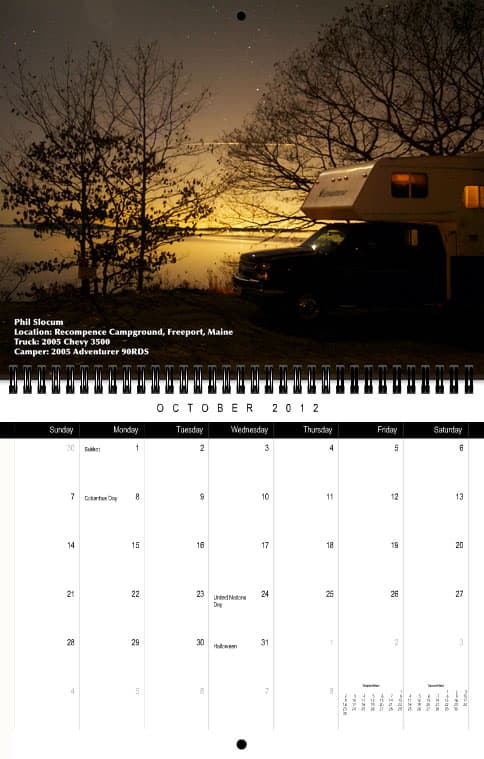 Photo Location: Recompence Campground Freeport, Maine
Truck: 2005 Chevy 3500
Camper: 2005 Adventurer 90RDS
"My picture was shot during the Northeast Truck Camping Late Fall Jamboree held each year over the Veterans Day weekend hosted by Joe and Anne Brown at Recompence Campground in Freeport, Maine.  I love photography and shot this picture using a tripod mounted Canon 40D and EF-S 10-22 lens at 22mm, F4.5, with an ISO setting of 1600 for 37 seconds." – Phil Slocum
NOVEMBER: Mark Hoevel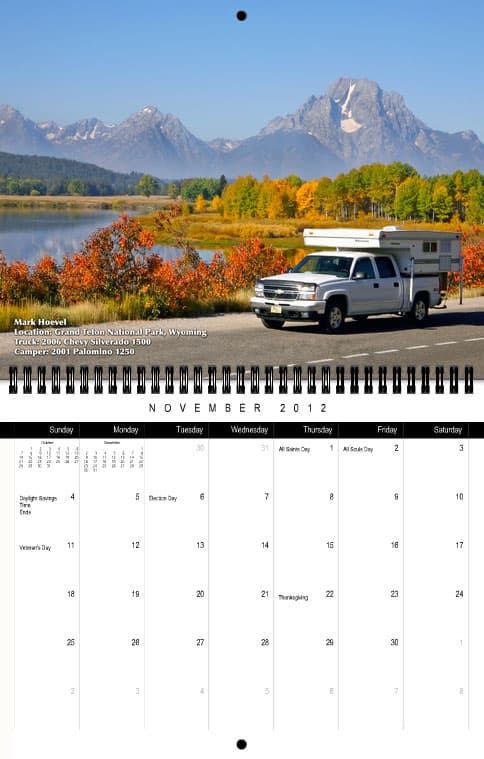 Photo Location: Grand Teton National Park, Wyoming
Truck: 2006 Chevy Silverado 1500
Camper: 2001 Palomino 1250
"This photo was taken at the end of a week long stay in the Teton area at the end of September.  This was my first trip with my first ever camper and I was rewarded with unseasonable eighty degree highs and sunny days all week.  Earlier in the week, I photographed a sunrise from the water's edge at this location hoping it would be a wall hanger for the house.  Little did I know it needed a truck camper to set it off.  The color of the bushes along the edge of the pull-off didn't hurt either.  This ended up being my last shot before leaving the Tetons.  I've never seen such amazing color and beautiful scenery all at once.  Thanks to all who voted for this photo." – Mark Hoevel
DECEMBER: Kathleen Caid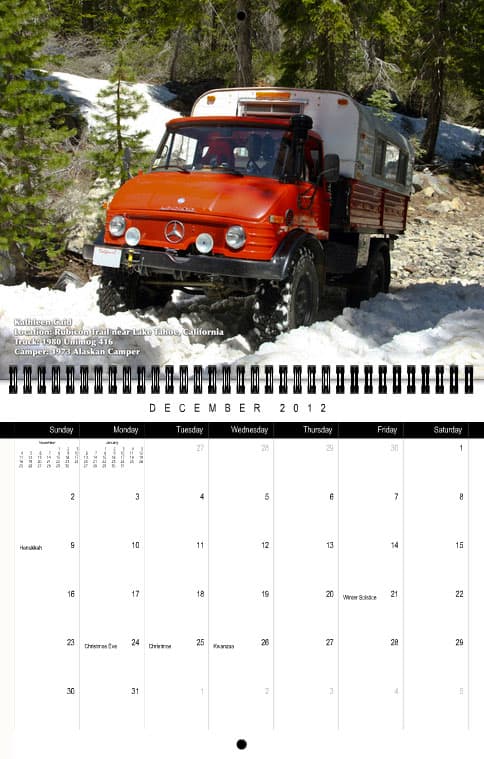 Photo Location: Rubicon Trail near Lake Tahoe, California
Truck: 1980 Unimog 416
Camper: 1973 Alaskan Camper
"This photo is of Ron Tuttle's Unimog with an Alaskan Camper that was taken during a trail run during the June 2011 Tahoe-Reno MogFest.  The group camped at the Tahoe Valley campground and went on trail runs during the daytime.
On June 25, 2011, Rod, our leader, decided that that we would attempt the upper portion of the Rubicon Trail near Lake Tahoe.  It was a beautiful clear day.  We all knew there was snow on the trail, but there had been some warm days to allow the snow to melt and allow a day trip to Miller Lake.
Well, that was the plan, but the amount of shade on the trail prevented the snow from melting enough to allow trucks to pass through the trail to Miller Lake.  We tried our best to make it and eventually had to admit defeat to the snow.  We ate lunch on the trail and then retraced our path back to the campground to share our truck camping stories around the campfire." – Kathleen Caid