For Behind the Shot Part 8, we are featuring photos and stories from Northumberland Provincial Park, the Arctic Circle, Waterton National Park, Buffalo Gap National Grasslands, White Sands National Monument, and more.
To participate in the 2018 Truck Camper Magazine Calendar Contest and be considered for a Behind the Shot feature, click here.
Craig Miller
Salt Point State Park, California
2008 Silverado 2500 HD
Northern Lite 8.5
Camera Used – Nikon D5100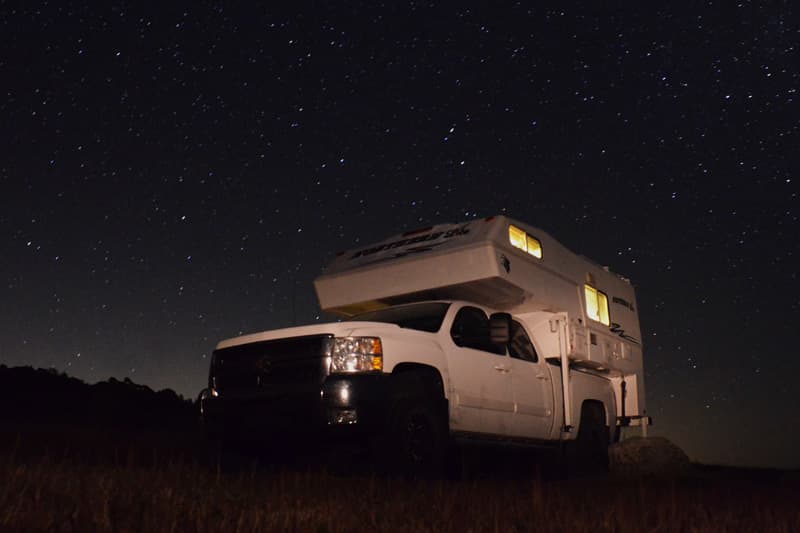 This was one of the overnight stops my son and I took on our Sequoia National Park trip this past summer.  We traveled up and down the coast from Vancouver to the Sequoias.  We had a campsite booked at Salt Point State Park, but chose to stay down in the overflow area near the beach instead – which is allowed.  What a great spot to view the stars.
Doug Jenkins
Northumberland Provincial Park, Prince Edward Island, Canada
2003 Ford F250
2003 Palomino 8801
Camera Used – iPhone 6s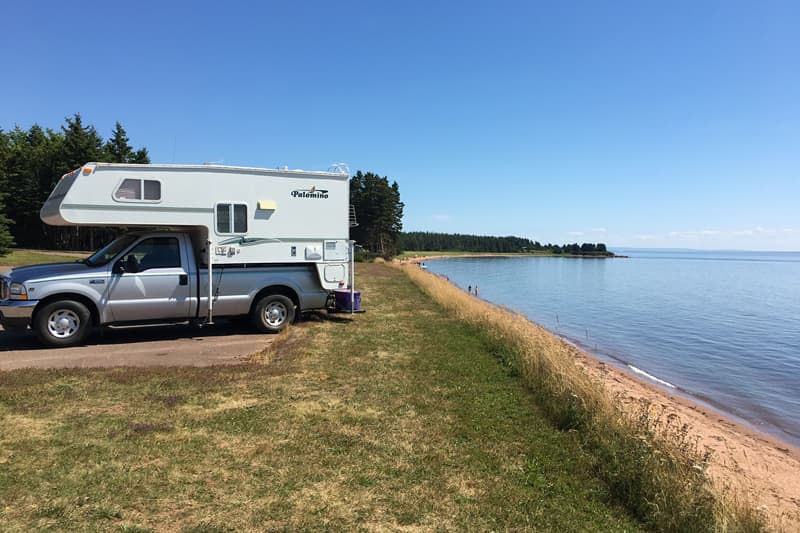 My wife, Robin, and I had been camping in eastern part of Prince Edward Island.  Since this is our home province, we decided to tour more campgrounds in the area before heading home.  We stopped in at Northumberland Provincial Park, near the Wood Islands' ferry terminal, and were pleasantly surprised at the nice campground/day park and its close access to the beach.  We saw a truck camper moment and took a photo for your 2018 Truck Camper Magazine calendar.
Roger Wareing
Arctic Circle, Alaska
2013 Chevrolet 3500
2016 Arctic Fox 990
Camera Used – Nikon D3400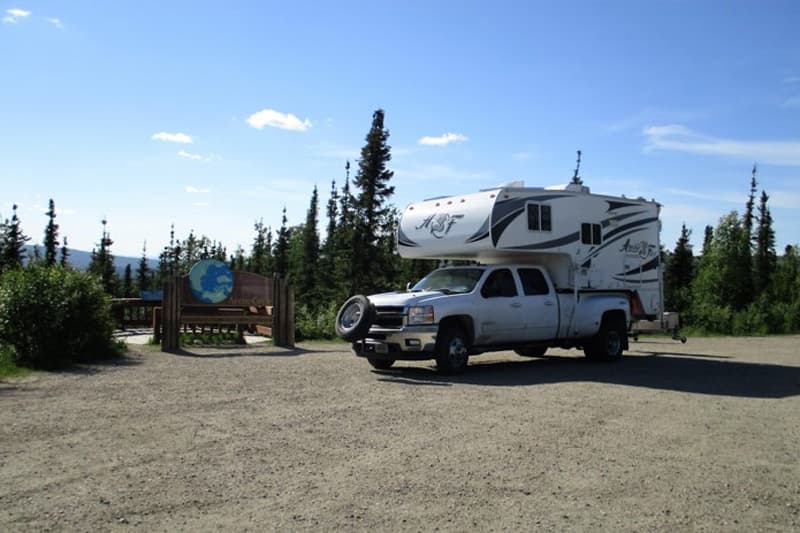 We were on a trip to Alaska and wanted to go to the Arctic Circle.  The road was rough and the weather was cool but not freezing cold.  We were surprised at the amount of green instead of snow.  We camped on the Yukon River about two hours below the Circle.
Marc Cuslidge
Shelter Cove, California
2006 Chevy 2500HD
1994 Weekender 1010
Camera Used – iPhone 6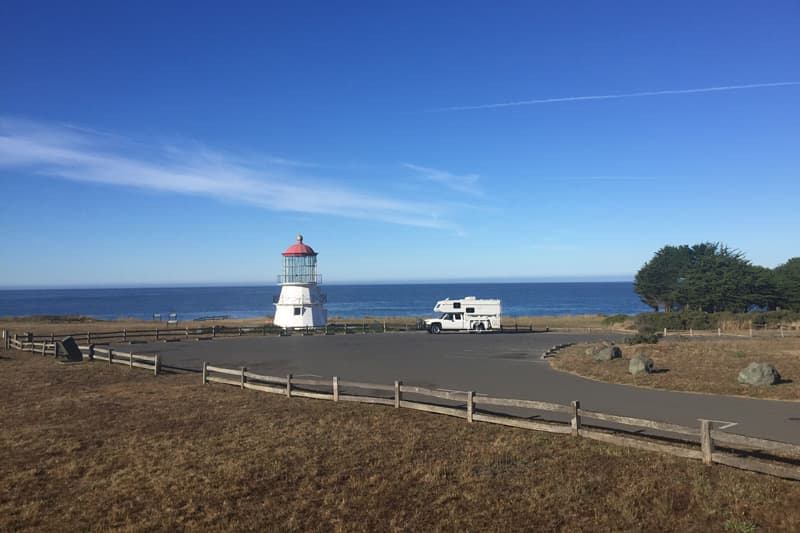 We were nearing the end of our twenty day trip and I just happened to find Shelter Cove on my All Stays app.  I booked two nights there for a stay on our way home from our trip to northern Idaho for our anniversary.
We got there after dark, due to the worst road I ever drove, for an hour and a half.  When we pulled into the resort we couldn't see ten feet in front of us from the fog.  I asked the manager if the fog would lift and she laughed and said, "Honey we're in fog-ust, and we haven't seen the beach in three weeks".  We were going to leave in the morning, because we didn't want to stay in the fog.
When I woke up in the morning I looked out and it was clear.  I grabbed my coffee and stepped outside and the manager peeked out of her trailer and said, "Happy anniversary, the fog is gone".  I immediately unhooked the camper and drove next to the lighthouse to get this picture before the fog came back.  We ended up staying for two days and saw the most beautiful beaches we had ever seen.
Tom Warren
Paxon Lake, Alaska
2013 Ram 3500
2013 Eagle Cap 1160
Camera Used – iPhone 7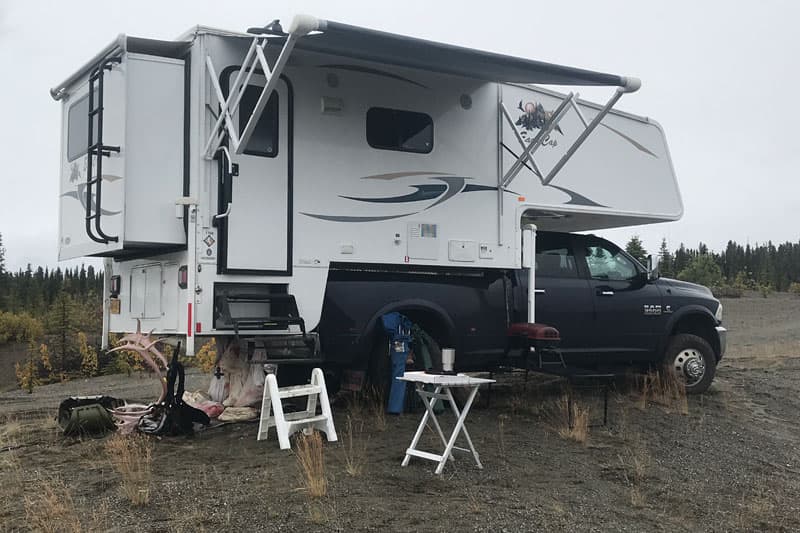 This was a weekend caribou hunting trip about 250 miles north of Anchorage along the Richardson Highway.  The rain was relentless.  We had a constant rain the entire trip.  It was sure nice to have a dry and warm camper to come back to at the end of the day.  This trip was an exploration for us as well since we rarely go up that far north.  Despite the weather this was a great weekend road trip.  What a great place to live – this land called Alaska.
Chris Folta
Waterton National Park, Alberta, Canada
2012 Dodge Ram 3500
2016 Lance 1172
Camera Used – iPhone 6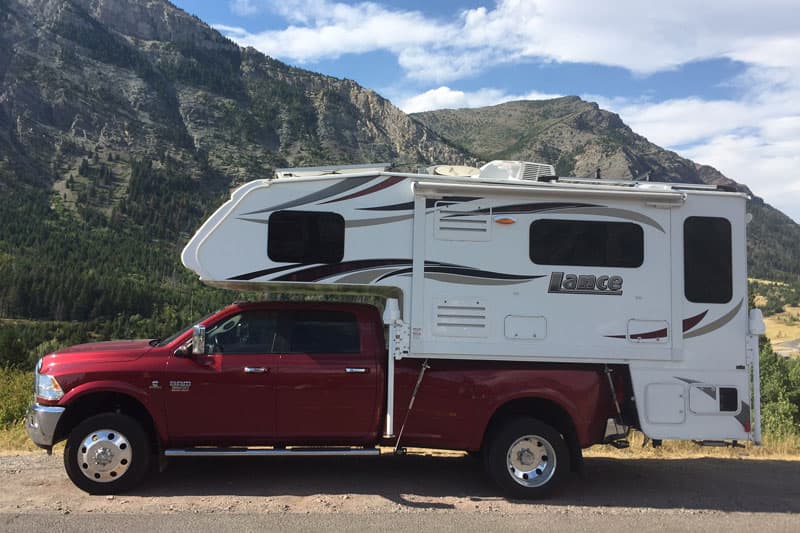 We were driving up to Red Rock Canyon to do some hiking in Waterton National Park after spending the previous week in Jasper National Park and Banff National Park.  We were on a narrow road that had great views of the Rocky Mountains on one side and the beginning of the prairie on the other.  I thought the truck camper would look good in a shot with this background.
Daryl Hartley
Buffalo Gap National Grasslands, South Dakota
2016 Ford F350
2017 Lance 975
Camera Used – Samsung Galaxy S8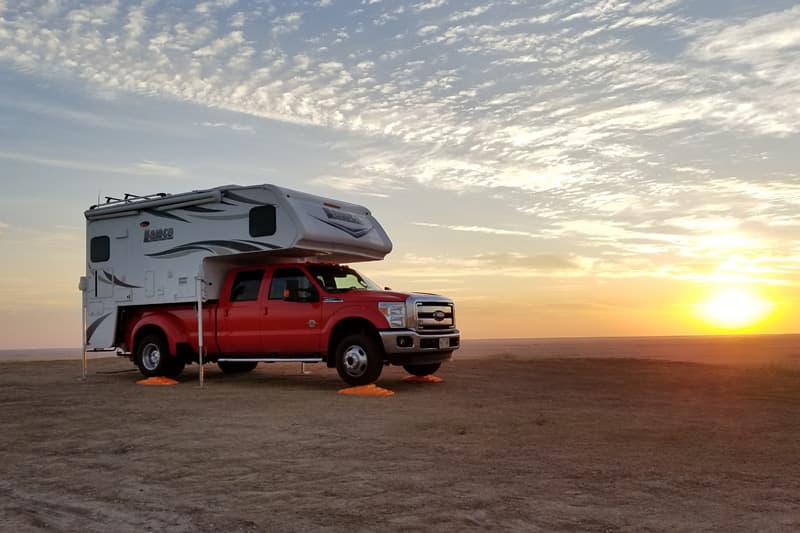 We were on a weekend restaurant tour.  We started in Lincoln, Nebraska and spent the first night in Thedford, Nebraska at a city park with free water and electricity.  While in Thedford, I posted my weekend plans on social media, indicating we were going to camp the next night in Badlands National Park at a boondocking campground.  A camper from Pennsylvania told me he was there a couple of weeks ago, but stayed just outside the park on the northwest side on a cliff that overlooked the Badlands.  He stayed with a couple other campers for free.
The next day we ate lunch in Rapid City at Firehouse Brewing Company and then drove to the Badlands to set up camp.  I missed my intended turn, but could still get to the campground through the main entrance, however it was going to cost $20 or $25 to enter the park.  My intentions for the trip were free camping since we were spending big money on food.
However, about half a mile north of the park entrance, I noticed several campers parked up on a ridge about a quarter mile east of the highway, which was the location the guy from Pennsylvania told me about.  We turned around, drove to the site, and set up camp for the second night on the ridge overlooking the Badlands, which is where the picture was taken.
We had bighorn sheep come right up to the camper and then bed down for the night on the ridge just below us.  The picture is the sunrise over the Badlands the following morning.  We left later that morning, drove to Devils Tower, Wyoming, and then onto Hartville, Wyoming to eat at Miners and Stockmen's Steakhouse and Spirits.  We spent the third night just south of Hartville at Grayrocks Reservoir where we once again boondocked for the night.  The next day we drove back to Lincoln.  The total mileage for the trip (to visit two restaurants) was 1,563 miles.
Charles Coushaine
White Sands National Monument, New Mexico
2001 Ford F350
2012 Chalet DS116RB
Camera Used – Nikon D5300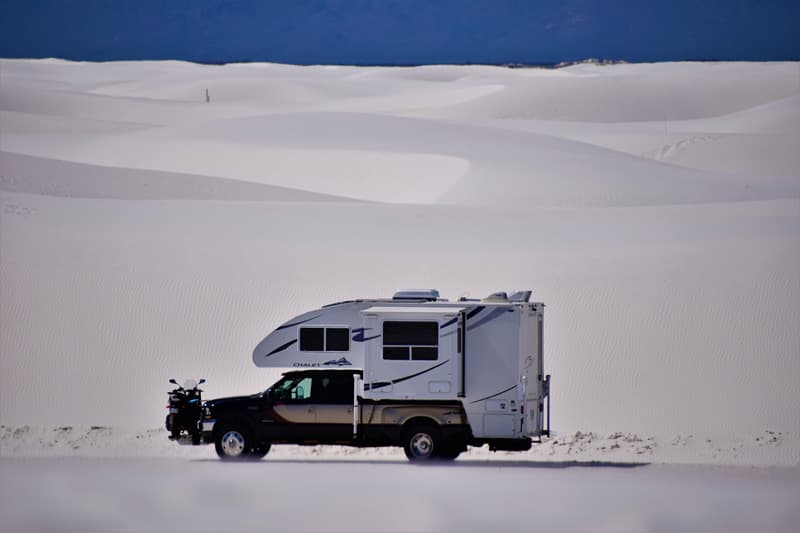 While traveling around the country, we had a chance to go through one of our favorite national parks – White Sands National Monument in New Mexico.  This park is unlike any other because of its unique terrain; all glistening white sand.
As you drive in you pass hill after hill of rolling bright white sand dunes that stretch as far as the eye can see.  There are numerous turn-offs offering you a chance to stop and relax to have lunch, or take out your sled and slide down the hills.  This is a must see for any traveler going through New Mexico!
Denis Simard
Reserve Faunique des Laurentides, Quebec
2009 Toyota Tacoma
2006 Six-Pac T100S
Camera Used – iPhone 6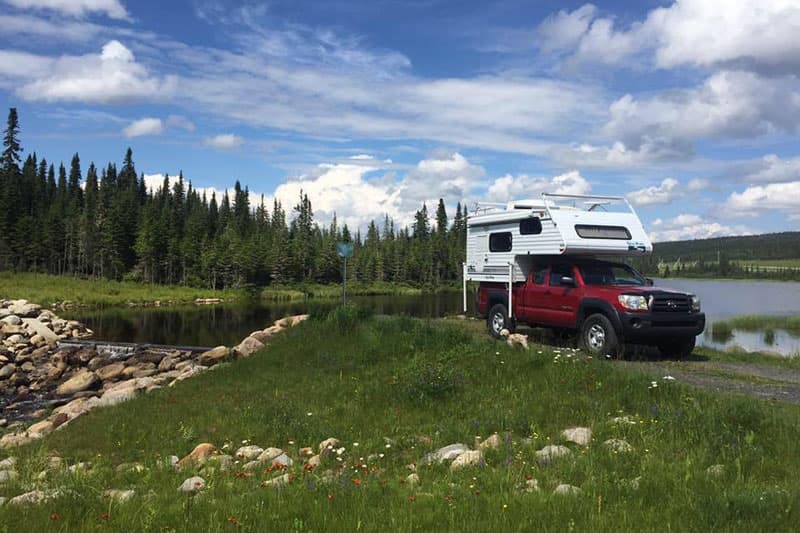 This was a little stop on the road between Quebec City and Chicoutimi.
Loretta Tannen
Depoe Bay, Oregon
2016 Chevy Silverado
2016 Arctic Fox 811
Camera Used – Phone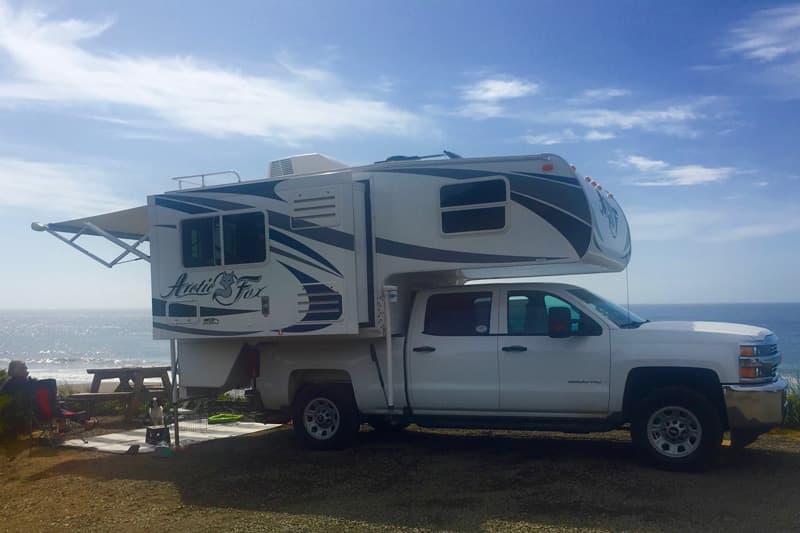 Every August I travel from hot, dry central Oregon to the beautiful Oregon Coast to spend a few days in the Depoe Bay/Newport area.  I always stay at Sea and Sand RV Park in site #103, which is the absolute premier location in the park for a truck camper.  As you see in my photo, the ocean view is unobstructed and always breathtaking, especially on a warm sunny day.
August is the perfect month to observe the gray whales that come into the bays and coves to feed and play in the shallow waters.  It's quite a sight if you're fortunate to be there!
Mark Seng
Grand Lake, Celina, Ohio
2016 Ford F350
2001 Lance 1030
Camera Used – iPhone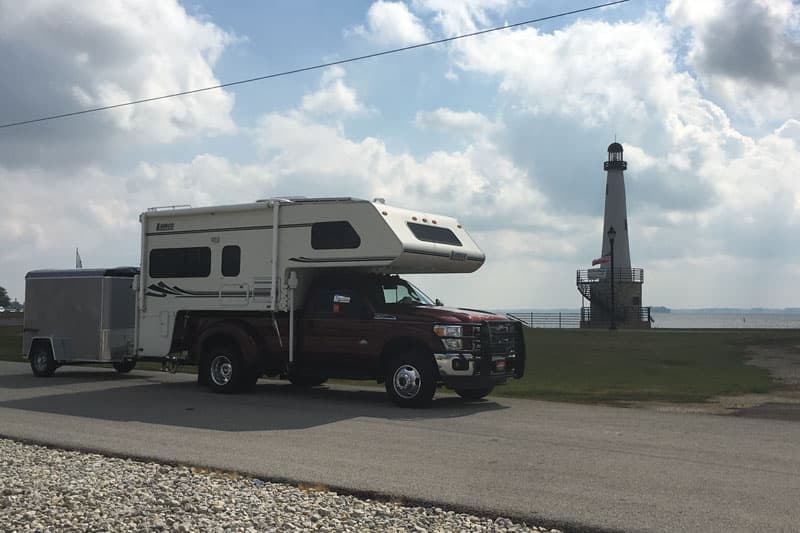 This photo was taken at Grand Lake in Celina, Ohio.  The campground I am staying at is in Rossburg,Ohio which is about 16 miles south at Eldora Speedway, which is a dirt track.  I have been coming to see races here for 15 years now.  While at Eldora, I come up to spend a day at the lake.
Chris Baird
Near Bryan Head, Utah summit
2014 Ford F250
2014 Four Wheel Camper Grandby
Camera Used – Olympus F1.8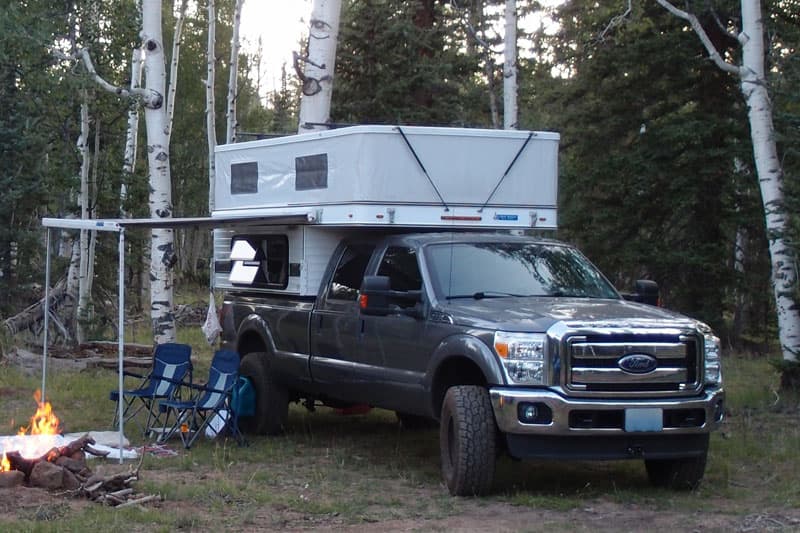 I tried to camp at Yankee Meadows, but a ranger stopped us.  He said the earlier year's fires had closed the canyon, so he gave us a map and some suggestions for off-road boondocking areas.  Thanks to a fine young ranger.
To participate in the 2018 Truck Camper Magazine Calendar Contest and be considered for a Behind the Shot feature, click here.  To see the photos entered so far, visit the gallery.