For Behind the Shot Part 10, we are featuring photos and stories from Sequim in Washington, Huntsville State Park in Texas, San Rafael Swell in  Utah, Yellowstone in Wyoming, Spruce Woods Provincial Park in Manitoba and many more!
To participate in the 2018 Truck Camper Magazine Calendar Contest and be considered for a Behind the Shot feature, click here.
Cayetano Gil
Sequim, Washington
1995 Ford F350
2002 Lance 1130
Camera Used – Canon 70D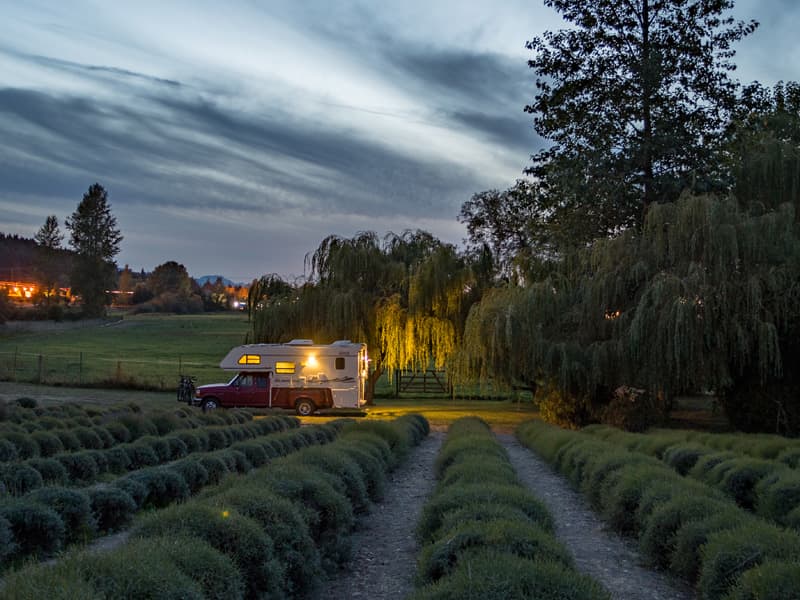 This photo was taken at a lavender farm in Sequim, Washington.  By that time we were off season to enjoy the farm, and were lucky enough to spend a quiet night and wake up surrounded by this beauty.
Marc Cuslidge
Klamath, Oregon
2006 Chevy 2500HD
1994 Weekender 1010
Camera Used – iPhone 6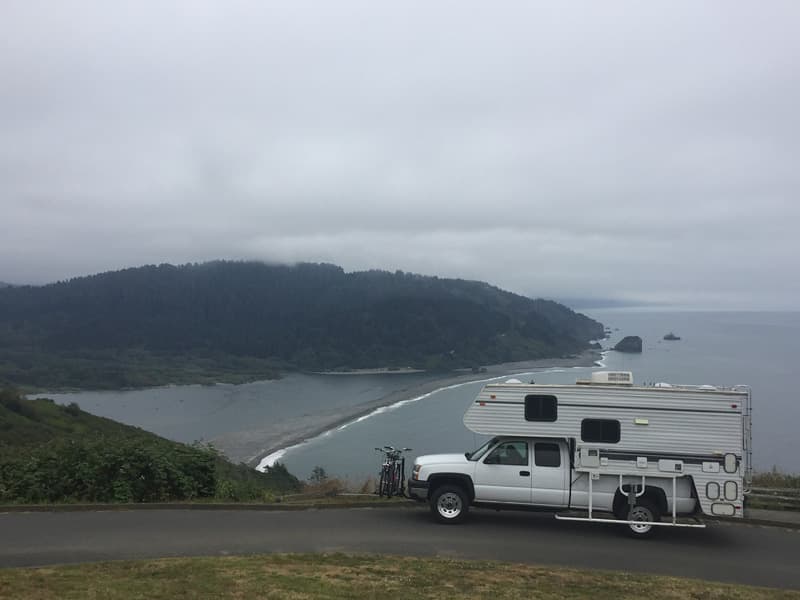 At the beginning of our trip we went through Klamath Falls.  This was on the way home at the mouth of the Klamath River where it goes into the ocean.  I turned down a steep road to a vista point that was at the top of a mountain.  It was a good thing that I was in a truck camper as there was a sign that said no trailers on the road.  We stopped here for lunch and I just had to take a picture.
Patrice and Ken Loucks
Head of Sinbad, San Rafael Swell, Utah
2013 Toyota Tundra
2014 Phoenix Custom Camper
Camera Used – Nikon CoolPix P600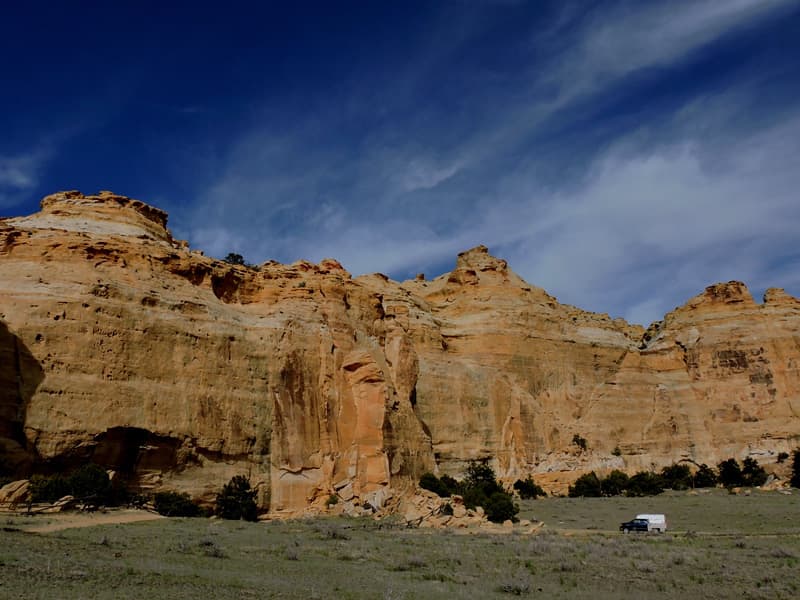 After searching for a tunnel that our rig would fit through under I-70, we discovered Head of Sinbad.  The road was basically a sand pit, but Ken was able to keep the Tundra going.  We were able to get to the pictographs and see some of the most beautiful cactus flowers ever.
We decided to camp there.  We were treated to a short hike up to a view point where we could see all the way north to the Grand Canyon of the San Rafael River.
This spot was not on our itinerary.  It was just a lucky pick after seeing it mentioned in a guide book.  I'm not sure if a solid-sided truck camper could get through the tunnel, so we are glad to be so agile!
Scott Higginbotham
Huntsville State Park, Texas
2005 Ford Excursion
2016 Capri Cowboy
Camera Used – Phone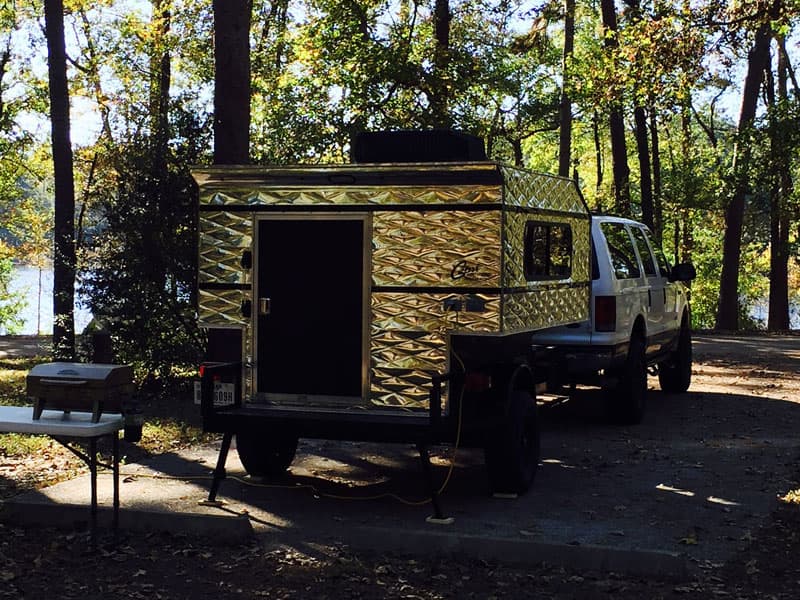 This picture was taken during a beautiful weekend at Huntsville State Park.  A truck camper with no pickup truck?  No problem!  Our Capri is riding on a custom lifted 5×10 utility trailer.
Van Rebstock
Borrego Springs, California
2006 Toyota Tundra
2001 Four Wheel Hawk
Camera Used – iPhone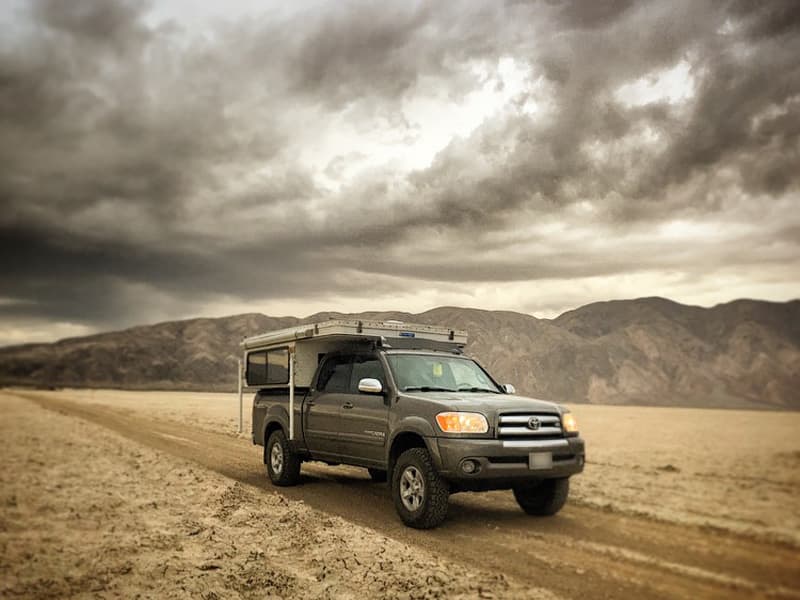 This was my first time exploring the Borrego Springs area.  My friend's parents live there, and he told me all of the cool spots to check out.
On this particular day, I was going to see Font's Point, but Mother Nature had different plans.  As I headed towards my destination a thunderstorm started to form, and I determined that driving through a floodplain might not be the best idea if a flash flood suddenly occurred.
I instead decided to drive onto a nearby dry lakebed to see how the storm developed.  I snapped this photo right in the middle of the lake.  About five seconds later, I heard the first loud rumble of thunder.  I started heading back towards the main road and by the time I arrived the storm was hitting full force. Overall it was a great humbling experience reminding me of the power of nature.
Sandy Rice and Marty Nizlek
Arches National Park, Utah
2016 Ford F350
Northern Lite 10.2 EX CD SE
Camera Used – Nikon 3300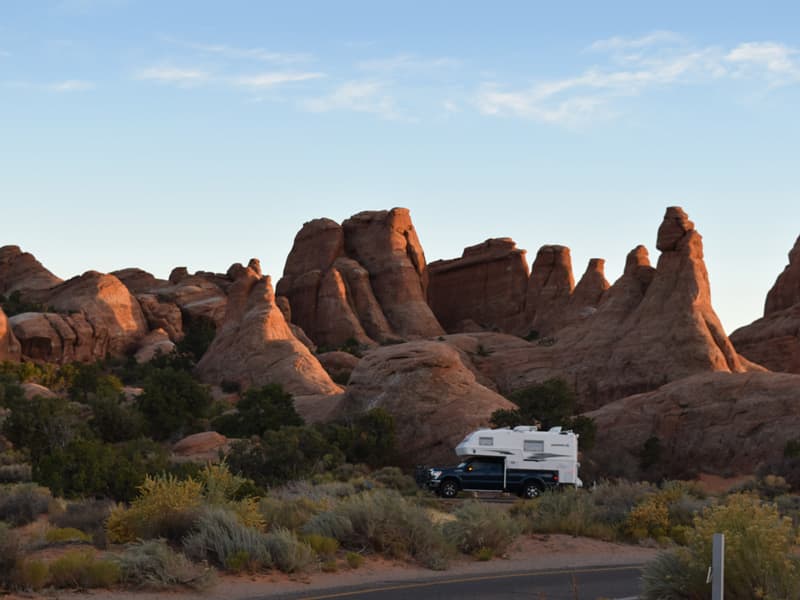 We just retired and bought our new truck and camper.  We made our maiden trip to the big five National Parks in Utah (from Seattle, Washington).
We also bought a new camera and are learning how to use it.  This photo was taken at our campsite in Arches National Park.  It was just about the last site at the end of the park and our first experience at dry camping for three days.  We are hooked!
Nancy Stevenson
Highway 37A in British Columbia, Canada
2015 Ford 3500
2017 Capri Retreat
Camera Used – Canon ESO 60D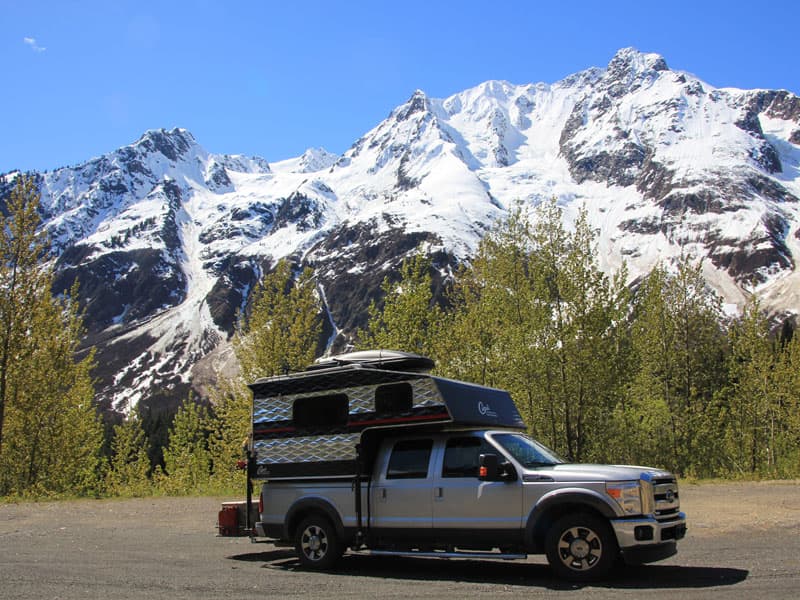 This shot was taken on Highway 37A in British Columbia, Canada.  It is our favorite place to be since this road has everything we love – bears, waterfalls, glaciers, and magnificent scenery!
My husband stopped to take a picture of a mama bear and her two cubs on the other side of the road.  While he was taking many pictures of the bears, I snapped this shot of our fabulous camper.
Bill Harrington
Sunday River ski area, Maine
2004 Ford F350
1997 K-Z Sportmans
Camera Used – iPhone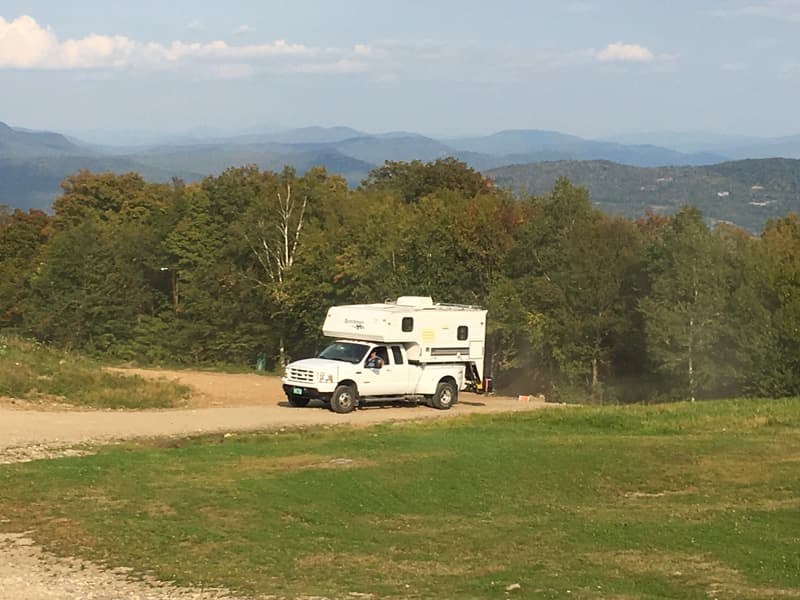 We went to my nephew's wedding in Maine.  My wife made the wedding cake.  We were supposed to take it up on the tram, but it broke down, so we took it up in the truck camper.
Pete Mather and Jean Clarkson
Davis Island, North Carolina
1999 Ford F250
1998 Northstar 8.5 Adventurer
Camera Used – Driod phone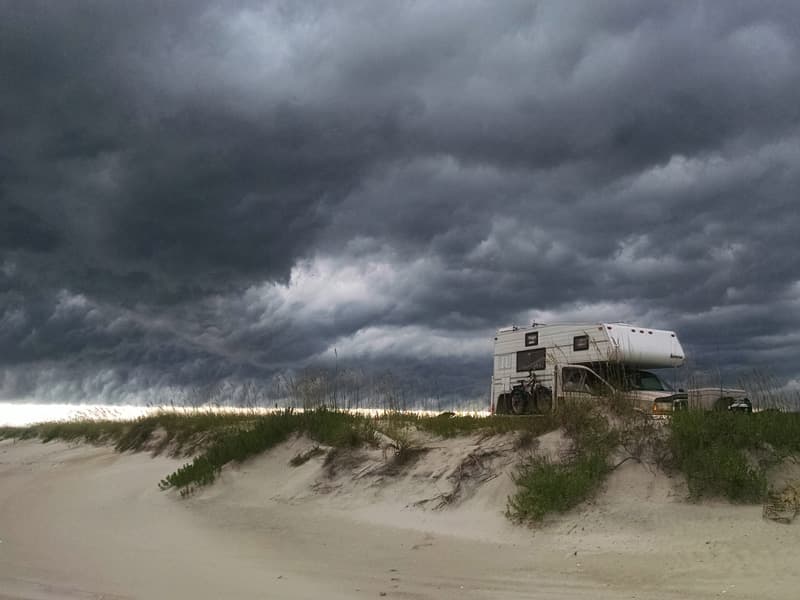 July squalls are so lovely to watch, and that's why they call it Cape Lookout!  We were headed north to spend our last night out of five on the island up around the ferry landing.  After leaving the lighthouse, we drove for 20 minutes or so when I looked in my mirror and saw that storm front closing in fast.  When I said, "Oh my god!" Jean's heart about stopped when she saw it.
We rushed out, took pictures, looked around, then ran back to the truck.  We took off north bound and it chased us all the way until it turned to the mainland.  We had a little horizontal rain for a couple of minutes, but not enough to get the whole rig wet.  If you love the ocean and reading this magazine, then Davis Island should be on your wish list.
Tim Odde
Sycamore Point, Coconino National Forest, Arizona
2015 Ram 3500
2001 Lance 1010
Camera Used – Samsung S6+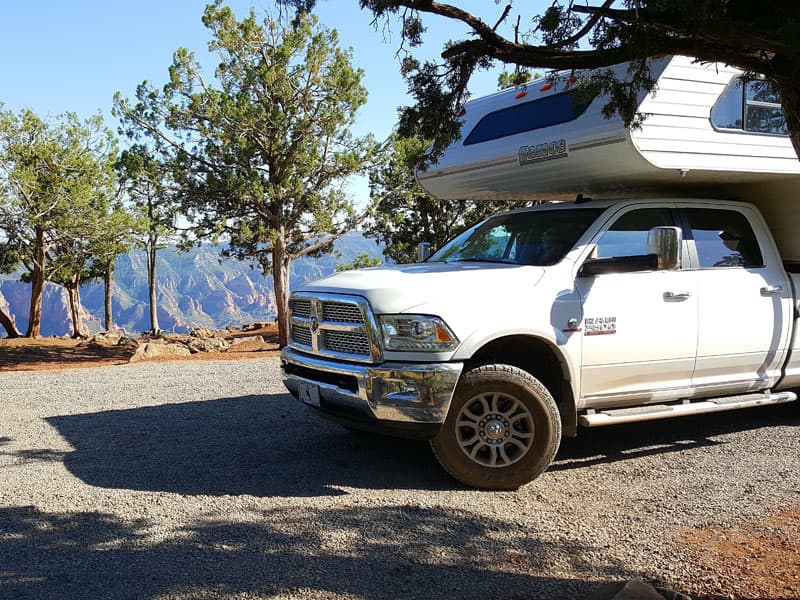 We were trying to escape the heat of the lower country in June.  We started our exploration in Williams and followed signs to beauty.  We love exploring the backroads!
Doug Jensen
Bear Head Lake State Park, Ely, Minnesota
2017 Ram 3500
2017 Northern-Lite 10.2 EX CDSE
Camera Used – iPhone 7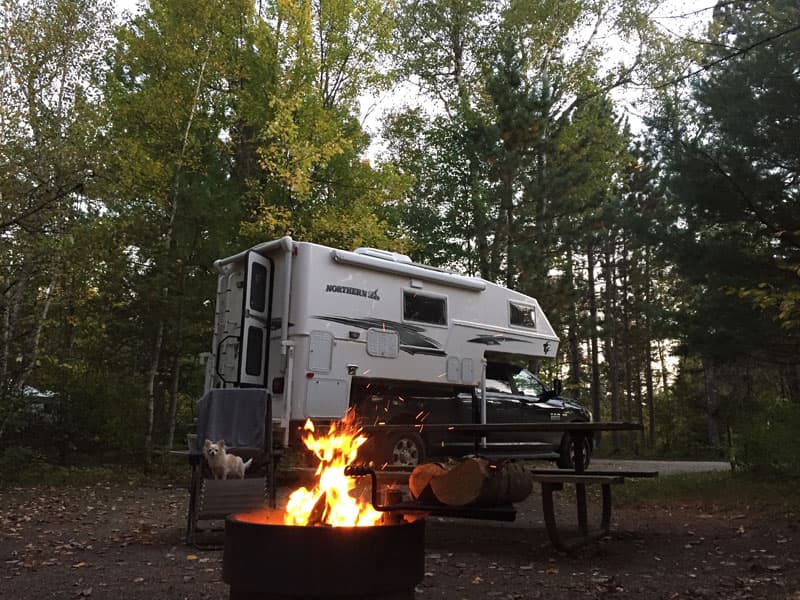 This shot was taken at Bear Head Lake State Park just outside of the Boundary Waters Canoe Area Wilderness of Northeastern Minnesota.  In the picture you can see my little travel buddy, Cody, in the chair enjoying an early fall campfire after a day of hiking the north woods.
Carl Van Warmerdam
Spruce Woods Provincial Park, Manitoba, Canada
2014 Chevy Silverado
2015 Pastime 800 FDS
Camera Used – iPhone 4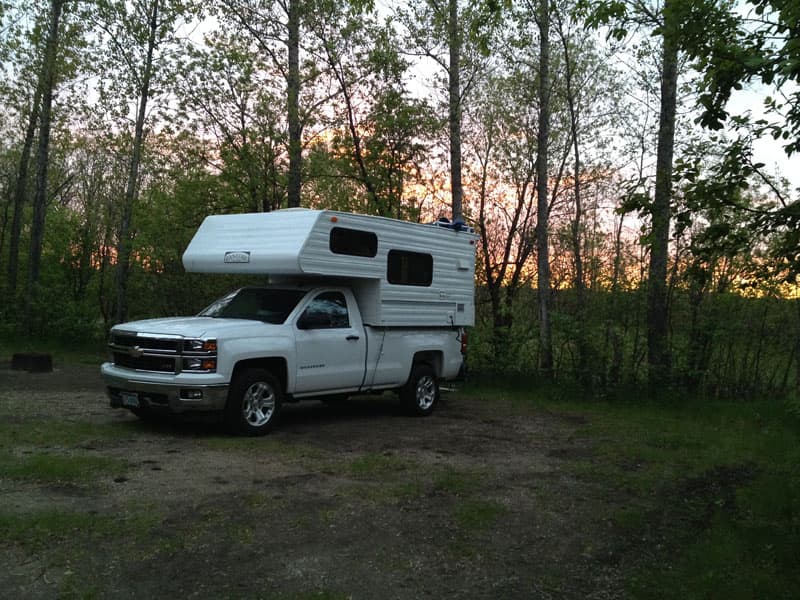 This was taken along the way from Portland, Oregon to Providence, Rhode Island traveling the Trans-Canadian Highway.
Ben Hutchings
Canyon Village campground in Yellowstone, Wyoming
1998 Chevrolet K2500
2017 Wolf Creek 850
Camera Used – Canon digital Rebel XTI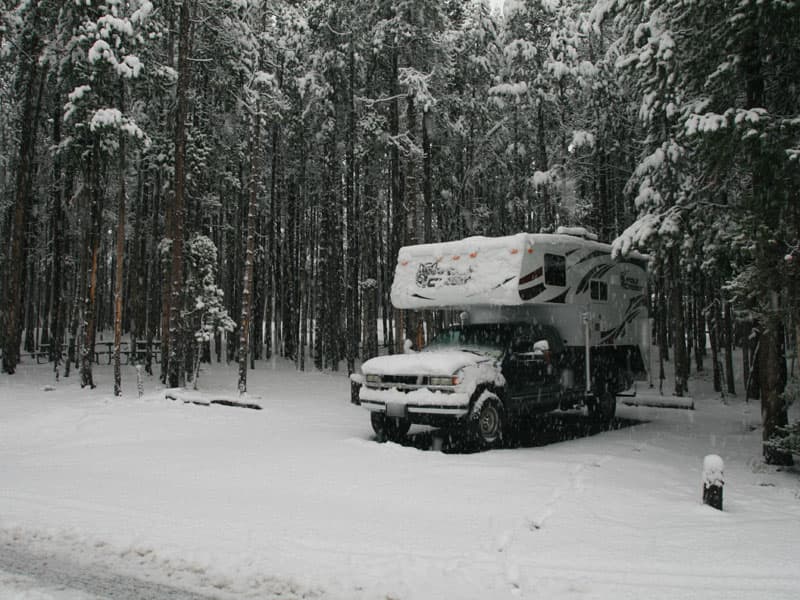 My wife and I had planned a trip to Yellowstone for our second anniversary in late September.  It was her first time there, and I had planned to show her all of my favorite spots.  Well, the weather conspired to alter our plans.  But hey, it showed a side of the park that I had never seen before.  It was still a great trip, and we look forward to going again!
To participate in the 2018 Truck Camper Magazine Calendar Contest and be considered for a Behind the Shot feature, click here.  Check out all the calendar entries – click here.