Fortunately, these knockouts had not yet been removed, so I left them in place and simply drilled the appropriate sized hole in the side of the case to accommodate the insert and wires (see above photo).
With these minor issues out of the way, it was a simple matter to connect the wires from the various DC circuits into the DC distribution chamber.  Because I had labeled them carefully when I disconnected them from the old Elixer, I automatically knew what circuit each wire was used for and how big of a fuse to use.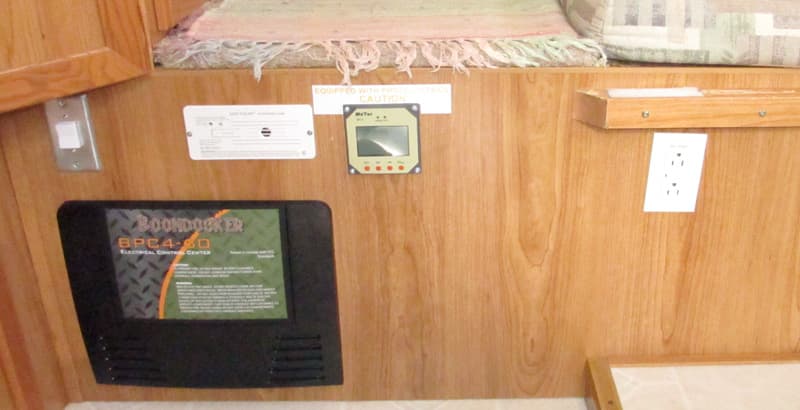 The Boondocker slid right into the cut out used by the old Elixer and even the screw holes used to hold the power converter to the frame of the camper lined up!  Randy was right, this was not too bad of a job!  The final result worked as good as it looked.
The last thing I needed to do was to purchase and install a battery.  I knew I wanted an AGM battery for several reasons.  First, AGM batteries are sealed and will not outgas into the camper.  Second, AGM batteries are much more rugged than conventional flooded batteries.  Third, I spoke with a number of people at several RV shows regarding batteries.  The consensus was that two six-volt, AGM golf cart batteries connected in series were the best battery bank solution for my situation.
I contacted Mike Moehler, President of Remy Battery, and he suggested several different brands and styles of batteries that I might consider.  He also gave me the specifications of all the batteries.
According to the data Mike gave me, one AGM golf cart battery weighs 75 pounds.  I was reluctant to install 150 pounds of batteries in the bulkhead of my camper as that area is already holding 250 pounds of water as well as the weight of any person sitting on the bench or climbing into the cabover.
I spoke to Mike about my concerns and he suggested I consider one, 12 volt, deep cycle, AGM battery instead of the two, 6 volt batteries.  He had a wide selection for me to pick from at very good prices.  I ended up with a Full River 12 volt, 115 aHr battery.  It came with a two year warranty and fits my battery compartment well.
Above: Camper's battery compartment showing back of new Power converter (left by water tank) and AGM Battery
With only one battery, the compartment has a much cleaner and neater appearance.  The new power converter works well with our 200-watt, roof mounted, solar system.
I have used this set-up for the past three months and have experienced no problems.  I no longer have the issue of unwanted LP and CO alarms going off and with judicious use of my electrical power, I run out of beer and water before I run out of electricity.
I was actually surprised at how easy this project was to complete.  Only simple tools were required and everyone I dealt with was more than willing to take the time to explain things to me and help me along.  This work helps to bring my 13 year old truck camper up to state of the art electrical standards!
Bring on the boondocking!