The 6th annual Texas Truck Camper Rally will be held from Thursday, May 3rd to Sunday, May 6th, 2018 at the Johnson Creek RV Resort in Kerrville, Texas.  This rally is sponsored by Princess Craft RV.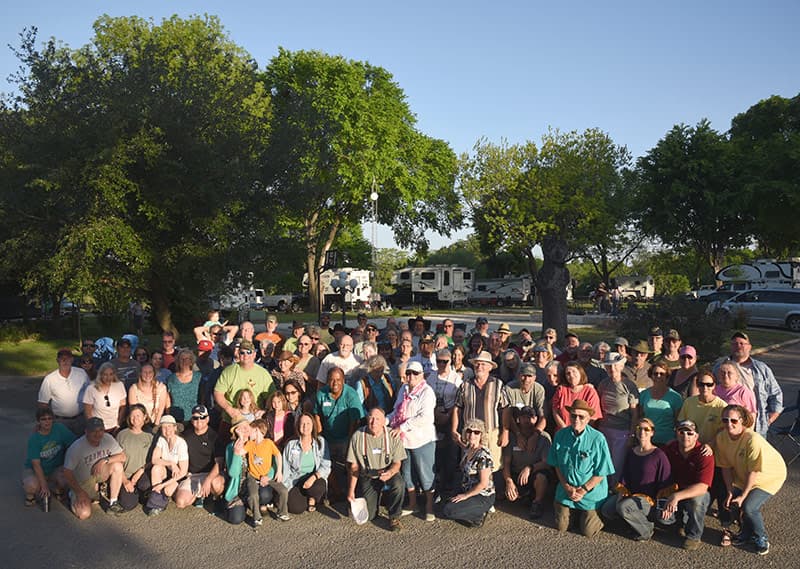 Above: 2017 Texas Truck Camper Rally Group Photo
May 3 – 6, 2018
Texas Truck Camper Rally
Johnson Creek RV Resort, Kerrville, Texas
Organizer: Princess Craft RV
Lindsay Buerger from Princess Craft RV sent in the following:
The Texas Truck Camper Rally is just around the corner, and it's time to announce the official schedule!
Thursday, May 3, 2018
2:00pm – Registration begins
6:00pm – Potluck Dinner
*If you will not be here until Friday, please still check in when you arrive!
Friday, May 4, 2018
7:30am – Camper Coffee at site #63
9:00-11:00 am – Tech Talk
1:00-3:00pm – Camper Tours
5:30pm – Turn in chili for cook off
6:15-8:00pm – Chili Dinner, Judging, and Awards
8:00 – Game Night (bring inside or outside games to play)
Saturday, Cinco de Mayo, 2018
7:30am – Camper Coffee at site #47
9:00-11:00am – Tech Talk/Round Table
10:00am-2:00pm – License to Carry Course
1:00-3:00pm – Camper Tours
4:00pm – Beer and Wine Tasting
5:50pm – Group Photo
6:00pm – Dinner provided by Princess Craft, bring desserts!
7:00-9:00pm – Music and Dancing with Bob Appel and Giveaways!
Sunday, May 6, 2018
7:30am – Camper Coffee
8:30am– Pancake Breakfast
We are very excited to announce that have 58 campers signed up for the rally – so far. That's a record! The park is only providing 42 spots. If you are willing to share a spot, your reservation will be discounted and you will be provided splitters for sewage and converters for power.
The spots are pretty large, so please call up the campground at (830) 367-3300 and reserve a spot if you haven't already. When you call, please let them know that you would like to double up. There are also a few boondocking sites at a discounted rate if you are interested. Questions? Please email us.
We are also looking for volunteers. If you would like to volunteer, please email me. You guys help make this rally amazing. Thank you! – Lindsay Buerger, Princess Craft RV