Doug Baughman, organizer of the 2014 Midwest Truck Camper Rally, sent the following report and photographs of the rally.  The 2014 Midwest Truck Camper Rally was held in Amana, Iowa from Wednesday, July 23rd until Sunday, July 27th.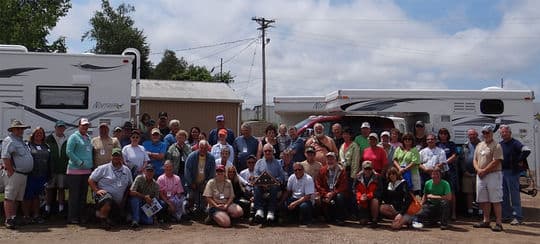 Above: Click to enlarge the Midwest Truck Camper Rally group photo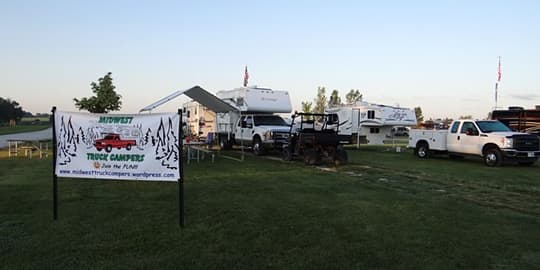 Here's Doug's Report:
"There were about forty rigs in attendance.  The rig that traveled the furthest came from Nova Scotia about 1,800 miles east.  Now that's dedication.
Above: Raffle winners left to right, Dave Bond won the Hellwig Sway Bar System and one set of Torklift FastGuns and Tom and Nancy Kinyon won a Roadmaster value accessory or sway bar system
There were lots of activities over the rally weekend including a delicious spaghetti dinner, a trip to the nearby Amana Colonies (a National Historic Landmark), a wool spinning fabric seminar, a potluck, Field of Dreams on the big screen, a camper open house, a raffle that included a spacial truck camper quilt, and a trip to the Northstar truck factory.
We got to see how Northstar truck campers are made and were treated to seeing an all-new model Northstar is currently working on.  Thank you to Rex Willett and the Northstar factory team."
Rex Willett, President of Northstar Campers, sent in this report about the rally group visiting the Northstar factory:
"It was a nice turn out with the rally participants showing up in a big tour bus.  We gave them a factory tour and put the feed on; fried chicken, cheesy potatoes, macaroni salad, fresh squeezed lemonade, ice tea, coffee, cookies and ice cream.  It was a great group of people.  My Dad even came out and was treated like a rock star.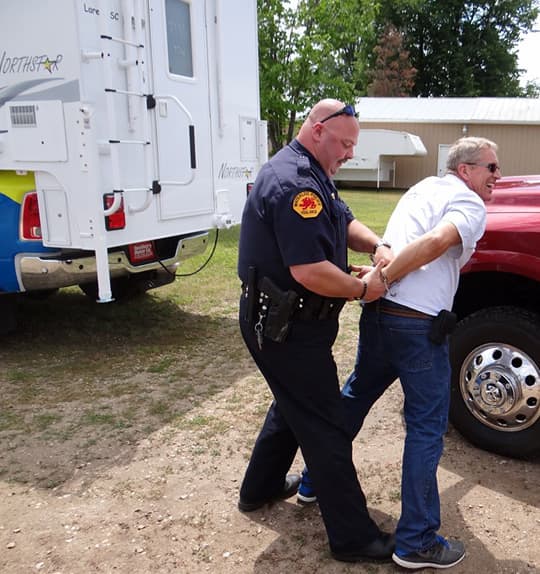 Things got a little out of hand when I got arrested!  It was a great day and I truly enjoyed meeting all the truck camper owners.  They are my kind of people."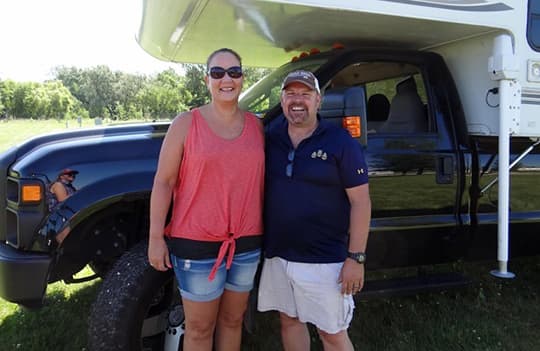 Above: The 2015 Midwest Truck Camper Rally Assistant Wagonmasters, Jeff and Kim McLaughlin
The 2015 Midwest Truck Camper Rally will be in Arkansas from July 13th to 17th.  We'll post more details on the Shows and Rallies page in Truck Camper Magazine as they develop.  Thank you to Doug Baughman and Rex Willett for sending in the reports and photographs.
There is a more extensive rally report and additional photography posted on Doug Baughman's blog: midwesttruckcampers.wordpress.com.