How did you end up custom building a Mitsubishi Fuso rig?
I originally wanted to travel on a motorcycle.  As I got older, and since part of my job is to care for people who are in serious motorcycle accidents, I decided to change course and custom build a camper.
I wanted to build a go anywhere camper to travel the world.  I wanted a kitchen, shower, and room for my stuff.  After considerable research, I decided on a Mitsubishi Fuso and a custom Four Wheel Camper.
The 2006 Mitsubishi Fuso FG before the camper was mounted – click to enlarge
Reasons The Fuso Is Best For A Truck Camper
I wanted to maximize usage of space with a cab-forward design.  I also wanted four-wheel drive.  The only cab-forward truck with four-wheel drive sold in the United States is the Fuso.
In Australia, the overland community has been successfully using the Mitsubishi Fuso for many years.  That made me comfortable with getting the Fuso for an overland rig.
"Fusos are sold in over 120 countries.  As long as you don't modify the engine and transmission, a Fuso can be worked on anywhere in the world."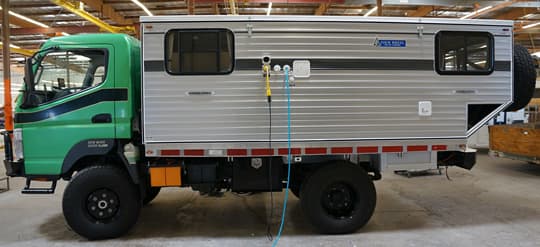 Above: Sunil's 2006 Mitsubishi Fuso FG and 2013 Four Wheel Camper
I wanted a 2006 Fuso because that was the last year that the EPA package was not used.  This means the systems are more simple than the newer Fusos, and easier to fix in case of breakdowns.  Fusos are sold in over 120 countries.  As long as you don't modify the engine and transmission, a Fuso can be worked on anywhere in the world.  That was another important consideration.
The Mitsubishi Fuso and Four Wheel Camper can fit in a normal parking spot.
Where did you find your 2006 Mitsubishi Fuso?
I found it online.  It was at a dealer in Connecticut with 15,000 miles.  It was practically brand new.  For some reason it was shipped from Oregon to Connecticut to be sold, so I had to have it shipped back to the West Coast.  It is the exact truck I wanted.  As far as I know my Fuso was used as a farming vehicle before I got it.
The suspension and the shocks are custom made and it gives the rig a ride similar to a SUV.  I am able to replace the custom shocks with stock shocks if I have to.  The engine and transmission are completely stock with no modifications.  The cabin in the Fuso has been insulated with Dynamat and is so quiet that I sometimes forget to shift the gears.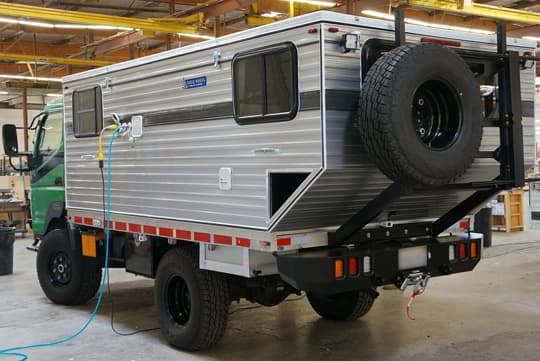 Fuel Tanks and Fuel Mileage
My Fuso has two diesel tanks totaling seventy-five gallons with a driving range of 900 miles.  I replaced the original diesel tank with a larger fifty-gallon tank in the same space.  Another twenty-five gallon tank is located between the two frames of the back end of the chassis.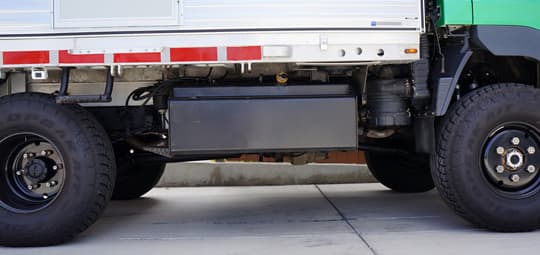 Pictured above is the main diesel tank on the Fuso.
The Fuso diesel engine runs on low sulfur, and high sulfur diesel fuel.  When I go to South America, there will be some places where I will not be able to get low sulfur diesel.  This truck can run on diesel with any sulfur content.
If 75 gallons gets you 900 miles, you're averaging 12 miles per gallon.