Satellite and Cellular Navigation Systems
I have navigation via cellular network, via GPS, and via Delorme Iridium inReach satellite messenger.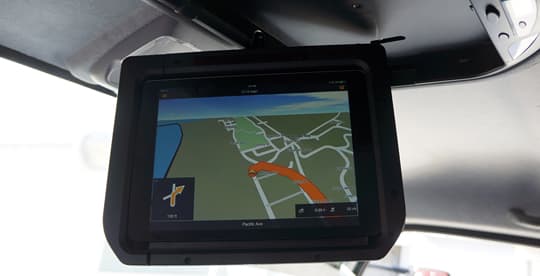 There is a drop down iPad from the roof for navigation with Garmin Navigon.
The Heads-Up display projects the navigation instructions to the windshield so you don't have to take your eyes off the road.

Navigation using cellular networks and Google maps works where there is access to cellular networks.  When I'm outside the reach of cellular networks, I use the Garmin Navigon system on an iPad with a GPS chip and preloaded maps.
Delorme InReach Explorer for Communication
The Delorme InReach Explorer that I installed is primarily for sending SOS messages.  The Iridium satellite network has global coverage.  It also allows you to send an email directly via satellite, bypassing the local cellular networks, to communicate with the monitoring station.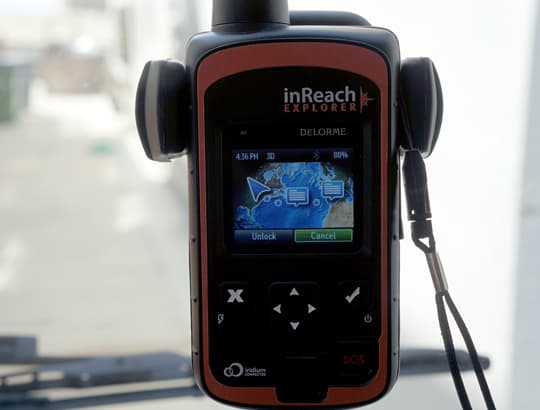 Delorme also sells a separate insurance policy that will provide emergency medical care and evacuation, if needed.  The Delorme InReach Explorer pairs with the iPad and works in a similar way to a GPS system.  With preloaded maps, it allows you to navigate anywhere.  Delorme InReach Explorer is my back up system.
360 Degree Cameras For Safety
I also have cameras that give a 360 degree outside view from the Fuso cabin, as well as from inside the camper.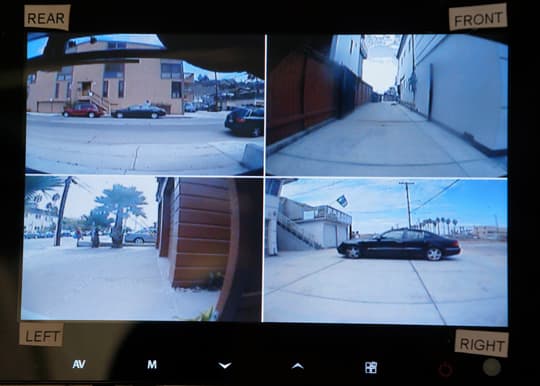 Cameras that give a 360 degree view from inside the Four Wheel Camper.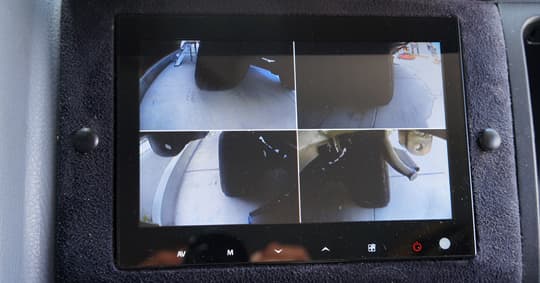 In addition I have a camera over each wheel which will show me the position of the wheels.  If I'm on a ledge, I can see where my wheels are located.
Above is the build process of the Four Wheel Camper.
That's neat, and potentially a life saver.  Your camper certainly doesn't look like a typical Four Wheel Camper.  How did you go about designing it?
I designed it with the Four Wheel Camper team.  The layout, specifications, and diesel appliances were all a part of the planning process.  I wanted the camper to sleep three people, have a full kitchen, a toilet, and water heater.  The biggest challenge was the pass-through.  That took a lot of work, and design.
Prior to buying the Fuso, I had met with Tom Hanagan, President of Four Wheel Campers, and floated the idea to him.  I was very lucky to catch Four Wheel Campers when they were moving to their new factory location.  They had the time to do it, and agreed to do a one-off camper for me.  Tom is a nice guy, and I know that it was a challenge.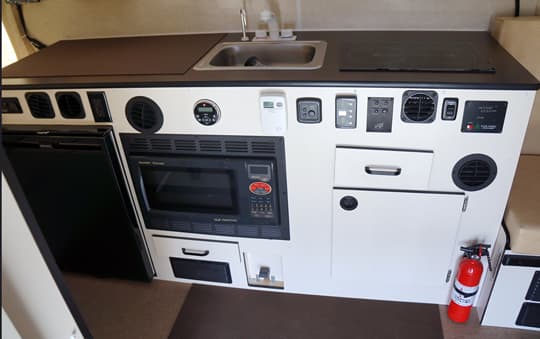 The kitchen cabinetry is white in Sunil's Four Wheel Camper.