Any doubts about the quality and quality control at Four Wheel Campers after the 2017 acquisition announcement can be put to rest.  Every facet of the Hawk under review exuded the quality and incredible attention to detail Four Wheel Campers is known for.  There wasn't one element of the Hawk under review that didn't appear ready for decades of reliable off-road travel.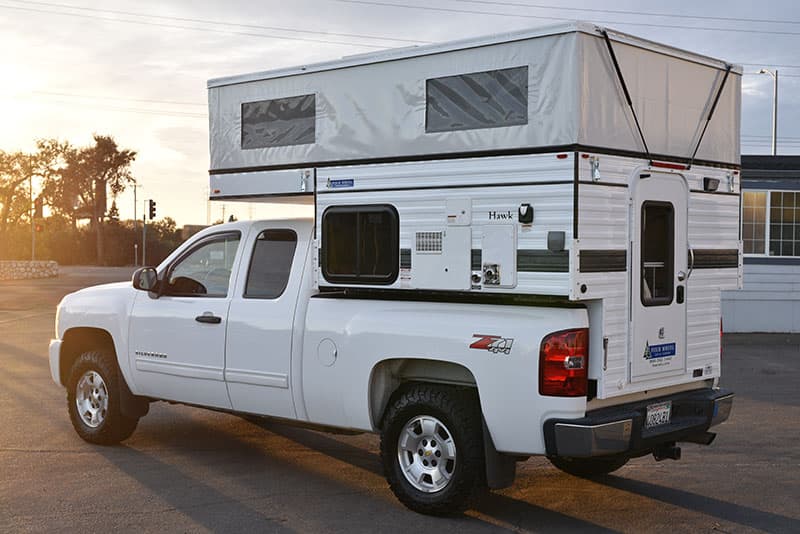 The lack of overhead cabinetry limits the overall storage capacity of the Hawk, but also makes the camper feel exceptionally open and spacious inside.  Folks who are unfamiliar with Four Wheel Camper interiors are going to be shocked at how roomy they feel.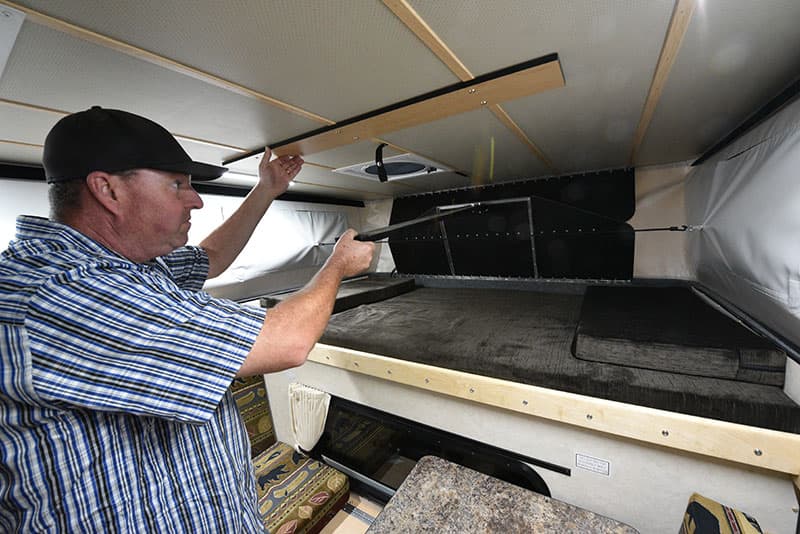 Some might be concerned by the manual roof lift system and how easy or difficult it can be to operate compared to the electric lifts offered by competitors.  When we borrowed a Four Wheel Camper in 2010, we were raising and lowering the roof in about three minutes.  Honestly, I think we would get that down to two minutes if we were using a Four Wheel Camper day to day.  The mechanism is so well thought out that it's a pleasure to use, especially with the gas struts making the lift easy.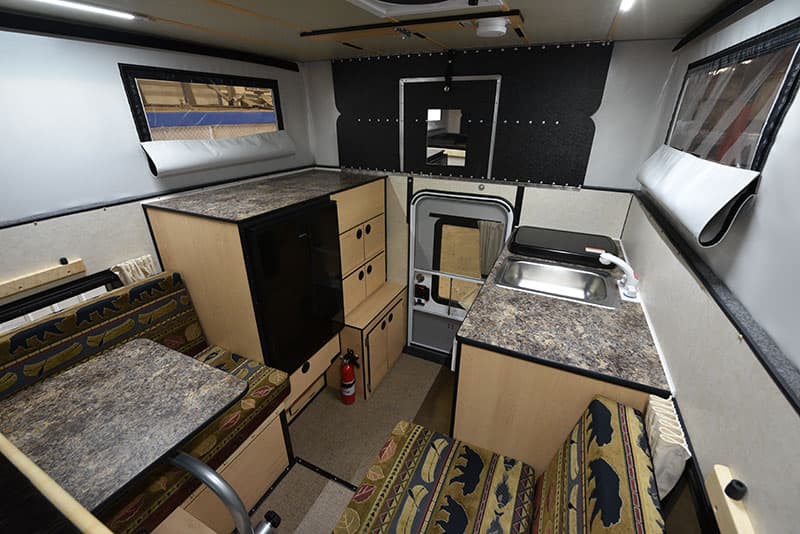 One aspect of the Hawk that I was not able to fully wrap my head around was the interior storage.  Normally I am noting what storage is available where and assessing what most folks would use that storage for.  We have camped in more truck campers than you can shake a turnbuckle at, so this process is normally quite natural.  In the Hawk, the numerous oddly shaped and located storage nooks defeated this intuition.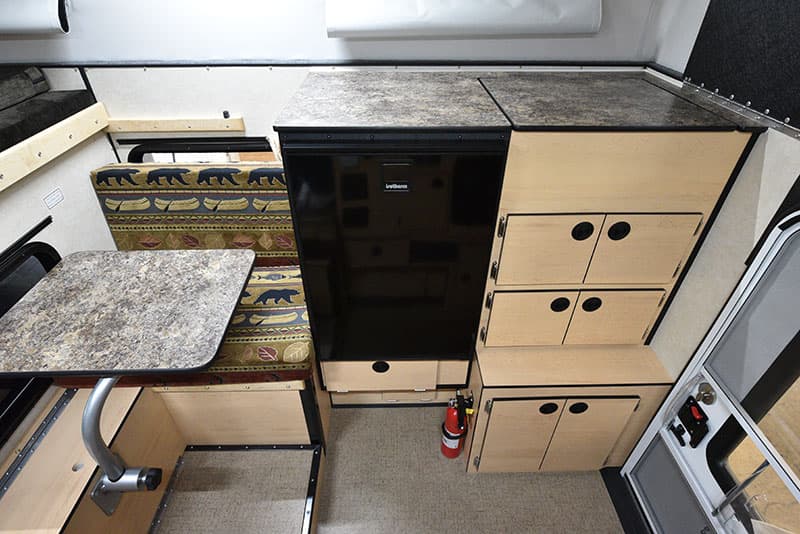 It would be really helpful if Four Wheel Campers created a list of storage nooks in each camper and suggested what items to store where.  For example, where to store dry foods, socks, underpants, T-shirts, jeans, toiletries, and basic camping supplies.  Based on the quantity and diversity of storage in the Hawk, these suggestions could save a lot of time.
The other design element that left me perplexed was the location of the windows behind the dinette seats.  I'm hoping Four Wheel Campers chimes in with a Manufacturer's Response to explain this design decision.  My best guess is that there's no other place to put these windows, and it's better to have them than not to.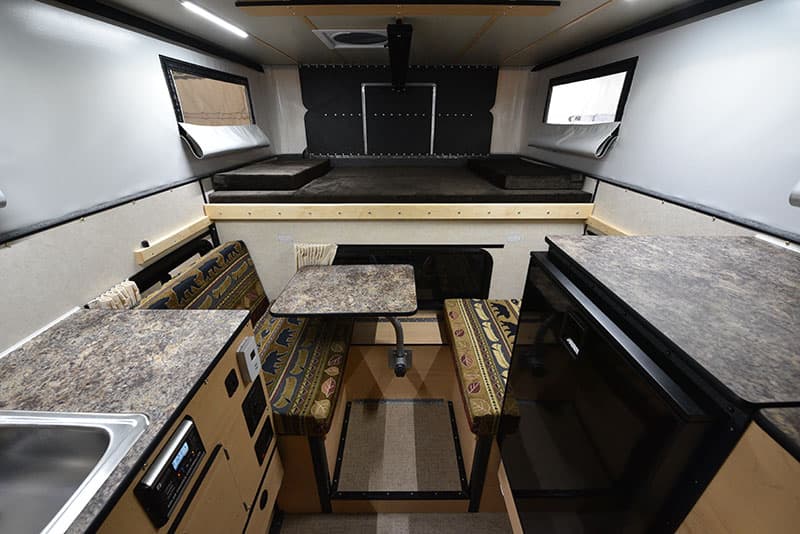 In the end, the concept of a Four Wheel Camper boils down to three key elements; light weight, durability, and simplicity.  Building a high-quality pop-up truck camper that meets these three objectives has defined Four Wheel Camper's niche for four and a half decades.
I'm happy to say that this focus is still firmly in place at Four Wheel Campers.  If you're on the hunt for a pop-up camper with these qualities, the Four Wheel Camper Hawk should be on your very, very short list.
Pros
Half-ton compatible if carefully matched – see Truck Recommendations above
Excellent workmanship throughout; cabinetry, wiring, plumbing, fit and finish
Interior of the unit feels wide open and spacious with lots of headroom
High-end marine-grade components including Whale Marine and Blue Sea Systems
Large face-to-face dinette and dinette bed for a half-ton short bed camper
Quantity of diverse storage opportunities in main living area is incredible
Cons
Some storage nooks are oddly shaped and located.  Use suggestions would help
The small double cabinet doors seem unwarranted.  Single doors might be preferable
Windows hidden behind dinette seats appear inefficient for daylight and airflow
Electrical connections under driver's side dinette should be better protected
10-pound propane tanks require filling stations and are not exchangeable
Only one set of outlets in kitchen area.  None on passenger's side or in the cabover
Model Information:
2018 Four Wheel Campers Hawk – Front Dinette Seating floor plan
MSRP: $17,995, plus $1,500 for Front Dinette Seating option
Warranty: 5 years on the aluminum frame, pop-up soft walls, and roof.  1 year for the interior.  Individual appliances have their own warranties.
Four Wheel Campers
Phone: 530-666-1442
Request a Four Wheel Campers Brochure
Web: fourwh.com
PREVIOUS – Truck Recommendations |  START – FWC Hawk Review  |  Manufacturer's Response
Quality, Customer Service, and Long-Term Reliability
Truck Camper Magazine inspects all reviewed truck campers for design, material, and quality issues and reports what we find.  However, since Truck Camper Magazine reviews only brand new truck campers, our reviews do not address long-term quality, customer service, or reliability.
To learn about a brand's long-term quality, customer service, and reliability, Truck Camper Magazine recommends talking directly with truck camper owners at truck camper rallies and online via truck camper forums and truck camper owners groups.
Please be sure to balance your gathered feedback across multiple sources including direct correspondence with the truck camper manufacturers and your closest truck camper dealers.
If you are new to truck campers, please start in the Newbie Corner.