"We purchased a two-cylinder Flow-Pur system based on some internet research and availability.  We installed quick-connect adapters for, well, quick connecting!
My wife, with tastebuds far more sensitive than mine, says the system filters out the unpleasant (mostly chlorine) taste from water in many RV parks we've visited.  Since she no longer has to purchase drinking water, I figure the filtration system will have paid for itself in maybe 50 years.  But, hey, as we've all learned, if mama's happy, everybody's happy!" – Bob Branson, 2008 Ford F350, 2014 Lance 1172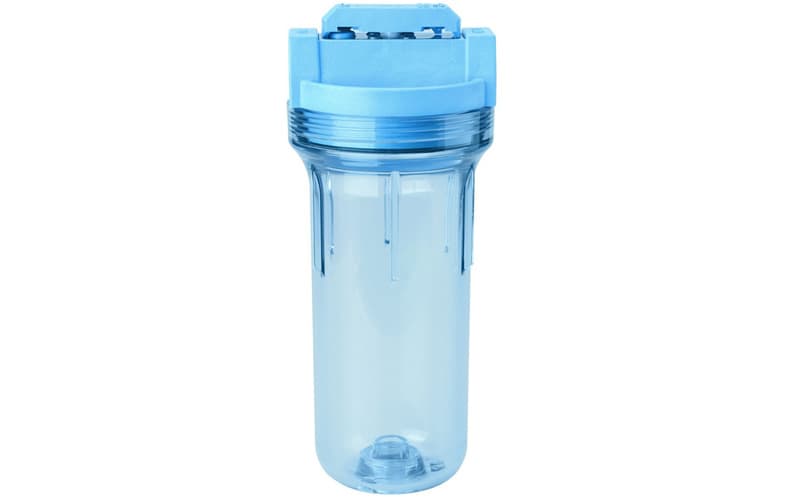 "I bought a Omini whole house U25 filter unit for my camper.  It's the same filter system that's in my home.  It simplifies things to have the same replacement filters for the camper and house.
When leaving a campsite, I remove the filter cartridge, put it in a sealable plastic bag, and place it in the refrigerator.  I attached one short hose to the unit's outlet that connects to my camper's fresh water inlet and a quick connect to the unit's inlet for the water source hose.  I cut a hole in the bottom of a yellow plastic milk crate for the unit to fit in, to stabilize it, and to keep it off the ground." – Ron Holte, 2006 Chevy 2500HD, 2005 Lance 1030
"I use an exterior six-stage system.  It is a 5-micron sediment, 1-micron sediment, 2 to 5-micron granular activated carbon, 1-micron block carbon, and 1-to .5-micron block carbon filter.  The system works great.
It can turn ditch water into drinkable water.  I put it together from parts I bought online from Amazon and the local Home Depot.  For $200 it includes six extra filters for each stage.  I know its overkill but, for about the same price, you can get a three-stage system preassembled." – Marty Commins, 2007 Ford F250, 2006 Nash 22GQ, still shopping for a truck camper
"We have used the Camco disposable inline water filters for years.  I use a new one at the beginning of each season.  We drink from our fresh water tank.  I think it helps keep the fresh water tank clean.  I do sanitize the tanks once a year." – Mark Joslin, 2006 Dodge 3500, 2005 Lance 1181
"Due to chemical sensitives, we do not trust the plastic in the camper's 18-year-old water tank.  For drinking water, we purchase jugs of water from grocery stores or, preferably, refill our newer one gallon and 2.5-gallon jugs from dispensers in grocery stores.  We occasionally will use tap water at campgrounds to refill our jugs.
Prior to making coffee and tea, we run water through a Brita filter to remove the taste of chlorine or chemicals.  For most cooking and bathing, we use the unfiltered water in the onboard tank.  Over the past 30-plus years of RVing, this is the simplest and most cost-effective way of dealing with water." – Stephen Leonard, 2008 Ford F250, 1999 Lance Lite 815
"I use a Camco external filter (just like in the picture for this survey).  This is my first filter so I have nothing to compare it to.  It does what I bought it for; remove the sulfur taste and smell from water at North Carolina beach campsites." – Randy Smith, 2001 Ford F350, 2017 Adventurer 910DB
"I have never used a water filter.  On short hauls, I fill at home and that lasts a week or two.  I have also filled from municipal or good camp sources.  We boil our drinking water and keep it in a container in the sink or refrigerator.
I have never experienced a health problem in in twenty-seven years of camping, but are very careful.  I did pick up questionable water when we were in a pinch, but just flushed and bleached my system when I came to good water, and carried on." – John W. Hallett, 2011 Ram 3500, 2014 Bigfoot 9.6LB
"We don't use a water filter.  In fact, we have never introduced water to our camper's systems.  We prefer to use the facilities at the campground instead of being cramped in the tiny bathroom and shower in the camper." – Scott Johnson, 2014 Ram 2500, 2014 CampCraft Lighthouse 8.0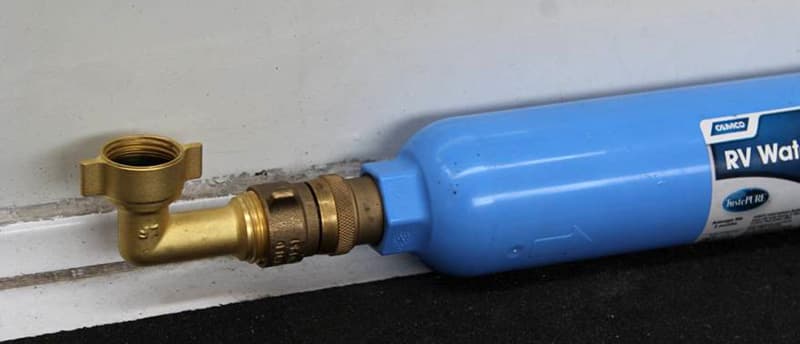 "I use the blue Camco water filter every time we hook up to an RV park water spigot.  It gives me peace of mind since I don't know the quality of water of where we are parked.  I don't want to carry around bottled water and have to think about recycling plastic bottles.  I keep the pressure regulator attached to the filter and if necessary use a 90 degree brass elbow to attach to the park spigot.  We find it convenient to turn on the kitchen faucet for our drinking needs.
I replace the filter every year, usually in spring when de-winterizing and also install a new anode rod into the water heater.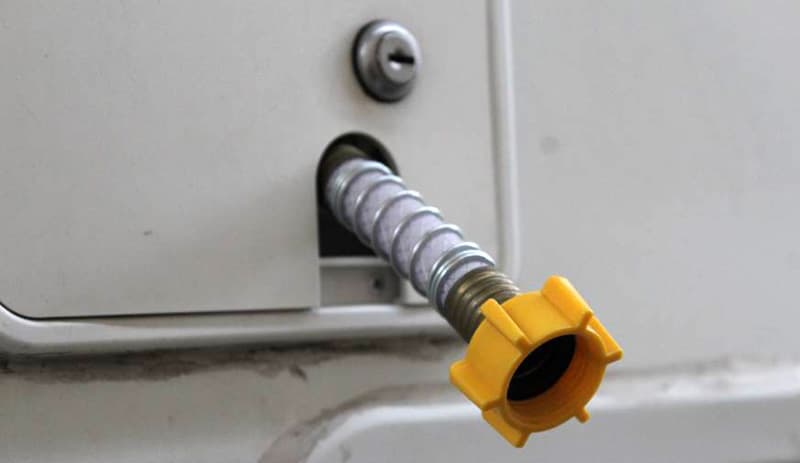 The Camco packages usually supply the flexible six-inch hose connector. My outside water connection is behind a locked door.  So now I keep the short connector permanently attached to the water inlet and the only time I need to unlock the door is when adding to the camper's fresh water tank.  I go through a twice yearly ritual of cleaning the camper's tank with bleach, vinegar, and baking soda.  I only only carry 15 (125.1 pounds) to 20 (166.8 pounds) gallons of water when traveling.  There are some nights when not plugging into water and electric suits us just fine." – Roger and Elaine Odahl, 2008 Dodge Ram 3500, 2004 Eagle Cap 950
"I use the same Camco exterior water filter.  I also bring store bought water and a Brita Water pitcher.  I like to save my on board water for showers and dish washing, etc.  However, if I happen to run out of bottled water, then I can fill my Brita water pitcher for double filtration before I drink it.  I also use Camco's water treatment in my tanks to kill what ever maybe in there." – Dennis De Ville, Waiting for 2018 Ford F350, Waiting for 2018 Lance 1172
First ← Previous ... 2 3 4 Next → Last Read Entire Article