"We carry a NuWave cooktop that plugs into 110-volt.  We have used it at home, but not on the road yet.  We only have one pan that works with it but, in 2017 we will travel for three months and will get a chance to test it out on the road.  If we like it we can purchase additional cookware for it.
The NuWave pans and pots work on gas as well so that would not be a problem.  You can purchase a NuWave cooker that will cook a whole turkey in two and a half hours.  We have used it at home and works really well." – Donald Fox, 2015 Ford F-450, 2016 Lance 1172
"I bring a 110-volt toaster, electric skillet, and electric kettle." – Jim Wood, 2014 Chevy 3500, 2008 Arrow 8.5 Northstar
"Well, I don't have a shore power cord or my Honda 2000 anymore, but I do have dual AGM batteries, a Zamp pure sine inverter, and a portable solar panel.  For 110-volt  AC power, I have a Keurig single cup coffee maker, a Dewalt portable radio, and a 12-volt fan (110 as a backup).  The only thing I really toss on the inverter is the coffee pot.  I've gotta have my coffee in the morning before a ride in the UTV." – Winston Gotte, 2003 GMC Sierra 1500 HD, 2016 Four Wheel Camper Hawk shell
"For 110-volt, I only have a Mr. Coffee.  We don't even have a microwave (they make reheated food taste funny).  We have a number of electronic device chargers." – Philip Tron, 2009 Chevy 3500, 2012 Lance 1050
"We do not take any 110-volt appliances along.  We do a lot of boondocking and have a small camper, so space is at a premium.  When we stayed for a few weeks at a campground down south last winter, we realized we should have had a small 110-volt electric heater along because we went through a bit of propane.  This winter we will probably find room for that, but I think that will be the only thing that we'll need 110." – Allen Brummel, 2008 Dodge Ram 1500, 2016 Northstar 650SC
"I have a 110-volt Melitta coffee maker and Bosch bread maker.  Fresh bread and fresh brewed coffee is a amazing way to start the fishing day right.  We use a generator to power the appliances." – Tim Ubels, 2004 Dodge Ram 3500, 1982 Okanagan
"We spend our winters in Florida fishing.  Our screen porch is our kitchen, so we have a 110-volt coffee pot that serves for hot water for washing dishes.  We also have a 110-volt toaster oven for toast and our 110-volt oven for baking cakes, pizza, etc.
We have a 110-volt rice cooker because my wife is from the Philippines and she gets grumpy if there's no rice.  You can steam veggies and cook many foods in it.  We also bring along a 110-volt electric frying pan." – Ronald Karczewski, 2002 Ford F150, 2002 Jayco pop-up

"We have a 110-volt NuWave induction cook top, Hamilton Beach induction cook top, Pelonis 1500-watt fan/heater, and Kitchen Living 8C water heater.  I also brought our 110-volt Tespo vitamin/mineral supplement machine, but that's only for extended stays.
We use shore power frequently, but the Honda 2000 does just fine if we really, really want or need 110.  Everything we use 110 for can also be done with propane or the generator in a pinch." – Cheryl Nelson, 2004 Chevy 3500, 1989 Shadow Cruiser 9.5 hard side
"I use a 110-volt two-quart slow cooker.  It's nice to have a meal waiting when you come home dirty and tired after a day of canoeing or fishing." – Nancy Meiners, 1996 Ford F350, 2014 Lance 1050S
"None.  Everything is being powered by 12-volts and solar; two computers, cell phones, and the television.  There is no need to drag along 110-volt items.
I mostly boondock for the three winter months I spend in Arizona, or I'm parked at the homes of friends or relatives.  We have a generator, but use it only to nuke a potato or thaw out something frozen.
Two years ago we were out 80 nights and paid a total of $62 to dump, or park and dump, and put 3.6 hours on the generator.  We did use a whole lot of gas in the ATVs running all over the desert." – Frank Niehus, 2007 Ford F-350, 2007 Arctic Fox 1150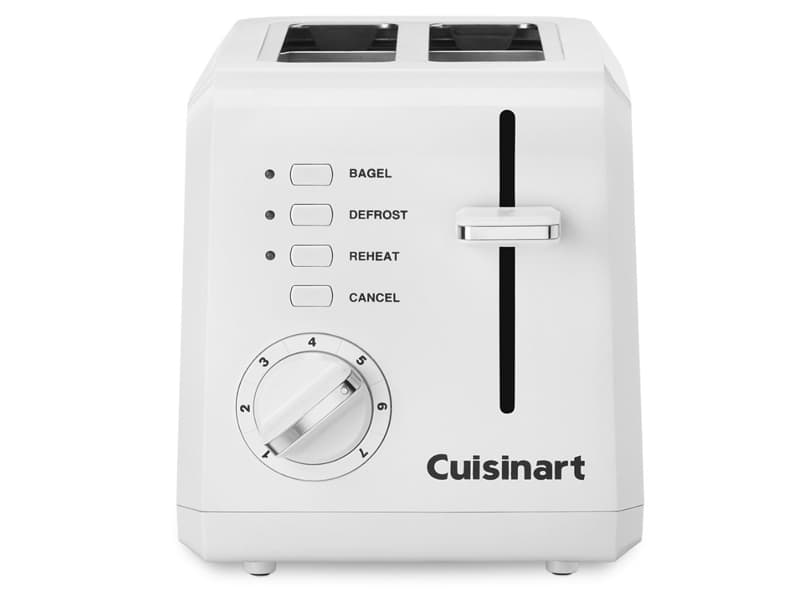 "Marylou uses a 110-volt compact hair dryer and a hair flat iron to stay beautiful.  We also use a very lightweight Cuisinart Compact Toaster for quick breakfasts.
For floor and upholstery cleanup in the camper, we use a 110-volt Eureka Easy Clean Hand-held vacuum that is very compact and powerful!
We use the 110-volt Dometic Microwave that came installed in the camper for warming left-overs and quick cooking simple meals.  When we're plugged in, we use shore power.  When boondocking, we just power-up the on-board propane generator briefly, use the required device, and shut it back down.  The generator rarely runs for more than a few minutes at a time.