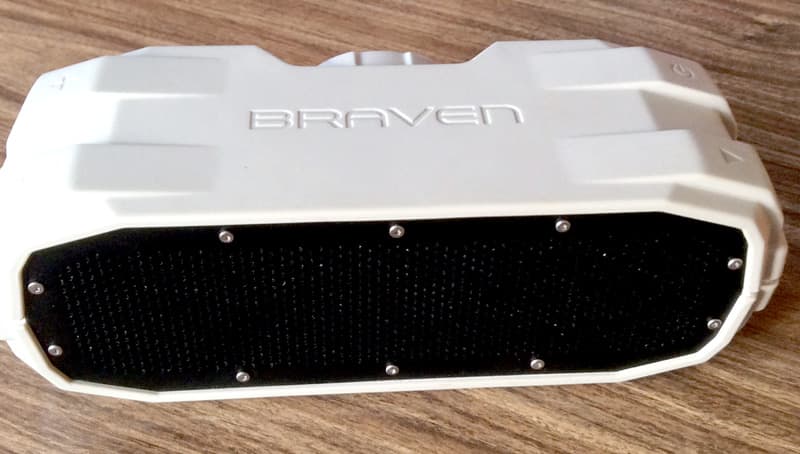 "My camper didn't come with a radio or a sound system and, frankly, I didn't mind.
My sound system is an iPad Air 128G loaded with a lot of tunes – a lot!  To get the sound I need, I use a portable small Braven BRV-X speaker.  I use Bluetooth to get my music where and when I want, either inside or outside the camper.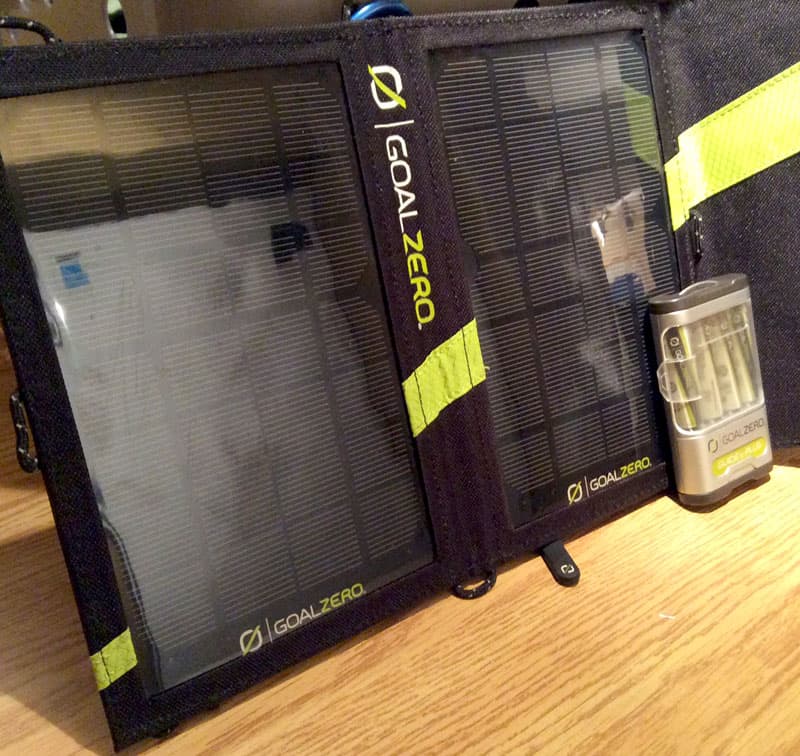 After using the table battery for six to eight hours for power, I use a AA battery pack charged by a small portable Goal Zero Nomad 10 solar panel for eight hours of music.  In extreme measures I can use the camper 12-volt battery pack with my inverter to charge the tablet and the small battery pack when I boondock.  I can also charge the tablet when the truck is rolling!
It's a light, mobile, simple, reliable sound system and I can assure you that some party could get going all night long with this small gear.  Cheers!
When I drive I listen to good Folk, Mississippi Blues, Chicago Blues and old Rock plus some good French Canadian music, which is where I come from.  The list can go forever; CCR, old U2, Daniel Lanois (Acadie), John Lee Hooker, Nina Simone, Led Zeppelin, The Who, Martin Leon, Daniel Belanger, etc." – Roch Nadon, 2007 Toyota Tundra, 2007 Okanagan 89WS

"My truck camper stereo is too complicated.  When it quit, I didn't try to fix it.  I found a fabulous way to exceed the original equipment.  It is called the Bose Mini II.  I use iHeart Radio or Pandora on my iPhone and Bluetooth it to the Bose Mini.
I have it on the dash while driving, on a shelf while in the camper, or on the picnic table outside.  It has great volume and sound which is typical of Bose.
I rock to Stevie Ray Vaughn, Leonard Skynard, David Allen Coe, Eric Clapton, Iris DeMent, and John Prine.  Bluegrass is great road music too.  What's that I hear, it's Stevie Ray Vaughn's, "It's Flooding Down in Texas".  Time to turn it up and get back on the road.  I was on a short rest break while tripping to Key West." – Larry Kelly, 2016 Ford F350, 2015 Palomino 8801
My camper didn't have any system in it, so I added a cassette player with my favorite songs.
I am always aware of my camping neighbors when playing music.  I do not use outside speakers.  Most campsites are way too close to each other to play music without intruding on the next guy.  In my opinion there is nothing worse than the guy who plays his music loud enough to be heard all over or even in the next site.  I do not think it gets any more rude than playing your music so loud it intrudes upon the guy next door.  Well, maybe a cheap generator blasting its noisy exhaust at you, which is pretty much the same thing!
I like music generally from the 50s." – R F, 1999 Ford F250, 1997 Lance
"I had Host install a Bose Cinemate GS system when they built my truck camper. A Bose Acoustimass subwoofer went into a cabinet under the kitchen countertop next to the entry door.  I have it connected to the Winegard Traveler satellite for video or music, the Sony DVD/CD player, or I can plug in my iPhone and play from my iTunes library.  One of these days, I'll upgrade.
Host provided small round speakers inside and outside that hook up to the Host provided Pioneer radio/CD player and wire its output to the Bose." – Ken Sanders, 2001 Ford F350, 2011 Host Everest
"Our rig has a Bose stereo system in the cab.  We don't have one in the camper, but use a powerful portable radio with CD player to play Aerosmith, ZZ Top, Eagles, and Skynrd.  We are usually outside during the day, and keep the music at respectable decibels, to respect other campers.  It's all go when we boondock alone.  Crank it up!" – Mike Kolinski, 2012 GMC 2500, 2012 FWC Hawk
"I have not upgraded our truck camper stereo.  The stereo in the camper is more than sufficient for our needs.  It even works with the television, DVD, and other auxiliary inputs.
I am most likely going to upgrade the OEM stereo in the truck though.  When driving long distances, the AM/FM/CD stereo does not take advantage of my Sirius/XM subscription.  I will probably be getting a head unit that allows satellite radio access.
I listen to Steely Dan, Doobie Brothers, Todd Rundgren, Eddie Money, and, of course, Sinatra!" – S. Frank Lucatorto, 2006 Ford F350, 2013 Lance 1172