"We do not have a cargo carrier on the roof.  We were warned early on that the roof would not take the weight.  In the words of our dealer, "The only reason to be on the roof is to clean and inspect".  So even though we could use the additional storage, we have decided not to compromise the roof material." – Tom and Mary Bailey, 2015 Ford F250, 2013 Arctic Fox 811
Editor's Note: Northwood has a video showing nearly their entire truck camper production team on the roof of an Arctic Fox truck camper. Watch here.
"I do not have a rooftop cargo carrier.  I have considered installing one, but with the vent, skylight for the shower, and the air conditioning unit up there, space is limited.
The main reason we don't have a carrier is that I consider the truck camper to be properly balanced on my truck.  Any additional weight up top (the rack and contents) would surely create a top heavy load in my case." – Tony Polvino, 2016 Ford F150, Travel Lite 770RSL
"No, I don't have a rooftop carrier.  Being a pop-up roof, capacity is limited.  I carry what I require in the back seat of the four-door truck or between the box sides and camper via a wheelhouse door.  I tend to pull a small trailer for the quads when they go along." – Daryl Davis, 1997 Ford F350, 2014 Palomino SS1500
"I am also interested in this topic.  I don't currently have a roof rack, but use the roof while camping a lot.  I keep items like chairs and snorkeling gear up there and lock the ladder in stowed position with kids' bikes while we are away.  I am not going to stop a determined thief, but the average camper will just walk past with no extra thoughts.
I would like a hard case on the roof now that you mention it, for travel and stow.  If anyone is in love with an aftermarket option, I am very interested in learning what roof rails and crossbars they are using.  Thanks again, TCM.  Great topic!" – Nick Last, 1999 Ford F350, 2000 Lance 1130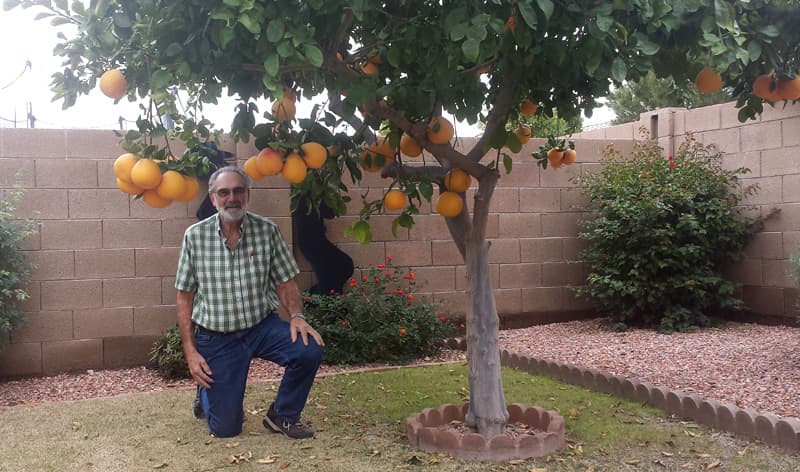 "I am not sure what we would use it for unless you were staying in one location for months at a time.  We go to Arizona in the winter and can get all the grapefruit and oranges we can haul for free.  We fill every nook and cranny we can find.  Our grandkids love it when we get back.  Seems like most people living in Phoenix have fruit trees and they have trouble getting rid of them." – Frank Niehus, 2007 Ford F350, 2007 Arctic Fox 1150
"I don't and won't have a rooftop carrier.  My truck camper's roof is 11-feet above the ground and is top heavy enough by itself." – Philip Tron, 2009 Chevy 3500, 2012 Lance 1050
"I don't have one yet, but I've been researching the idea.  I'm glad you asked the question and am eagerly awaiting all the answers.  If I had one I would like to store my folding camping chairs, my patio mat, and my roll-a-table up on the roof.  They don't weigh a lot.  I currently store them in the bathroom.
That creates two problems.  First, my wife and I can't get to the bathroom when it's full of all the stuff and we're on the road.  Second, the mat ends up leaving a lot of dirt on the floor in the bathroom.
It would be a pain to crawl up on the roof each time to take it all down and then put it all back.  But, I don't have any other place to store these items except on the floor – which makes it even harder to get into the camper while traveling." – Dan Sundt, 2005 Chevy Silverado 2500HD, 2003 Hallmark Ute XL