Like Yakima, Thule racks are modular so they can be adapted to carry whatever you want (within reason as they all have a maximum load capacity).  So far I've carried canoes, kayaks, bikes, skis, a cargo box (also from Thule), and lumber.
Thule accessories can all be equipped with locks that all open with one key (you specify the key number when you order new locks).
This stuff isn't cheap, but it's extremely well made and lasts forever.  I'm still using stuff that I bought over thirty years ago.
Another brand that I've come in contact with since I started overlanding is Front Runner.  They have an excellent selection of roof racks and attaching options for when the going gets really rough (as in off-roading).  They have an excellent selection of storage boxes that are extremely rugged and that stack securely.  They are just the right size.  I use them as steps for climbing in and out of my camper.
They also make all sorts of camping accessories such as fold up tables.  I have one of these that I keep stored in a rack under the overhang of my camper that works great and is very stable.
The key to all this is to be flexible and adaptable.  For instance, I may not want to crawl up on the roof of my camper to get at my bike so I sometimes keep it in a hitch carrier on the back.  I have a Torklift SuperHitch that has two receivers mounted one on top of the other.  I can carry my bike in the top receiver and still tow my boat in the bottom one." – Steve Timmings, 2003 Ford F350, 2013 Four Wheel Camper Hawk SC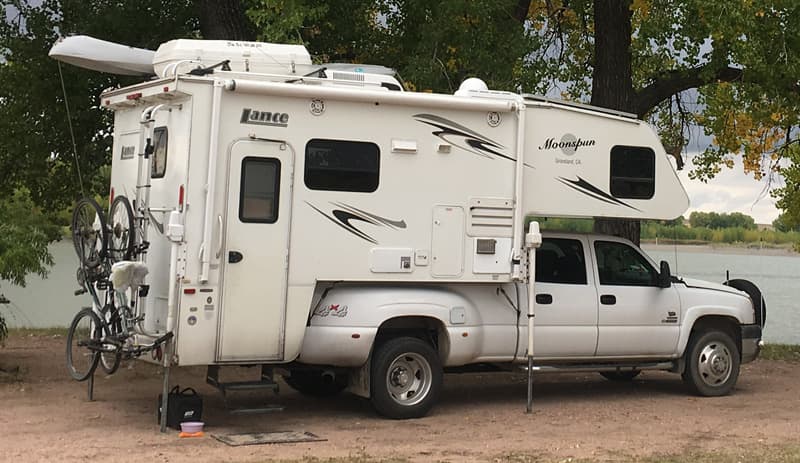 "For the past nine years we have used a 16-cubic foot StorMore hard side carrier.  We have stored kayak and bike gear in it, as well as a folding table, large mat, lounge chair, and camp chair.  Bikes are hung on a roof ladder rack, making quick trips to the roof inconvenient.
This year, with 1,100 miles of dirt roads and bad pavement crossing the Trans Labrador Highway, the carrier got really beaten up/broken while driving over washboard and pothole-filled roads.  We will replace it with a hard side Thule 628 Force Cargo Box (16-cubic feet)." – Jim Goodrich, 2006 Chevy 3500, 2008 Lance 1191
"We mounted a Yakima hard shell ski carrier on a rack that I welded up.  The fit is just right and it doesn't catch much wind.
We use it to carry our grill, folding chairs, shovel for digging clams, baseball bat and gloves, football, soccer ball and once a bunch of pumpkins we got at a farmer's market.  It's a great catch all and things don't have to be clean since it is outside.
Things stay dry and it's lockable.  Plus, it keeps me in shape climbing the ladder!  Now that we have it we wouldn't go camping without it." – Burt and Vickie Strong, 1997 GMC C3500, 1997 Lance Legend 500
"I have a homemade solution for carrying surfboards.  I removed the air conditioner unit because I didn't need it.  The camper had existing rails.  I glued some foam pads on the board's contact area and ran straps across.  In front I use an old TV antenna base because I don't have a TV in camper." – George Haselton, 2015 Ford F150, 2014 CampLite 6.8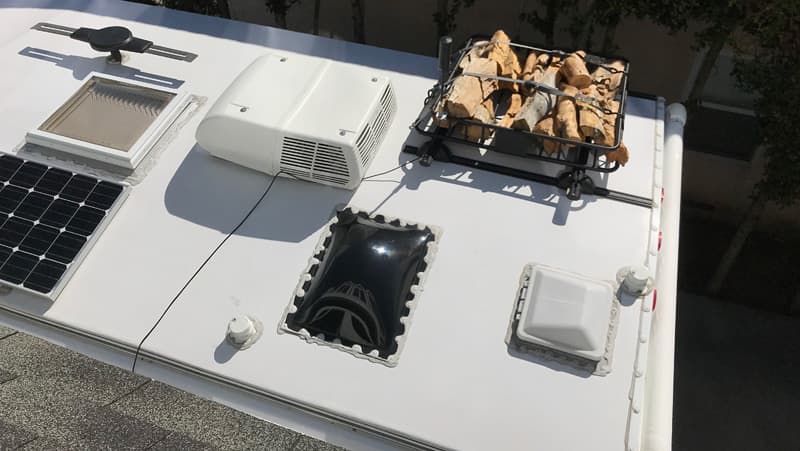 "I ordered my 2017 Arctic Fox 1150 without the factory roof rack.  Except for something to grab on to when you climb on the roof it was basically useless.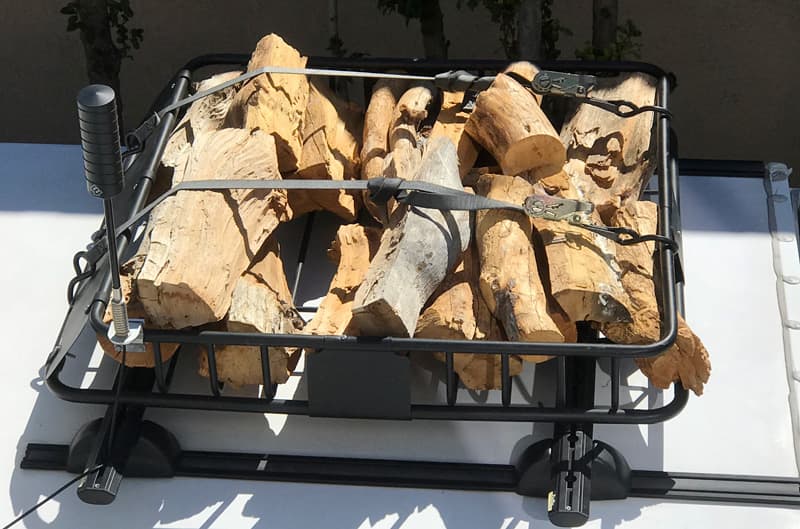 I installed a ProRac rail and cross bar system.  I then installed a generic cargo basket on top of the cross bar system.  I use it to carry my firewood.  Camping is no fun without firewood!  It was also a perfect place to attach my cellular signal booster antenna." – Ray Mungo, 2106 Ram 3500, 2017 Arctic Fox 1150
"Since we usually travel for extended periods, we are also challenged with storage space.  About two years ago I picked up a Thule hard shell storage unit at a garage sale and it has been a great addition.
I currently store my Clam screen room, five-foot folding bag table, 100-foot extension cord, and a macerator unit which is wrapped up in plastic bags.  While on our trip to Nova Scotia last year my wife also assisted me in filling up the rest of the unit with tons of clothes for the grandkids from a place called Frenchies.
When traveling out west I usually bring my fly fishing gear and waders so there is no room for my wife's stuff.  The only downside is that it added about 2-inches to the overall height of the truck camper." – Gary Hughes, 2005 Chevrolet 3500, 2015 Lance 1172