"I have two 100-watt solar panels on the roof. I prefer fixed panels. They don't take up space.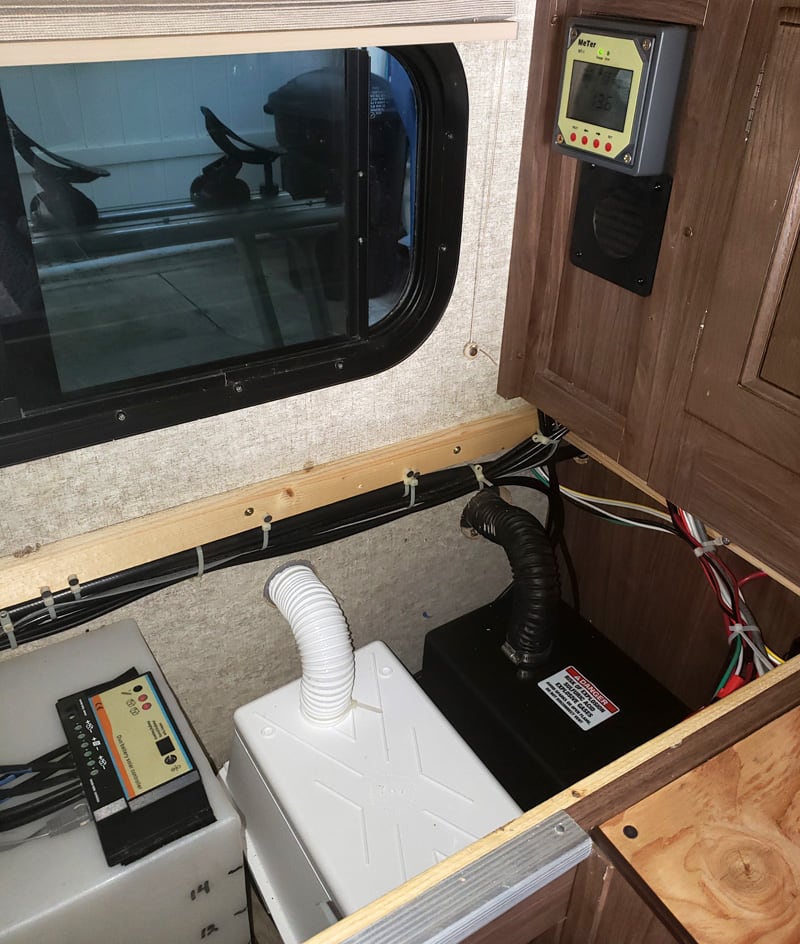 I just added a second battery to take better advantage of the sun." – Kent LeBoutillier, 2018 Ford F250, 2015 Palomino SS-550
"We have two 100-watt Renogy solar panels mounted to the top of our camper. With hard mounted panels I have some charging going on most of the day. This keeps the batteries from a complete discharge, which extends their lifespan. It also allows us to leave the truck parked or camper dismounted when we are dry camping. Portables take up too much valuable space and are easily stolen if left unattended." – Matt Wiegand, 2014 Ford F-150, 2017 Adventurer 80RB
"I prefer installed, but it would be nice if they could tilt or, even better, automatically track the sun. The only thing that worries me is large hail." – Charles Phy, 2011 Dodge 5500, 2010 Eagle Cap 1160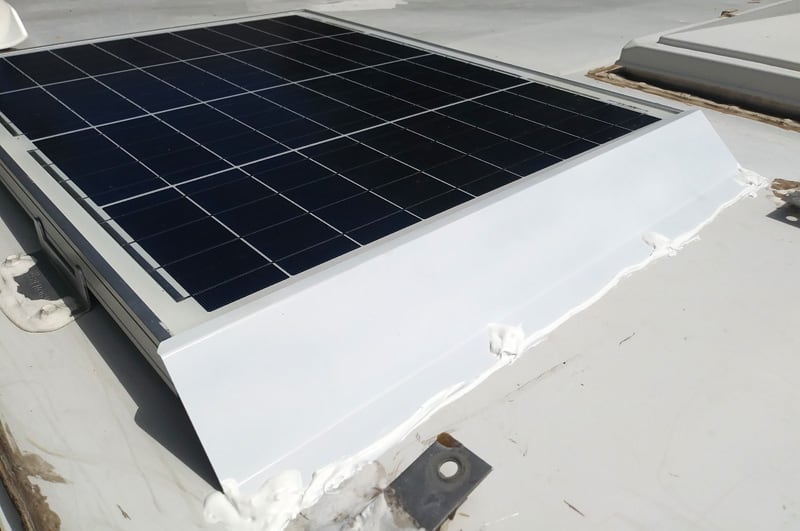 "For several of the reasons listed in this article, I have mixed emotions about portable versus fixed panels. We will be getting a portable panel for versatility. Either way, we love the extended amount of electricity they give us.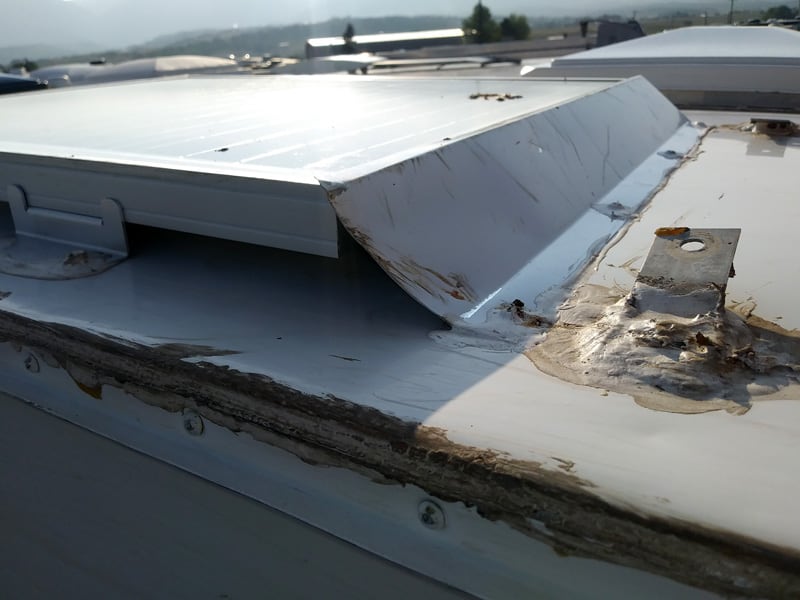 The two photos above are my mini-mod for our deep woods camping and abuse caused by low tree branches. As you can see from the scratches, the first trip out after I installed the mod may have saved our panel from being ripped off the top." – John Bailey, 2001 F-250, 1999 Lance
"I have installed panels, but they're angle adjustable." – Dietrich Kanzler, 2015 RAM 1500, 2000 Northstar TC800
"I prefer portable panels in order to keep the camper in the shade, while the panels can be in direct sunlight." – Michael Jensen, 2003 Chevrolet Silverado 2500, 2005 Four-Wheel Camper
"I installed a 160-watt panel a while back, along with a second house battery. It does a great job of keeping both batteries charged. We no longer stress over things like running the furnace. Since storage is already at a premium, I prefer the installed panel. It's one less thing to pack." – Tony Tabacchi, 1973 Ford F350, 1973 Ford American Road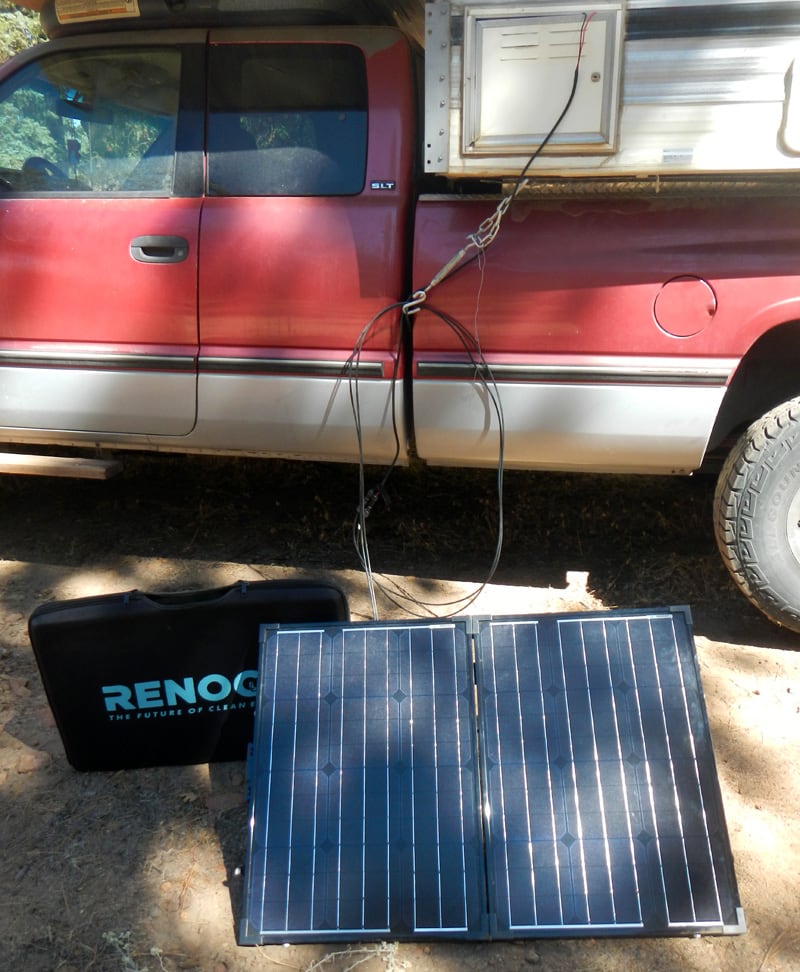 "Solar gives you greater efficiency. That is important when there's only one small battery expected to power a CD player and laptop computer all day, and a DVD player and television monitor for a couple of hours in the evening, as well as the other usual suspects in a camper. I get exercise climbing out every hour or so to shift the position of the panels to follow the sun. It's a poor man's solution.
Of course, as infirmity creeps up on me, setup and takedown, and constant climbing out and into the camper makes my approach increasingly untenable." – James Landers, 1997 Dodge RAM 2500, 1985 Lance 300
"I prefer installed panels. They are easy to deal with. Just clean them every now and then. I also have a smaller one that I carry and hook up if needed." – Jeff Hagberg, 2002 Ford F-250, 2006 Travel Lite 800SBX
"A hard wired system means less to store and less to keep up with." – Jerry Burnham, 2005 Dodge 3500, 2008 Arctic Fox 990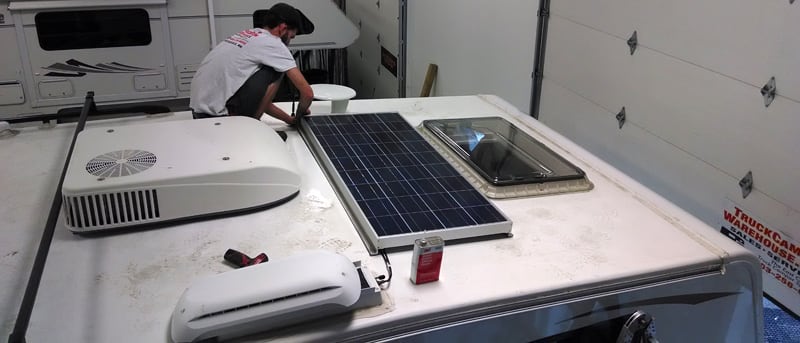 "I had our dealer mount our 140-watt panel and wire it in before we brought it home. There is nothing to drag in and out at the campground every time. I just keep the batteries topped with distilled water (or go AGM, which I'll be doing soon). I haven't really found a campsite yet where we couldn't park in an optimal position to get good sun." – Jim Duarte, 2015 Ford F-350, 2013 Eagle Cap 850
"Installed solar panels means there's nothing to trip over. If we take the boat, I have a 60-watt portable. Our Adventurer camper came pre-wired so all I had to do was purchase and install two 100-watt panels and a controller. I also installed two AGM batteries which work great. The only problem we have is making sure we we park in good sun." – Bill Londry, 2011 Chevrolet 2500HD, 2017 Adventurer 86FB