When we day camp at the muscle car shows, we stay in the host hotel because there are no camping facilities in the parking lot.  We do use the truck camper as a daytime unit and run the generator mostly for the air conditioner unit.  It gets real hot in a hotel parking lot in the summer time. The generator does use a lot of fuel to run all day, and can get expensive quickly.
Of course, if one is running the generator for the AC, one might as well plug in their CPAP also.  I covered a lot of ground here, however I have also covered many issues that truck campers, and other RVers deal with." – Charles Spray, 2002 Ford F350, 2001 Lance 1010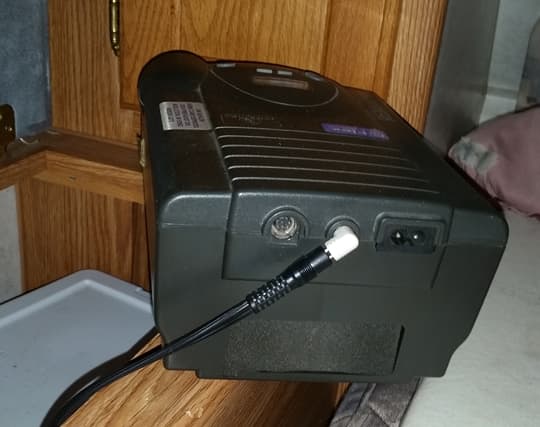 "The good news is that most CPAPs run on 12 volt DC.  There is either a internal or external AC/DC converter.  If it is internal, look at the back of the machine for a 12 volt DC plug.  I took mine to Radio Shack to be sure I got the correct size plug for my machine, which is a RemStar plus.  Be sure to get the polarity correct, mine is center positive.  For external converters, simply match the plug on the converter.
My unit draws 1.6 amps in use and 0.18 amps in standby, therefore I unplug the unit from the 12 volt cigarette plug I installed inside the hamper next to my bed.  The hamper is the permanent home for my old CPAP.  This unit does not have a heater for humidity.  Be sure to turn the heater off when running on 12 volt or your amperage draw will be much higher.
With a 105 watt solar panel, a single group 31 battery, and good sunlight, we recently spent six days dismounted from the truck at a primitive Ozark campground while paddling the river outside our door." – Tom Strock, 2003 Chevy 2500HD, 2000 Bigfoot 9.6
"I have a BIPAP machine.  It's a Sullivan VPAP II model plugged into a Radio Shack 350 watt inverter attached to deep cycle RV gel cell battery.  This spares the camper battery, and I also use it for home emergencies.  We live in earthquake country.
I'm at the end of my useful career with this set-up.  The vendor won't do Medicare any more, or send me consumables, and I need to do a new sleep study after a doctor referral.  I had a 12 volt CPAP that I used in a VW van conversion.  I also used the camper battery for power in a 5 watt trailer." – Terry Coddington, 2012 Chevrolet Silverado 2500HD, 2012 Lance 855