Permanently Mounted Air Compressors
"I have an Extreme Outback Extremeaire High Output compressor permanently mounted just to the right of the door on the floor of the camper.  There is a place under the roll over couch that provides the perfect place for it.  It is wired directly to the camper batteries and I installed a switch.
It's not a cheap compressor, but it can run continuously when needed and fills the four tires back up quickly – about 3 to 5 minutes each.  I need the compressor because I like to drive on roads where airing down makes for a much smoother ride." – Kevin MacAfee, 2012 Toyota Tacoma, 2012 Four Wheel Camper Eagle
"I keep it on the frame, under the driver, with the skid plate.  I have an Extreme Outback Magnum continuous duty air compressor with quick connects in the front and rear bumpers.  I have a need to air tires down and back up for a more comfortable off-roading experience and for sand.  This is the ultimate compressor set up by Adventure Trailers in Prescott and it works flawlessly." – Dennis Umshler, 2015 Ram 3500, FWC Grandby flatbed
"My compressor is mounted behind the front left wheel well, between the frame rail and the body – sort of below the driver's left foot.  The air intake hoses are routed to the engine compartment just under the wiper blades so that water and dust doesn't get sucked into the compressor.  Aft of the compressor is a manifold for connections to ARB locking differentials (that I have yet to install), then a two-gallon air tank, and lastly a bracket with a Milton V-Style air hose quick connect installed just behind the driver's running board.
The compressor is a ARB CKMTA12 which pumps enough air to take my four 33×12.5 off-road tires from 25 to 45 psi in about six minutes (with assist from my daughter and a four-tire hose kit – inflate or deflate all four tires at once).
I like to camp in remote spots and having properly inflated (actually deflated) tires is essential in getting back with minimal fuss and maximum comfort.  There has been no need to upgrade to the locking differentials yet.  Just having the right air pressure makes traction so much better.  Having the fill be so quick and easy removes the decision of "is this road bad enough that I need to air-down"?  Just do it and the ride will be more comfortable even if the traction wasn't really needed." – Beachley Main, 1999 Ford F250, Looking for a used FWC Grandby
"My air compressor is under the hood.  Air Lift is the make, and the model is HD.  I use the on board air compressor to inflate my air bags.  This is all accomplished from the driver's seat.  I can inflate or deflate with the push of a button.  I also can control the left or right side independently.
Future plans call for an air storage tank along with quick disconnect for an air hose.  A small Craftsman 12-volt is now used to inflate the tires.  It is stored behind the front seat." – Lucien Langlois, 2012 Ford F-250 Super Duty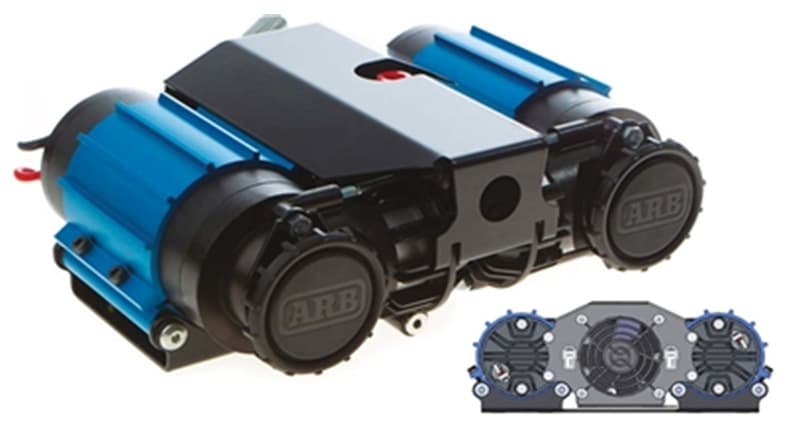 "The ARB 12-volt twin air compressor (CKMTA12) is a fantastic small and powerful compressor.  You can mount it under the hood or in a storage compartment.  I have one in the Jeep and one in the camper.  ARB also makes a portable version, the CKMTP12, that can be moved between different vehicles.
"Our air compressor and small receiver tank are mounted on the chassis about midship.  They fit neatly beside the chassis member up next to the floor.  Originally, it was piped to the air shocks.  I have added lines to each side of the truck and mounted air quick connections to each running board.  Now I can air up my tires with a short coiled air hose." – Mike and Paula Bostic, 1999 Ford F350, 2012 Chalet S95R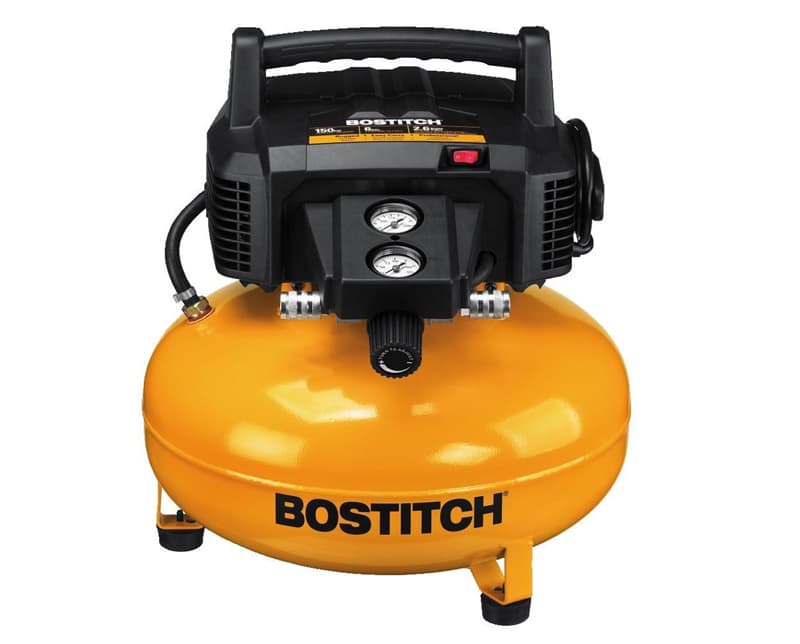 "I removed the back seat.  The compressor and tool box go behind driver's side and the dog and two folding rocker chairs are on the other half of the back seat.  I have a Stanley Bostitch 150psi 20scfm at 90psi six gallon pancake tank.  The air bag's tire pressure is checked regularly during our travels." – C Ramsey, 2012 Chevy 3500, 2014 Adventurer 116DS
"I don't have a permanently mounted air compressor.  Instead, I use a portable 12VDC air compressor I purchased at Camping World.  It is an Airtight brand made by the Wilmar Corp part #60404.  I am not very happy with it since the power cord isn't long enough to reach my rear dual wheels.  I purchased it just to be able to inflate/adjust pressures when not near a gas station or truck stop.  Beach driving is not happening, so there has been no need for me to air down.  I'm thinking about getting a Viair 40047 400p-RV portable system designed for RVs that has a long chuck designed for dual rear wheels with a long extension hose." – Hugh Redmon, 1997 Ford F350, 1998 Lance 990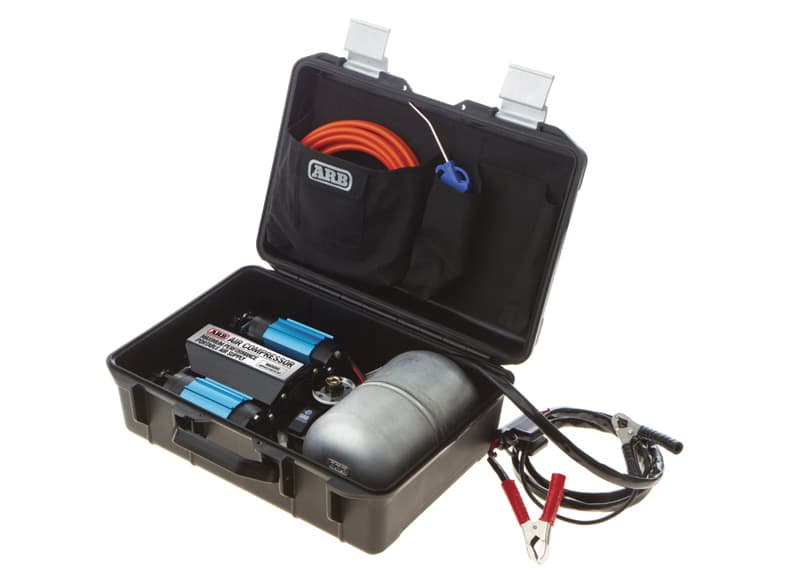 This is a 100% duty cycle compressor, so you won't have to stop after 15 minutes to let the compressor cool down.  If you have ever used a small 12-volt compressor, this is a very important feature.  Some of the small 12V compressors can get so hot that you have to wait for them to cool down before storing them back in your vehicle.  We do a lot of Jeeping and it's not uncommon for us to have to air down and air up once or twice a day." – Rex Carroll
Co2 To Air Up Tires
"I have it mounted in the cab with a five pound CO2 canister with gauges.  For me, CO2 is easier and faster.  I have the CO2 for airing up and down when needed.  Of course they're for helping others that need air too." – Roger Redmond, 2009 Ford F250 Super Duty, 2015 Four Wheel Camper Hawk
"We carry our compressor in our enclosed trailer.  It can also be stored on the roof rack of our camper or in the back seat of the truck if we don't have the trailer.
We use a PowerTank – which is a compressed CO2 tank.  PowerTanks are with our Jeeps to quickly air up our 35 to 37-inch tires.  We found that an air compressor can take fifteen or so minutes to do the job a PowerTank can do in three to four minutes.
Our PowerTank is now used for our truck's air bags (they tend to lose air with time) and our RZR tires.  PowerTanks are pricy, but with some ingenuity and some searching, a five to ten pound CO2 tank with a regulator and air hose can be found for less money.
A fire extinguisher maintenance company is our source for the compressed CO2.  Some 4×4 shops will also sell and fill the tanks, but they are usually much more expensive." – Tracy Schuster, 2015 GMC 3500, 2012 Lance 992
Three Air Compressors – All Do A Different Job
"As silly as it may seem, I actually have three air compressors each with a specific job!
I have one small portable air compressor mounted in the engine compartment.  That is dedicated to the exhaust brake and supplies air to restrict the exhaust and slows me down at any speed above 20mph.