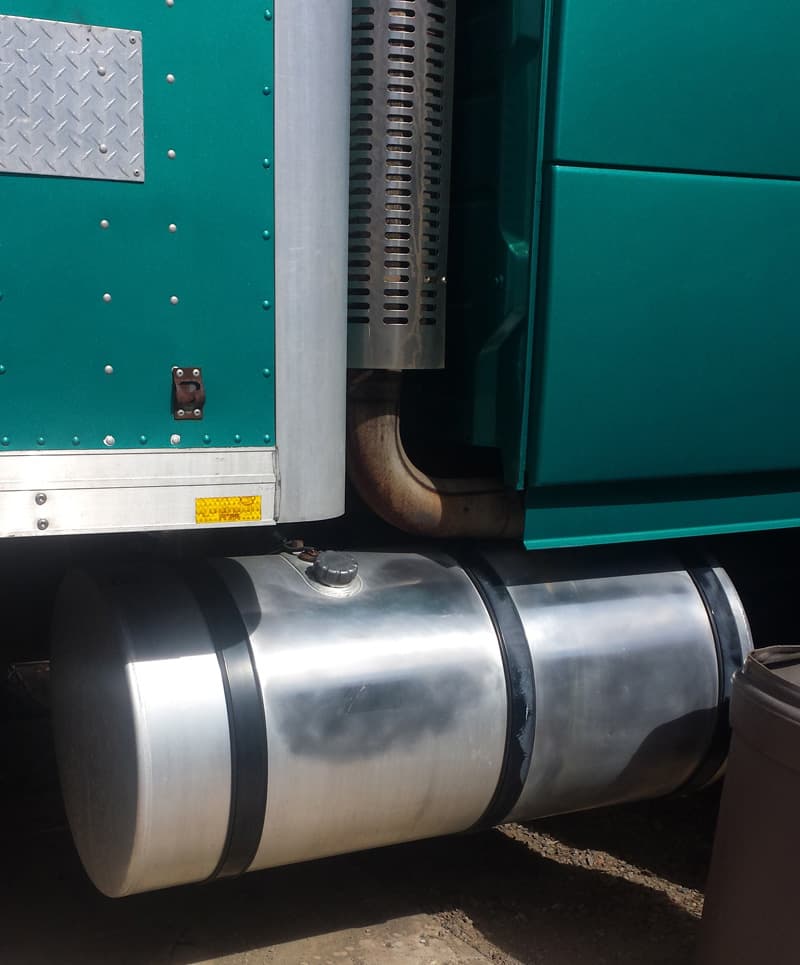 Above: The Volvo 670 has a 150 gallon fuel tank
TCM: What's the fuel mileage like with the Volvo?
Dennis: The Volvo has a single 150 gallon fuel tank.  On my most recent trip I got around eight to nine miles per gallon.  That was mountain driving and towing a trailer.  I was getting eleven miles per gallon with my F350 and Arctic Fox.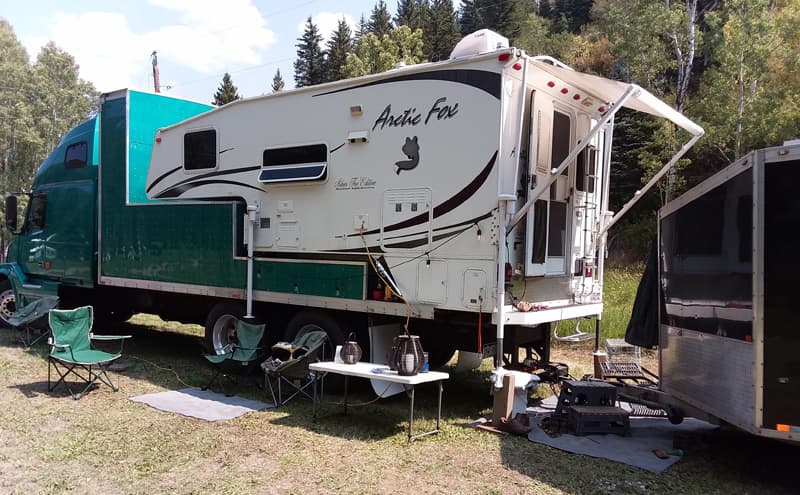 TCM: Looking at the photographs of your rig, it sure looks very high off the ground.  How do you load and unload the Arctic Fox?
Dennis: I had to make special 6-inch by 6-inch blocks of wood to extend the jacks and get the camper on and off the truck.  To load the camper on the Volvo, it needs to be 52-inches off the ground.
I also added jack extensions that pivot out further than I needed for my dually truck.  They are 102-inches wide.
The Arctic Fox loaded quickly and easily the first time.  I have only loaded the camper once.  Other than selling it, needing it to help someone move, or buying something big, I do not have plans to take the camper off.  The camper remains fully demountable, but it will stay on the Volvo.
TCM: How big is the truck?
Dennis: The Volvo is 36-feet long bumper-to-bumper.  The rig is 13'3" tall to the top of the tall storage box.  The deck is 48-inches off the ground and 102-inches wide, which is standard for a semi.
TCM: Is there a living space inside the Volvo?
Dennis: Yes, there is.  As we're going down the road, my wife can stand up to grab a snack or stretch her legs.  She can sit down at the work station, which is like a truck camper's dinette with seat belts.
Some semis have amenities such as a refrigerator, microwave, and television.   Because we have our Arctic Fox 1150 I chose not to install the extra amenities.
We have two dogs, so we keep their kennels in the cab.  There's also a top bunk where we keep blankets and dog supplies.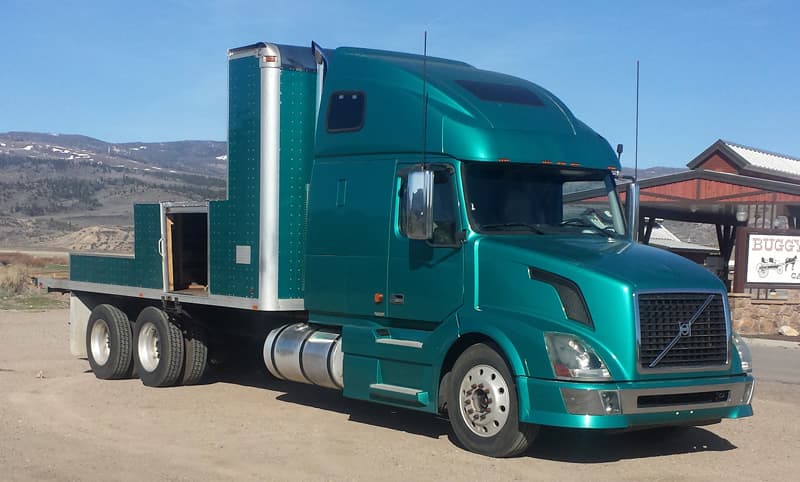 TCM: How did you go about converting the Volvo for the Arctic Fox?
Dennis: The Volvo started out as a commercial semi with a 22-foot enclosed box on the back with an oak wood floor.  The camper needed to slide onto the oak floor and the camper's overhang needed to clear the storage box.
Since I had the Arctic Fox 1150 on hand, I was able to take measurement after measurement, and adjustment after adjustment.
It was a little overwhelming at first.  I'm a driven individual, so I came up with a vision and a plan.  Before I cut things out, I measured many times.  I drew the lines out where I was going to cut the box and probably moved them two to three times until I came up with the final lines.