TCM: Sounds like fun.  How do you get access to these beaches?
Jeff: They only sell beach passes for Robert Moses State Park before April 30th, or after Labor Day in September.  You can't buy beach passes between that time.
From May 24th until September 3rd you are not allowed to drive on the beach from 7:00am until 5:00pm.  It's brutal because you have to get up early.  You can be on the beach, they just don't want vehicles running over beach goers.  I go out the night before or early in the morning.  Then my family parks the truck and walks to where I am on the beach.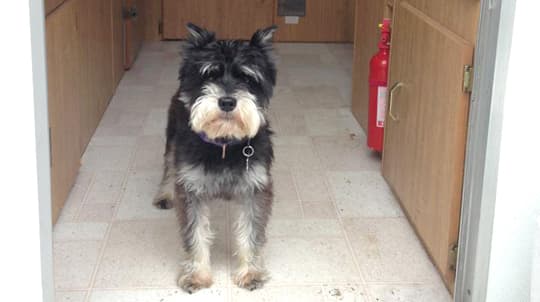 Above: Bella, their mascot and guard dog, Robert Moses State Park, New York
You also have to have a registered four wheel drive truck.  I air down my truck tires to 15 psi when I go on the beach.  They have an air facility, but you have to bring your own hose.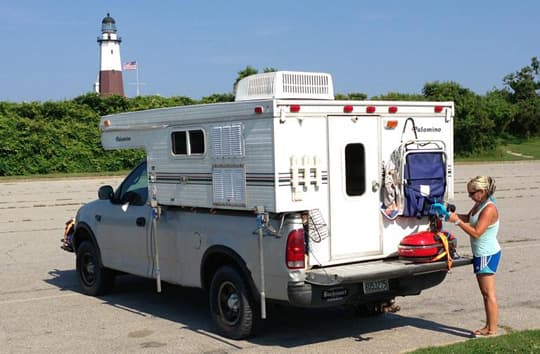 Above: Montauk Point Lighthouse, Montauk, New York
We also do a lot of camping on Montauk on Long Island.  There's great free camping out there.  But, Montauk does not have shower and bathroom facilities.  This is one reason why we're looking at bigger truck campers.  We want a built-in bathroom and shower in our next camper.
Out on Montauk, it used to be first come, first serve.  That's for regular campers, not truck campers.  We can camp anywhere.  There are only so many spaces.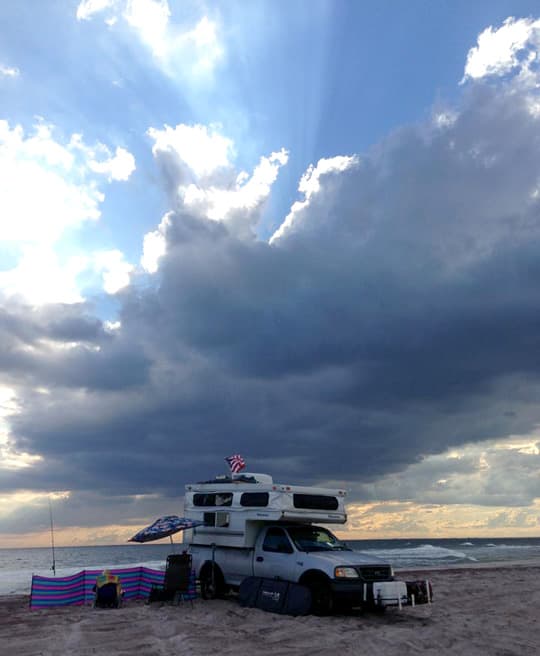 Above: Beach camping at Gilgo Beach, Babylon, New York
We also go to the inlet.  They have a reservation system for truck campers to stay overnight.  There are no facilities there either, but there is air.
Above: Surfing at Democrat Point, New York – click to enlarge
TCM: Tell us about your surfing.
Jeff: I competed in surfing competitions a couple of times, but it took away from the enjoyment.  Now surfing is 100% a hobby.  All of our trips are around surfing.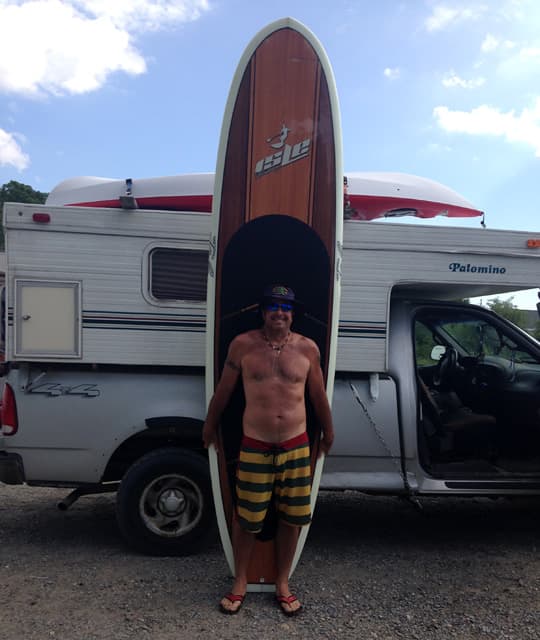 Above: Camping and surfing at Port Jefferson, New York
I moved out to California at age twenty-five for surfing.  I have surfed in Hawaii and the Caribbean.  For me, it's all about surfing and the lifestyle.  That's what got me into truck camping.  To wake up on the beach is the best thing in the world.  I wish I had owned the truck camper when I was in California.