Above: As you can see, lots of toys come with Jeff on his truck camping adventures – Shagwong Point Outer Beach, Montauk, New York
TCM: From your photography, it's clear that you travel with plenty of toys.  What do you bring with you when you go truck camping?
Jeff: I bring two to three surf boards, and kayaks.  If we are going to the beach I bring two bike cruisers.  We also have two mountain bikes, a Zodiak with a motor, a paddle board, fishing gear, a kite board, and scuba gear.  We do not bring everything all the time.
TCM: That's quite a toy collection.  Where do you store it all?
Jeff: I made racks on the camper's roof for my surfboards and kayaks.  I can also put surf boards inside the camper.  Sometimes we tow an enclosed trailer for the toys.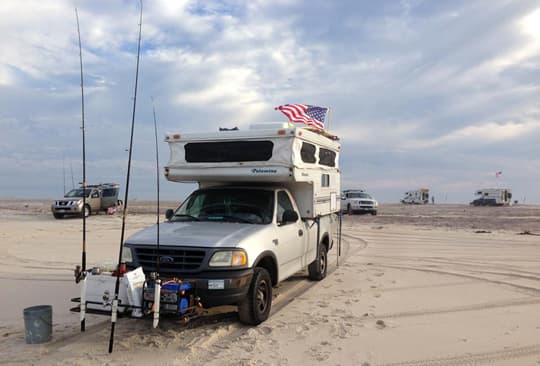 Above: The front rack on his truck is used for a generator and big cooler, Democrat Point, Robert Moses, New York
TCM: There's a front rack on your truck.  What's that used for?
Jeff: I added a hitch on the front of my truck and attached a carrier for my generator and a big cooler.  The cooler hold ice, drinks, and food for the beach.  I also have fishing rod holders on the front rack.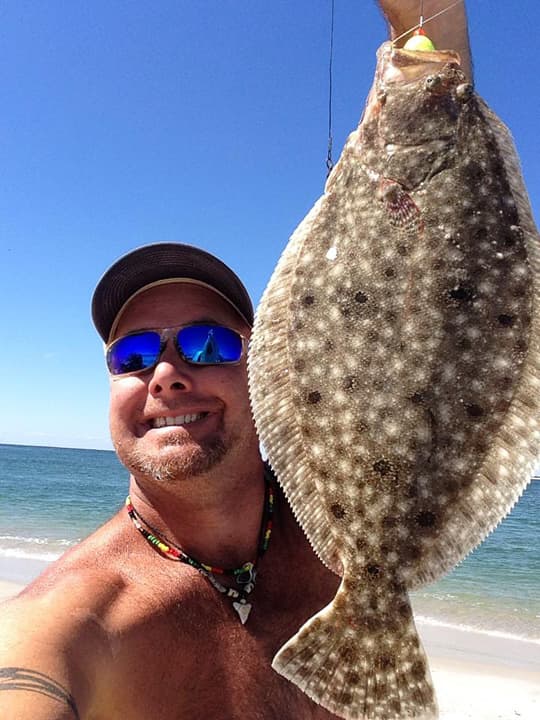 Above: The Point, Democrat Point, Robert Moses, New York
I am a horrible fisherman.  My grandfather was very talented and got trophies for fishing.  But, surfing and fishing are things I like to do when I go to the beach.  I like setting up the rig for the fishing experience, and it looks great on the truck.
Above: Tina sun worshipping at Democrat Point, Robert Moses, New York
TCM: What beaches do you go camping on?
Jeff: There are three beaches we go camping on – Robert Moses State Park, Montauk, and the Inlet.  We're on the beach almost every day in the summer.  We'll fish, surf, and camp overnight.  We also enjoy kite boarding and sitting on the beach to catch some sun.  Tina is a sun worshipper, so we're always out there.
We live about three miles from the four wheel drive area of Robert Moses State Park.  You are allowed to camp out on beach for free, if you're fishing.  You can also get a surfing permit and go surfing there.
I see quite a bit of truck campers at Robert Moses State Park.  Most of them caravan out to Democrat Point.  There are a lot of people there who love to hang out, fish, drink beer, and talk about camping.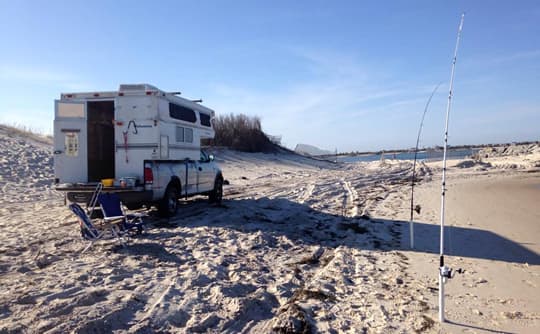 Above: The Sore Thumb, Robert Moses State Park, New York