Jeff Dean takes his Palomino pop-up truck camper to the beach almost every weekend for fishing, surfing, kayaking, bike riding, and scuba diving.  Owl right, who is this who?

Every once in a while a response to Question of the Week will turn into something much more.  For us, that's part of the fun.  We never know who will respond to a particular question, or what they will share.  In a way, Question of the Week is story fishing, TCM style.
Jeff Dean answered the Question of the Week, "Have you ever parked somewhere overnight in pirate stealth mode?" with a confession about parking overnight at marinas.  We followed up with Jeff and learned that he spends almost every summer weekend on the truck camper friendly beaches of Long Island.  As journalists do, we kept asking questions knowing full well we had found another fun truck camping story.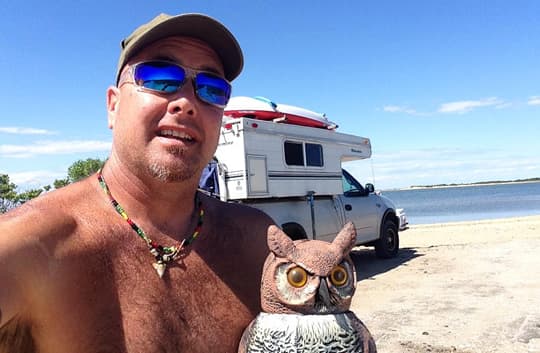 Above: Jeff, Who, and his Palomino pop-up camper at Napeague, Lazy Point, Montauk, New York
TCM: Tell us how you got into camping and truck campers.
Jeff: We were big time campers when I was growing up.  My parents had a 1986 Prowler pull-behind trailer that we took on adventures every other weekend.  For the other weekends we went to Fire Island, New York and stayed in my parent's cabin cruiser at a town called Atlantique.  So the bug was instilled in me at an early age.
I took my own adventure out west to California in 1992.  I lived most of my adult life in California before returning to New York five years ago to reconnect with my high school sweetheart, Tina.  I don't know if I dragged her into the RV lifestyle, or if she dragged me back into it, but we are big time travelers and campers today.
I bought my truck in California and towed all of my belongings cross-country in a twelve by seven enclosed utility trailer.  Seventeen years of toys was no light haul.
I should have bought a heavier duty truck, but it featured a full carpet kit in the back that makes into a full-size bed across the width of truck.  The guy that sold me the truck lived in it for weeks as he hunted in Alaska, Montana, and Canada.  He kept all the receipts and meticulously maintained the truck.
Camping in the back of the rig across the United States and on the beaches of Long Island, I saw many types of campers.  The truck campers in particular got my attention due it being a stealth camping accessory.  With a truck camper I could camp on the beach, parking lots, taverns, campgrounds, ski resorts, etc.
Tina and I would get very excited every time we drove by a truck camper on the beach.  Ever since I was seventeen years old, I have dreamt of having a place to sleep on the beach and a place to change into wet suits in the winter.  It was destiny.  I would be a truck camper at some point.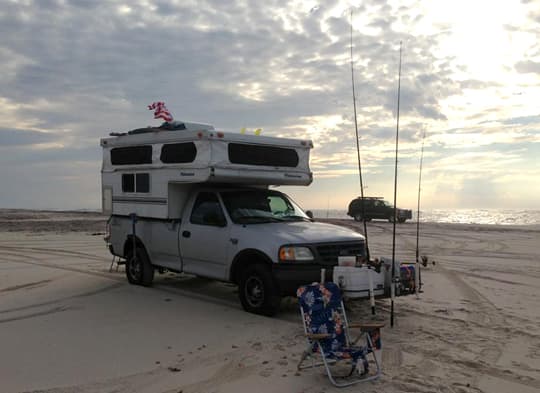 Above: Beach camping at Democrat Point, Robert Moses, Long Island, New York
TCM: How did you finally get your Palomino?
Jeff: I saved up for a couple years.  I had a 2001 Ford F150, so I was restricted by the relatively limited payload of the truck.  Then I realized that many half-tons can carry a lighter weight pop-up truck camper.
Then I saw a pop-up truck camper on the beach and talked to the owner about it.  After that conversation, I searched for a pop-up camper I could afford.  The Palomino and the F150 have been a great rig for the past three years.  It's the best thing I've ever purchased.  We love the lifestyle.
I just bought a Ford F350 and started looking for a larger camper.  I'm looking forward to having a bathroom and shower.