Jeff Dean takes his Palomino pop-up truck camper to the beach almost every weekend for fishing, surfing, kayaking, bike riding, and scuba diving.  Owl right, who is this who?

Every once in a while a response to Question of the Week will turn into something much more.  For us, that's part of the fun.  We never know who will respond to a particular question, or what they will share.  In a way, Question of the Week is story fishing, TCM style.
Jeff Dean answered the Question of the Week, "Have you ever parked somewhere overnight in pirate stealth mode?" with a confession about parking overnight at marinas.  We followed up with Jeff and learned that he spends almost every summer weekend on the truck camper friendly beaches of Long Island.  As journalists do, we kept asking questions knowing full well we had found another fun truck camping story.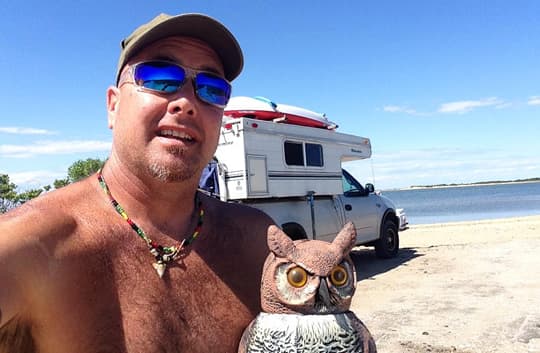 Above: Jeff, Who, and his Palomino pop-up camper at Napeague, Lazy Point, Montauk, New York
TCM: Tell us how you got into camping and truck campers.
Jeff: We were big time campers when I was growing up.  My parents had a 1986 Prowler pull-behind trailer that we took on adventures every other weekend.  For the other weekends we went to Fire Island, New York and stayed in my parent's cabin cruiser at a town called Atlantique.  So the bug was instilled in me at an early age.
I took my own adventure out west to California in 1992.  I lived most of my adult life in California before returning to New York five years ago to reconnect with my high school sweetheart, Tina.  I don't know if I dragged her into the RV lifestyle, or if she dragged me back into it, but we are big time travelers and campers today.
I bought my truck in California and towed all of my belongings cross-country in a twelve by seven enclosed utility trailer.  Seventeen years of toys was no light haul.
I should have bought a heavier duty truck, but it featured a full carpet kit in the back that makes into a full-size bed across the width of truck.  The guy that sold me the truck lived in it for weeks as he hunted in Alaska, Montana, and Canada.  He kept all the receipts and meticulously maintained the truck.
Camping in the back of the rig across the United States and on the beaches of Long Island, I saw many types of campers.  The truck campers in particular got my attention due it being a stealth camping accessory.  With a truck camper I could camp on the beach, parking lots, taverns, campgrounds, ski resorts, etc.
Tina and I would get very excited every time we drove by a truck camper on the beach.  Ever since I was seventeen years old, I have dreamt of having a place to sleep on the beach and a place to change into wet suits in the winter.  It was destiny.  I would be a truck camper at some point.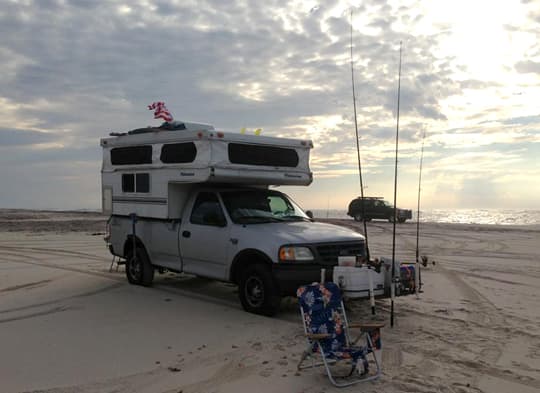 Above: Beach camping at Democrat Point, Robert Moses, Long Island, New York
TCM: How did you finally get your Palomino?
Jeff: I saved up for a couple years.  I had a 2001 Ford F150, so I was restricted by the relatively limited payload of the truck.  Then I realized that many half-tons can carry a lighter weight pop-up truck camper.
Then I saw a pop-up truck camper on the beach and talked to the owner about it.  After that conversation, I searched for a pop-up camper I could afford.  The Palomino and the F150 have been a great rig for the past three years.  It's the best thing I've ever purchased.  We love the lifestyle.
I just bought a Ford F350 and started looking for a larger camper.  I'm looking forward to having a bathroom and shower.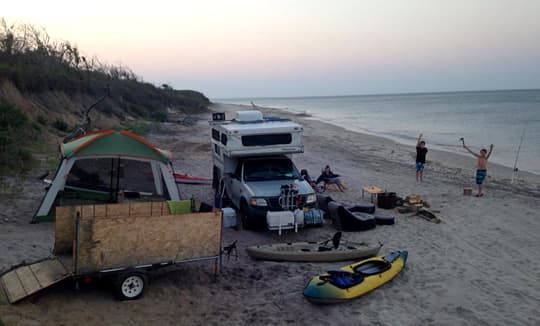 Above: As you can see, lots of toys come with Jeff on his truck camping adventures – Shagwong Point Outer Beach, Montauk, New York
TCM: From your photography, it's clear that you travel with plenty of toys.  What do you bring with you when you go truck camping?
Jeff: I bring two to three surf boards, and kayaks.  If we are going to the beach I bring two bike cruisers.  We also have two mountain bikes, a Zodiak with a motor, a paddle board, fishing gear, a kite board, and scuba gear.  We do not bring everything all the time.
TCM: That's quite a toy collection.  Where do you store it all?
Jeff: I made racks on the camper's roof for my surfboards and kayaks.  I can also put surf boards inside the camper.  Sometimes we tow an enclosed trailer for the toys.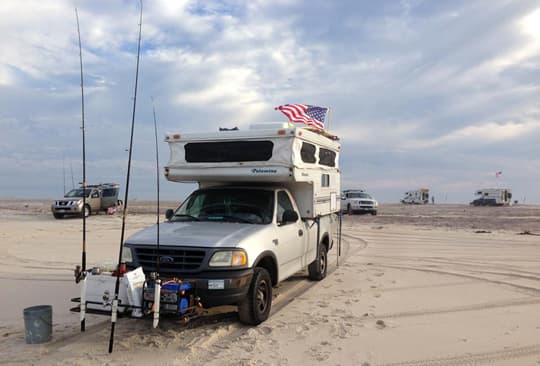 Above: The front rack on his truck is used for a generator and big cooler, Democrat Point, Robert Moses, New York
TCM: There's a front rack on your truck.  What's that used for?
Jeff: I added a hitch on the front of my truck and attached a carrier for my generator and a big cooler.  The cooler hold ice, drinks, and food for the beach.  I also have fishing rod holders on the front rack.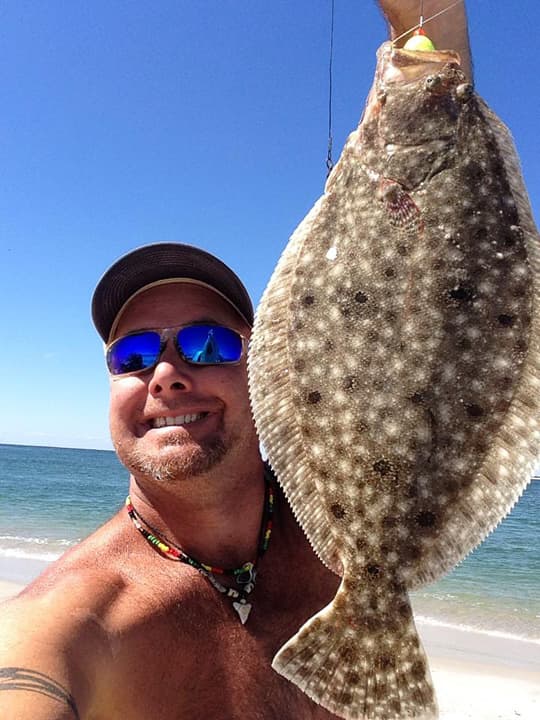 Above: The Point, Democrat Point, Robert Moses, New York
I am a horrible fisherman.  My grandfather was very talented and got trophies for fishing.  But, surfing and fishing are things I like to do when I go to the beach.  I like setting up the rig for the fishing experience, and it looks great on the truck.
Above: Tina sun worshipping at Democrat Point, Robert Moses, New York
TCM: What beaches do you go camping on?
Jeff: There are three beaches we go camping on – Robert Moses State Park, Montauk, and the Inlet.  We're on the beach almost every day in the summer.  We'll fish, surf, and camp overnight.  We also enjoy kite boarding and sitting on the beach to catch some sun.  Tina is a sun worshipper, so we're always out there.
We live about three miles from the four wheel drive area of Robert Moses State Park.  You are allowed to camp out on beach for free, if you're fishing.  You can also get a surfing permit and go surfing there.
I see quite a bit of truck campers at Robert Moses State Park.  Most of them caravan out to Democrat Point.  There are a lot of people there who love to hang out, fish, drink beer, and talk about camping.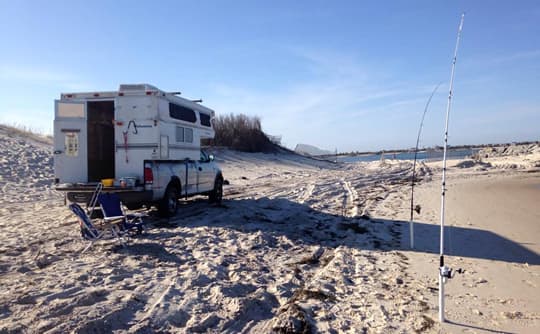 Above: The Sore Thumb, Robert Moses State Park, New York
TCM: Sounds like fun.  How do you get access to these beaches?
Jeff: They only sell beach passes for Robert Moses State Park before April 30th, or after Labor Day in September.  You can't buy beach passes between that time.
From May 24th until September 3rd you are not allowed to drive on the beach from 7:00am until 5:00pm.  It's brutal because you have to get up early.  You can be on the beach, they just don't want vehicles running over beach goers.  I go out the night before or early in the morning.  Then my family parks the truck and walks to where I am on the beach.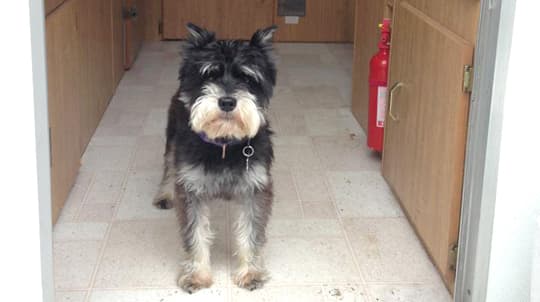 Above: Bella, their mascot and guard dog, Robert Moses State Park, New York
You also have to have a registered four wheel drive truck.  I air down my truck tires to 15 psi when I go on the beach.  They have an air facility, but you have to bring your own hose.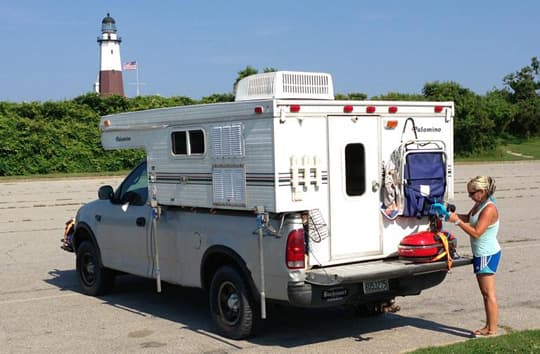 Above: Montauk Point Lighthouse, Montauk, New York
We also do a lot of camping on Montauk on Long Island.  There's great free camping out there.  But, Montauk does not have shower and bathroom facilities.  This is one reason why we're looking at bigger truck campers.  We want a built-in bathroom and shower in our next camper.
Out on Montauk, it used to be first come, first serve.  That's for regular campers, not truck campers.  We can camp anywhere.  There are only so many spaces.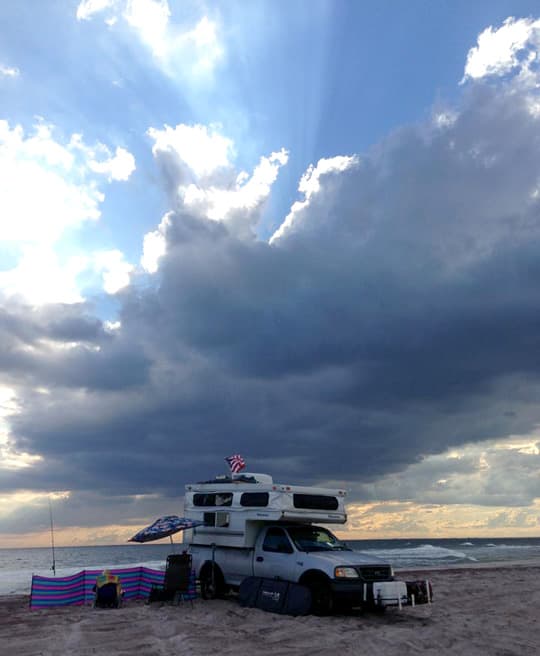 Above: Beach camping at Gilgo Beach, Babylon, New York
We also go to the inlet.  They have a reservation system for truck campers to stay overnight.  There are no facilities there either, but there is air.
Above: Surfing at Democrat Point, New York – click to enlarge
TCM: Tell us about your surfing.
Jeff: I competed in surfing competitions a couple of times, but it took away from the enjoyment.  Now surfing is 100% a hobby.  All of our trips are around surfing.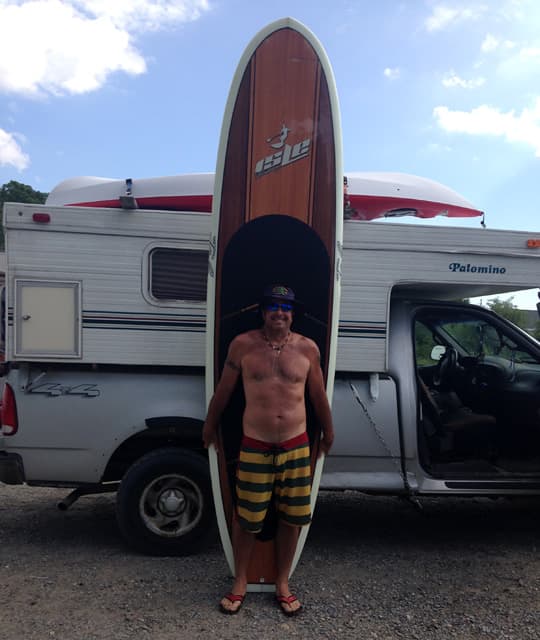 Above: Camping and surfing at Port Jefferson, New York
I moved out to California at age twenty-five for surfing.  I have surfed in Hawaii and the Caribbean.  For me, it's all about surfing and the lifestyle.  That's what got me into truck camping.  To wake up on the beach is the best thing in the world.  I wish I had owned the truck camper when I was in California.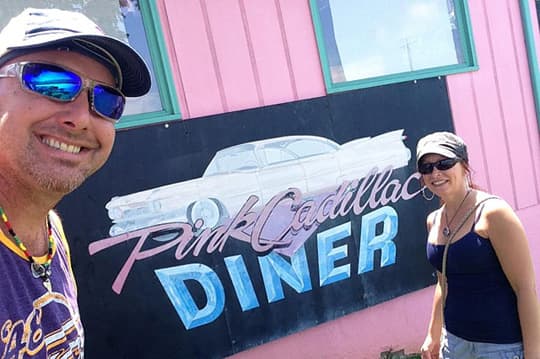 Above: The Pink Cadillac Diner, Natural Bridge, Virginia
TCM: Where have you been in your Palomino over the past three years?
Jeff: In 2013, we went to North Carolina taking the coast down from New York through Maryland, Delaware, the coast of Virginia to Hatteras.  The ride home was brutal because we stayed an extra day and I had to drive seventeen hours straight.  I learned my lesson on that trip.
Our last adventure took us from New York to West Virginia, Kentucky, Nashville, Tennessee, South Carolina, North Carolina, Virginia, and Maryland.  That trip was a loop.
The trip to Tennessee was the one trip we didn't go to the beach.
I said, "Tina, pick out where you want to go".
She said, "Nashville."
I said, "But, there are no beaches there".
She replied, "I want to check out the inner part of the East Coast".
We took a round about route to Nashville.  I can't stand country music, but Nashville is a great place.  The live music was unbelievable.  It was a great trip and experience.  I would do it again.
One of my best friends lives in Asheville, North Carolina.  So, we stayed in our camper at his house for a few days.
Above: Jeff's Google Map for their trip to Tennessee – click to enlarge
TCM: The smaller size of truck camper rigs make them perfect for visiting friends and family.  Tell us about your trip planning.
Jeff: I'm a bit of a nerd, so I detail our trip plans before we go anywhere.  I want to take full advantage of our vacation time.  We don't usually stick to the plan, but it's a good guide and gives us peace of mind.  At least we know where we are going to stay.
I make trip maps with Google maps.  I add a bubble caption with miles, dates, and the forecasted temperature.  I'll also put campgrounds and pricing into the map.  About a day in advance, I will call ahead to make sure there is availability at the campground.
When you don't plan, or you just look at the map, you don't realize how far away things are located.  I don't want to drive 700 miles in a day.  We don't want to be stressed out when we reach our destination because we drove too much.  350 miles is the amount we like to travel in a day.
Above: Chesapeake Beach, Delaware, marina camping
TCM: We know that drove-too-much feeling.  Been there, done that, many times.  Your response to our stealth camping Question of the Week was quite interesting.  Tell us more about how you find your urban stealth camping sites.
Jeff: A lot of the marinas we go to allow us to camp in the parking areas.  The boaters are already camping in their boats overnight.  We also stay in restaurant parking lots.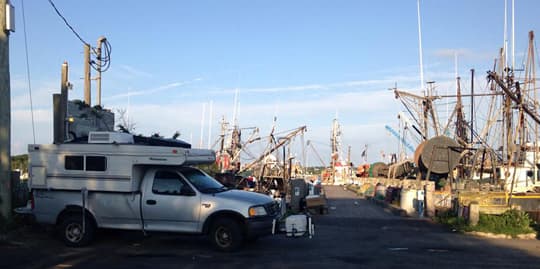 Above: Gosman's Restaurant, Montauk, New York
For example, we've gone to Secrets in Ocean City.  It's one of the best restaurants because they have tables out in the middle of the water.  We park in the parking lot and stay overnight.  I ask them if it's okay, and tell them we'll park in the back of the lot.  Every single time they've said okay.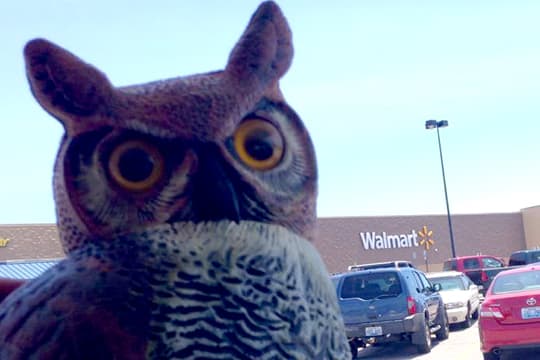 Above: Who loves Walmart, North Carolina somewhere
We have also camped at concert venues.  Another pirate place for us is hotel parking lots.  A lot of our friends will meet us in Maryland.  They will stay at the hotel, and we'll park our camper outside in the parking area.  We've also stayed at Walmart and truck stops.
TCM: Do you stealth camp with the pop-up down?
Jeff: It depends on the situation and the feeling I get.  Most of the time we pop it up.  If we're at a fancy hotel or a place where security guards are, we've kept it down.
It almost looks like a shell on the back when we're popped down.  If we're stealth camping and have the kayaks on top, the roof is hard to pop up with extra weight on the top, so we'll keep the top down.  We are more stealth than most campers with a shorter pop-up on a F150.
Above: Who in Kentucky, Tennessee, and West Virginia – click to enlarge
TCM: What's up with the owl?
Jeff: That's Who.  We got him at a Montauk yard sale.  He was staring at me and he's been with us ever since.  We'll post on Facebook things like, Who loves this place?  Who's in Kentucky today?  Who even has his own Facebook page.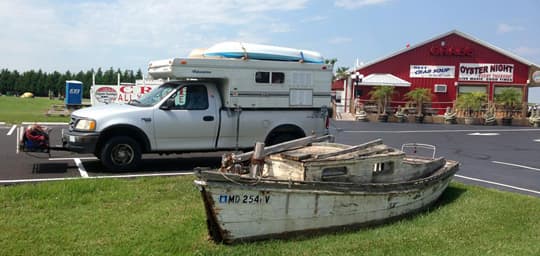 Above: Harris Crab House, Grasonville, Maryland
TCM: You'll have to find a baseball diamond and post, "Who's on First?"  What are your truck camping plans for the future?
Jeff: This summer I am hoping to convince Tina to go back up to Maine.  I love that new History Channel show Down East Dickering.  I'd love to make it a goal to sell them something as a goof.
I am a picker, collector, and salesman, so I think I have something they want.  Maybe we barter for a few nights on their land plugged into their electricity for something.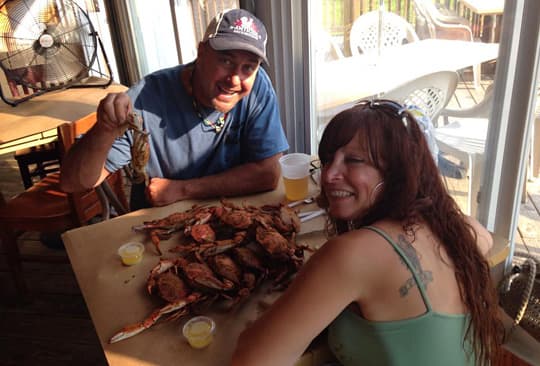 Above: The Deck Crab House and Bar, Edgewood, Maryland, our buddy Carl's favorite place for crabs
TCM: That would be fun.  Is there anything else you would like to share?
Jeff: We love to go to the beach and surf.  We like to go on long trips that have stops, so we that get to see the country.  I love to talk about my adventures in our truck camper.  Look for us on the road!  I might even give away some of my pirate secrets.
Rig Information
Truck: 2001 Ford F150 XL 4×4, Regular Cab, Long Bed, Single Rear Wheel, 4×4, Gasoline
Camper: 1999 Palomino Pop-up
Tie-Downs and Turnbuckles: Standard, I welded a steel pipe to the frame and connected it to the front of the camper with chains for extra stability
Suspension: Firestone Ride-Rite Air Helper Springs
Gear: I made racks on top for my surfboards and kayaks, put a hitch on front of the truck to attach a carrier for my generator and a cooler