With truck maintenance, I get everything done with each oil change.  I also tell the dealer that we run the truck in sand and bought an extra warranty because of how we use the truck.
With insurance, keep in mind that you have to have the insurance for your camper for when it's not loaded on your truck.  It may be insured with your truck when it's on the truck, but what about when it's not?  Make sure you are protected.
The truck camper dealer you choose is also critical.  Bill Penney has been to all of the camper factories and really knows the products he sells.  I called Bill once from the Outer Banks with an issue.  Over the phone, he had me looking in a cabinet at exactly where the problem was.  He was right about the source of the problem and helped me deal with it right then and there.  I was 1,000 miles away from his dealership when I had the problem.  To me, that's worth its weight in gold.
TCM: We talk with folks all the time who used the internet to buy a rig hundreds or even thousands of miles from home.  They might save money on the purchase of the camper, but often find they spend the difference to transport the camper, or in maintenance with a local dealer that didn't sell them the unit.
People assume that buying a camper is like buying a car and every dealer will give you the same level of service whether you bought the camper from them, or not.  In reality, it does not work that way in the RV business.  Dealers almost always give preference to the customers who bought campers from them.
For that reason, we always encourage people to buy their camper from their local dealer.  A good relationship with your local dealer is, as you put it, worth its weight in gold.
TCM: What modifications did you make to your rig(s) for beach camping?
Jerry: You can't always take a dually on the beaches.  I know you can't take a dually on Assateague Island, but you can on Montauk and Democrat Points.  Make sure you know what the rules are for a particular beach before going.
A modification I've made is getting an Oasis 12-volt DC air compressor.  I installed it underneath the frame of my truck.  It was about $1,000 dollars, so I saved my pennies for a few years to buy it.
I carry a twenty ton jack with me and two air hoses.  I bring two of almost everything just in case.  I also have air tools like an impact gun with me.  I've learned what's needed from twenty years of experience on the beach.
I have enough self sufficiency to get myself out of trouble.  That's a personal thing of mine.  If you get stuck, you have to be able to figure out how to get out on your own.  Sooner or later you are going to get stuck or get into a situation and not know how to get out.  Think and figure it out, or try to get help.  Most people on the beach are local and will help you.  Just ask.
TCM: The Chalet rigs always look very tall.  How tall is your rig?
Jerry: The Chalet is almost thirteen feet tall on my Ford F450.  There is no ladder to get to the roof since I have three slides.  To get on the roof, I put a seventeen foot ladder in the driveway, lean it up on the side of the camper, and walk the roof.  I can also go through the escape hatch in the overcab to get on the roof.
TCM: The photos of kayaking look like fun.  Is that something you like to do when you go truck camping?
Jerry: Yes.  We kayak in Maine in the bay.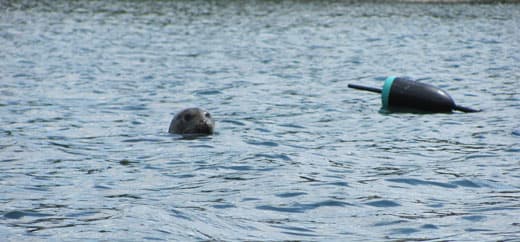 When we were there, a seal popped up ten feet away.  I was carrying my camera with me in a ziplock.  I took it out and got a picture.  We also go kayaking on Montauk Point.  There's three to four miles of open water by the harbor.  We enjoy watching the million dollar yachts go in and out.  It's close to the ocean, but on the bay so it's not as rough.