Mike Manion enjoys taking his 2011 Arctic Fox 990 on the beach at Island Beach State Park and deer hunting in New Jersey and Ohio.  Time to air down and hit the sand.

Sometimes we wonder if truck campers allow us to do more, or if we just keep finding new excuses to take our truck camper to do things.
We don't necessarily need to take our truck camper rig to that party our family is having, but it would sure make the staying overnight experience more relaxed, and our cat can come with us.
We don't necessarily need to take our truck camper rig to our friend's wedding, but it sure beats a hotel room, and we could explore the area once the wedding is over.
At this point, we have a hard time driving much further than the grocery store without wondering if we should take the truck and camper.  And when we do go somewhere without the rig, we catch ourselves saying, "If we had the truck camper, we could just take a nap, have lunch, take a break, use the bathroom…" or whatever the issue is right then that the rig would solve, make easier, or just be a joy to have.
We should have brought the camper.
Somehow we doubt folks with big motorhomes and towables have the same thoughts.  Due to the larger size of their RVs, the stress level of driving, getting fuel, and finding places to park and camp for the night is much higher.  No thanks.  We'll take our truck and camper rig.
Mike Manion was introduced to truck camping by a hunting friend.  When he did his research, he discovered the versatility of truck campers, at least in theory.  Then he pulled the trigger and bought an Arctic Fox 990.  Ever since he's been finding his own excuses to take his truck camper.  Party at a friend's house?  Bring the camper.  Fireworks?  Bring the camper.  Going to the beach?  Take the camper.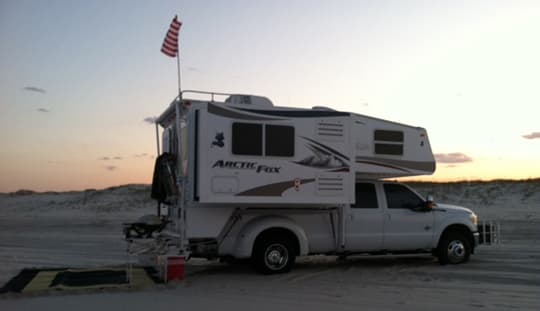 Above: Mike's Arctic Fox 990 and Ford F-350
TCM: How did you get into truck camping?
Mike: I have a friend who owns a truck camper and goes hunting out of state.  I was amazed that he could live in his truck camper for a week or two.  That's what led me to my own truck camper.
I wanted something that would be capable of camping in four seasons.  Searching the internet, I read reviews and concluded that an Arctic Fox would suit me best.  I particularly liked the Arctic Fox 990 model with its big slide-out.
Once we knew we wanted an Arctic Fox, I contacted American RV and talked to Bill Blake.  They had an Arctic Fox 990 in stock and I bought it a few days later.  The American RV team was great to work with and I'd definitely buy another truck camper from them.  I was impressed with their laid back approach and customer service.
Now that we have a truck camper, people come up to us all the time to see inside.  They are amazed at how much room we have in our truck camper, especially with the slide out.  They'll say things like, "You have a shower?  And a microwave?"  It's fun to watch their faces react to seeing our camper.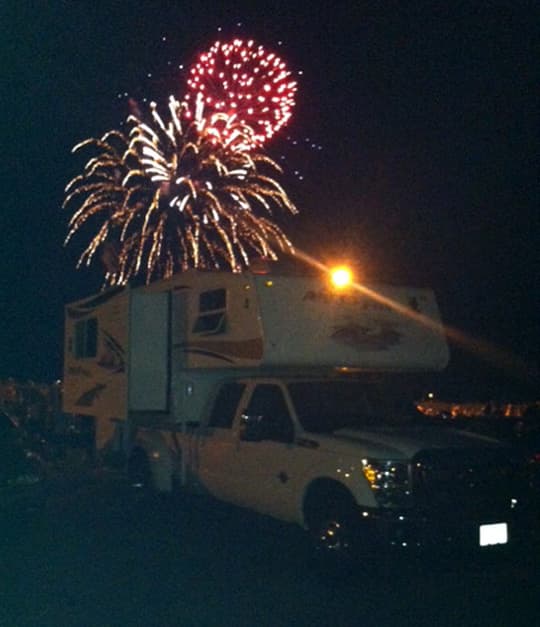 Above: Mike and his family took their camper to see the fireworks
TCM: Do you use your truck camping primarily for hunting?
Mike: Hunting and long-weekend trips with my family.  When I go hunting, I'll go out for a week or two at a time.  With the family, the trips are mostly Friday through Sunday.