Mike Manion enjoys taking his 2011 Arctic Fox 990 on the beach at Island Beach State Park and deer hunting in New Jersey and Ohio.  Time to air down and hit the sand.

Sometimes we wonder if truck campers allow us to do more, or if we just keep finding new excuses to take our truck camper to do things.
We don't necessarily need to take our truck camper rig to that party our family is having, but it would sure make the staying overnight experience more relaxed, and our cat can come with us.
We don't necessarily need to take our truck camper rig to our friend's wedding, but it sure beats a hotel room, and we could explore the area once the wedding is over.
At this point, we have a hard time driving much further than the grocery store without wondering if we should take the truck and camper.  And when we do go somewhere without the rig, we catch ourselves saying, "If we had the truck camper, we could just take a nap, have lunch, take a break, use the bathroom…" or whatever the issue is right then that the rig would solve, make easier, or just be a joy to have.
We should have brought the camper.
Somehow we doubt folks with big motorhomes and towables have the same thoughts.  Due to the larger size of their RVs, the stress level of driving, getting fuel, and finding places to park and camp for the night is much higher.  No thanks.  We'll take our truck and camper rig.
Mike Manion was introduced to truck camping by a hunting friend.  When he did his research, he discovered the versatility of truck campers, at least in theory.  Then he pulled the trigger and bought an Arctic Fox 990.  Ever since he's been finding his own excuses to take his truck camper.  Party at a friend's house?  Bring the camper.  Fireworks?  Bring the camper.  Going to the beach?  Take the camper.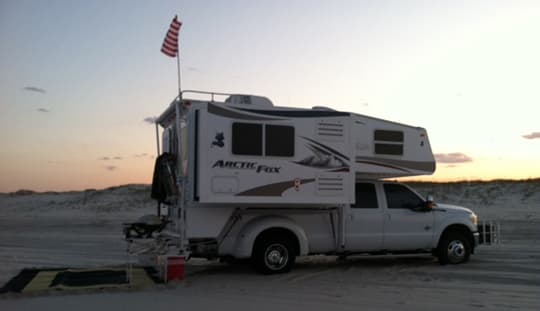 Above: Mike's Arctic Fox 990 and Ford F-350
TCM: How did you get into truck camping?
Mike: I have a friend who owns a truck camper and goes hunting out of state.  I was amazed that he could live in his truck camper for a week or two.  That's what led me to my own truck camper.
I wanted something that would be capable of camping in four seasons.  Searching the internet, I read reviews and concluded that an Arctic Fox would suit me best.  I particularly liked the Arctic Fox 990 model with its big slide-out.
Once we knew we wanted an Arctic Fox, I contacted American RV and talked to Bill Blake.  They had an Arctic Fox 990 in stock and I bought it a few days later.  The American RV team was great to work with and I'd definitely buy another truck camper from them.  I was impressed with their laid back approach and customer service.
Now that we have a truck camper, people come up to us all the time to see inside.  They are amazed at how much room we have in our truck camper, especially with the slide out.  They'll say things like, "You have a shower?  And a microwave?"  It's fun to watch their faces react to seeing our camper.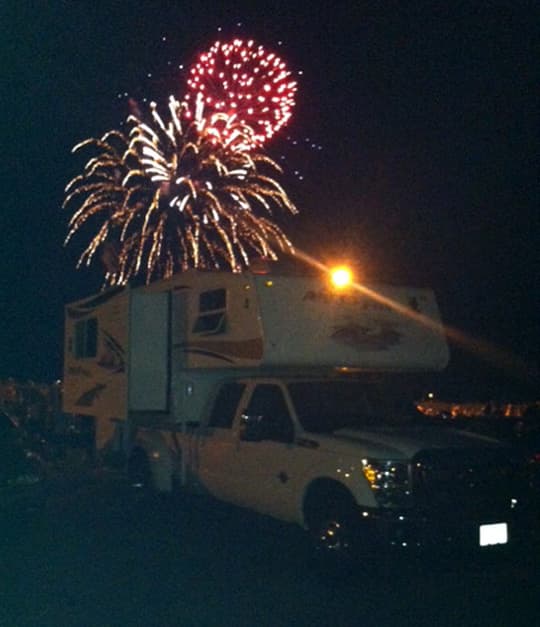 Above: Mike and his family took their camper to see the fireworks
TCM: Do you use your truck camping primarily for hunting?
Mike: Hunting and long-weekend trips with my family.  When I go hunting, I'll go out for a week or two at a time.  With the family, the trips are mostly Friday through Sunday.
Last year my cousin had a party for her son joining the Army.  As a family we took our truck camper because we wanted to enjoy the party and not worry about driving home.  We parked the rig in their driveway.  When we got tired, we went into our camper and slept.  It was great to not need to drive home after the party.
We also took our truck camper to see the fireworks.  We went early and got a great spot, cooked dinner, watched the fireworks, and went home.  The kids hung out in the camper and watched television until the fireworks started.  Then they came out and we enjoyed the fireworks together.  You really can go more places and do more with a truck camper.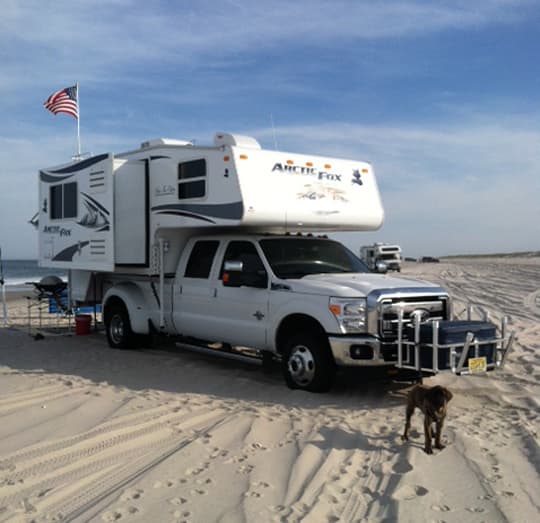 Above: Island Beach State Park in Seaside, New Jersey
TCM: Speaking of going more places, you also camp on the beach.  Where do you go on the beach with your camper?
Mike: We go to Island Beach State Park in Seaside, New Jersey.  You have to buy a pass to go out on the beach.  They have a three day permit and an annual pass.  We get the annual pass for $195.  With the annual pass you can go out at any time in the designated areas.
TCM: Do you need to air down your tires for the beach you go on?
Mike: Yes, you definitely need to air down your tires for Island Beach State Park's beach.  On the road I run my tires at 80 PSI.  For the beach we air down to 22 PSI in the front and 30 PSI in the back.  The sand is quite soft, but I've never been stuck.
They have air stations at Island Beach State Park.  I also carry two CO2 tanks inside my camper.  I use the CO2 tanks to fill my tires back up.  I was going to buy a big compressor and mount it under the truck, but I decided against it because I was advised by a company out in California who runs the sand dunes that tanks are what they use.  With one fifteen pound tank, I can air up my tires five times.  I own the tanks, so I just take them to the supply store to fill them up.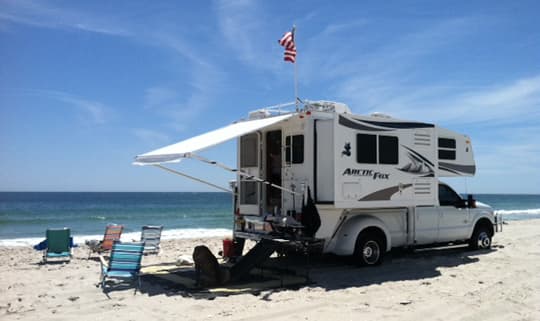 Above: Island Beach State Park in Seaside, New Jersey
TCM: That sounds like a more efficient approach compared to buying and hauling your own air compressor.
Mike: Before I went out on the beach with my truck and camper, I talked to a lot of people who go out there with their own rigs.  I was nervous that I might get stuck, but it wasn't too bad.  They told me what to do, what not to do, and how much PSI to run in my tires.
TCM: What else did they tell you other than what PSI to run?
Mike: Put the truck into four wheel drive low.  Drive slowly.  Don't make sharp turns.  Always air down.  If you stop and want to go forward again, back up a little and roll forward.  I have been beach camping at Island Beach State Park for three years now and I have never had an issue following these guidelines.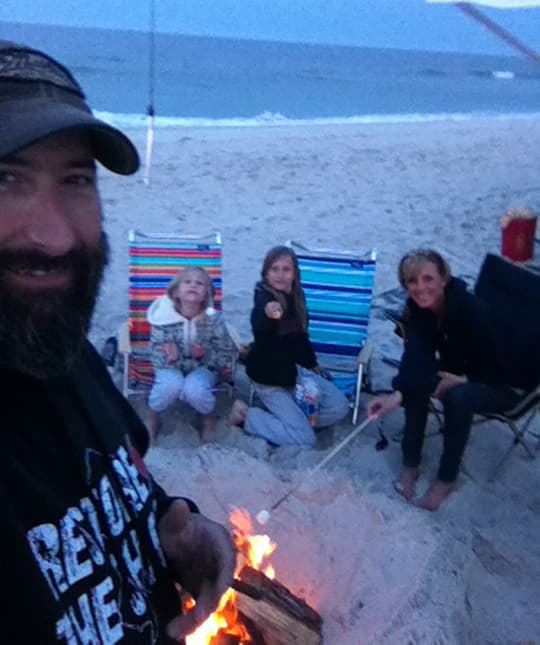 Above: Sitting around the campfire and hanging out at the beach
TCM: What do you do on the beach?
Mike: Truck campers can go down to the jetty.  We enjoy fishing, sitting around the campfire, and playing on the beach.  We also have truck camping friends who join us.  It's great fun.
After Hurricane Sandy, there was damage to the inlet which they will be repairing starting in March, so the jetty will be closed.  There are typically vehicles lined up, up and down the beach on both sides during the summer.  With that area being closed, it may be too crowded and there may not be enough room on the beach to accommodate everyone.  We may do something else this year because of that.
TCM: Hopefully they'll have that addressed soon.  Tell us about the rack on the front of your truck.
Mike: I put a hitch receiver on the front of my truck and had a fabricator company called, Far Beyond Fabricating, build a custom cooler rack from anodized aluminum.  I also bring a tote with firewood for campfires on the beach.
TCM: How has the truck camper worked out for your hunting trips?
Mike: I deer hunt in October and November in upstate New Jersey or southern Ohio.  There's nothing better than camping and hunting.  I am also taxidermist on the side.  That's how I met my friend with a truck camper.  He brought me a deer to work on.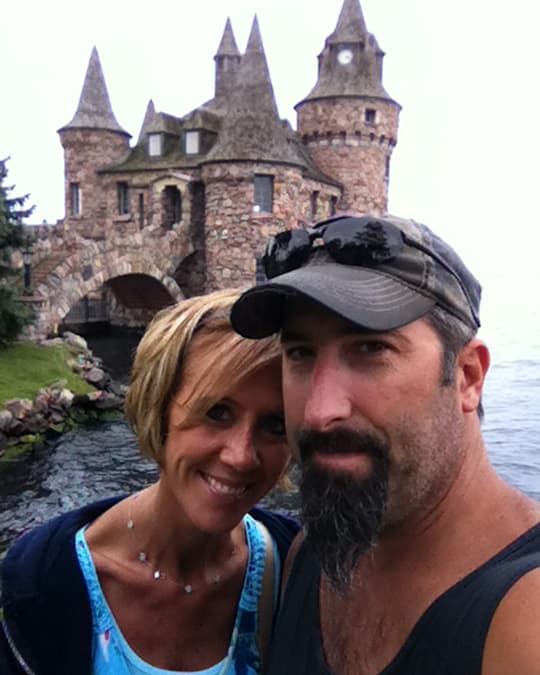 Above: Boldt Castle, Thousand Islands area, New York
TCM: Have you been anywhere else out of state?
Mike: One of our first trips was to the Thousand Islands area of New York, where Boldt Castle is located.  I had been there before, and there's just something interesting about that area.  It's a beautiful place.  My girlfriend and I took the boat ride out and visited the castle.
We stayed at Keewaydin State Park.  The highlight of the trip took place at the campground.  We had a fire going and a group of two big campers pulled in and got set up.  They were a good distance away from us and started playing acoustic guitar.
We were listening to them from our campsite and they were really good.  I wanted to go hang out with them.  We grabbed a few drinks and started walking over.  Before we got there they said, "Come on over neighbor".
It was a father and son with their family and friends from Canada.  We could name a song and they would sing it.  It was so relaxing.  We had a blast.  Through truck camping, we meet all sorts of new people from all over the place.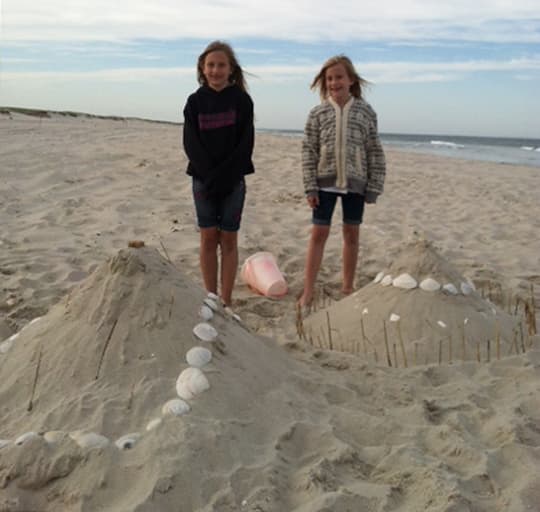 Above: Mike's girls at the Island Beach State Park, Seaside, New Jersey
TCM: How do your kids like the truck camper?
Mike: I have two girls and they both really enjoy truck camping, especially when we're at a campground near the beach.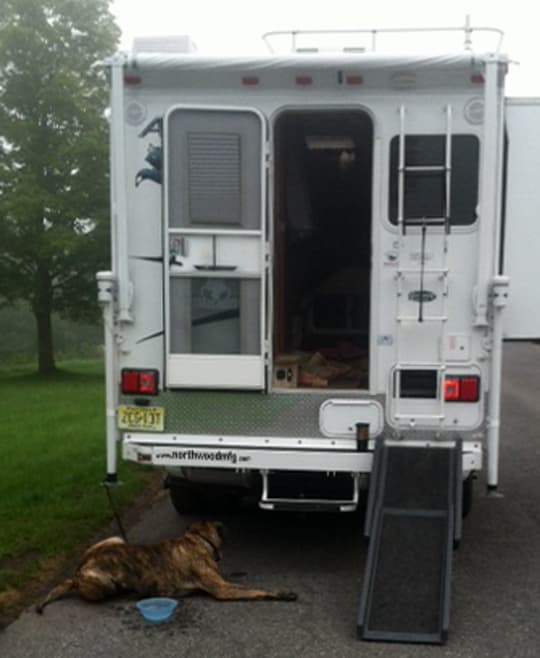 Above: Titan's ramp to get in and out of the camper
We also take my dog, Titan, with us.  Titan is a two year old English Mastiff.  He is very big, so I had to buy a ramp for him to get in and out of the camper because I don't want him jumping in and out and hurting himself.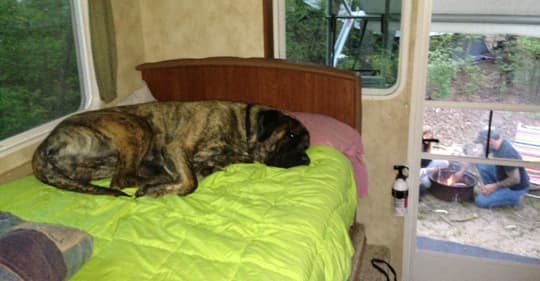 Above: Titan enjoying the dinette sleeping area
When he was little he would climb up under the table, jump on the seat, and lay there.  Now he's triple the size, so we turned the table area into a bed.  He doesn't want to lay on the floor because he wants the cushion.
One time on the beach it was cooler in the camper than it was outside.  We all went in the ocean to cool off.  He's usually fine in the camper, but he saw us having fun and chewed up one of the moldings in the camper.  I called the Northwood factory where our Arctic Fox was made and told them what piece of molding he chewed up.  They shipped it out to me.  That's another reason I like the Arctic Fox brand.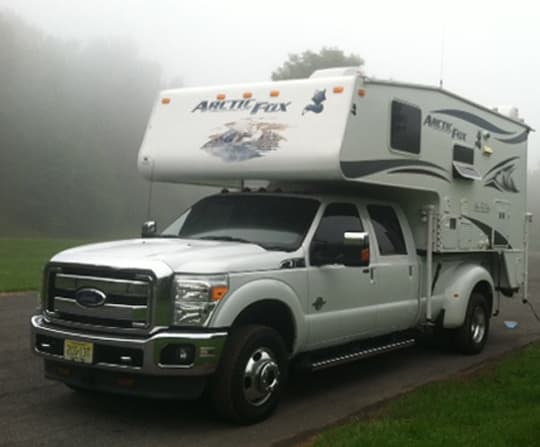 Above: Mike upgraded to a 2011 Ford F-350 dually truck
TCM: You said that you drive a tractor trailer.  What is it like to drive a truck camper in comparison to driving a tractor trailer?
Mike: I had never owned a truck camper until this one.  When I first got the camper I had a 2500 and it held it up fine, but I was going down the road swaying side to side.  It felt a little tippy.
I upgraded to a dually truck and all of that sway went away.  Once I load all of my gear and the holding tanks are full, the rig weight adds up.  If you are serious about truck camping and want a bigger camper, I recommend at least a 350 or 3500 dually.  I feel so safe in my truck now.
TCM: It's very important for handling and safety to properly match your truck and camper.  What's next for truck camping adventures?
Mike: I definitely want a plan a trip out west and to Sturgis.  I also want to visit Montana.  Having the truck camper we have a place to stay, and we don't need to get a motel room.  Plus, our truck camper is cleaner than a hotel.
I wish I had bought a truck and camper years ago.  It's definitely a lot of fun!
Truck: 2011 Ford F350, crew cab, long bed, dual rear wheel, 4×4, diesel
Camper: 2011 Arctic Fox 990
Tie-downs/Turnbuckles: Torklift, Fastguns
Jacks: Rieco-Titan
Suspension: N/A
Gear: Custom made front cooler rack