TCM: Kite surfing the Oregon coast looks amazing.  How did you learn to do that?
Alex: I have been kite surfing now for three years.  I'm really committed.  I got into kite boarding when I saw it in 2003 for the first time.  I thought it was cool, but left it alone.  A few summers later, I went to Oregon to rock climb, and saw people kite surfing again on the Columbia River at Hood River.  I went to the wind surfing shop there, and they sold me a trainer kite and DVD.  I thought I'd give it a shot.
Then I asked around and bought some old kites off of somebody, booked a trip to Mexico, got a few lessons from Elevation Kiteboarding in La Ventana, and away I went.  I've probably been kite surfing 300 days since I started three years ago.  My main spots are near where I live in southern Alberta.  Those are the go-to spots where the wind is consistent and offers world class lake sailing.
I like to go to the Oregon coast in the summer and spend a couple of weeks.  In southern Oregon there are some really good places to go.  It's cold, shark infested water, but it's really good action, with strong consistent wind.
I also go all over Vancouver Island.  There are a lot of different spots on the western Canadian coast, it is a pretty rugged place. I'm always exploring, trying new places and spots.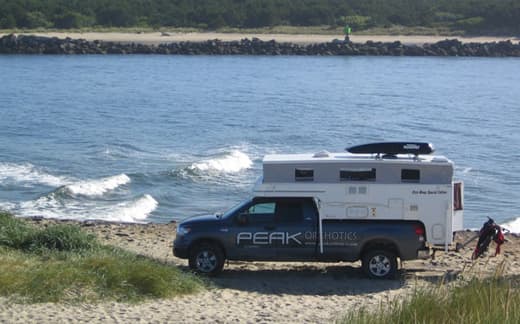 Above: "Wonging" at the south Jetty in Florence, Oregon
TCM: Do you take your truck camper for these kite boarding adventures?
Alex: Yes, the truck camper works perfectly for kite boarding.  I take the truck camper wherever I go.  For the simple things like changing into my wet suit, my truck camper base camp is right there.  It's a warm out of the wind place to change.  We surf in some horrible conditions where it's just above freezing, so having a shelter is crucial.  I even launch my kite right off of my camper.
TCM: You own your own business.  Do you work while you're on the road?
Alex: I own a manufacturing business.  When I travel, I am still able to see all of our orders, review every single order, approve them and send them to the shop from anywhere.  I just have to be in cell range.  It is great.
Pretty much all the billing and bookkeeping can be done on the road.  Being self employed, I couldn't take three months off last summer.  I'd work a good session every few days.  I was in my camper reviewing orders in the morning, having coffee, playing outside in the afternoon.  It was pretty cool.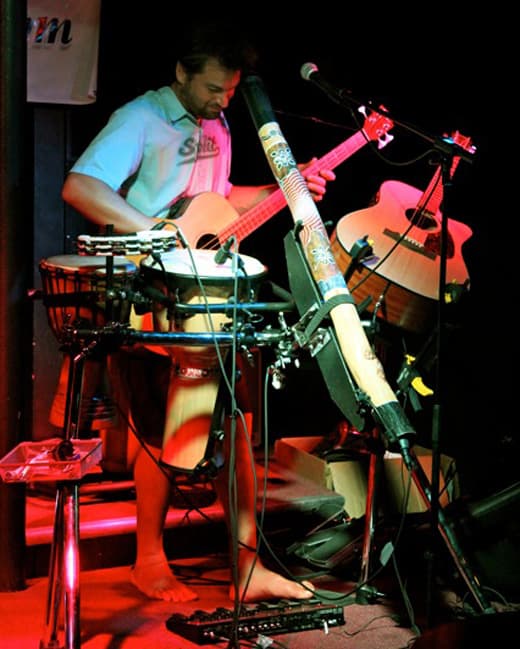 Above: Alex playing live in Port Albernie, British Columbia
TCM: You're also a musician.  Do you use your camper when you play?
Alex: I'm a singer, songwriter, and one man band. What I do is called multi instrument live looping, which is where I record a track on the spot, play it back on itself, switch instrument, and keep building songs in this fashion. Most of my songs are originals, but I do play covers.  Then I throw in a few of mine.  I performed probably a dozen shows last summer, and then a bunch of around the campfires.  That's probably my favorite place to play with a few people with guitars.  We have a good time.  Music is all about fun and I have a good time either way.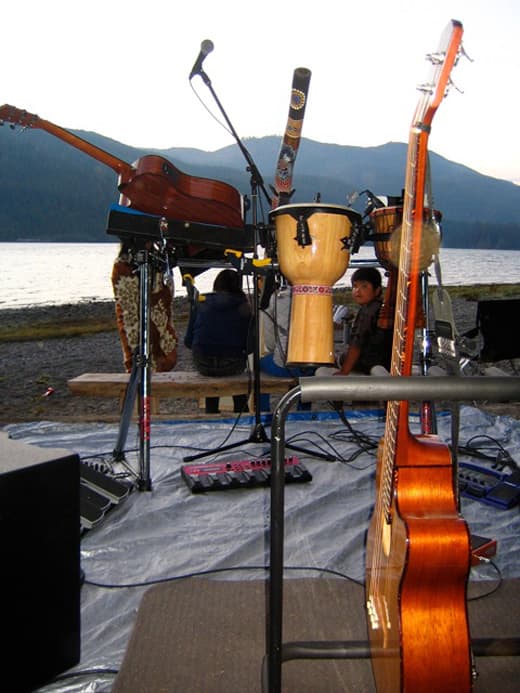 Above: Windfest getting ready for a show
Check out Alex's music site at www.alexfrog.com.