With his Northstar TC650, Tim Ray-Tahtinen leaves his comfort zone to tackle the White Rim Trail, Engineer Pass, and Big Bend Ranch State Park.  Sometimes he just scrapes by.

Traveling five miles an hour over a gnarly logging road or a cliff side rock face isn't everybody's idea of fun, but there's almost nothing more enticing to Tim Ray-Tahtinen.
With his 2007 Chevy Silverado 2500HD and 2003 Northstar TC650 pop-up, Tim actively seeks out remote two-track roads and notoriously challenging desert trails in Texas, Colorado, Utah and beyond.
In his story, Tim tells tales of switchbacks, scrapes, and the occasional trail reconstruction and roadside repair.  Where some of us would turn around, or pull out the emergency satellite phone, Tim relies on decades of experience to push up, over, and forward.  As his pictures reveal, he is often rewarded with stunning views and backwoods discoveries very few people ever see.
Joining Tim in his quest for overland adventure is his wife of thirty years and his twenty-five year old son.  More recently, Tim's brother has purchased his own pop-up truck camper and launched his off-road path down the White Rim Trail.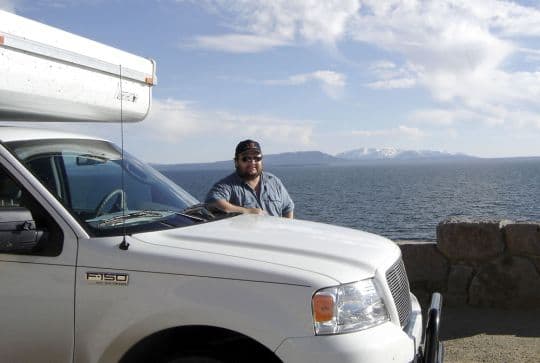 Above: Tim with his Northstar TC650 pop-up and Ford 150 (before he got his 2007 Chevy Silverado 2500HD)
TCM: How did you get into off-road travel in a pop-up truck camper?
Tim: As a kid I would disappear in the woods with my dog, Wolf, and not come back until the sun set.  We would go to Matagorda Island and fish all weekend.  A family friend had a slide-in camper during those trips.
My wife and I backpacked and tent camped.  As the years passed, we moved into a Northstar TC650 pop-up truck camper.  We have had it for over twelve years now, a fact that surprised me when we did the math.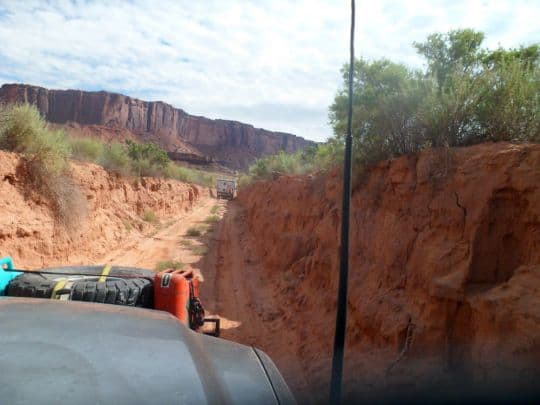 Above: One of the two-track roads Tim enjoys; the White Rim Trail in Utah
We chose the Northstar TC650 because it works well on our three-quarter ton truck.  As a pop-up truck camper, the TC650 is good for off-road travel and has less wind resistance and lower weight than a hard side.  It's also a sturdy and well built unit.
Give us a two-track road and a full tank of fuel, and we are there.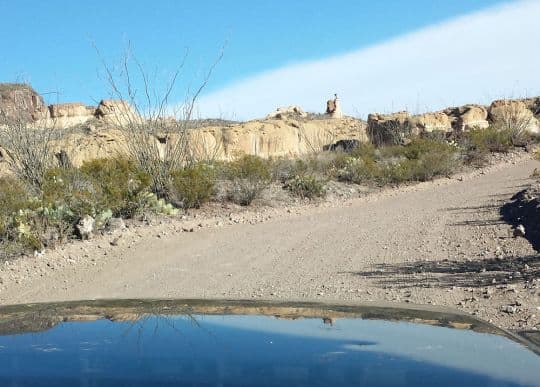 Above: A two-track road in Big Bend Ranch State Park, Texas
TCM: Some of these two-track roads that you go on look quite narrow.  How do you gauge a road ahead of time and know that your vehicle can handle it?
Tim: I research two-track roads on the internet, read travel blogs, and study articles in Truck Camper Magazine before attempting a road.  I pay particular attention to the vehicles that have gone on the two-track road before.  That gives me a clue as to whether or not my vehicle and camper can handle it.
For safety, I am going about five miles per hour on most two-track roads.  If I'm coming up on a blind turn, I stop to make sure no one is on the other side.  I look ahead at turns and switchbacks as they can offer a look at the road ahead.  I can usually see approaching vehicles from a considerable distance and find a place to pull over.  I like to be courteous to other drivers.
We were on a reverse logging trail with an oncoming Jeep.  We tried to get out of the way, but the Jeep still didn't have enough room to pass.  They were gracious and backed up for the better part of a half mile to find a spot to pull over and let us pass.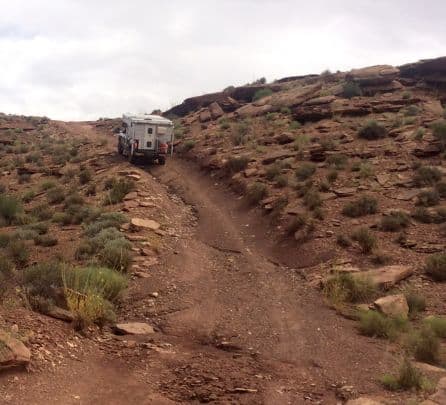 Above: Traveling on the White Rim Trail – click to enlarge
TCM: Many of the two-track roads you explore are in remote areas without cell service.  What do you bring with you to make sure that you can get out of a potentially bad situation?
Tim: Before attempting a two-track road, I always have full water in the camper and full fuel in the truck.  I also carry a five gallon auxiliary tank of water and a five gallon auxiliary tank of fuel.
I pack all the gear I need for self-recovery.  I have a Hi-Lift jack, shovel, strap, and standard road recovery gear including a tool set, ratchet, and wrenches.  I can work on my truck if something goes wrong.  I would also recommend knowing how to use your winch, if you have one.
Once I lost a shock on the trail and had to take it off with standard hand tools.  Once I had to build up a road while on a trail.  I moved four wheelbarrows worth of dirt to build a path over a rock.
When you break down by yourself, you have your two legs, and that's it.  If ever you're unsure, and if you can, turn around and go back before it gets worse.
It's definitely better to go with a second vehicle.  I travel with my brother who just recently bought a pop-up truck camper.  He got tired of seeing all my adventures.  The White Rim trip was his second time out.  With two rigs, it's easier to get out of trouble.  I am definitely more conservative with my risk factor if I'm by myself.
Above: More of the White Rim Trail – click to enlarge
TCM: What has been the most challenging road you've taken with your rig?
Tim: The White Rim Trail in Utah was a challenge.  Engineer Pass in Colorado was also a challenge.  If you're into adventure, the White Rim Trail is a challenge that will move you out of your comfort zone.  It also has the best scenery I have ever seen in a 100 mile stretch of road.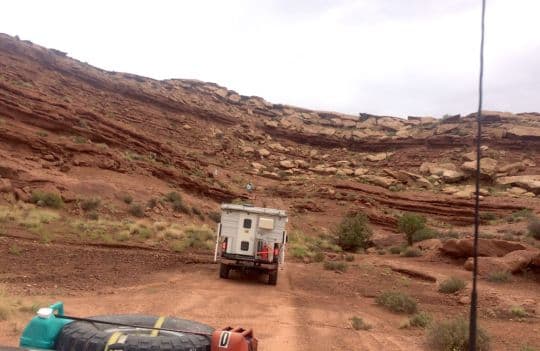 Above: Approaching Murphy's Hogback and taking it slow on the White Rim Trail
TCM: What advice would you have for folks who want to tackle the White Rim Trail?
Tim: This was my second time traveling the White Rim Trail.  It took us three days to complete the 100 miles of this road.  We were pushing the afternoon sun, trying to get in before dark every day for those three days.
Above: Some cliff hanger spots on the White Rim Trail – click to enlarge
I wish I would have planned for four days and probably would have liked to do it in five.  You need to take it really slow on these roads.  We probably averaged in four to five miles per hour.  It took us a little more time than we had planned.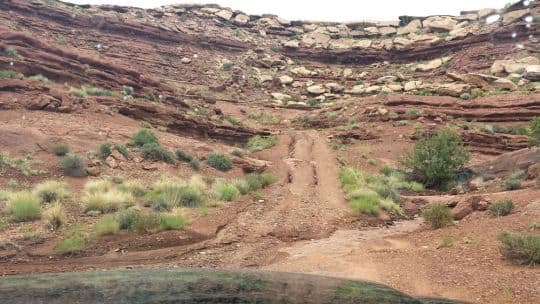 Above: There were more ruts and washouts than normal – click to enlarge
The trail was a little more challenging because of weather, so it had more ruts and washouts than normal, which also slowed our pace.  The road normally is lighter.   The weather and washouts threw us a curve ball.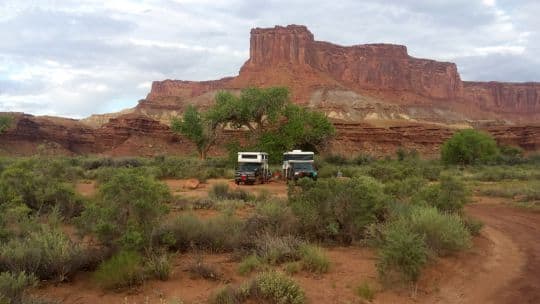 Above: Dry camping campsite at White Crack campground near the Green River on the White Rim Trail, Utah – click to enlarge
There are beautiful dry camping desert campsites along the White Rim Trail.  We stayed at Shafer, White Crack and Potato Bottom campsites.  They have created some organized areas where they want you to camp to prevent further wear on the desert.  There are four or five designated camp areas that you will want to book ahead of time with the Island in the Sky Visitor's Center.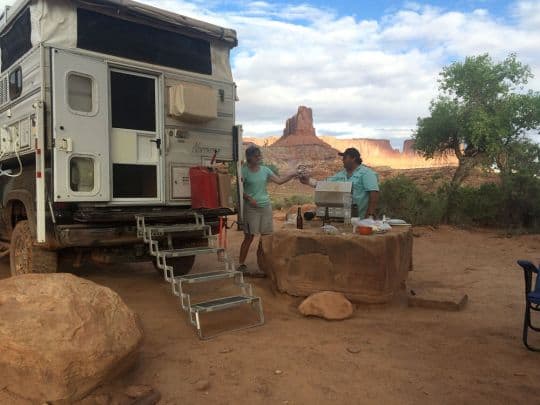 Above: Cheers! The White Crack campground near the Green River on the White Rim Trail, Utah – click to enlarge
Some folks have a crew leader who registers the vehicles.  There is a nominal fee to secure your spot.  It is nice to know that you have a place to camp after traveling all that distance.
We went on July 4th.  I thought it was going to be busy, but we were pretty much the only ones camping on the trail.  We saw five or six vehicles on the whole trail, and a hand full of motorcycles driving through.
There were a couple of spots on the trail where overhead clearance would be an issue with hard side truck campers.  A pop-up truck camper is really ideal for this road.
If you have a hard side, you could go clockwise on the trail, and turn around at White Crack.  Then you could turn back.  Definitely do not do Hogback in a hard side.  There were low overhangs that even scraped my pop-up.  It's also a must to have a single rear wheel truck.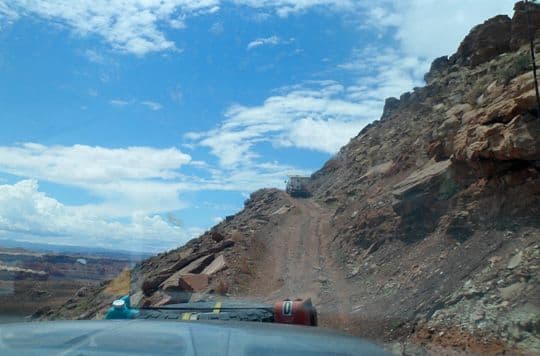 Above: Traveling Murphy's Hogback on the White Rim Trail, Utah – click to enlarge
TCM: You said earlier that the White Rim Trail will move you out of your comfort zone.
Tim: Yes, the White Rim Trail takes you out of your comfort zone because it's a high-class road trail.  It takes considerable skill to navigate certain areas.
Above: The rock on Murphy's Hogback presented a challenge – click to enlarge
For example, the rock on Murphy's Hogback was in our way, so we had to go over instead of around it.  That was the only time we were concerned about toppling over.  We had to climb over a tabletop size rock.  We held on by the seat of our pants, and went.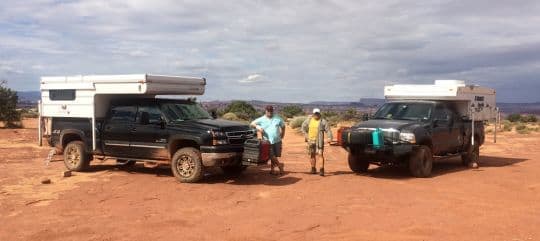 Above: Tim's brother just recently bought a pop-up camper, and they tackled the White Rim Trail together – click to enlarge
If you are not used to traveling off-road, like my brother, don't go by yourself.  He had not taken his truck off-road at all.  I was there to guide him.  At his experience level, I would have told him not do it by himself.  My sister-in-law said that it was the scariest and most beautiful trip she ever had ever been on.
Even if you are experienced, you should have a good spotter to get through the intricate spots that are difficult.  You want to navigate your vehicle so that you don't damage your rig.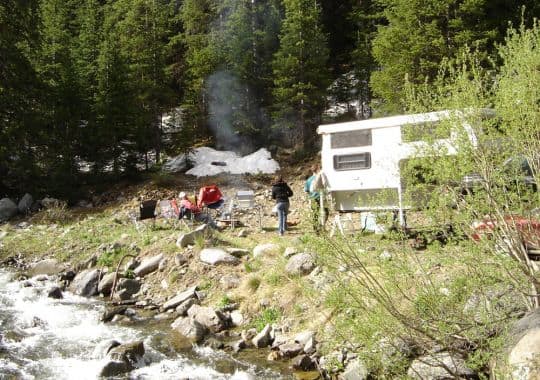 Above: Taking the camper off the truck is an advantage when tackling challenging roads – click to enlarge
TCM: Tell us about that road and the challenges of driving Engineer Pass.
Tim: A great thing about my Northstar camper is that it can be used by itself off the truck.  For camping, we often go down a logging trail, near a river, and find a beautiful spot.  When we went to Engineer Pass, we decided to take the camper to the camping spot and unload it around 8,000 feet.  We drove over Engineer Pass, then went into town, and then went over Cinnamon Pass.
Above: Driving on Engineer Pass – click to enlarge
I wouldn't recommend Engineer Pass for everyone.  You may need a lift or larger tires to get the ground clearance you need.  A long wheel base would also be tough.  Engineer Pass was a little challenging, but I feel the White Rim Trail was harder.  It's doable, but I do not recommend a hard side camper, or a dually, for either.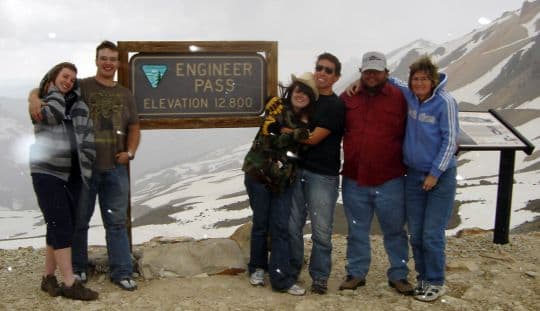 Above: Tim's family at the top of Engineer Pass – click to enlarge
Engineer Pass was our first major expedition that was exclusively off-road.  I found it by looking on Google Maps.  First, I started reading blogs, and didn't find too many trucks that went over it.  Most of the vehicles were short wheel based Jeeps because of the switchbacks.  There were a couple where we had to go back and forth fifty times, turning around and backing up.
If I would have left the camper on, I would have taken more time and I would have gone slower.  That's part of the reason why I got the Northstar.  It's fully usable, including sleeping in the cabover, off the truck.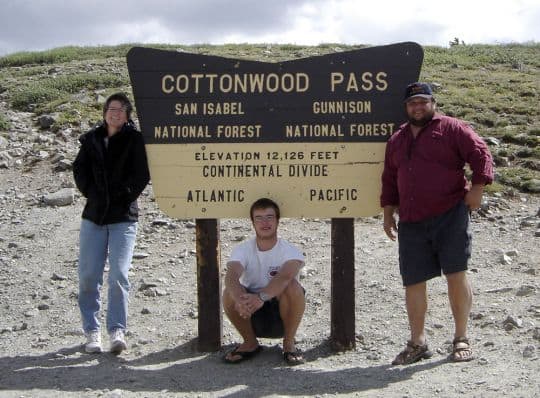 Above: Cottonwood Pass in Colorado – click to enlarge
TCM: In an email you also mentioned Cottonwood Pass in Colorado.  Is that a trail you can recommend to our readers?
Tim: Cottonwood Pass is a two-track logging trail.  It has the San Isabel National Forest to the east and the Gunnison National Forest to the west.  We found it going to Yellowstone National Park.  If you haven't been to Yellowstone, you definitely have to go there at least once.  Yellowstone is gorgeous!
I think anyone with a truck camper could do Cottonwood Pass, even hard side truck campers with dually trucks.  It's improved pavement that goes to dirt, but it's quite smooth and a wide, two lane road.  It's easy enough to go on with no problems.
The first time we were there, I saw a dirt two-track trail off Cottonwood Pass.  My son gave me a glance to go, and my wife was in the back seat not paying attention.  So, I made the turn.  About a mile in my wife noticed it was getting gnarly.
We found the prettiest little campsite on a creek with a meadow.  We pulled up under some trees, and used a fire ring that was there.  Two or three times since then, we have returned to that logging trail looking for campsites.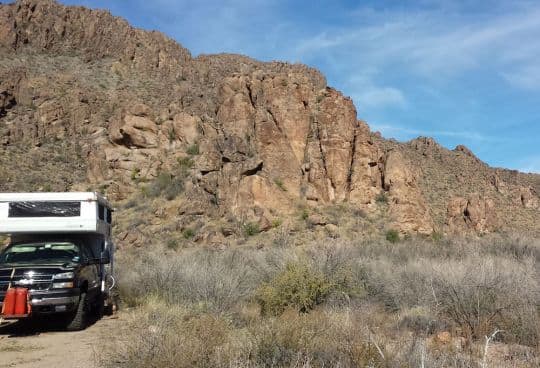 Above: Camping at Big Bend Ranch State Park in Texas – click to enlarge
TCM: What are some standout state parks in Texas?
Tim: We have been to nearly every state park in Texas.  My favorite boondocking back country state park is the Big Bend Ranch State Park.  It's a little more challenging to get to the campsites, and it does require a high clearance, four-wheel drive truck.  You need to over estimate the time you need to get there.  We went two miles in three hours.  It was a little more than we expected, but it was rewarding.  For Thanksgiving one year we went to Big Bend State Park.  There is remote, primitive camping with no facilities.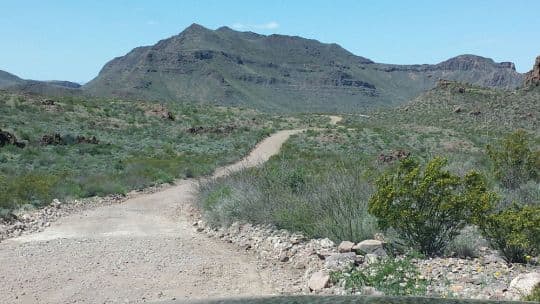 Above: Driving in Big Bend Ranch State Park, Texas – click to enlarge
We also like Inks Lake, Pedernales Falls, and Marble Falls State Parks.  The state parks in Hill Country area around San Antonio are really nice.  The showers are clean and the services and people are nice.  Texas has an excellent park system.  I couldn't be more proud.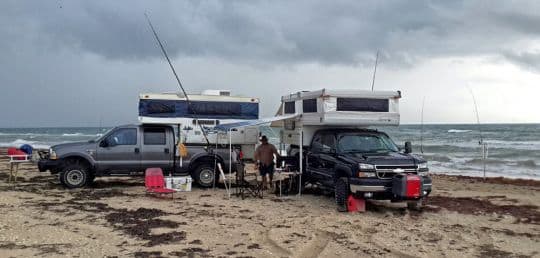 Above: Matagorda Island State Park – click to enlarge
TCM: Where do you like to beach camp?
Tim: I like going to go to Matagorda Island State Park because that was where we started camping as kids.  It's free style camping there.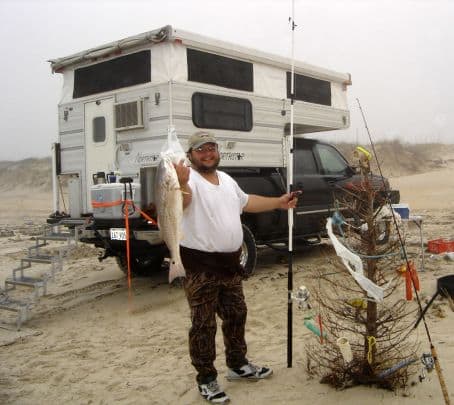 Above: They set up a small twig Christmas tree, and decorated it debris from the beach
We go there because we can set up camp, look both ways, and, as far as we can see, we can't see anyone else.  On Christmas Day, which is my favorite time to go, we set up a small twig Christmas tree, and decorated it debris from the beach.  We also like to go in the spring and the fall, but that's also when there's the highest traffic.
My wife has a metal detector and I have a fishing pole.  I fish in the surf and enjoy the solitude and the water.  It's calming.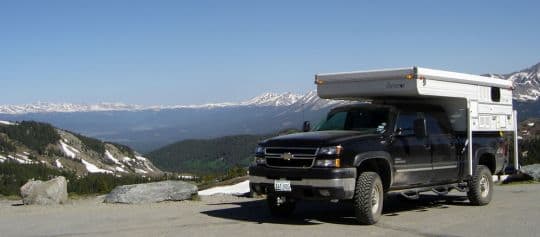 Above: Many modifications have been made for boondocking
TCM: Have you made any modifications to your rig for the type of off-road travel you enjoy?
Tim: We added a custom grey water tank.  The grey water comes in handy to use on campfires and we can properly dispose of the water at appropriate sights.
I used four-inch PVC pipe to create a grey water tank just shy of five gallons.  I made a T in the middle where I put the drain.  I have two end caps where I can drain it, and there's a cap on the back of the camper to drain it.
Before adding the PVC pipe, we had no grey water tank, but our TC650 does not have a shower or toilet either.  We just use our outdoor shower and the kitchen sink.  We have a homemade outdoor toilet.  I got a toilet lid and camp chair that I modified into a toilet with a bag.
I added the auxiliary tank more for the state parks wanting us to be self-contained.  They do not want you to dump anything on your campsite.  With the auxiliary tank, I am able to drain out some water to put out for fires when I go to bed.  I am reusing the grey water.
I used a Lagun swivel base for my table.  It is custom made.  I am currently shopping for our next camper, and noticed that Northstar has the Lagun as an option now.
We also have a 90-watt solar panel with dual AGM batteries.  With this set-up, we have no power concerns.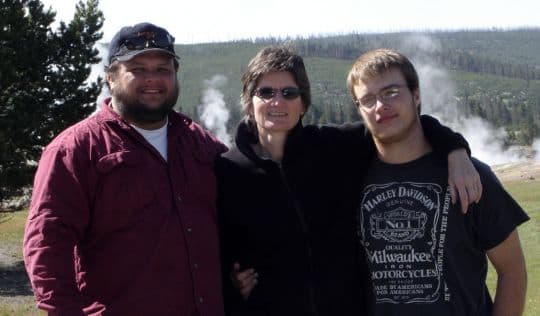 Above: The Ray-Tahtinens are looking forward to their next truck camping adventure
TCM: What are your future truck camping plans?
Tim: We are looking for our next overland adventure.  We will definitely be going to Alaska and spending a summer up there.  It will most likely be our first retirement trip.
We love the journeys we take with our Northstar.  We also love the ease of setting up camp and breaking camp in twenty minutes or less.
I have camped everywhere from Texas to Colorado to Utah with my wife of thirty years, and my now twenty-five year old son.  Getting out in the sticks is a recharge that you can't get any other way.  Seeing new sights and wildlife is always a joy.  If we can enjoy the history of an area, even better.
Rig Information
Truck: 2007 Chevy Silverado 2500HD, Crew Cab, Short Bed, Single Rear Wheel, 4×4, Diesel
Camper: 2003 Northstar TC650
Tie-Downs and Turnbuckles: Happijac Quik-Loads
Suspension: Firestone Airbags
Gear: 90 watt solar panel with dual AGM batteries, custom grey water tank, custom table with Lagoon swivel base, Banks cold air intake, 4″ Banks cat back exhaust, Fass lift pump, Garret stage 2 turbo, EFI tuning by Duramaxtune, Deep trans pan, Jr Transjunior