With his Northstar TC650, Tim Ray-Tahtinen leaves his comfort zone to tackle the White Rim Trail, Engineer Pass, and Big Bend Ranch State Park.  Sometimes he just scrapes by.

Traveling five miles an hour over a gnarly logging road or a cliff side rock face isn't everybody's idea of fun, but there's almost nothing more enticing to Tim Ray-Tahtinen.
With his 2007 Chevy Silverado 2500HD and 2003 Northstar TC650 pop-up, Tim actively seeks out remote two-track roads and notoriously challenging desert trails in Texas, Colorado, Utah and beyond.
In his story, Tim tells tales of switchbacks, scrapes, and the occasional trail reconstruction and roadside repair.  Where some of us would turn around, or pull out the emergency satellite phone, Tim relies on decades of experience to push up, over, and forward.  As his pictures reveal, he is often rewarded with stunning views and backwoods discoveries very few people ever see.
Joining Tim in his quest for overland adventure is his wife of thirty years and his twenty-five year old son.  More recently, Tim's brother has purchased his own pop-up truck camper and launched his off-road path down the White Rim Trail.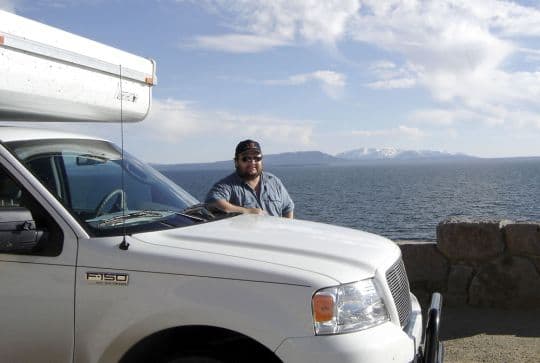 Above: Tim with his Northstar TC650 pop-up and Ford 150 (before he got his 2007 Chevy Silverado 2500HD)
TCM: How did you get into off-road travel in a pop-up truck camper?
Tim: As a kid I would disappear in the woods with my dog, Wolf, and not come back until the sun set.  We would go to Matagorda Island and fish all weekend.  A family friend had a slide-in camper during those trips.
My wife and I backpacked and tent camped.  As the years passed, we moved into a Northstar TC650 pop-up truck camper.  We have had it for over twelve years now, a fact that surprised me when we did the math.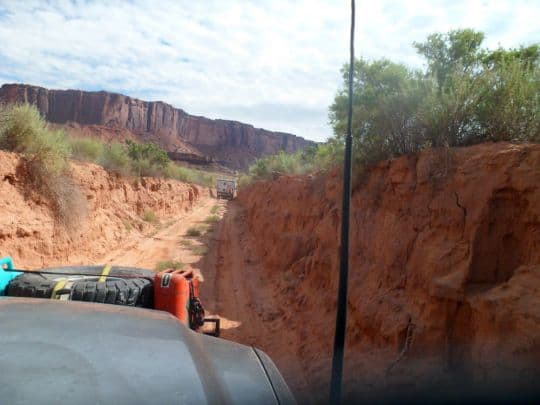 Above: One of the two-track roads Tim enjoys; the White Rim Trail in Utah
We chose the Northstar TC650 because it works well on our three-quarter ton truck.  As a pop-up truck camper, the TC650 is good for off-road travel and has less wind resistance and lower weight than a hard side.  It's also a sturdy and well built unit.
Give us a two-track road and a full tank of fuel, and we are there.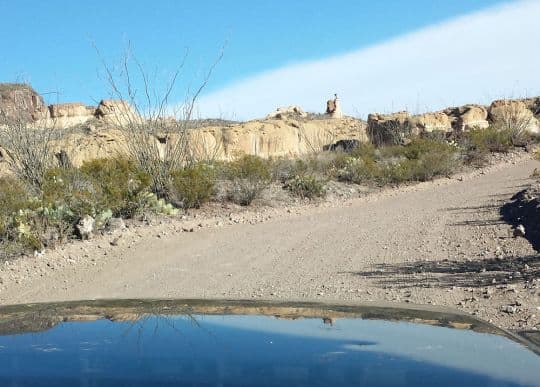 Above: A two-track road in Big Bend Ranch State Park, Texas
TCM: Some of these two-track roads that you go on look quite narrow.  How do you gauge a road ahead of time and know that your vehicle can handle it?
Tim: I research two-track roads on the internet, read travel blogs, and study articles in Truck Camper Magazine before attempting a road.  I pay particular attention to the vehicles that have gone on the two-track road before.  That gives me a clue as to whether or not my vehicle and camper can handle it.
For safety, I am going about five miles per hour on most two-track roads.  If I'm coming up on a blind turn, I stop to make sure no one is on the other side.  I look ahead at turns and switchbacks as they can offer a look at the road ahead.  I can usually see approaching vehicles from a considerable distance and find a place to pull over.  I like to be courteous to other drivers.