As some folks reach retirement, they put on the brakes and ease back on the gas.  Not Tracy and Steve Schuster.  Brakes off, gas on, and go, go, go!

When some Americans think about retirement, they picture a far away retirement home with a cluster of over stuffed Lazy Boy recliners, a dusty old television, endless Jeopardy re-runs, and regular helpings of stale green Jello and warm mushy peas.
If that image of retirement appeals to you, you're reading the wrong gosh-darn magazine!  Might we suggest Belly Button Lint Gazette, Rocking Chair Journal, or that harbinger of fun and good times, Sleepy Sleep Quarterly.  Harley reads them all.
For the rest of you, meet Tracy and Steve Schuster.  These two are hell bent on having an incredibly vibrant, visceral, and down right thrilling life until someone or something takes their keys.  Angela and I may be a few years from retirement, but we're totally inspired by their go-for-it attitude and lifestyle.  The Schusters have us seriously thinking about just how fast we could go in a tricked out Miata racecar, and how far down the beat-up path we could get in a off-road-maxed-out Jeep.  Go Schusters go!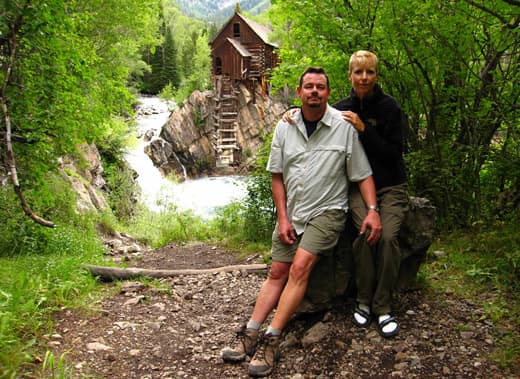 Above: Steve and Tracy Schuster
TCM: You said in an email to Truck Camper Magazine that, "having a truck camper is something we dreamed of more than ten years ago".  How did this dream finally become reality?
Tracy: We started Jeeping in 1998 and by 2000 bought a Dodge Ram 2500 diesel to tow the Jeep.  Soon after we put a camper shell on the back and stayed in the shell a few times.  It didn't take us long to realize that the shell wasn't a feasible camping option.  We longed for a truck camper, but could not afford one at the time.
In 2002, we sold the Jeep and truck and got into driving a Corvette rather than Jeeping.  So the dream and the need for a truck camper died out for awhile.  In 2007, we bought a Hummer H2 and a Coleman Cobalt pop-up camper and loved what that combination allowed us to do, but the Hummer was no Jeep.  In 2009, we sold the Corvette and the Hummer and bought the Dodge truck and the Jeep, which took us right back where we were seven years before.
TCM: And that's when you got your Palomino?
Tracy: Yes.  We were happy to realize that we needed a truck camper because there was no way we were going to return to a life of traveling and staying in hotels after having the Coleman tow behind.  We needed something small, affordable, and able to go off-road.  The Palomino pop-up truck camper fit the bill.
We use our camper to get away from people.  With any other type of motorhome, you are stuck parking next to other motorhomes and people much more often than we want to.  Since we tow a Jeep, the truck and camper is the best solution.  Additionally, I have major food allergies so being able to bring our own food and cook is really important.
We also love the ability to choose what type of adventure we want in any given situation.  Sometimes we opt for boondocking like in the Needles District of Canyonlands, Utah.  At other times, it's great to have the showers and the unlimited electricity offered by a RV park.  People tend to smile at our little pop-up camper, but the pop-up works great for us.  Being able to tailor our experience in this way makes going to the same place several times a completely different experience each time.
TCM: How do you extend your boondocking capabilities?
Tracy: Henry, our little truck camper, is great as long as you don't want to shower, change at the same time, or cook and eat at the same time.  With thirty gallons of fuel and water on the trailer, our capacity for extended, comfortable boondocking is great.  We have done six days at a stretch, not holding back on generator or water usage, and had plenty of water and fuel left over which includes the gas we had to use to refill the Jeep each day.
The key is good storage and planning ahead.  The weekend we bought our camper, we drove it to the Container Store and put storage solutions in every place we could find.  That really extended our camper storage.  Lots of measuring and test fitting in the parking lot was involved.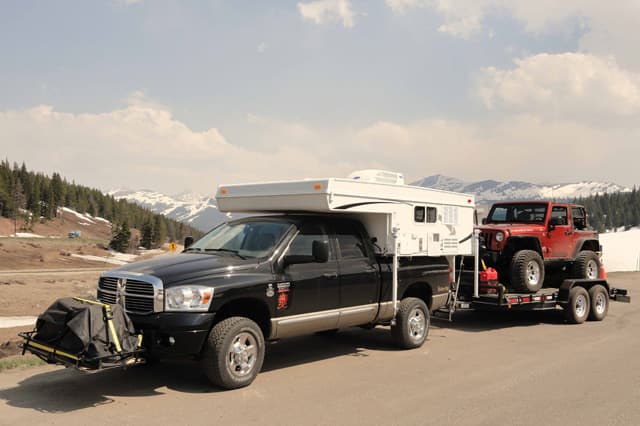 Above: Vail Pass, Colorado with their Palomino Bronco and Jeep in tow

TCM: What are you carrying on the front of your truck?
Tracy: When our air conditioner was installed, we realized that we needed a big generator to run it.  So we got a 4500 watt generator.  We were out of room on the trailer since we needed to carry lots of water and gas, so we installed a front receiver hitch on the truck to carry the generator.  The great thing is that the hitch has enough room to hold more water and other items, like chairs.  Plus, the hitch allows us to remove the generator to use the hitch to store things in the generator bag while we camp.
TCM: How does your rig handle when you're towing your Jeep?
Tracy: We have a sixteen foot heavy duty utility trailer and we barely notice it is back there.  From dead stops, the torque of a diesel is definitely needed to get the whole rig going.  The trailer brake, the exhaust brake, along with the ability to downshift, keep things well under control down steep grades.
Going up and over major mountain passes like Loveland and Vail is generally no problem with all of the power and braking that we have.  Our biggest nemesis is the weather since we don't have any desire to tow in snowstorms.  Having towed through major blizzards, and lived to talk about it, it is not impossible, but life is too short to be that stressed out on a vacation.
We had an eighteen foot trailer for our old Jeep and we found that to be a bit harder to control than this shorter trailer.  With the longer trailer, the tail wagged the dog occasionally.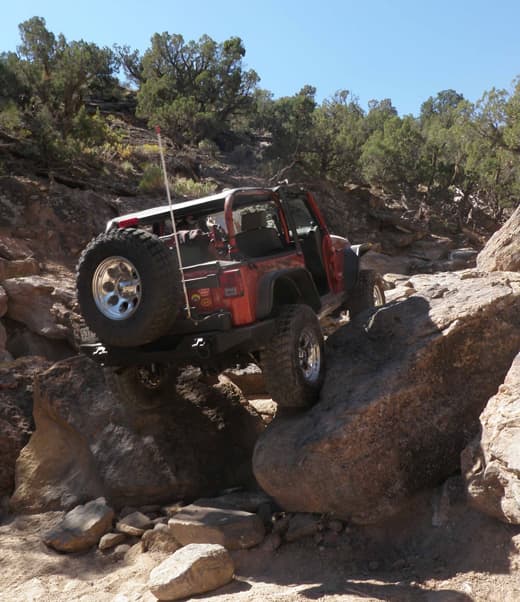 Above: The Schuster's Jeep rock crawling in Billings, Montana

TCM: It looks like you do some rock crawling with your Jeep.  Where do you go?
Tracy: We started Jeeping in 1998 at Camp Jeep and found ourselves quite terrified of what we now see as the simplest of trails.  I guess that's why they call it a learning curve.
We love to go to Moab and the surrounding area to Jeep and hike.  Many of the trails in the Moab area are trails we can do alone.  The more fun trails do require at least one other Jeep so that we have safety in numbers and a way out if something happens.
Slickrock is so amazing to drive on!  You can gain traction in places and on slopes that seem impossible.  We also enjoy the Grand Junction area as they have several really technical trails that sometimes even our Jeep is a bit underbuilt for.  Rock buggies are the way to go there, but the challenge is worth it.
When we want scenery and smoother roads, the Silverton and Ouray areas in southwestern Colorado are amazingly beautiful!  When challenge is the name of the game, Las Cruces, New Mexico has many trails that keep you saying, "Oh man! No way!" over and over.
There are also many places all over Colorado and Utah that we have Jeeped like Marble, Crystal, Leadville, Kremmling, Salida, Hanksville, and Price.  Basically we go anywhere that the price of admission to the beautiful scenery includes a Jeep, or anywhere the rocks are the size of VW Beetles and the trail looks nothing like a trail.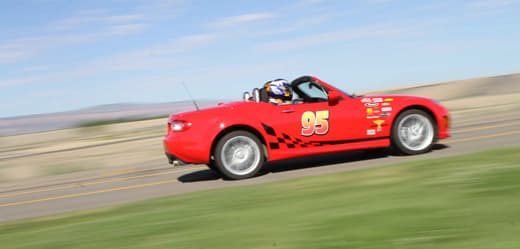 Above: Their flying Miata, Martin

TCM: In your pictures you also have a racing Mazda Miata.  How did you get into racing a Miata?
Tracy: In July 2010, we were heading to South Dakota to be tourists with the truck camper and Jeep for a week, and ended up buying Martin, our Miata, four days before we left.
TCM: How did that happen?
Tracy: That's another story.  After missing having a sports car, Steve decided to go look at a Miata and ended up walking out the door with Martin.  By the time we arrived in Custer, South Dakota, Martin was all broken in and ready for the twisty roads to Mt. Rushmore.  It sure is nice to just park the camper, get it all set up, and take off with the top down to see the area.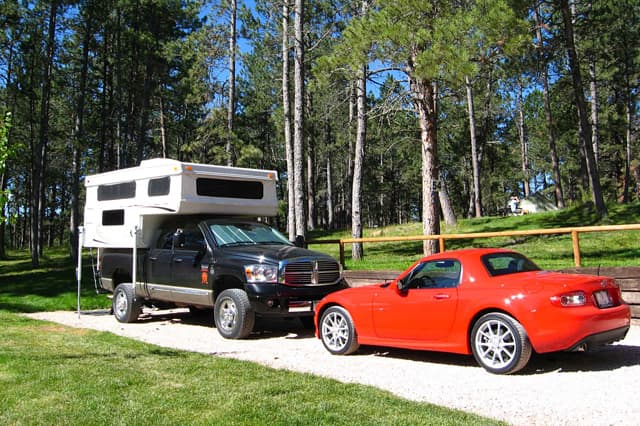 Above: Taking Martin their Miata to South Dakota

TCM: Do you tow Martin with your truck camper?
Tracy: We have worked to get Martin on our trailer this season, but have hit many snags that make it a pain.  First, we would need at least ten foot ramps to get him backed onto the trailer as he's quite low-slung.  The ramps are available, but are 4.75 inches tall so they couldn't be stored under Martin on the trailer.  We looked at buying another trailer but it's a lot of money for something we will use only two to three times a year, not to mention the cost of storage.  So, for now, Martin will just have to drive separately, which Steve didn't mind as he enjoys driving the Miata.
 Above: Steve hiking in Beef Basin 

TCM: Tell us about what you like to do on the road other than going out in your Jeep and racing your Miata?
Tracy: Steve is charged with being the trip planner and I am in charge of the trip reminders, videos, and our electronic album.  Steve will look for any interesting sights along our route to stop at and see.  It is amazing just how much there is to see that is often missed in our rush to get there.  Like in the movie Cars, Lightning and Sally discuss how sad it is that the highway has diverted all of the traffic from the beautiful areas.
We'll often stop for a quick hike to check out a petroglyph or area of historical value.  We have even stopped and unloaded the Jeep just to check out something a few miles down a dirt road.  Stopping for beautiful pictures is a no-brainer; it just takes a bit of looking ahead since we have to be able to get the truck camper and trailer safely off the road.  We also try to make few set plans since we never know where we might find a reason to stop and stay for the night.
We also spend our time hiking, mountain biking, and taking in the scenery.  We love to read and take pictures, and we definitely like to play tourist when the opportunity arises.  Our guilty pleasure is to watch shows and movies at night on the nineteen inch LED television that we store under the bed.  We have stored about 200 television shows and movies on a hard-drive that attaches to the television, so the choices are endless.
We generally take week-long trips about five or six times a year from April through October.  We have three miniature Schnauzers that have to be boarded when we are gone.  The "swarm", as we call them, are great but our time in the camper is ours.  Boarding the dogs gets very expensive, which somewhat limits our trips.  Generally, they are the most expensive part of any of our trips, even when you include fuel and "lodging".  With time, we look forward to spending more time, including shorter weekend trips and longer vacations, in the camper.
We retire in a few years and plan to spend about six to eight months per year in the camper, and maintain a small house somewhere warm that we visit for a break.  We want to continue to be set up for a combination of boondocking and RV park camping so that we can have the best of both worlds.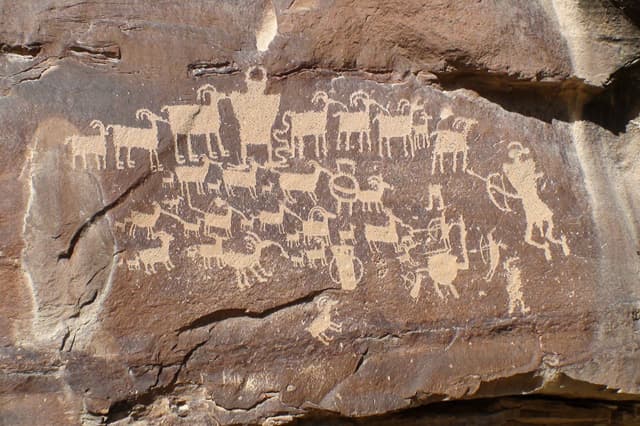 Above: Petroglyphs in Nine Mile Canyon near Price, Utah
TCM: Where have you gone that you suggest other truck campers go?
Tracy: One amazing place, with hundreds of petroglyphs, is Nine Mile Canyon near Price, Utah. It's about twenty miles down a dirt road to get to the end, but the Hunting Scene petroglyph and amazing canyon walls is well worth it. There is even a seasonal place to camp if you want showers.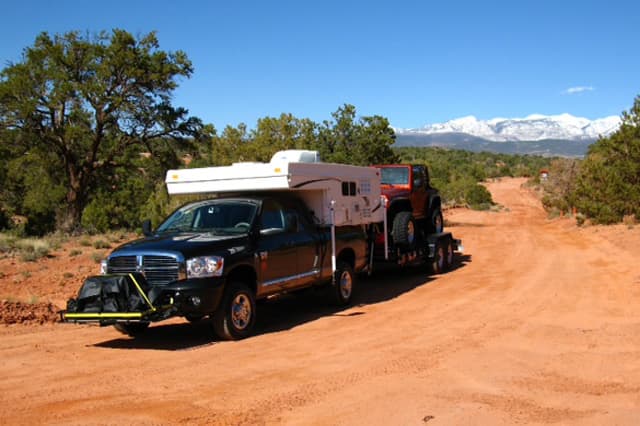 Above: Camping near Moab, Utah
Moab, Utah is heaven on Earth.  There is something for everyone and every style of camping.  In addition, Moab is a great old fashioned tourist town where the hiking and other activities are endless, and the scenery is on top of you all the time.  Everywhere you look is beautiful.
South of Moab is the the Needles District of Canyonlands and the Island in the Sky District of Canyonlands is to the north.  Both areas have primitive/designated and bookdocking camping areas, and both offer scenery that is unparalleled, except for maybe the Grand Canyon.  If you have an off-road capable set up, overlooking the White Rim area in the north or driving the rim is a sight to see.  The hiking and scenery in the Needles area is breathtaking.  Both extensions are very different, but worth the trip.
The area around Goblin Valley near Hanksville, Utah is spectacular as well.  Between the goblins (you can see them in their starring role as the landscape of the planet in Galaxy Quest) and the slot canyons, like the amazing Little Wild Horse Canyon, there is plenty of unique scenery.  There is also bookdocking all around and a park-run campground with showers.  Horseshoe Canyon is also in this area, which many know as the canyon that Aron Ralston had to walk through after he had severed his own arm to free himself.  It also is the home to a very famous pictograph panel named, The Great Gallery.
Another place if you want scenery is the Silverton and Ouray area of Colorado.  There is amazing beauty, lots of mining history you can walk and drive right up to, and canyons that will take your breath away!  Just be careful if you decide to drive highway 550 between the towns.  The "Million Dollar Highway" is breathtaking but not for the faint of heart.  If you are going to drive it, we would suggest going from Silverton north to Ouray since that puts you on the inside of the road rather than right near the drop-off.  Be forewarned!
Actually, most areas of Colorado in the summer and early fall are beautiful and definitely cool if you want to get out of the heat for a while.  There are tons of activities, and great chances to just sit back and drink in the quiet and soothing calmness of nature.  You can also find this in Northern New Mexico in many areas.
If you are near Las Vegas, Nevada, don't just drive by the Valley of Fire!  In the middle of nothing is this amazing area of burning red rock that has a great scenic drive and lots of very pleasant walks and hikes.  It's worth the drive out to see it even if you are not planning on go farther east than Las Vegas.  You can camp there as well.
Finally, we loved Custer, South Dakota.  It's very family friendly and the drives in the area were beyond compare.  I wouldn't even dream of taking your camper up the back roads to Mt. Rushmore as you will likely not fit through the tunnels.  If you can unload your camper, the drive will be worth it!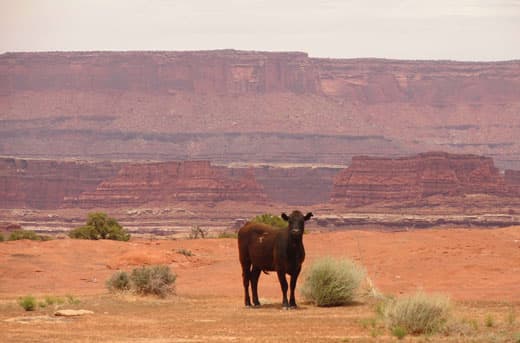 Above: Their encounter with the cow in Canyonlands, Utah

TCM: You recently had a strange truck camping encounter with cows.  Please share.
Tracy: It seems that every time we boondock, we have a magnetic pull on any cows in the area, even when there didn't seem to be a cow for miles as we drove in.  For example, in Nine Mile Canyon we were not only kept up by bugling elk, but also awoke to the camper being nudged by a herd of cows.  I think they were wondering what we were doing there as much as we were wondering what they were doing there.  The mess they left behind certainly let any other camper know that there were cows in the area.
As we exited Canyonlands, a ranger asked if we had seen a cow during the day.  We hadn't remembered one, but said we'd keep an eye out.  That afternoon as I went through the pictures of the day, I saw one with a cow standing right in the middle of the frame.  How could we have forgotten?  We drove back to the ranger's outpost which was about twenty-five miles from our boondocking spot and told the ranger.
He asked for the brand, we looked at the shot, and he said it was the right cow.  He let the rancher know.  The funny thing was that the next day we went thirty miles in the opposite direction from camp, and fifty miles from the cow, and ran into the ranchers.  We asked if they had gotten their cow and they gave us this look that said, "How did you know about that?"  We showed them the picture and they laughed and let us know he was now safe and sound.
TCM: That's funny.  You just bought a long bed truck.  So, what's next for you guys?
Tracy: In the next year or so, we will be buying a long bed hard side camper.  The shower and increased storage will make the more limited off-road capability worth it.
This year we will journey to Moab a couple of times again, but also plan on spending time in Capitol Reef National park in June.  We love the slot canyon hiking in that area.  We'll also go to Grand Junction for another round of Flyin' Miata Summer Camp.
We are also thinking about a trip to the Badlands of South Dakota, but we'd have to suck it up and buy a trailer for Martin with gas prices headed the way they are.  We may just take the camper and stay near Breckenridge, Colorado for a few days instead and enjoy the beauty Colorado has to offer.  The nice thing about our set up and a truck camper is that we can go just about anywhere!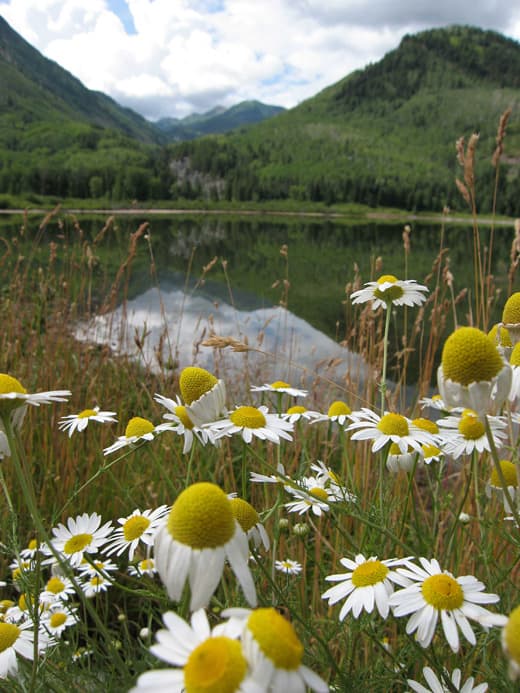 TCM: Is there anything you'd like to add to your interview about your truck camping lifestyle?
Tracy: I think that about covers us.  We love our truck camper and start planning every November for where we can go the next year.  I am sure we will have many more adventures in the years to come, and we always tell everyone how great a truck camper is!
Truck: Was a 2009 Dodge Ram short bed Laramie 2500.  As of two weeks ago, we have a 2012 Silverado 3500 LTZ long bed dually.
Camper: 2010 Palomino Bronco 1200.  We are changing to a long bed hard-side camper soon.
Tie-Downs/Turnbuckles: Torklift tie-downs with Torklift SpringLoad XL turnbuckles
Suspension: Firestone airbags with wireless remote controller (now we have just a stock suspension on the new truck)
Gear: Two solar panels, two yellow top batteries, front mounted hitch for 4500 watt generator, weight distribution hitch, heavy duty utility trailer with home-made mounts for extra gear, water (30 gallons), gasoline (28 gallons), and propane (two 20 pound bottles).  One well built Jeep.