As some folks reach retirement, they put on the brakes and ease back on the gas.  Not Tracy and Steve Schuster.  Brakes off, gas on, and go, go, go!

When some Americans think about retirement, they picture a far away retirement home with a cluster of over stuffed Lazy Boy recliners, a dusty old television, endless Jeopardy re-runs, and regular helpings of stale green Jello and warm mushy peas.
If that image of retirement appeals to you, you're reading the wrong gosh-darn magazine!  Might we suggest Belly Button Lint Gazette, Rocking Chair Journal, or that harbinger of fun and good times, Sleepy Sleep Quarterly.  Harley reads them all.
For the rest of you, meet Tracy and Steve Schuster.  These two are hell bent on having an incredibly vibrant, visceral, and down right thrilling life until someone or something takes their keys.  Angela and I may be a few years from retirement, but we're totally inspired by their go-for-it attitude and lifestyle.  The Schusters have us seriously thinking about just how fast we could go in a tricked out Miata racecar, and how far down the beat-up path we could get in a off-road-maxed-out Jeep.  Go Schusters go!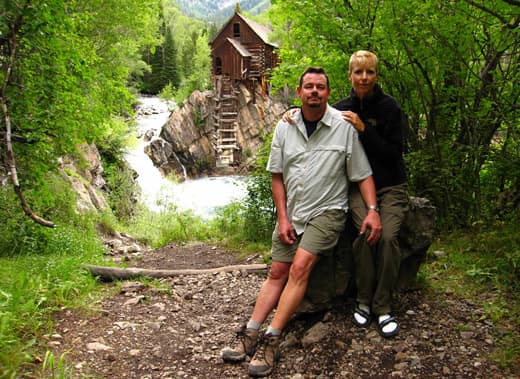 Above: Steve and Tracy Schuster
TCM: You said in an email to Truck Camper Magazine that, "having a truck camper is something we dreamed of more than ten years ago".  How did this dream finally become reality?
Tracy: We started Jeeping in 1998 and by 2000 bought a Dodge Ram 2500 diesel to tow the Jeep.  Soon after we put a camper shell on the back and stayed in the shell a few times.  It didn't take us long to realize that the shell wasn't a feasible camping option.  We longed for a truck camper, but could not afford one at the time.
In 2002, we sold the Jeep and truck and got into driving a Corvette rather than Jeeping.  So the dream and the need for a truck camper died out for awhile.  In 2007, we bought a Hummer H2 and a Coleman Cobalt pop-up camper and loved what that combination allowed us to do, but the Hummer was no Jeep.  In 2009, we sold the Corvette and the Hummer and bought the Dodge truck and the Jeep, which took us right back where we were seven years before.
TCM: And that's when you got your Palomino?
Tracy: Yes.  We were happy to realize that we needed a truck camper because there was no way we were going to return to a life of traveling and staying in hotels after having the Coleman tow behind.  We needed something small, affordable, and able to go off-road.  The Palomino pop-up truck camper fit the bill.
We use our camper to get away from people.  With any other type of motorhome, you are stuck parking next to other motorhomes and people much more often than we want to.  Since we tow a Jeep, the truck and camper is the best solution.  Additionally, I have major food allergies so being able to bring our own food and cook is really important.
We also love the ability to choose what type of adventure we want in any given situation.  Sometimes we opt for boondocking like in the Needles District of Canyonlands, Utah.  At other times, it's great to have the showers and the unlimited electricity offered by a RV park.  People tend to smile at our little pop-up camper, but the pop-up works great for us.  Being able to tailor our experience in this way makes going to the same place several times a completely different experience each time.
TCM: How do you extend your boondocking capabilities?
Tracy: Henry, our little truck camper, is great as long as you don't want to shower, change at the same time, or cook and eat at the same time.  With thirty gallons of fuel and water on the trailer, our capacity for extended, comfortable boondocking is great.  We have done six days at a stretch, not holding back on generator or water usage, and had plenty of water and fuel left over which includes the gas we had to use to refill the Jeep each day.
The key is good storage and planning ahead.  The weekend we bought our camper, we drove it to the Container Store and put storage solutions in every place we could find.  That really extended our camper storage.  Lots of measuring and test fitting in the parking lot was involved.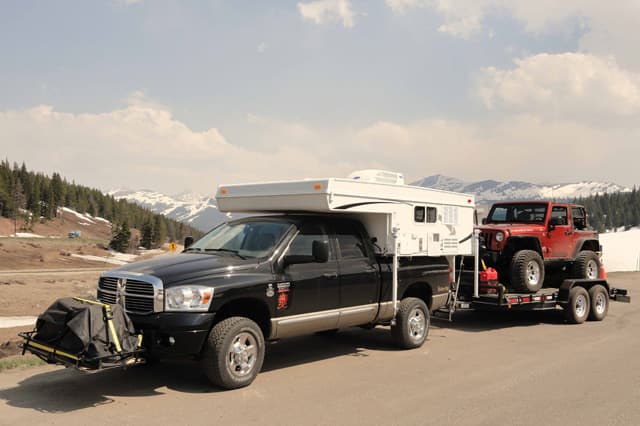 Above: Vail Pass, Colorado with their Palomino Bronco and Jeep in tow