The Sullivan family turns the dirt backroads of America's National Parks, BLM, and National Forests into off-grid memories to last a lifetime.  Go Sophie the cat, go.

No matter how old we are, the hour glass sand falls.  Second by second, minute by minute, hour by hour, day by day, the sands of our lifetime pass through.
While there's nothing any of us can do to stop this relentless countdown, how we spend our time on Earth is up to us.  Yes, we must all go to school.  Yes, most of us still need to work to earn a living.  That said, there's a lot of time before and after school and work, not to mention weekends, holidays, and vacations.
But what about household chores, the responsibilities of raising a family, and the other seemingly endless to-do lists of life?  That's the hard part, and the opportunity.  How we plan, maintain, and prioritize our lives often dictates our ability to do what we truly want to do.
Need a little inspiration?
Despite work, school, and busy lives, Mike and Maria Sullivan have made truck camping with their now eighteen year old daughter a priority.  In their 2011 Northstar Adventurer, the Sullivans have blazed off-road and off-the-grid adventures in National Parks, BLM, and National Forests all over the United States.
In one particularly impressive example, the Sullivans take us down a road with no signs, just off the Beartooth Highway in Wyoming, to a remote off-the-grid boondocking site they call Mike's Campground.  If only every parent would expose their children to such amazing life experiences.  Heck, we want to go.
Well done Mike and Maria.  You've achieved an amazing work-life balance.  Natalie is one lucky girl.  And your cat, Sophie, might be the most adventurous truck camper of us all.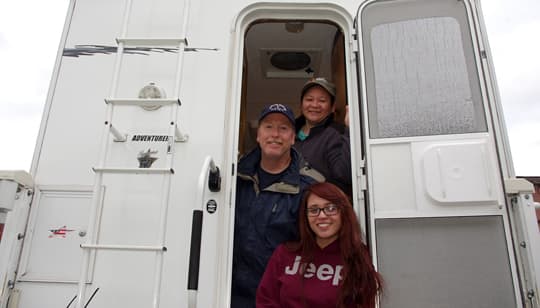 Above: Maria, Mike, and Natalie Sullivan with their Northstar Adventurer
TCM: You had a rather non-linear path to camping and truck camping.  Tell us the story.
Mike: I first started camping in the backyard under an old canvas painter's drop cloth when I was a little kid.  It was held up in the middle with one pole – a shovel – and bricks around the edges.  It looked like a psychedelic teepee.
We never went camping when I was growing up.  All our family vacations were spent in Myrtle Beach or visiting our family in West Virginia and Tennessee.
When I was in my early teens I started buying backpacking gear and reading backpacking magazines.  When I was fifteen I took my first backpacking trip in the New River Gorge in West Virginia.  My grandparents conveniently lived near the gorge.  I was hooked forever.
From the age of fifteen to my early twenties I backpacked in places like the Upper Peninsula of Michigan, Colorado, Wyoming, Montana, Alberta, and British Columbia.  I loved it all.
Then I bought a cap for my pickup.  That was my first RV.  Maria and I traveled and camped with that for years.  Then I wanted a pop-up trailer, but she refused.
When she and her family immigrated to the United States from the Philippines, her dad wanted to see the country.  They traveled from Michigan to Prince Edward Island, down to Louisiana, and back to Michigan with nine of them stuffed into a Cadillac Coupe deVille towing a rickety old Apache pop-up trailer.  I was never going to get her into a pop-up camper again.
Maria: There were too many people traveling in that Cadillac.  We were so rushed because my dad wanted to cover a lot of miles.  We didn't even spend time in the campgrounds.  We got in, set up our camper late, went to bed at 1:00am, got up early, and were off by 6:00am.  I never got to enjoy camping.  We never even had a campfire.
I remember we went to Daytona, and my dad said, "You have twenty minutes to go to the beach".  We rode with our bathing suits on, ready to go.
Mike: So we bought a twenty-six foot travel trailer and used it for thirteen years.  We settled on that trailer because we had a half-ton truck, and the trailer was cheaper than other alternatives.
Towing eventually became a chore.  We were always wondering if we could get into that gas station, or that parking lot, or that campsite.  Plus Maria didn't like to tow it.
I had always admired truck campers.  In the 1970s, television shows like The Rockford Files would frequently have truck campers in the background.  Maybe that's when it started.  They were small enough to go where we wanted to go.
Eventually I started pointing out the truck campers going past us on the freeway, or at a campground.  Whenever I pointed one out, Maria would say, "How 'bout those Red Wings?" to change the subject, which became a running joke.  Finally, in 2010 I convinced her to get a truck camper.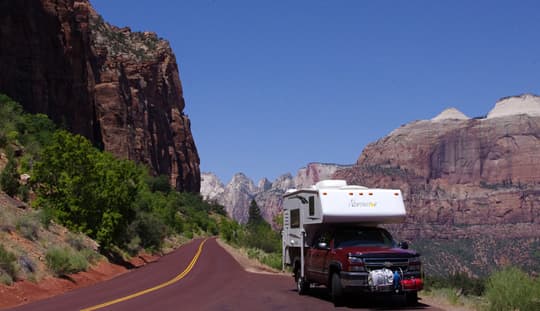 Above: Mike prefers driving a truck camper over the stress of driving a travel trailer rig – Zion National Park, Utah
TCM: How did you convince her?
Mike: Maria saw how frustrated I was with towing.  When your vehicle is that big, no one wants to give you a break.  Whether you're merging or trying to get in and out of a gas station, it is frustrating.  That frustration built up over the years.
Maria: Also, we went to Florida once with only the truck.  Since there was an ice storm the day we left, we didn't want to tow the trailer, so we stayed in hotels, KOA cabins, and a tent.  It was a pain to bring all of our gear and it wasn't comfortable.  Mike was right to get a truck camper.  Now I don't have to bring sheets for a KOA cabin, there are no bed bugs, and we can bring the camper no matter what the weather is like.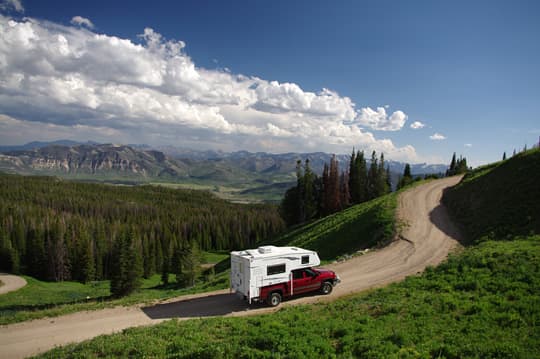 Above: The Sullivan's 2013 Calendar Winning shot.  Their 2005 Chevy 2500HD and 2011 Northstar Adventurer on Clay Butte Fire Tower Road, Wyoming
TCM: How did you decide on a Northstar?
Mike: After much research, our first choice was Northstar Campers.  Their legendary customer service was a big part of that decision, plus the fact that we couldn't find anything negative about Northstar on the Internet.  That's what put them at the top of our short list.  Everyone loved their Northstar truck campers and their customers seemed really happy.
We stopped by the factory in Iowa on our way home from Wyoming and got a two hour tour on a Saturday.  We could see the quality of the campers at the factory.  They aren't slapped together.  We liked what we saw and decided to order one.
I later called Rex Willett, President of Northstar Campers, and discussed which model would be best for our truck, including options and possible custom modifications.  We chose a hard side Northstar Adventurer because of the trauma suffered by my wife and her pop-up experience.
A lot of what we ordered were options that Northstar offers.  The one thing I wanted was bigger windows in the cabover, which wasn't offered as an option.  We asked for bigger windows for more light.  We also have dual propane tanks, and got the heavier insulation that they offer because of cold weather camping.  We also added a couple more twelve volt outlets, another 110 outlet, and eliminated the cabinet in the bathroom.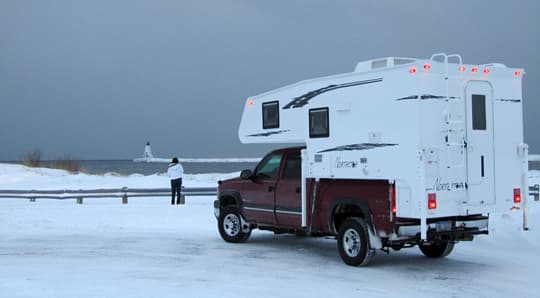 Above: Mike also wanted heavier insulation for cold weather camping – Lake Michigan
This is our fourth year with our Northstar and we love it.  When we bought our camper from Muskegon RV in Muskegon, Michigan we decided to make a long weekend of it.  Our first camping trip was in 7 degree weather.  There was lots of wind and 19" of snow because of the lake effect here in Michigan.
We were impressed because the camper stayed warm and the furnace didn't cycle a lot.  We wound up staying at a World War II submarine museum.  We took the tour and stayed in their parking lot.  That was a lot of fun.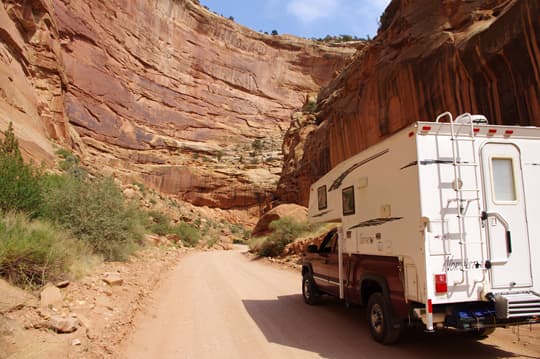 Above: Four wheel drive and staying out of the campgrounds were reasons why the Sullivans got a truck camper – Canyonlands, Utah
Being able to stay out of crowded campgrounds and disappear into the boondocks where travel trailers and motorhomes could never go is probably our number one reason to own a truck camper and four wheel drive.
Living in the massive urban area of Detroit can make humans literally insane.  Just lounging about, reading books, and staring into a campfire without another human in sight is the best psychological therapy money cannot buy.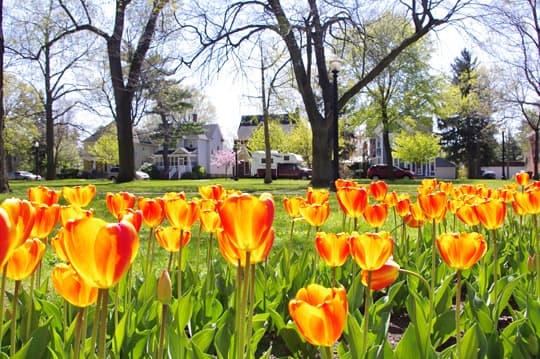 Above: The Tulip Festival in Holland, Michigan
TCM: We're not from Detroit, but we know what you mean.  Sometimes people are the last animals you want to see.  What do you enjoy doing while truck camping?
Mike: We have used our camper to visit family in Tennessee, New Jersey, and Las Vegas.  It's great to just park in the driveway, plug in the camper, and not have to intrude into their space.  Our relatives tell us that we can stay in their house, but we feel better staying in our camper.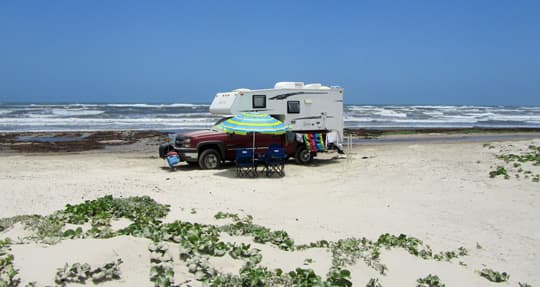 Above: North Padre Island, Texas
TCM: It's funny how often that happens.  Only other truck camper owners understand how we would prefer to stay in the camper.  I think that should be a Question of the Week, "What do you say when you're asked to stay in the house?"  Speaking of questions, what else do you like to do while truck camping?
Mike: Fishing is a must.  A few years ago we tried fly fishing.  We're still novices and have a lot to learn.  We have caught more than a few fish, so we must be doing something right.
We've fly fished in Yellowstone and the Clark's fork of the Yellowstone River.  We've also fished in the Beartooth mountains on Beartooth Lake, Crane Lake, Beauty Lake, and locally in Michigan.  Most of our vacations in past six years have been in Wyoming and Montana.  We always bring the rods with us even if we don't get an opportunity to fish.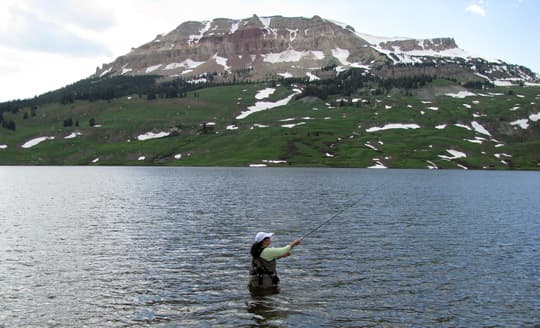 Above: Fishing is a passion for Mike, Maria, and Natalie – Beartooth Lake, Wyoming
TCM: Any tips?
Mike: A friend who fly fishes told me to go out in my front yard and practice casting on my knees or sitting on the ground.  That simulates the water level with the ground.  You don't want to hit the surface of the water when casting back and forth.  We also ask locals what the fish are hitting on.  The fishing stores will also point us to the right fly.  It's a lot of fun.  Fly fishing is an art.
Maria: I didn't think I'd get the hang of fly fishing.  When you see the fish come up to the fly, it's really a personal experience.  It's being one with nature and it's very calming.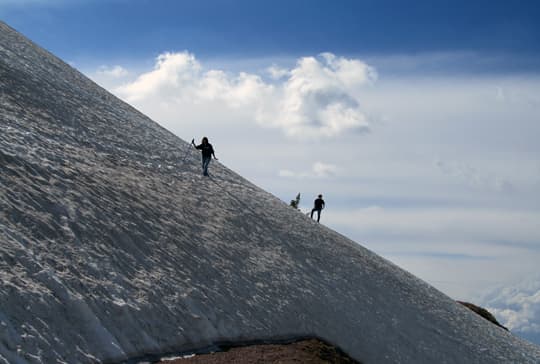 Above: Hiking to Medicine Wheel, Wyoming
Mike: We also love hiking and thought we were doing pretty good until we met a husband and wife camp host in Wyoming.  They regularly hike ten and fifteen miles at a time.  Both of them are in their eighties and put most thirty year olds to shame.  They are truly inspirational.
Above: Exploring Arches, Bryce, and Zion National Parks
TCM: We've met some of the most inspirational and amazing people on trails.  Your photography is incredible.  Our readers are going to want to know where you go to capture these images.
Mike: Anywhere in Utah, Arizona, Colorado, Wyoming, Idaho, or Montana is great.  It's hard to take a bad picture in those settings.
Above: Beartooth Highway, Wyoming
We like the Beartooth Mountains because they are pretty desolate.  There may be other people there, but we can get off the beaten path and not see anybody else.  That is even at the height of tourist season.  We go on vacation the last two weeks in June and first two weeks in July.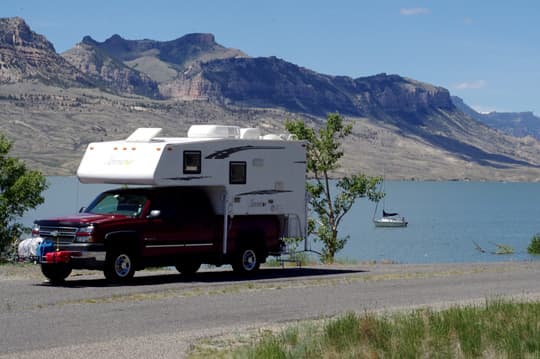 Above: Buffalo Bill State Park, Cody, Wyoming
We also like Buffalo Bill State Park since it's close to Cody and the rodeo.  We were able to get a site there even during peak season.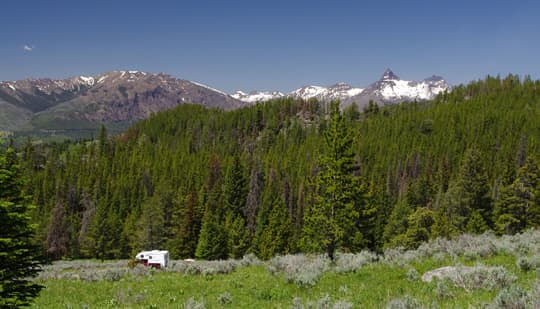 Above: Mike's Campground, Wyoming
There is a camping spot we like that has no name, and no signs.  You can see there was a sign at one time.  Naming it after myself, I call it Mike's Campground.  There's a turn-off, off the Beartooth Highway where we drive up a dirt road and you're there.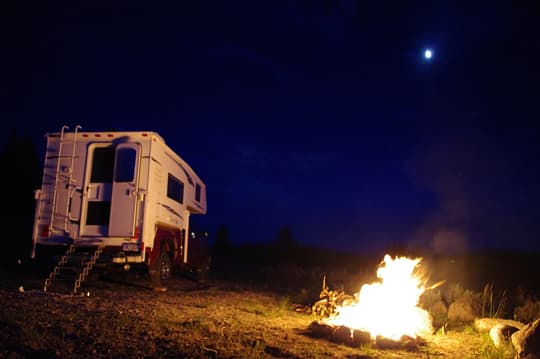 Above: Mike's Campground at night, Wyoming
Established campgrounds are okay, but we prefer to be away from people.  BLM land and National Forests offer nearly unlimited off-the-grid opportunities, but rules are changing all the time.  Check the rules locally.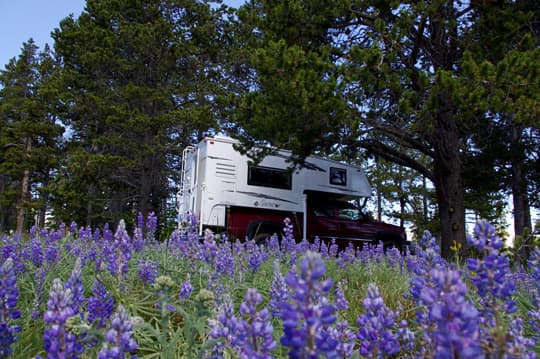 Above: The Bighorn Mountains, Wyoming
TCM: You're going to have folks searching for Mike's Campground.  That's quite a tease.  How do you find these places?
Mike: In the National Forests or on BLM land you can park most anywhere you want, but again, check locally.  In the Bighorn Mountains we have pulled off onto dirt roads, driven way back, and camped.  There may be other campers out there, but they are few and far between.
We see a dirt road and take it.  We couldn't do that with our trailer.  Our truck camper has let us explore more dirt roads and two track roads.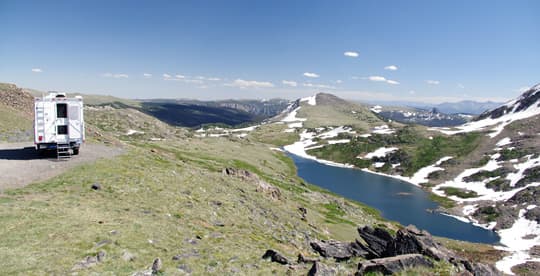 Above: Camping off the Beartooth Highway, Wyoming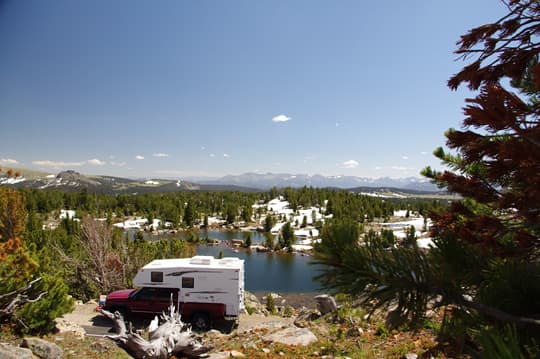 Above: Camping off the Beartooth Highway, Wyoming
TCM: How do you find these dirt roads?
Mike: If you get a DeLorme map of the state, it shows you every road, even the BLM and forest service roads.  We also got a map from the ranger in the Shoshone National Forest.  That was a great map.
In Idaho we used a AAA map that showed us a road through the middle of Craters of the Moon National Monument.  The Idaho state map at the visitors center didn't show the road, but that AAA map did.  That was a great road and took us through the center of the park.  It was pretty cool.  We saw only one other vehicle the entire day.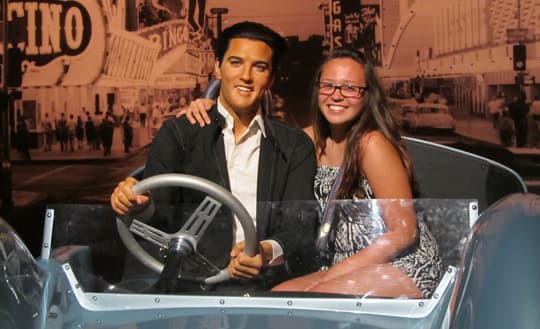 Above: Re-routing the trip to Nevada – Natalie and Elvis in Las Vegas
TCM: It sounds like one trick is to gather as many different maps as you can, and look for roads.  Just be sure you do your homework and appropriate preparations before embarking on a dirt road you don't know.  Do you plan your trips ahead of time or do you let the trip take you?
Mike: One year we started in Wyoming, and it was so cold that we went to southern Utah and then went to Las Vegas to visit our family.  Our trips are unplanned.  We don't want any structure because life is structured enough.  I don't want people telling me to do something at a certain time.  I just want to bum around the country.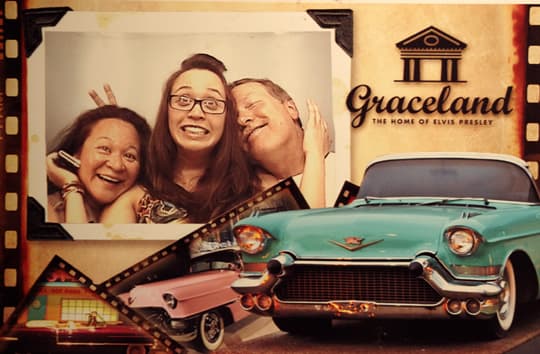 Above: The Sullivans in Graceland
We went on a cruise to Alaska and that didn't work for us because we had to eat at this time, and get off and back on the boat at a certain time.  It was too much structure.  Our best adventures are when things are not planned.
Above: Natalie at Promontory Point
TCM: We don't like to make campground reservations unless we absolutely have to.  Does your daughter enjoy truck camping with you?
Mike: Our eighteen year old daughter, Natalie, has been camping with us since she was born.  She has forty-four states under her belt and is looking forward to getting the last six; California, Alaska…
Maria: …Hawaii, Virginia, North Carolina, and South Carolina.
Mike: She is eighteen now, so she may not be traveling with us too much longer.  She may need to get those last five states on her own.
She drove the rig across the Snowy Range in southwest Wyoming two days after she got her learner's permit.  She also drove across Lake Pontchartrain in Louisiana.  It's a twenty-four mile long bridge.  Natalie loves traveling and road trips.  Just the other day she wanted to borrow the rig.
Maria: She wants to buy her own truck camper.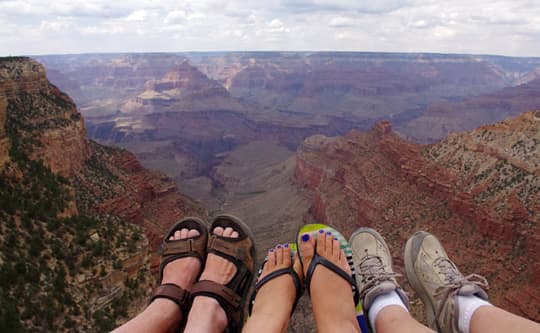 Above: Hanging out at the Grand Canyon, Arizona
TCM: Truck campers can be tight quarters for three adults.  How does that work?
Maria: The camper keeps us close as a family.  We're in our camper for four weeks at a time and we still get along.  We have our moments, but we still get along.
There are times when I need to spread out while I'm cooking.  I'm used to my kitchen at home.  We eat really well on the road and they all know to stay out of my way when I'm cooking.
TCM: What kinds of meals do you prepare when traveling?
Maria: We eat fish if we catch any.  I've made crab cakes, pasta with clam sauce, garlic toast and salad, and hamburgers and french fries, and adobo.  I'll make fried rice and egg rolls.  We've had steak and baked potatoes.  I'll make campfire potatoes.  We've even grilled pizzas on the grill.
Mike: She actually uses the camper oven.  We'll stop at road side stands and buy local produce.  On the road we'll use charcoal or a campfire for cooking.  At home it's the propane grill because it's faster.  It's nice to slow down and enjoy life.
Above: Sophie the cat with different National Park signs
TCM: I see you have a cat and she goes outside.  Do you ever have to worry about her?  Our cat, Harley, would never make it.
Mike: Sophie has been traveling with us for the eight years she has been alive.  She can't wait to get into the camper and travels really well.  Most of the time she has a bright pink harness on because you can't just grab a cat by the skin, but it's easy to grab the harness.  I do wonder about her at Mike's Campground because of the hawks and bears.
Maria: I think I'm more trusting with Sophie.  She has a leash and will go on walks.  I'll let go of the leash to see how far she will go.  I watch her and she stays mostly by the campsite.
Mike: She's never taken off.  I have pictures of her by herself with the national park signs.  She just sits there and lets us take her picture.  She's adventurous, and loves the camper and the truck.
Maria: Once she confronted a mule deer for forty-five minutes.  Sophie was interested and kept watching it.  With her leash she has a radius of fifteen feet.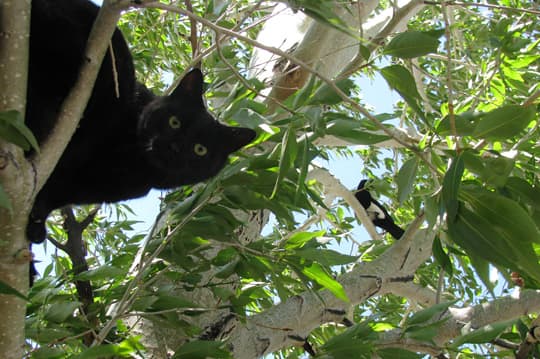 Above: Sophie battles the Magpie, and loses
TCM: Where do you keep the litter box?
Mike: The Breeze litter box has pellets in the top tray with slots.  The bottom tray has an absorbant pad.  I made a smaller version for the camper from two small plastic wash tubs.  The Breeze they sell is too big.  It sits in the bathroom when traveling.  When we go to bed, we put it on the floor by the back door so that we don't trip over it in the middle of the night.
Maria: She's truly a travel cat.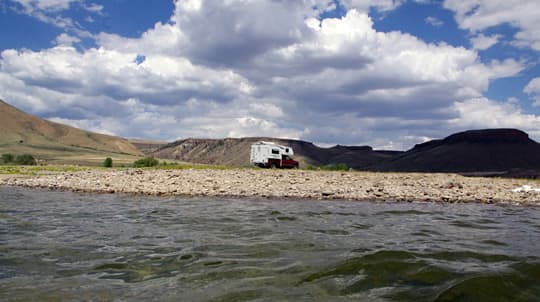 Above: Dry Camping at the Bay of Chickens, Colorado
TCM: That's for sure.  What are your plans this year?
Mike: This year we plan to do more local trips.  We went to Huron-Manistee National Forest in Michigan over Easter.  We are planning on more long weekends to Shipshewana in Indiana, Ontario, and around Michigan.
For our big summer trip this year we are actually going to the dark side and renting a Class A.  My eighty-four year-old mom has always wanted to travel in a big motorhome.  She said she doesn't care where we go; she just wants to watch the world go by.
The summer of 2016 we have talked about going to Vancouver Island again.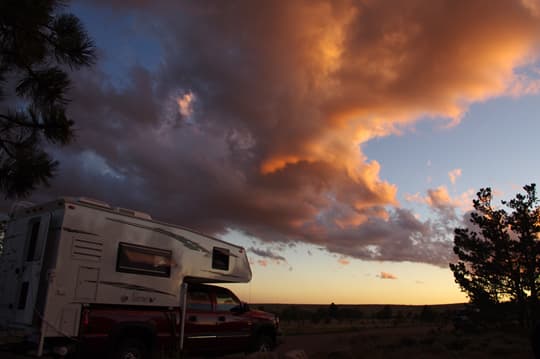 Above: Camping in Vedauwoo, Wyoming
TCM: That sounds like a wonderful trip for your mom.  Is there anything else you would like to add?
Mike: In Wyoming we met a lady who looked at our rig and asked if it was ours.  She said, "Honey, you better do this while you can.  My husband got sick after we bought a motorhome.  Then, he was bed ridden."  They never used the motorhome.  She told us to not wait, and to travel now.
Rig Information
Truck: 2005 Chevy 2500HD, Crew Cab, Short Bed, Single Rear Wheel, 4×4, Gasoline
Camper: 2011 Northstar Adventurer
Tie-Downs and Turnbuckles: Torklift tie-downs and Fastguns
Suspension: Ride-Rite air bags, KYB Monomax shocks, Hellwig Bigwig anti-sway bar
Gear: Front rack with a Honda generator and extended run tank