The Sullivan family turns the dirt backroads of America's National Parks, BLM, and National Forests into off-grid memories to last a lifetime.  Go Sophie the cat, go.

No matter how old we are, the hour glass sand falls.  Second by second, minute by minute, hour by hour, day by day, the sands of our lifetime pass through.
While there's nothing any of us can do to stop this relentless countdown, how we spend our time on Earth is up to us.  Yes, we must all go to school.  Yes, most of us still need to work to earn a living.  That said, there's a lot of time before and after school and work, not to mention weekends, holidays, and vacations.
But what about household chores, the responsibilities of raising a family, and the other seemingly endless to-do lists of life?  That's the hard part, and the opportunity.  How we plan, maintain, and prioritize our lives often dictates our ability to do what we truly want to do.
Need a little inspiration?
Despite work, school, and busy lives, Mike and Maria Sullivan have made truck camping with their now eighteen year old daughter a priority.  In their 2011 Northstar Adventurer, the Sullivans have blazed off-road and off-the-grid adventures in National Parks, BLM, and National Forests all over the United States.
In one particularly impressive example, the Sullivans take us down a road with no signs, just off the Beartooth Highway in Wyoming, to a remote off-the-grid boondocking site they call Mike's Campground.  If only every parent would expose their children to such amazing life experiences.  Heck, we want to go.
Well done Mike and Maria.  You've achieved an amazing work-life balance.  Natalie is one lucky girl.  And your cat, Sophie, might be the most adventurous truck camper of us all.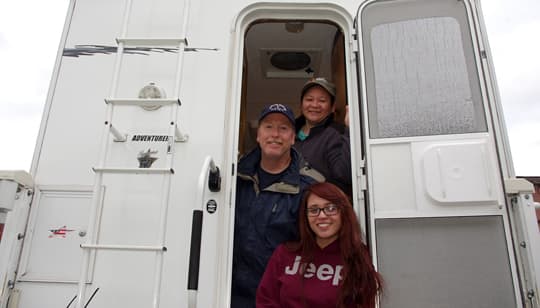 Above: Maria, Mike, and Natalie Sullivan with their Northstar Adventurer
TCM: You had a rather non-linear path to camping and truck camping.  Tell us the story.
Mike: I first started camping in the backyard under an old canvas painter's drop cloth when I was a little kid.  It was held up in the middle with one pole – a shovel – and bricks around the edges.  It looked like a psychedelic teepee.
We never went camping when I was growing up.  All our family vacations were spent in Myrtle Beach or visiting our family in West Virginia and Tennessee.
When I was in my early teens I started buying backpacking gear and reading backpacking magazines.  When I was fifteen I took my first backpacking trip in the New River Gorge in West Virginia.  My grandparents conveniently lived near the gorge.  I was hooked forever.
From the age of fifteen to my early twenties I backpacked in places like the Upper Peninsula of Michigan, Colorado, Wyoming, Montana, Alberta, and British Columbia.  I loved it all.
Then I bought a cap for my pickup.  That was my first RV.  Maria and I traveled and camped with that for years.  Then I wanted a pop-up trailer, but she refused.
When she and her family immigrated to the United States from the Philippines, her dad wanted to see the country.  They traveled from Michigan to Prince Edward Island, down to Louisiana, and back to Michigan with nine of them stuffed into a Cadillac Coupe deVille towing a rickety old Apache pop-up trailer.  I was never going to get her into a pop-up camper again.
Maria: There were too many people traveling in that Cadillac.  We were so rushed because my dad wanted to cover a lot of miles.  We didn't even spend time in the campgrounds.  We got in, set up our camper late, went to bed at 1:00am, got up early, and were off by 6:00am.  I never got to enjoy camping.  We never even had a campfire.
I remember we went to Daytona, and my dad said, "You have twenty minutes to go to the beach".  We rode with our bathing suits on, ready to go.