For their wedding registry, Tony and Stephanie Sloan skipped the traditional silverware and china and asked only for a Four Wheel Camper.  Down the aisle, and off-the-grid.

Over the past decade or so, the subject of the next generation not wanting the family silver, china, or antique heirloom furniture has come up many times, in many different settings, with many different friends from coast to coast.  Our own parents have grandfather clocks, credenzas, dressers, hutches, and formal dining room tables that we can't begin to fit into our life or living quarters.  Thank you, but no thank you.
Another theme we hear again and again is the strong urge to purge these belongings, and live smaller, simpler, and more efficient lifestyles.  It seems a lot of us are taking stock of everything, and making a conscious choice to live with less.
Tony and Stephanie Sloan beat the stuff to the punch by stopping it where it often starts; a sprawling wedding registry with silverware, china, and pepper mills.  Bypassing the usual monogrammed bath towels, ice buckets, and soup tureens, Tony and Stephanie put only one thing on their wedding registry; a Four Wheel Camper.
No thank you tea kettle.  Sorry salad bowls.  Not going to happen with fancy hampers.  All the Sloans wanted for their wedding vows was a brand-new pop-up truck camper.  This marriage was going off-road and off-the-grid, with no traditional wedding stuff necessary.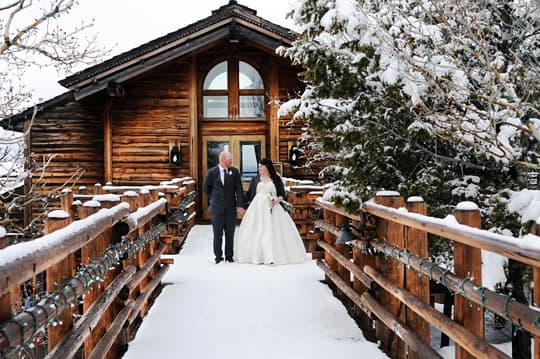 Above: Tony and Stephanie Sloan on their wedding day
How did you come to put a Four Wheel Camper as your one and only wedding registry item?
Tony: It was actually my idea, at least in the beginning.  I started thinking about how cool it would be if we had our own Four Wheel Camper.  I thought about all the opportunities and adventures Stephanie and I would have with it.
When I approached Stephanie, I pitched it as a joke.  I didn't think she would go for it but, the more we talked about it, the more she liked the idea.
We are both in our thirties and we have all the silverware, plates, and belongings we need for day-to-day living.  We didn't need anything more.  What we really wanted was a Four Wheel Camper.  We knew we would be able to use the camper almost every weekend.
"So, what started off as a joke, turned into our wedding gift.  Friends and family donated what they would spend on a gift, and we put that towards the camper."
We are both very practical people and were not very interested in traditional wedding gifts.  We would trade a night under the stars for a crappy blender any day.  So, we put together a website to begin our path to a new Four Wheel Camper.
So, what started off as a joke, turned into our wedding gift.  Friends and family donated what they would spend on a gift, and we put that towards the camper.  We love it.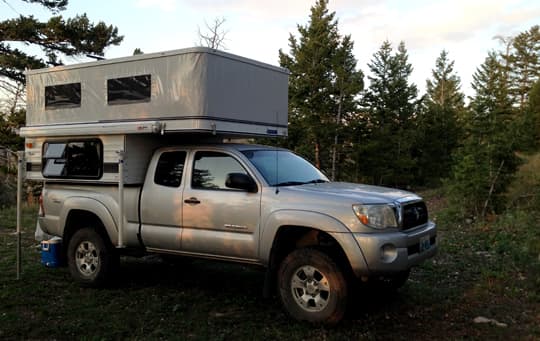 Above: Their wedding gift, a Four Wheel Camper Fleet
How did your friends and family respond to your request for a non-traditional wedding gift?
Tony: We got a mixed reaction.  My mother is more traditional and said, "You're doing what?"  Some of the older friends and family members asked, "What are you doing about this item or that?"  We explained that we would buy those things if we needed them.
Most of my friends thought that it was the best idea ever and were jealous that Stephanie went for it.  We are young and don't have kids.  We want to get out and experience life.  Our camper is the perfect avenue to do that.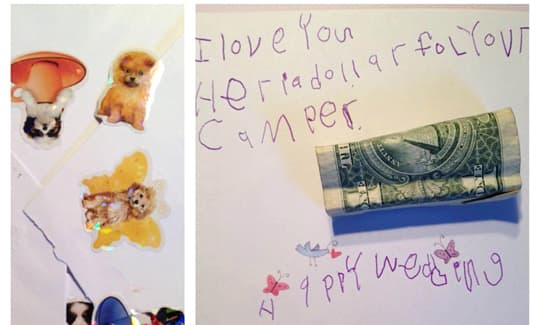 Above: The card and dollar from their niece
You set up your registry online.  Did that work?
Tony: We only ended up with three online gifts.  Most people brought a traditional card to our reception with a check inside.
We received a card with a dollar inside from our niece.  Stephanie's brother and sister-in-law explained to their four-year-old daughter what we were doing.  She wanted to contribute, so she got a dollar out of her savings for our camper.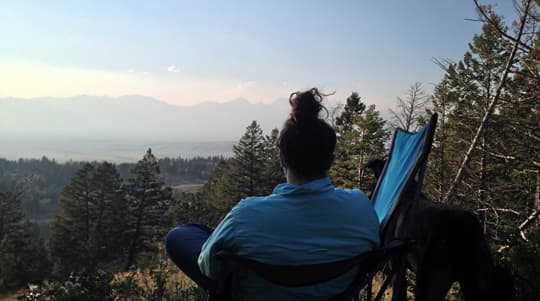 Above: The camper has been a chance for them to spend quality time together
That's incredibly cute.  Did you get enough to buy the camper?
Tony: Well, we didn't quite get enough money to outright pay for the camper, but we did get more than enough for a down payment, and we financed the rest.
Our wedding was on March 30, 2014, and our reception was in August.  Our camper showed up the first week of September.  The camper has been a chance for us to spend time together, and build our relationship.  Our friends and family recognized that, and ultimately it worked out great.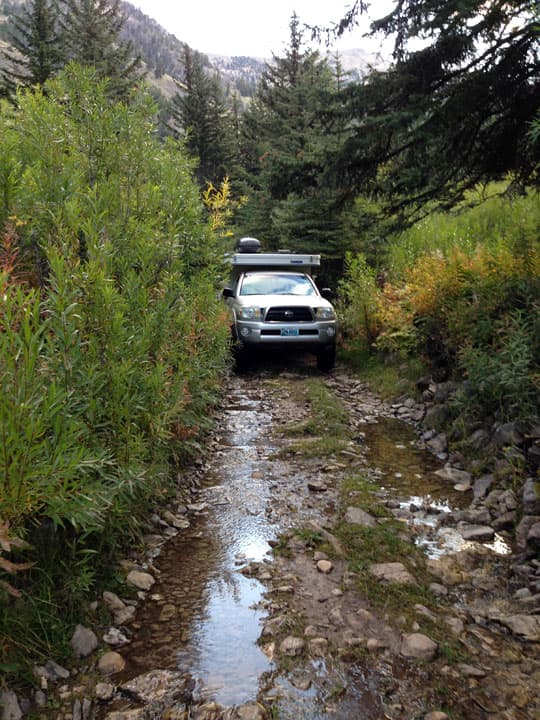 Above: Flat Creek, Wyoming
The welded aluminum construction also allows us to camp off-road and off-the-grid in isolated places far from campgrounds.  I guarantee you won't see travel trailers or fifth-wheel rigs where we camp.
"I guarantee you won't see travel trailers or fifth-wheel rigs where we camp."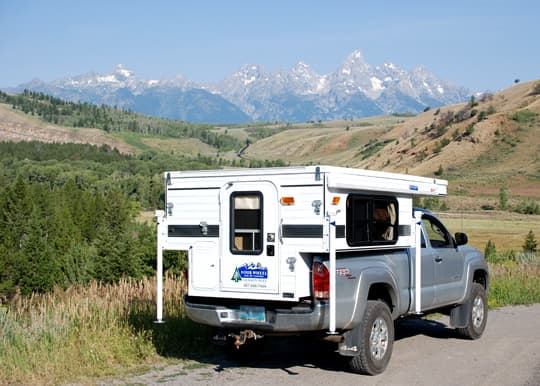 Above: Upper Gros Ventre, Wyoming
Now you have us intrigued.  Where exactly do you camp?
Tony: We enjoy camping around Jackson.  We go to the Green River Lakes, which is an hour south of Jackson.  Around Jackson, there are a lot of forest service roads.  We'll drive up and find different spots.
There's a place called Slide Lake, which is northeast of Jackson.  If you keep going east, the landscape changes, and it gets more desert-like.  That's interesting as well.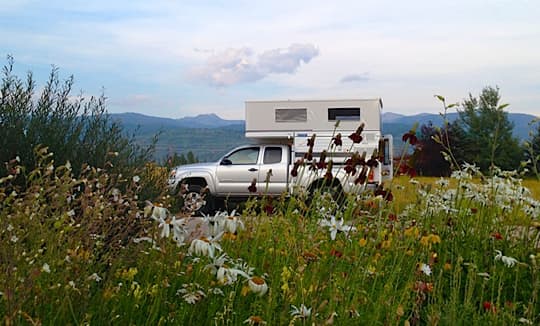 Above: The wildflowers in Victor, Idaho
Curtis Canyon has pretty sweet campsite views of the Tetons.  That's a half-hour away.  I have a secret spot that's tucked away, and usually empty.  It's got a fire ring and an incredible view of the Tetons.  There isn't a better place nearby to view sunsets and sunrises.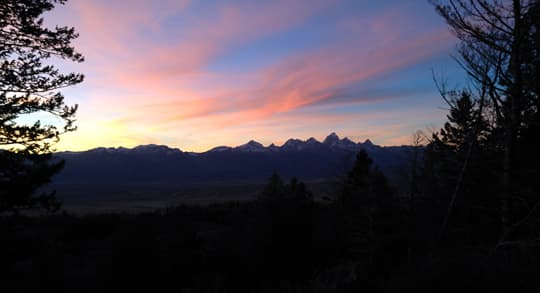 Above: Sunset at Curtis Canyon, Wyoming
Hoback Canyon is great.  Hoback and the Snake River canyon have campsites along them, but that's a big whitewater destination, so it gets crowded.  It's still worth it.  Occasionally we'll go to Greybull, Wyoming, where Stephanie's from.  That's nice too.
When we need to warm up a little, we head to the desert in Utah somewhere.  It's great to have a stocked truck and camper that you can just hop into on a Friday evening and start driving.
"It's great to have a stocked truck and camper that you can just hop into on a Friday evening and start driving."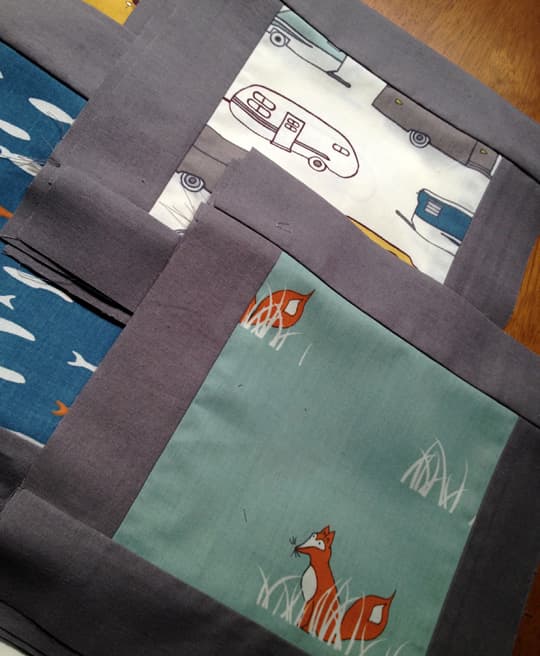 Above: Stephanie has designed a king-sized camper quilt
Did you need to modify your truck to make it more off-road ready?
Tony: The only modification we needed was to the suspension.  I love Toyota Tacomas, but their suspension is lousy if you put any weight in the bed.  We went with an ARB Old Man Emu setup to beef things up.
As far as the camper goes, we added the roof rack to carry extra gear and are considering a solar panel.  The interior was customized through Four Wheel Campers and Stephanie designed a king-size camper quilt specifically for our bed.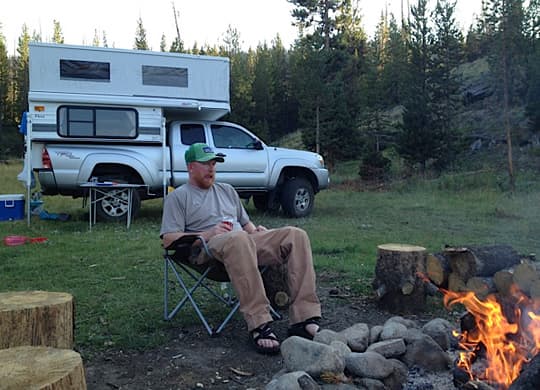 Above: Having a campfire at Green River Lakes, Wyoming
What activities do you enjoy when you're out in your Four Wheel Camper?
Tony: We use it to go hunting, fishing, mountain biking, and skiing.  We also use it for checking out wildlife, outings with friends, attending concerts, and just plain old camping.  It even served as our sleeping quarters in our driveway when we were remodeling our home this past winter.
Stephanie started a blog about our camper adventures so that friends and family could see where their wedding registry money went.  She has a lot of photographs on the blog, so photography is another big part of our adventures.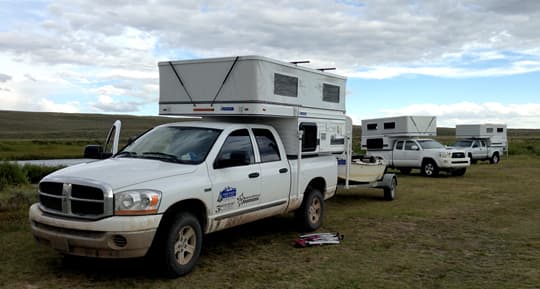 Above: Four Wheel Campers hanging out at the Green River
In one of the photographs you sent in there are three Four Wheel Camper rigs.  How did that come together?
Tony: That was through my friend Denny with the Four Wheel Camper dealership in Jackson.  We have been friends for over a decade and have been hunting and fishing together many times.  That photograph was taken on a trip to the Green River for fishing and floating.
You said you stayed in your camper during the winter as you were remodeling your home.  Wasn't that cold?
Tony: We stayed in the camper for a few nights when we were drywalling.  When drywall is drying, you keep the house heat up high, and the drywall smells terrible.  I didn't want to deal with the heat or the stink.
I popped up the Four Wheel Camper in our driveway, plugged it in, and we stayed in the camper.  I think it was about twenty degrees outside, but we have the Arctic Package and a portable electric space heater.  We were quite warm and comfortable.
Stephanie and I grew up in cold places, so we're thick-blooded when it comes to cold.  We could have run the camper's built-in propane heater, but we were next to the house and used electricity instead.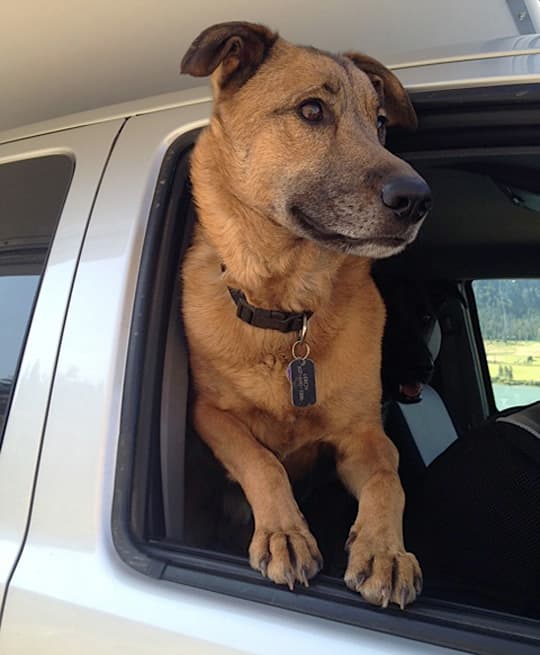 Above: Leroy, a Belgian Malinois, about four years old
Tell us about your dogs.
Tony: We have two dogs that we got from the Animal Adoption Center here in Jackson.  They are our constant companions when we go camping.  I'm fairly certain that they love camping even more than we do.
Leroy is the brown one.  He's a Belgian Malinois and about four years old.  Dutch is the black one, he is around two, and he is a Dutch Shepard mix.  We adopted Dutch about a year ago so that Leroy would have a buddy to play with.  They became fast friends.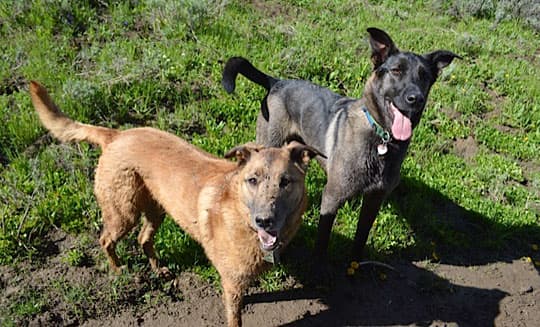 Above: Leroy and Dutch love camping
We take Leroy and Dutch everywhere.  At night we stay in the king-size bed in the cabover, and the dogs stay on their dog beds on the floor.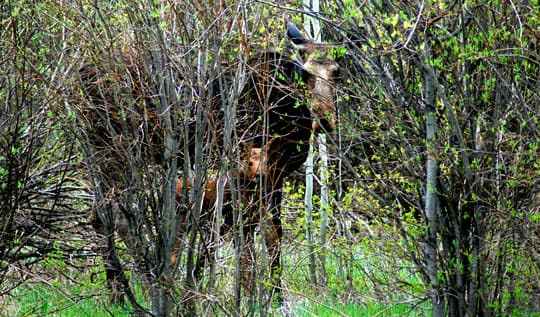 Above: The biggest threat to their dogs is moose
Dutch likes to chase stuff.  When he sees deer, he wants to chase them.  We have a shock collar to keep him under control.  We have not seen bears when camping.  Hopefully, we never will, but you never know.  The biggest threat is moose.  Leroy got charged by moose once because it had cornered itself.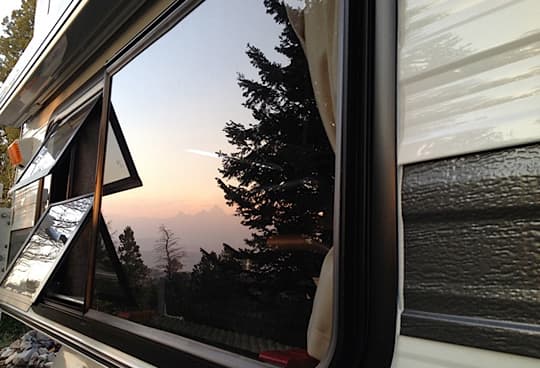 Above: Reflection of the Tetons in their camper's window
That's one issue we don't have to worry about with our cat.  He's not going to chase a moose anytime soon.  What are your truck camping plans for the future?
Tony: We would love to continue to explore.  There are millions of backcountry opportunities out there that we want to experience.  As we can come up with the time and the wherewithal, we will be traversing the countryside nationwide and, hopefully, some international trips as well.
Rig Information
Truck: 2007 Toyota Tacoma, Extended Cab, Long Bed, Single Rear Wheel, 4×4
Camper: 2014 Four Wheel Fleet
Tie-Downs and Turnbuckles: Four Wheel stock install kit
Suspension: ARB Old Man Emu two-inch lift with heavy-duty front and extra rear leaf
Gear: Roof mount Yakima bike and rocket box (planning a solar panel) and hitch mount Yakima bike rack
To visit the Four Wheel website, go to fourwheelcampers.com. Click here for a free Four Wheel brochure.