For their wedding registry, Tony and Stephanie Sloan skipped the traditional silverware and china and asked only for a Four Wheel Camper.  Down the aisle, and off-the-grid.

Over the past decade or so, the subject of the next generation not wanting the family silver, china, or antique heirloom furniture has come up many times, in many different settings, with many different friends from coast to coast.  Our own parents have grandfather clocks, credenzas, dressers, hutches, and formal dining room tables that we can't begin to fit into our life, or living quarters.  Thank you, but no thank you.
Another theme we hear again and again is the strong urge to purge these belongings, and live smaller, simpler, and more efficient lifestyles.  It seems a lot of us are taking stock of everything, and making a conscious choice to live with less.
Tony and Stephanie Sloan beat the stuff to the punch by stopping it where it often starts; a sprawling wedding registry with silverware, china, and pepper mills.  Bypassing the usual monogramed bath towels, ice buckets, and soup tureens, Tony and Stephanie put only one thing on their wedding registry; a Four Wheel Camper.
No thank you tea kettle.  Sorry salad bowls.  Not going to happen fancy hampers.  All the Sloans wanted for their wedding vows was a brand new pop-up truck camper.  This marriage was going off-road and off-the-grid, no traditional wedding stuff necessary.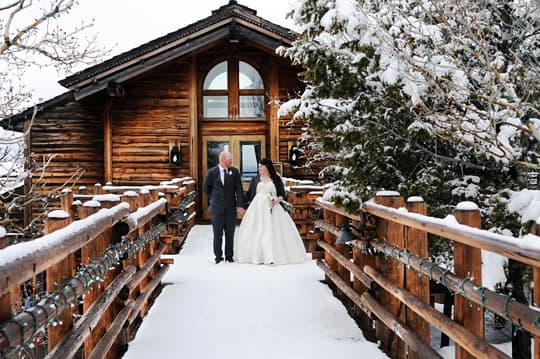 Above: Tony and Stephanie Sloan on their wedding day
TCM: How did you come to put a Four Wheel Camper as your one and only wedding registry item?
Tony: It was actually my idea, at least in the beginning.  I started thinking about how cool it would be if we had our own Four Wheel Camper.  I thought about all the opportunities and adventures Stephanie and I would have with it.
When I approached Stephanie, I pitched it as a joke.  I didn't think she would go for it but, the more we talked about it, the more she liked the idea.
We are both in our thirties and we have all the silverware, plates, and belongings we need for day to day living.  We didn't need anything more.  What we really wanted was a Four Wheel Camper.  We knew we would be able to use the camper almost every weekend.
We are both very practical people and were not very interested in traditional wedding gifts.  We would trade a night under the stars for a crappy blender any day.  So, we put together a website to begin our path to a new Four Wheel Camper.
So, what started off as a joke, turned into our wedding gift.  Friends and family donated what they would spend on a gift, and we put that towards the camper.  We love it.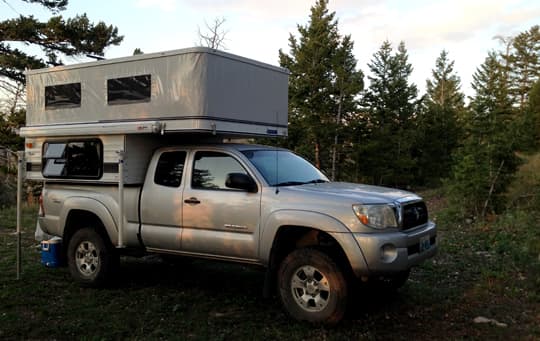 Above: Their wedding gift, a Four Wheel Camper Fleet
TCM: How did your friends and family respond to your request for a non-traditional wedding gift?
Tony: We got a mixed reaction.  My mother is more traditional and said, "You're doing what?"  Some of the older friends and family members asked, "What are you doing about this item or that?"  We explained that we would buy those things if we needed them.
Most of my friends thought that it was the best idea ever and were jealous that Stephanie went for it.  We are young and don't have kids.  We want to get out and experience life.  Our camper is the perfect avenue to do that.