TCM: From your photos it looks like you spent some time at Toroweap Point.
Bob: We really enjoyed Toroweap Point.  It's located in Grand Canyon National Park on the far west end of the north rim.  Just west of Kanab, Utah is Antelope Valley Road.  The first sixty-five to seventy miles is a good gravel road, and not much washboard (at least there wasn't in May 2014).  The last ten miles is dirt and rock.  It's pretty rough.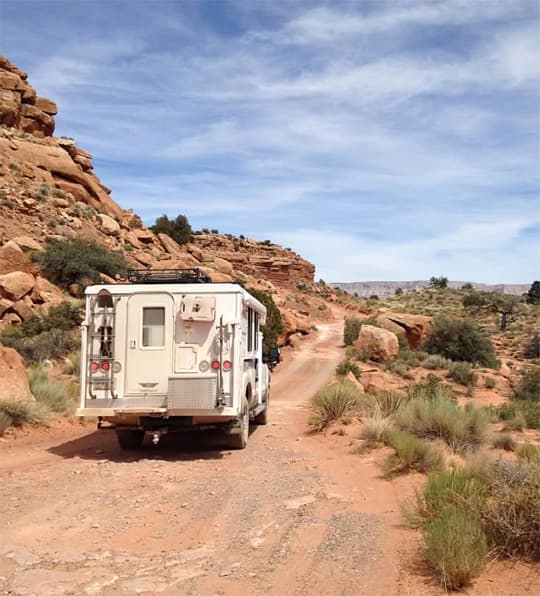 Above: The rocky road leading into Toroweap Point on the North Rim of the Grand Canyon
With the rocky road, at some points, one side of your truck is down and the other side is up as it's meandering over the rocks.  It's a place where you want to have a good tire patch kit, a spare tire, and a high clearance vehicle with four-wheel drive.  The road is a little rough, but the campsite location is truly a one-of-a-kind experience.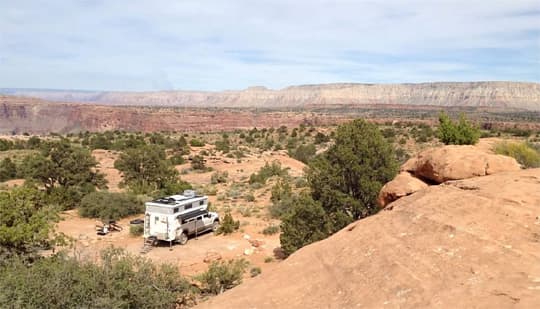 Above: Camping at Toroweap Point, North Rim, Grand Canyon National Park
The camp facility is a national park with ten campsites on about twenty acres, so it's really spread out.  There are pit toilets, but no water or power.
Up until this past September, Toroweap Point had been a no reservation campground.  There was no way to know ahead of time if there was availability.  This past September they started an online reservation for the campsites in Toroweap.  Now you can go online and plug in dates.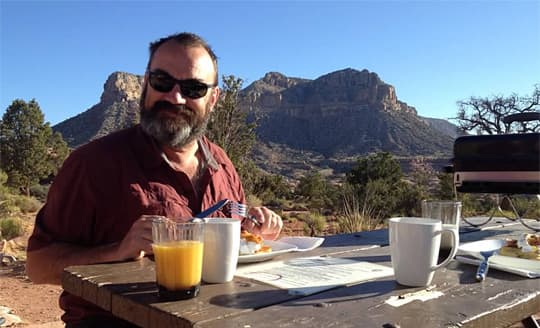 Above: Breakfast at Toroweap Point, North Rim, Grand Canyon National Park
Jean: Three of the Toroweap Point campsites are quite accessible.  The other seven are down a hill with big rocks.
Bob: If you make the reservations online, site numbers 1, 2, and 3 were the easy to access sites, and 4 through 10 were more challenging to access.  It was a short 100 foot hill to the other campsites, but my truck is long wheel base, so I wanted to stay at the top of the hill.  We did see a four-wheel drive Ford Econoline van go down to those sites.
There is an information center in Kanab where you can get information on Toroweap.  About four to five miles before you get to Toroweap, there's a ranger station.  The ranger came out on his Honda motorcycle once a day to make sure people were okay.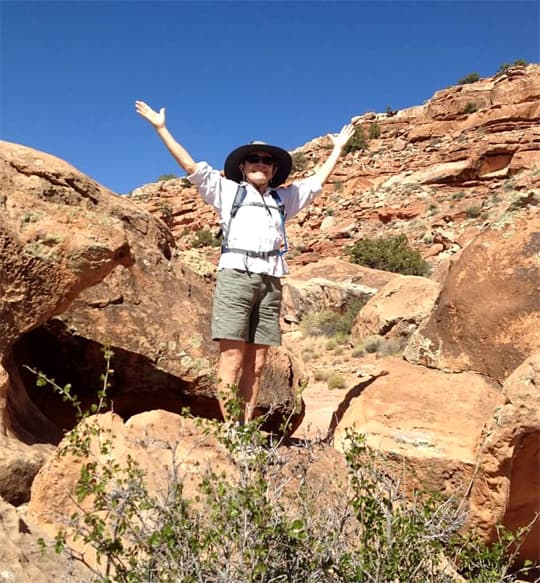 Above: Tukup Trail, Toroweap Point, North Rim, Grand Canyon National Park
Jean: It's a short walk from the campground to the rim where there are trails.  There are no railings, but there are little cairns that mark the trails.  It's great hiking along the plateau with beautiful scenery.  The views of the Canyon and the Colorado River are some of the most spectacular in the park.  Best of all, there are no crowds.
TCM: We've done our fair share of cliff-side no-railing trails.  It certainly gets your attention.  Tell us about your trip through Canada this past summer.
Bob: We drove on the Bella Coola Highway and we highly recommend it.  It's about 300 miles north of Vancouver to Williams Lake.