Above: Jean and Bob's Hallmark Cuchara, a long bed, pop-up camper with a wet bath
TCM: It sounds like a fantastic retirement plan, one we may copy ourselves.  What led you to choose a pop-up truck camper?
Bob: My goal was to assemble a rig that could take us to out of the way places comfortably.  It had to withstand the rigors of travel on rough gravel and dirt roads.  It had to be equipped to handle unexpected adverse weather environments like snow, frost, mud, and heat.  It also needed to be lightweight, self-contained, and support a self-reliant camping style.
Pop-up truck campers have a low center of gravity in the top-down travel position.  That makes them more stable on rough roads.  After a lot of research into the various pop-up truck camper brands, I concluded that a Hallmark Cuchara was the best choice to meet my goals and budget.
The Hallmark Cuchara provided a suitable floor plan that included a bathroom with a cassette toilet, a queen size bed with under bed stowage, and an efficient galley and dining area.  The Cuchara also features large windows for lots of natural light and great views.  Furthermore, I prefer Hallmark's molded fiberglass frame construction over wood frame or aluminum frame construction.
I worked with Matt Ward at Hallmark via phone and email for about three months making our choices for the camper.  It was an easy process.  We also special ordered our truck, a 2013 Ford F-250.  We took delivery of the Ford nine months prior to the camper.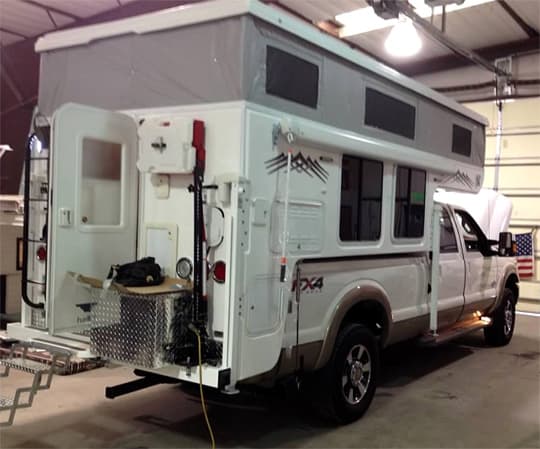 Above: Picking up their Hallmark Cuchara at the Hallmark factory in Ft. Lupton, Colorado
TCM: Were you able to visit the factory before you took delivery of the camper?
Bob: Yes, we lived in Colorado before we moved to Arizona and made visits to the Hallmark RV factory while our camper was under construction.  Along the way we made a few tweaks, and talked to them about the cassette toilet system.  We wanted the cassette, and had the standard black holding tank area converted into an auxiliary fresh tank.
After taking delivery of the camper, I had a little problem from a terrible washboard road that went on for fifty miles.  A couple of screws vibrated out of the roll-out awning and were gone.  I took it in, and we talked about a permanent fix, which they did.  The team at Hallmark is great to work with.
They are not just interested in fixing your camper, but also incorporating those solutions into the next Hallmark that's built.  It is enjoyable to work with a manufacturer who is interested in your satisfaction and wants to make a great product even better.  I also like that they are really authentic people.  They want the feedback.
Above: The Gila Wilderness, New Mexico – click to enlarge
TCM: Debbie Ward at Hallmark said something about Jean originally wanting to stay at hotels, but had a change of heart after using the camper for a bit.
Jean: When we first got the camper, I thought that after two or three days of not having a shower, I would want to pull into a hotel and take a shower.  When we were camping at the ranch this past summer, there was no indoor plumbing, so I wound up using the outdoor shower on the Hallmark.  It took me a couple of days, but I gave in and I was so happy to have it.  It made me more comfortable.
We were on the road from the first of July until the second week of October.  We didn't stay in any hotels.  We did stay with friends for a few days, but we were in the camper all but a dozen nights out of three and a half months.
I'm almost to the point where I don't want to stay in the hotel.  You'll get into a room that you're not happy with because it's noisy or not clean.  We would rather stay in our clean, quiet, and familiar camper.
I quite enjoy the truck camper now.  We've been to some cool places.  We are beyond the tent stage.  The Hallmark is really the best fit for us.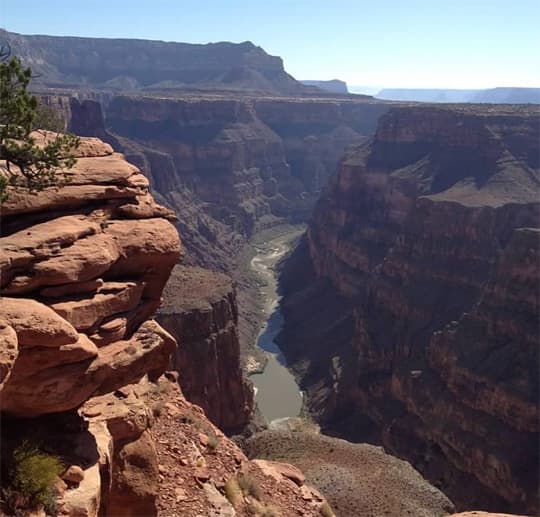 Above: Toroweap Point, North Rim, Grand Canyon National Park