For their off-road retirement plan, Bob and Jean Fouty bought a Hallmark Cuchara pop-up truck camper and set-out to explore the dirt, gravel, and washboard roads of America.

In the mid-2000s, Gordon and I came face-to-face with folks who were not only enjoying their retirement, but were literally having the time of their lives.  These people weren't sitting around watching television and napping, they were out playing like kids in college.
Their daily activity menu consisted of boating, fishing, tennis, golf, gourmet cooking, party planning and every conceivable hobby and pass time.  The more we observed, the more we thought, "Retirement sure looks like fun!"  Having met many retired truck camper friends since, this opinion has only strengthened.
So why is it that so many folks dread retirement; as if it's the end of their productive lives, and not the beginning of a new and exciting adventure?  Maybe they just don't know what's possible.  Maybe they're just not interested in anything outside of work.  Or, perhaps, they're afraid to step out and live life beyond the familiar.  Routine can be tough to break.  Change can be scary.
Bob and Jean Fouty took a different tactic to retirement planning.  They knew exactly what they wanted to do after work; off-road exploration throughout the United States and Canada.  The question was how, and with what?  After considerable research, the answer was a Hallmark Cuchara and a four-wheel drive Ford F-250.  Now that's the kind of retirement plan many of us could agree to.
If anyone out there needs a little inspiration about what retirement can really be, please read this article.  Just be careful.  You might find yourself giving notice a little earlier than planned.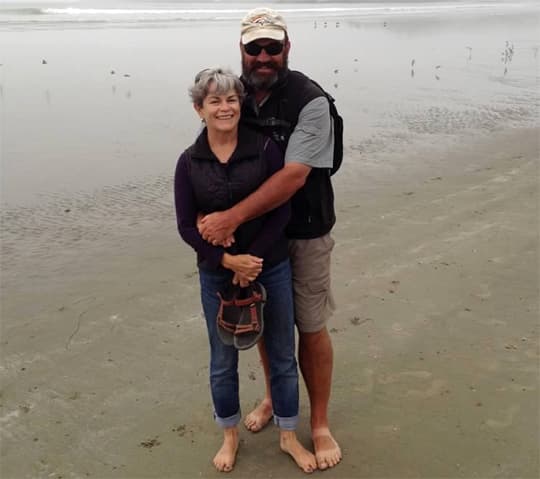 Above: Jean and Bob Fouty at Long Beach, California
TCM: Tell us about your camping experiences and lifestyle over the years.
Bob: I tent camped with my family when I was young.  I was also a Boy Scout.  Jean never camped but, growing up on a farm, her family always had a tent in the backyard for sleeping on hot summer nights.  When we started dating in the 1970s, weekend camping trips were a great way to get out of the city.
My 1972 Datsun pickup with a canopy was our camping vehicle of choice.  I put a piece of raised plywood in the back where we stored a camp stove, dishes, and our stuff.
In the 1980s, with three small children and a dog, we graduated to a used 23.5 foot travel trailer pulled behind a diesel powered Toyota Landcruiser.
We have always traveled up to the Okanagan Valley in British Columbia in the summers.  We have a property there that's been passed down in my family.
During those summers, I would work construction jobs at various British Columbia locations.  The kids were on summer vacation, so we would load up the trailer and find a camping spot.  The kids still talk about those summers.
During the 1990s, we sold the trailer and returned to family tent camping in both Alberta and British Columbia.  When our kids got older, they were less enthusiastic about camping with us and went out camping with their friends.  At that point, Jean and I stopped camping until I retired in 2014.
As I looked forward to retirement, I started thinking about what we wanted to do in our retirement years.  We love traveling around and seeing the country and getting on the path less traveled.  We thought about ways to do that while still having reasonable creature comforts.
We are in our mid-sixties, and we are not really into sleeping on the ground any more.  We wanted something of size with amenities, but not so big that we couldn't enjoy four-wheel drive roads.  We wanted to be able to go out for five or six days without worrying about water.  We wanted to be self-contained.  We wanted someplace to play games inside and be comfortable during bad weather.
We are definitely comfortable in our Hallmark.  When my neighbor saw our espresso maker in the camper I said, "We're roughing it, but we're not savages."  This is our retirement plan.  For what we wanted, the Hallmark works.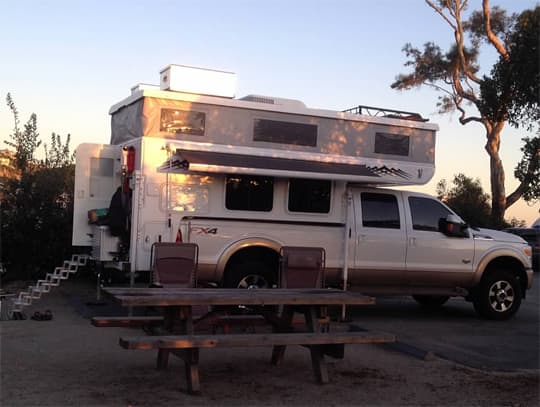 Above: Jean and Bob's Hallmark Cuchara, a long bed, pop-up camper with a wet bath
TCM: It sounds like a fantastic retirement plan, one we may copy ourselves.  What led you to choose a pop-up truck camper?
Bob: My goal was to assemble a rig that could take us to out of the way places comfortably.  It had to withstand the rigors of travel on rough gravel and dirt roads.  It had to be equipped to handle unexpected adverse weather environments like snow, frost, mud, and heat.  It also needed to be lightweight, self-contained, and support a self-reliant camping style.
Pop-up truck campers have a low center of gravity in the top-down travel position.  That makes them more stable on rough roads.  After a lot of research into the various pop-up truck camper brands, I concluded that a Hallmark Cuchara was the best choice to meet my goals and budget.
The Hallmark Cuchara provided a suitable floor plan that included a bathroom with a cassette toilet, a queen size bed with under bed stowage, and an efficient galley and dining area.  The Cuchara also features large windows for lots of natural light and great views.  Furthermore, I prefer Hallmark's molded fiberglass frame construction over wood frame or aluminum frame construction.
I worked with Matt Ward at Hallmark via phone and email for about three months making our choices for the camper.  It was an easy process.  We also special ordered our truck, a 2013 Ford F-250.  We took delivery of the Ford nine months prior to the camper.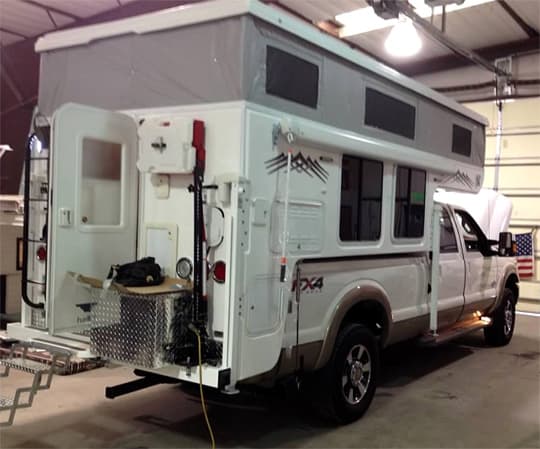 Above: Picking up their Hallmark Cuchara at the Hallmark factory in Ft. Lupton, Colorado
TCM: Were you able to visit the factory before you took delivery of the camper?
Bob: Yes, we lived in Colorado before we moved to Arizona and made visits to the Hallmark RV factory while our camper was under construction.  Along the way we made a few tweaks, and talked to them about the cassette toilet system.  We wanted the cassette, and had the standard black holding tank area converted into an auxiliary fresh tank.
After taking delivery of the camper, I had a little problem from a terrible washboard road that went on for fifty miles.  A couple of screws vibrated out of the roll-out awning and were gone.  I took it in, and we talked about a permanent fix, which they did.  The team at Hallmark is great to work with.
They are not just interested in fixing your camper, but also incorporating those solutions into the next Hallmark that's built.  It is enjoyable to work with a manufacturer who is interested in your satisfaction and wants to make a great product even better.  I also like that they are really authentic people.  They want the feedback.
Above: The Gila Wilderness, New Mexico – click to enlarge
TCM: Debbie Ward at Hallmark said something about Jean originally wanting to stay at hotels, but had a change of heart after using the camper for a bit.
Jean: When we first got the camper, I thought that after two or three days of not having a shower, I would want to pull into a hotel and take a shower.  When we were camping at the ranch this past summer, there was no indoor plumbing, so I wound up using the outdoor shower on the Hallmark.  It took me a couple of days, but I gave in and I was so happy to have it.  It made me more comfortable.
We were on the road from the first of July until the second week of October.  We didn't stay in any hotels.  We did stay with friends for a few days, but we were in the camper all but a dozen nights out of three and a half months.
I'm almost to the point where I don't want to stay in the hotel.  You'll get into a room that you're not happy with because it's noisy or not clean.  We would rather stay in our clean, quiet, and familiar camper.
I quite enjoy the truck camper now.  We've been to some cool places.  We are beyond the tent stage.  The Hallmark is really the best fit for us.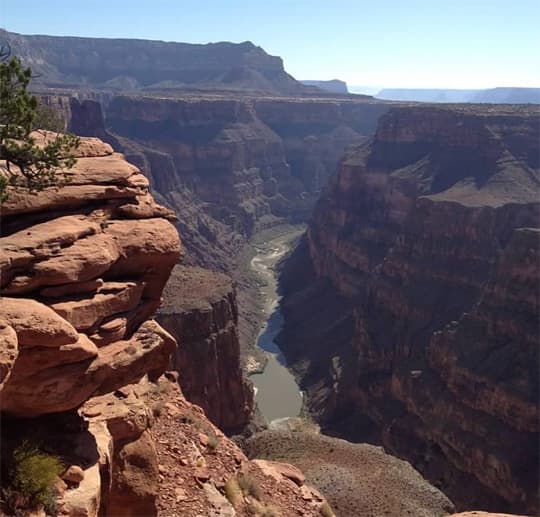 Above: Toroweap Point, North Rim, Grand Canyon National Park
TCM: From your photos it looks like you spent some time at Toroweap Point.
Bob: We really enjoyed Toroweap Point.  It's located in Grand Canyon National Park on the far west end of the north rim.  Just west of Kanab, Utah is Antelope Valley Road.  The first sixty-five to seventy miles is a good gravel road, and not much washboard (at least there wasn't in May 2014).  The last ten miles is dirt and rock.  It's pretty rough.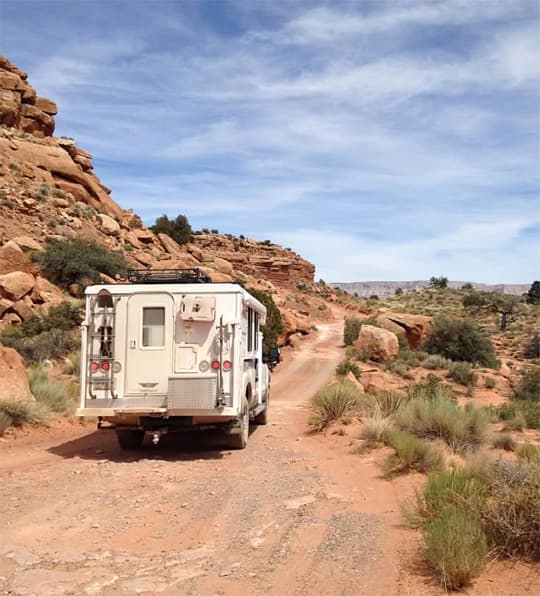 Above: The rocky road leading into Toroweap Point on the North Rim of the Grand Canyon
With the rocky road, at some points, one side of your truck is down and the other side is up as it's meandering over the rocks.  It's a place where you want to have a good tire patch kit, a spare tire, and a high clearance vehicle with four-wheel drive.  The road is a little rough, but the campsite location is truly a one-of-a-kind experience.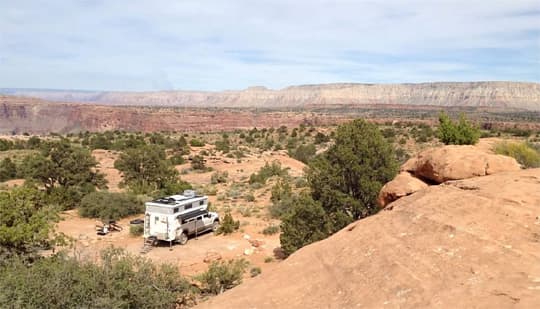 Above: Camping at Toroweap Point, North Rim, Grand Canyon National Park
The camp facility is a national park with ten campsites on about twenty acres, so it's really spread out.  There are pit toilets, but no water or power.
Up until this past September, Toroweap Point had been a no reservation campground.  There was no way to know ahead of time if there was availability.  This past September they started an online reservation for the campsites in Toroweap.  Now you can go online and plug in dates.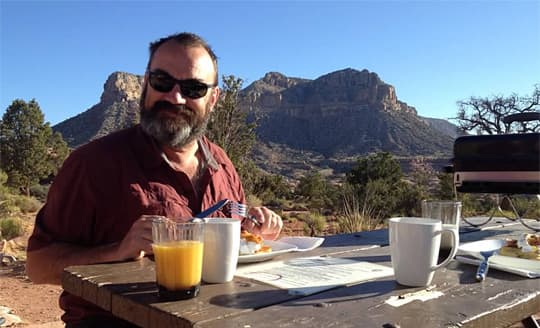 Above: Breakfast at Toroweap Point, North Rim, Grand Canyon National Park
Jean: Three of the Toroweap Point campsites are quite accessible.  The other seven are down a hill with big rocks.
Bob: If you make the reservations online, site numbers 1, 2, and 3 were the easy to access sites, and 4 through 10 were more challenging to access.  It was a short 100 foot hill to the other campsites, but my truck is long wheel base, so I wanted to stay at the top of the hill.  We did see a four-wheel drive Ford Econoline van go down to those sites.
There is an information center in Kanab where you can get information on Toroweap.  About four to five miles before you get to Toroweap, there's a ranger station.  The ranger came out on his Honda motorcycle once a day to make sure people were okay.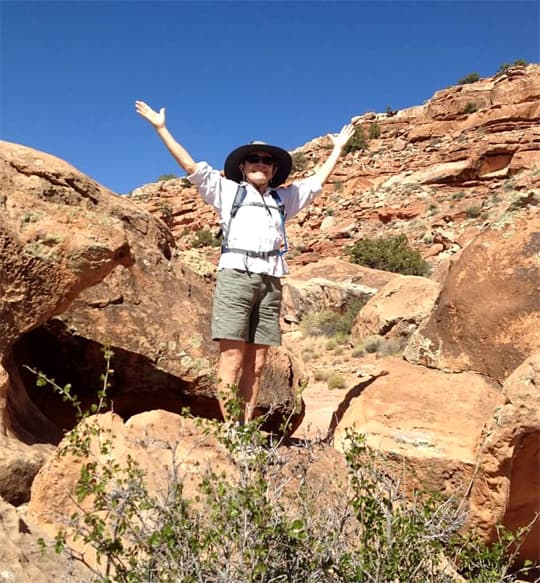 Above: Tukup Trail, Toroweap Point, North Rim, Grand Canyon National Park
Jean: It's a short walk from the campground to the rim where there are trails.  There are no railings, but there are little cairns that mark the trails.  It's great hiking along the plateau with beautiful scenery.  The views of the Canyon and the Colorado River are some of the most spectacular in the park.  Best of all, there are no crowds.
TCM: We've done our fair share of cliff-side no-railing trails.  It certainly gets your attention.  Tell us about your trip through Canada this past summer.
Bob: We drove on the Bella Coola Highway and we highly recommend it.  It's about 300 miles north of Vancouver to Williams Lake.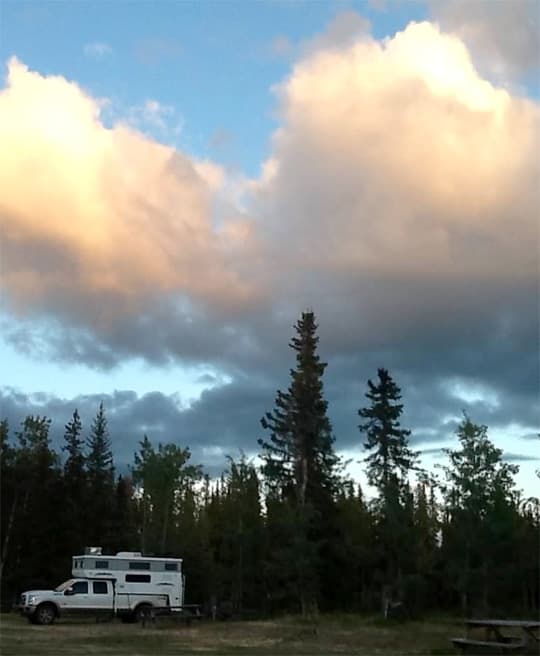 Above: Anahim Lake Camping, British Columbia
The road is paved to Anahim Lake.  Then, it turns to gravel with some paved sections as it winds down a steep grade and then follows the Bella Coola River into the small village of Bella Coola.  There are lots of lakes and rivers with ample opportunities for fishing and camping off of the main route.
Above left to right: Likely, Ten Mile Lake, and the Bella Coola River in British Columbia – click to enlarge
The scenery is breathtaking as the road winds from expansive grasslands and big cattle ranches to mountain valleys and, ultimately, to the Pacific Ocean.  Although expensive, the ferry trip from Bella Coola to Port Hardy on Vancouver Island is highly recommended.  It is a fantastic way to see some of the most beautiful, unspoiled fjords and coastlines in the world.  The trip takes seventeen hours and reservations are required.
Above: The ferry from mainland British Columbia to Vancouver Island – click to enlarge
TCM: What's the British Columbia ferry system like?
Bob: The ferry system comes in to Bella Coola once or twice a week and takes passengers to Port Hardy.  It's the northern route to Vancouver Island.  If the weather is right – they do get 300 inches of rain a year – the water looks like glass.  It's beautiful.
On the ferry you pay by the length, height, and the number of people in your group.  I think it was $900 one way from Bella Coola to Port Hardy.  We stayed on Vancouver Island for about a month and left from Comox, which is about half way down the island.
The ferries cross the inlets.  It was about $200 for that ferry ride.  BCferries.com has a great website where you can learn about all the specifics.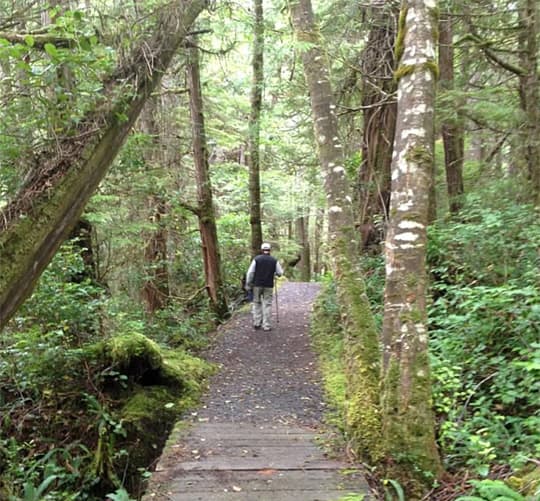 Above: The San Josef Bay Trail in Cape Scott Provincial Park
Jean: On Vancouver Island we went on the San Josef Bay Trail in Cape Scott Provincial Park, MacKenzie Beach, and Pacific Rim National Park.  Those were on the north and west side.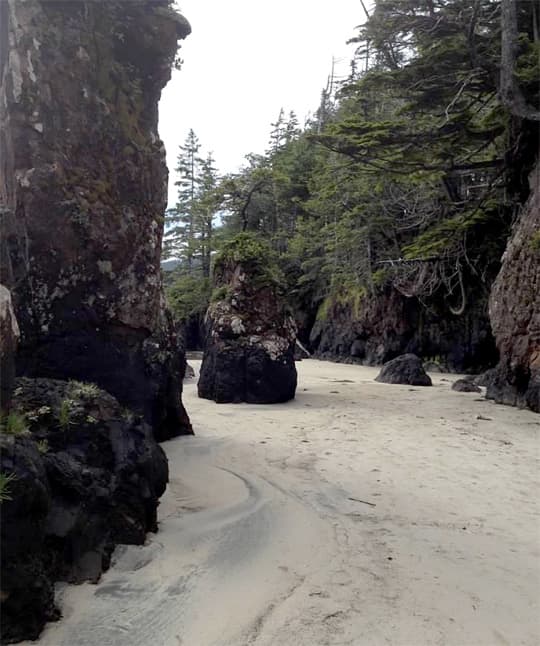 Above: San Josef, Vancouver, Island
There's old growth cedar, and wild untouched coastline. It takes a bit to get there, but it's worth it.  I'm so glad we did it.  It was a once in a lifetime trip.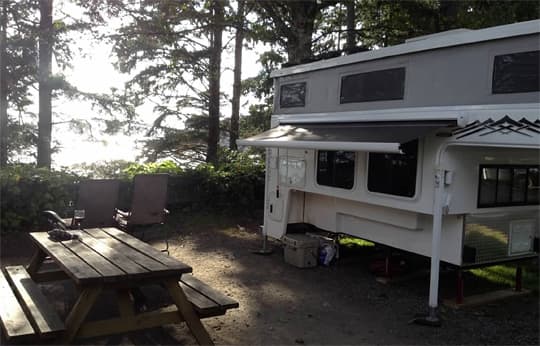 Above: Camping in Tofino, Vancouver, Island
TCM: On your picture caption you said that Ocean Falls was one of the stops along the ferry route.  Does that mean that people can get on and off the ferry system?
Bob: The ferry had three stops at Ocean Falls, Bella Bella, and Port Hardy.  The locals got on and off the ferry with their kayaks and bikes.  It's all inlets and fjords, and pretty deserted.  We stopped in Ocean Falls for about forty minutes, got off, and walked around.
Above: Traveling on the Cariboo Goldrush Trail, central British Columbia – click to enlarge
TCM: You also sent pictures of the Cariboo Goldrush Trail.  That looks fairly rugged.
Bob: The Cariboo Goldrush Trail in central British Columbia is rugged.  The road runs between Likely and Barkerville, British Columbia.  Just after the California gold rush in 1849 there was a gold rush in British Columbia in the 1860s.  The trail was for prospectors moving north.
Over the years the logging roads and trails have been expanded.  The Cariboo Goldrush Trail is a pretty decent road.  The track is narrow, but in good condition.  In a few places there were fallen trees, but a lot of ATVers use that road.  It's maybe 90 miles long.
There are some primitive campsites along the route and, even in July, there were very few visitors.  There is beautiful mountain scenery, and huge mosquitos.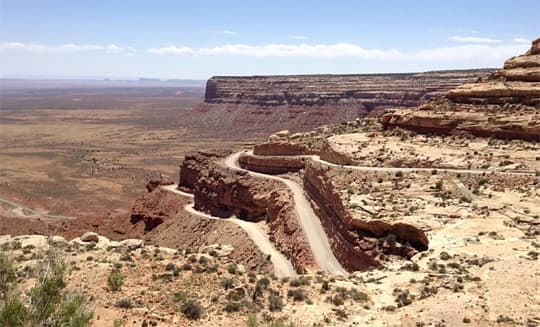 Above: The Moki Dugway, Utah
TCM: How do you learn about all these great four-wheel drive road locations?
Bob: I love maps!  For example, I was looking at map of Utah, saw a road coming down, and a place where the two red lines on the map didn't connect.  I kept saying, "That can't be.  I want to go there and see why the red lines don't connect".  That ended up being the Moki Dugway.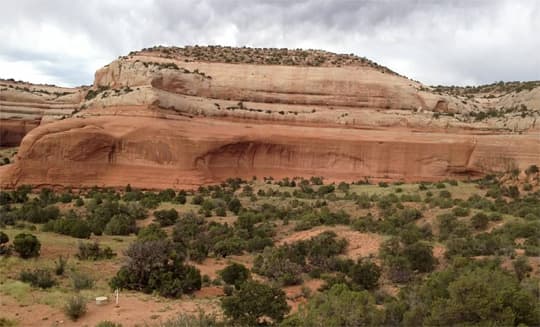 Above: Wind Whistle, Monticello, Utah on BLM land
TCM: We love that crazy road.  Definitely a bucket list experience.
Bob: I have a collection of the Benchmark atlases.  For the state of Utah, there are about fifty landscape maps for the entire state.  A given page will be forty miles by forty miles showing all the trails, backroads, and details.  I like finding a place that is not well traveled, and going there.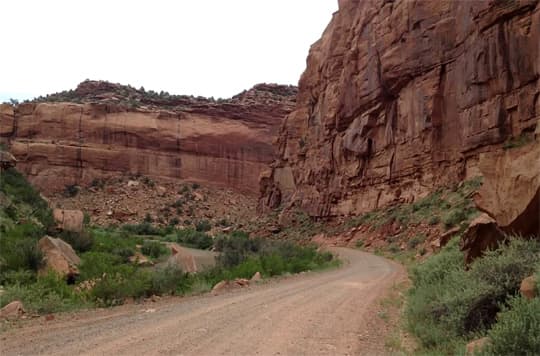 Above: Paradox Valley, Dolores River Canyon, Colorado
Sometimes it's coincidental that we find a place.  We came up through Grand Staircase and Monticello, Utah and camped in a place called Wind Whistle on BLM land.  The next day we saw a road that goes east into Colorado, so we took it and wound up at the Paradox Valley and found a dirt road next to the Dolores River.
TCM: We are not that brave, but I wish we were.  When we accidentally find routes, destinations, and experiences we like, we call it road magic.
Jean: We've definitely had road magic happen to us.  One time we had road magic was when we pulled into a diner in New Mexico and had the best burritos we had ever eaten.
Bob: That's when we went from Chaco Canyon to Bloomfield.  It's east of Farmington, New Mexico.  The road that goes east from Bloomfield to Chama is pretty cool.  If you swing north, the highway follows an old narrow gauge railway called the Cumbres & Toltec Railroad to Alamosa, New Mexico.  It crosses the Colorado and New Mexico border.  It's a paved highway and has gorgeous scenery.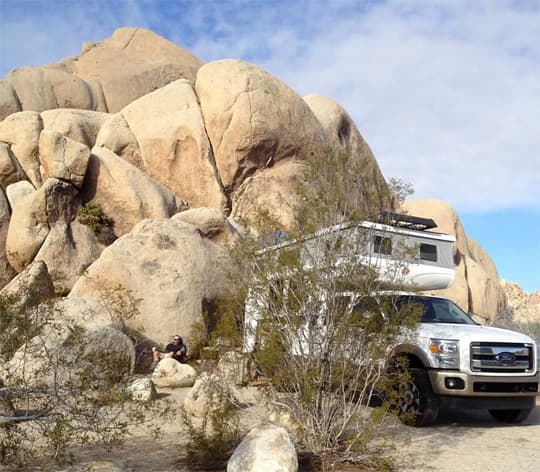 Above: Joshua Tree National Park, California
TCM: What are your truck camping plans for the future?
Bob: In the near term we plan to visit Big Bend National Park in Texas.  Early this summer, on the way to British Columbia, we will be traveling through Utah and planning to visit one or more of the National Parks there.  While in British Columbia we hope to make a swing through the Kootenay and Arrow Lakes area in eastern British Columbia.
TCM: Looking back on the past year that you've owned your Hallmark, has truck camping been all you expected it to be?
Bob: I think it's more than I expected.  The sense of freedom and the road magic has been great.  We'll pull up on the edge of the canyon, and look over a river, and say, "Isn't this great?"  We get to camp the most wonderful places.  It's a pretty unique experience.
We'll be out on the road in some fairly rough and rustic spots.  But, because of our camper, we are dry and warm with our own pillow and mattress.  We're also self-contained in a comfortable environment.  I find it relaxing.
The rig itself gives us so much more latitude.  If there's a sixty mile stretch, you can go on the freeway, but you can also get off anywhere you want.  There is also a lot of confidence in the quality of our camper.  We can take it on those types of roads, and we feel like our rig is going to still be together when we're at our destination.  It's built with the durability to sustain that kind of operation.
Rig Information
Truck: 2013 Ford F-250, Crew Cab, Long Bed, Single Rear Wheel, 4×4, Gasoline
Camper: 2014 Hallmark Cuchara
Suspension: Air bags on rear
Gear: Built in soft panel solar power system, aluminum cargo boxes on the roof, Ford factory added camper and towing options, replacing the front bumper with a heavy duty steel bull nose bumper with two inch hitch receiver, the front hitch receiver allows for a front mounted bike rack
Have you used your camper off-road like Bob and Jean Fouty do?  If you like to take your camper off-road, please share your story.