For their off-road retirement plan, Bob and Jean Fouty bought a Hallmark Cuchara pop-up truck camper and set-out to explore the dirt, gravel, and washboard roads of America.

In the mid-2000s, Gordon and I came face-to-face with folks who were not only enjoying their retirement, but were literally having the time of their lives.  These people weren't sitting around watching television and napping, they were out playing like kids in college.
Their daily activity menu consisted of boating, fishing, tennis, golf, gourmet cooking, party planning and every conceivable hobby and pass time.  The more we observed, the more we thought, "Retirement sure looks like fun!"  Having met many retired truck camper friends since, this opinion has only strengthened.
So why is it that so many folks dread retirement; as if it's the end of their productive lives, and not the beginning of a new and exciting adventure?  Maybe they just don't know what's possible.  Maybe they're just not interested in anything outside of work.  Or, perhaps, they're afraid to step out and live life beyond the familiar.  Routine can be tough to break.  Change can be scary.
Bob and Jean Fouty took a different tactic to retirement planning.  They knew exactly what they wanted to do after work; off-road exploration throughout the United States and Canada.  The question was how, and with what?  After considerable research, the answer was a Hallmark Cuchara and a four-wheel drive Ford F-250.  Now that's the kind of retirement plan many of us could agree to.
If anyone out there needs a little inspiration about what retirement can really be, please read this article.  Just be careful.  You might find yourself giving notice a little earlier than planned.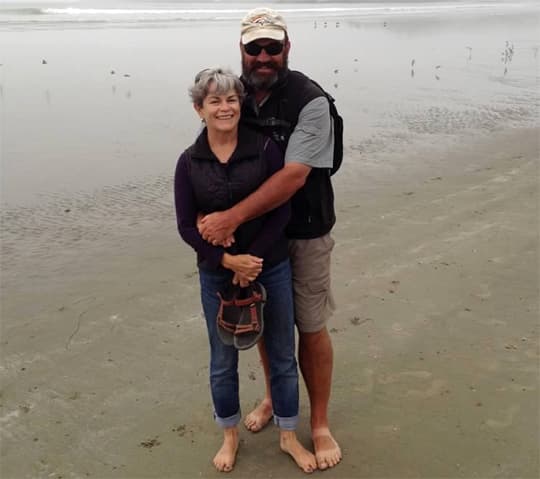 Above: Jean and Bob Fouty at Long Beach, California
TCM: Tell us about your camping experiences and lifestyle over the years.
Bob: I tent camped with my family when I was young.  I was also a Boy Scout.  Jean never camped but, growing up on a farm, her family always had a tent in the backyard for sleeping on hot summer nights.  When we started dating in the 1970s, weekend camping trips were a great way to get out of the city.
My 1972 Datsun pickup with a canopy was our camping vehicle of choice.  I put a piece of raised plywood in the back where we stored a camp stove, dishes, and our stuff.
In the 1980s, with three small children and a dog, we graduated to a used 23.5 foot travel trailer pulled behind a diesel powered Toyota Landcruiser.
We have always traveled up to the Okanagan Valley in British Columbia in the summers.  We have a property there that's been passed down in my family.
During those summers, I would work construction jobs at various British Columbia locations.  The kids were on summer vacation, so we would load up the trailer and find a camping spot.  The kids still talk about those summers.
During the 1990s, we sold the trailer and returned to family tent camping in both Alberta and British Columbia.  When our kids got older, they were less enthusiastic about camping with us and went out camping with their friends.  At that point, Jean and I stopped camping until I retired in 2014.
As I looked forward to retirement, I started thinking about what we wanted to do in our retirement years.  We love traveling around and seeing the country and getting on the path less traveled.  We thought about ways to do that while still having reasonable creature comforts.
We are in our mid-sixties, and we are not really into sleeping on the ground any more.  We wanted something of size with amenities, but not so big that we couldn't enjoy four-wheel drive roads.  We wanted to be able to go out for five or six days without worrying about water.  We wanted to be self-contained.  We wanted someplace to play games inside and be comfortable during bad weather.
We are definitely comfortable in our Hallmark.  When my neighbor saw our espresso maker in the camper I said, "We're roughing it, but we're not savages."  This is our retirement plan.  For what we wanted, the Hallmark works.