Above: Camping with fellow truck camper friends, the Hales, Capitol Reef, Utah, hiking the Subway
TCM: Two adults and three kids in a Vanagon does sound tight.  How did you get into truck camping?
Amy: In 2012, we met our dear friends, Frank and Erin Hales, through our church.  We soon discovered we had all the same loves.  They had a truck camper and we soon started camping with them; us in a tent, and them in their Hallmark truck camper.
During one of these camp-outs, we experienced a flash flood in Yosemite.  The rain was just pouring and flooded the valley floor.  Frank and Erin were toasty and dry in their truck camper, but we were freezing cold and soaking wet in our tent.   I was wondering if the kids were going to get sick.  We stayed awake all night listening to the rain.
As we spent more time with the Hales, we realized how amazing a truck camper could be for our family.  We loved the idea we could camp comfortably in all seasons, and not be unmotivated by snow, rain, or cold weather.
Above: Samuel P. Taylor State Park, Northern California
My husband researched and looked for used campers on Craigslist.  He soon discovered used campers were hard to find.  Then, in September of 2013, a used Hallmark camper, in our area, was listed.  Our family immediately jumped on the opportunity and picked it up a day later.  The camper was in great shape, given up by its owner because of a move out of state and the need for something less rustic.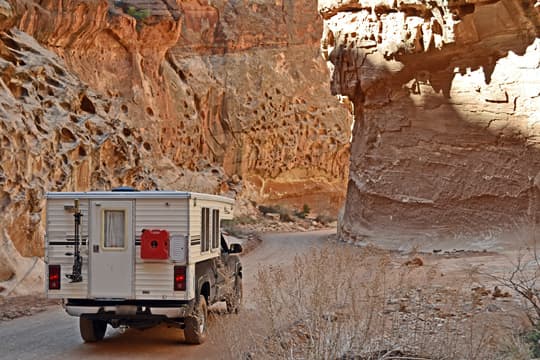 Above: The Langdale's camper in Capitol Reef National Park on Grand Wash Road, Utah
We started using our Hallmark the following weekend by taking it to nearby San Clemente State Park.  We were in love!  Since that first maiden voyage, we've been truck camping with the Hales as often as we can.  We go to local places like San Elijo, Caspers Park, and San Clemente all over Utah, Northern California, and Nevada.  Now we have a warm and dry place to go when it's cold and raining.
Our truck camper chose us!  It literally was a gift from God.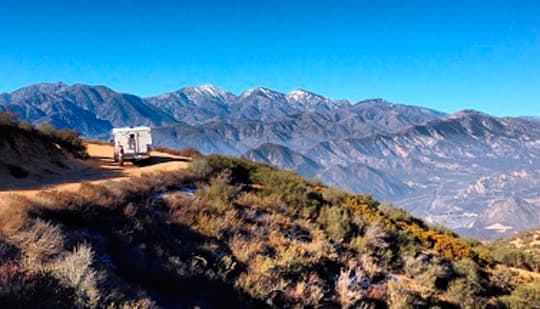 Above: Mormon Rocks, along state highway 138 in the Cajon Pass, California
TCM: A lot of people are going to look at your pop-up camper and think there's not enough room in there for a family of five.  How does it work with storage, sleeping, and space?
Amy: We attempt to be minimalists and our camper is all we need.  We live in a small 1,100 square foot house.  When we're camping we basically only take clothes and food.  Each of us gets one duffle bag for clothes.  That way, clothes for each person are in one place.  We are definitely learning ways to improve our packing with each trip that we do.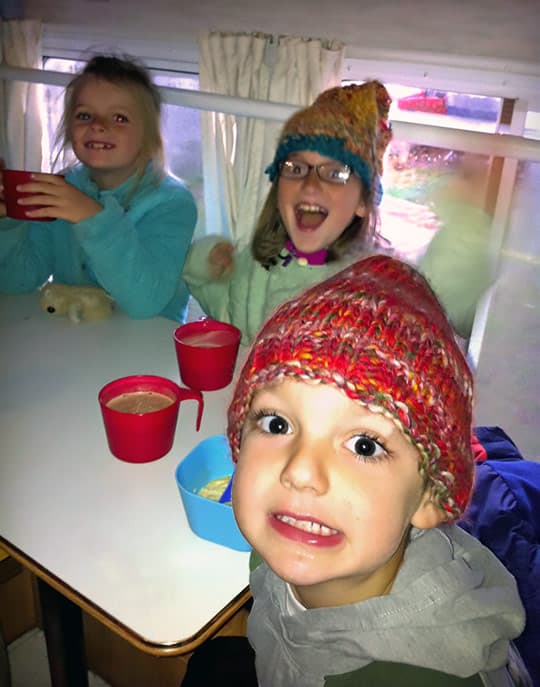 Above: Ryann, Hannah, and Luke eating in the dinette of their Hallmark pop-up
We have a large cabinet for storage, but we don't really need a lot of space.  There's also large storage area under the cabover bed.  That's where we keep our pillows and sleeping bags.  Kerry made two custom bunk beds that come down in sections and store away under the cabover bed.  The bunks are genius!