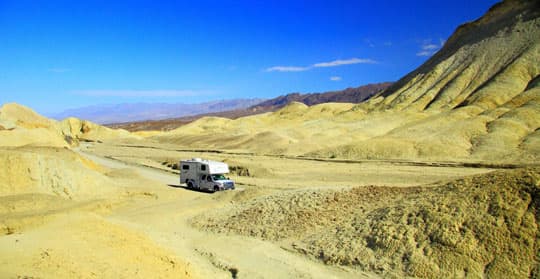 Above: Death Valley National Park, California
We have had similar driving experiences over some of the roughest washboard roads ever while traveling to the Racetrack area in Death Valley National Park in California and Hole-in-the Rock and Cottonwood Canyon roads in Grand Staircase National Monument in Utah.  These drives were completed without our truck camper, which was unloaded at nearby national or state park campgrounds.
Fair warning is posted at the beginning of these roads.  The jolting and jarring from driving these roads were so severe that it required re-welding the frame of the truck and replacement of the suspension system.  Just joking, of course.  It's just a word of caution to those interested in visiting these areas.  And yes, as guaranteed by the warning signs, there were motorists along both routes with flat tires that we stopped to assist.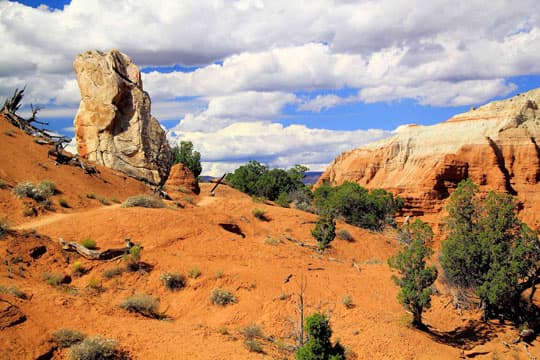 Above: Kodachrome Basin State Park, Utah
TCM: Your photography is quite impressive.  When did that interest take root?
Bill: I have enjoyed photography for several decades beginning with a Kodak Instamatic camera.  I upgraded to a single-lens reflex film camera and, in the last decade, to a single-lens reflex digital camera.
My wife and I are both interested in outdoor and landscape photography and devote some time to that pursuit during our travels.  Our goals are to take properly focused and exposed, colorful photos of geologic and other natural features with good composition and free of extraneous clutter, such as signs, traffic, tourists, and buildings.
We are also interested in representative and interpretive photography of historic and scenic areas, such as units within the National Park system and various state parks.  In particular, we have visited many sites along the Oregon Trail from Independence, Missouri to Oregon City, Oregon, Santa Fe Trail sites west to Santa Fe, New Mexico, and Lewis and Clark Expedition sites from Camp Dubois in Illinois to Cape Disappointment, Washington.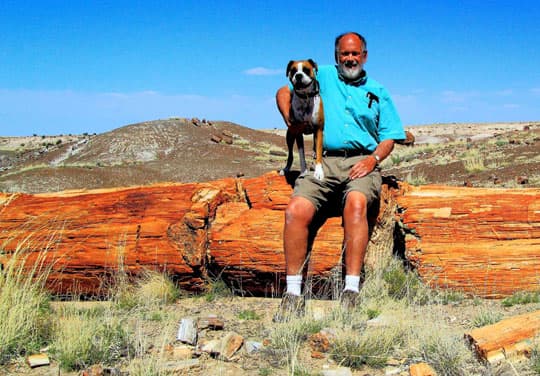 Above: Bill and Katie at Petrified Forest National Park, Arizona
We have also visited every National Park, most National Monuments, and other Park Service units in the lower forty-eight west of the Mississippi River, and many of the major state parks west of the Mississippi River.
In addition to photography, we enjoy mingling with fellow campers, hiking, and learning the local and natural history of a particular area.
TCM: What cameras and lenses do you favor?
Bill: We both use Canon Digital Rebel 18-megapixel cameras (Canon T2i and T3i).  We both have Canon Ultrasonic IS (image stabilized) 17-85mm zoom lenses with UV and polarizing filters for everyday use.  We also have Canon 55-250 mm IS and 70-300 mm IS telephoto zoom lenses.  We plan to upgrade to full-frame Canon digital cameras prior to the 2014 travel season.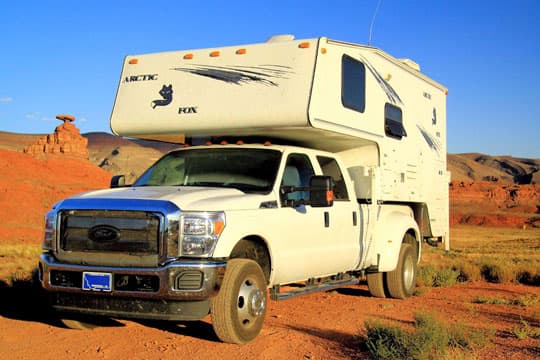 Above: Mexican Hat Rock, Utah
TCM: How does the truck camper help you with your photography?
Bill: The truck camper assists with photography due to its maneuverability.  With our truck camper, we can easily pull to a roadside berm or turnout and quickly turn around for a photo opportunity.  With a larger camper, we would be either unable or have difficulty in making a roadside stop or a turn-around for a photo opportunity.