After owning two pop-up camper trailers, one hard-sided travel trailer, four smaller truck campers, and two fifth-wheels, we ultimately chose a larger, well-equipped Arctic Fox truck camper.  It's a 2003 Arctic Fox 1080 with a full-wall passenger-side slide-out, dry bath, air conditioner, and generator.
The appealing features of the Arctic Fox truck camper include the rugged construction, dry bath, onboard generator, full-wall slide-out, air conditioning, the roll-over couch, forty-five gallon fresh water tank, generous outside storage, and custom cabinet modifications.  In our opinion, these selected features provide adequate amenities for prolonged traveling for two people who prefer primitive boondock camping.  We have been most pleased with our purchase of an Arctic Fox truck camper.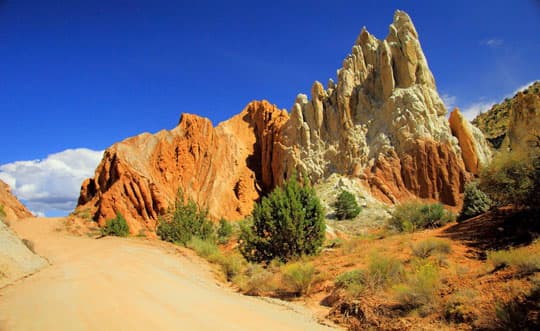 Above: The Cockscomb, Grand Staircase National Monument, Utah
TCM: Is the ability to reach primitive camping locations your number one reason for choosing a truck camper over other RV types?
Bill: It's an important reason, but there certainly are other reasons as well.  First, the children are grown and are RVers themselves, so our Arctic Fox truck camper provides adequate living space for the two of us and the few conveniences and comforts that we enjoy.  There's no need for more space now that the children are grown.
Maneuverability is the principal advantage of a truck camper.  Maneuverability is important to us because we often travel single-lane gravel roads.  The undeveloped campsites we prefer preclude larger camper trailers or motorhomes.  And with some patience, a truck camper can be turned around on a single-lane gravel road when road conditions become too rough.
Furthermore, a truck camper, mounted on a high-clearance, four-wheel drive pickup, can go to places a car, motorhome, or travel trailer cannot.  Last, travelers with a well-equipped truck camper do not need to spend their night at busy, expensive commercial campgrounds like the folks with large camping trailers and motorhomes.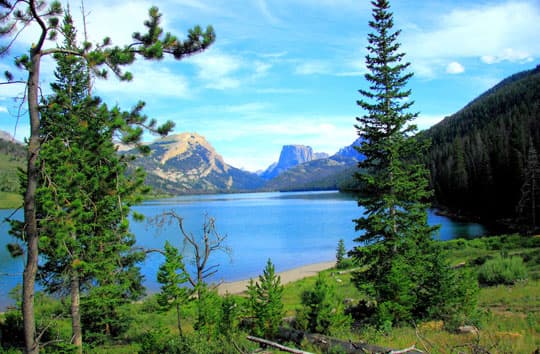 Above: Green River Lake, Wyoming
TCM: Tell us about some of the more remote locations and difficult to access locations you've explored.
Bill: In the summer of 2012, while driving on Highway 287 west of Dubois, Wyoming, we decided to cross the Wind River Range over an old Indian fur trapper trail called Union Pass to camp that night at Green River Lake north of Pinedale.
The road up the switchbacks from Highway 287 was easy-going and not too steep with smoothly-graded fine gravel, and a wide two-lane road.  The view at the top of the pass was stupendous.  We stopped to let our dog run in the meadows.
As we proceeded, the road became rocky with scattered potholes, requiring maneuvering over both lanes to avoid the holes.  Then the main road forked numerous times and road signs became non-existent.  A couple of times we halted oncoming vehicles to inquire if we were still on the main road and exactly where the road headed.
Approaching the Green River Valley, the road became narrow, rutted, and strewn with cantaloupe-sized cobbles slowing us to a crawl and causing the truck camper to sway badly.  We finally stopped at a fork of the road, waited for an oncoming vehicle, and again inquired of its driver our whereabouts.
Surprisingly, we were located where we wanted to be, and started the nineteen-mile drive over a severely wash-boarded gravel road toward Green River Lake in Bridger-Teton National Forest.  Our travel speed ranged between five to ten miles per hour to minimize jolting the truck camper to splinters.  A few other campers heading out were also moving at turtle speed.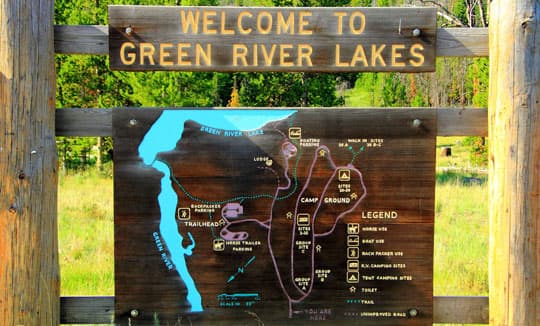 Above: Green River Lake, Wyoming
Finally, upon arriving at Green River Lake, we found a very nice Forest Service campground above the lake with available sites and, to our surprise, operable water faucets.  The scenery, as shown in the photos, was remarkable.
Our suggestion for those interested in visiting Green River Lake is to travel paved State Road 352 from US 191 west of Pinedale to the nineteen-mile cutoff road leading to Green River Lake, and then grin and bear it from there to the lake.