Bill and Deane Uthman share forty-five years of coast-to-coast camping including favorite National and State Park destinations, off-road getaways, and stunning landscape photography.

Although there is no evidence to support our theory, Truck Camper Magazine has concluded that the gravel road leading into Chaco Culture National Historic Park was likely created by a clan of evil dentists.  Starved for business, these dentists of menace created one of the most assaulting teeth chattering excuses of a roadway ever created and made sure the destination was so amazing you would risk every incisor, canine, and molar.  It's just a theory, but we're sticking to it.
We pulled into Chaco Canyon late on a Tuesday afternoon last May.  We were shaken, stirred, and throughly excited to finally visit a place many readers had urged us to visit.  The one and only campground is small, only allows rigs under thirty-five feet, and offers no hook-ups; perfect for truck campers.  We were able to get one of a few spots left, made dinner, and dreamed of the ancient world we would soon experience.
The next day we noticed an Arctic Fox truck camper rig parked in the campground.  Being the quiet, shy, and introverted people we are, we walked right up and knocked on the back door of the camper to introduce ourselves.  That's when we had the pleasure of meeting Bill and Deane Uthman.
Getting to know the Uthmans and learning about their lifetime of travel and adventure made us feel as if we hadn't seen or done anything.  With every story they told our destination bucket list grew.  Perhaps the best part of the following article is the sheer volume of incredible destination recommendations.  You may want to read this with a pen and paper handy.  Bill's suggestions are sure to get your "wanna-go-there, and there, and there" vibes going.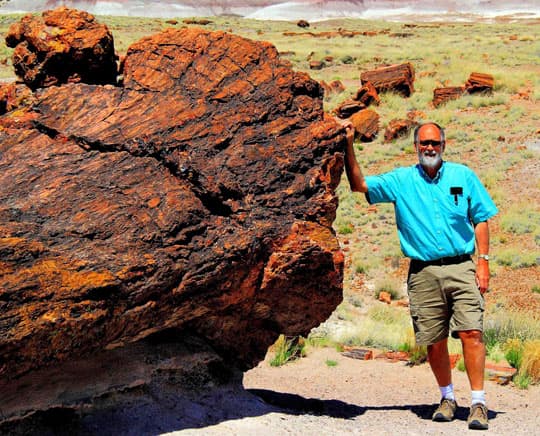 Above: Bill at Petrified Forest National Park, Arizona
TCM: Tell us how you got into truck camping.
Bill: We have been traveling, camping, and photographing for about forty-five years.  We started as tent campers, as many campers do, and eventually upgraded to a pop-up tent trailer, and then to a small hard-sided travel trailer.
Years later, we purchased and traveled with a couple of fifth-wheel campers.  We prefer to camp in undeveloped areas and often travel to remote places on narrow, winding, gravel, or rutted back roads.  Fifth-wheels and travel trailers have maneuverability limitations in these locations, so we considered switching to a truck camper.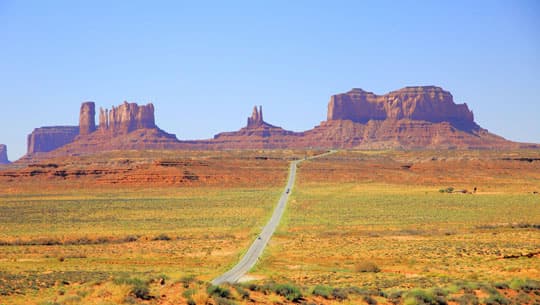 Above: Monument Pass on Route 163, Utah
Our fully-equipped truck camper provides comfortable amenities and adequate interior living space for two adults.  The camper is reasonably easy to load onto and unload off our one-ton dually pickup.  It is maneuverable into tight, forested campsites and can turn around on narrow, single-lane mountain roads.
It also weighs less than a comparably-equipped fifth wheel or travel trailer, costs less to operate (insurance, maintenance, and fuel), and has rigid construction, according to the manufacturer.
We frequently spend nights in remote locations where it would be difficult or impossible to maneuver a fifth-wheel or travel trailer.  As a fellow truck camper informed us, "We can go almost anywhere a car can go, and even further with four-wheel drive capability".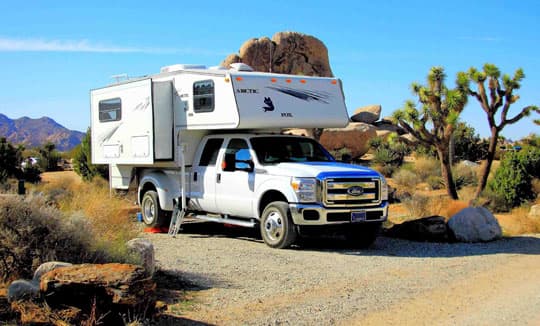 Above: Their current camper, a 2003 Arctic Fox 1080 in Joshua Tree National Park, California
TCM: You have owned quite a few truck campers along the way.  Tell us about your truck camper history.
Bill: We had a 1970 Rocky Mountain eight foot truck camper, a 1988 Sunlite pop-up truck camper, a 1991 Lance nine-and-a-half-foot truck camper, and a 1996 Lance eight-foot truck camper.  All of our campers up to that point were very basic.  They either had no bath or a wet bath, no air conditioning, no generator, and no slide-outs.