Stu Pritchard left the working stable to join his retired friends for off-the-grid truck camping and horseback riding fun in Canada's wilderness.  How's that for horse sense?

There's something dangerously compelling about the idea of quitting work and driving out of town to a life of fun and adventure.  Want proof?  If you're at work reading this – which you shouldn't be, but we're glad you are – how bad do you want to stand on your desk and yell at the top of your lungs, "I can't take it anymore!  I'm gettin' out of Dodge in my truck camper, and having fun for the rest of my life!  See you later folks!  Yee ha!"
Okay, maybe that's taking things a step or two too far.  Then again, about half a dozen guys are probably standing on their desks right now, and getting fired thanks to our clearly reckless incitement.  They'll thank us later, probably.  Sorry fellas.
There is a somewhat saner and less risky way to quit work and hit the road.  It's a little known idea called retirement.  The concept is that you work hard for about forty years, contribute monthly to a 401K, IRA, pension, or personal piggy bank, and then stand in front of a room of jealous co-workers and say, "I can't take it anymore!  I'm gettin' out of Dodge in my truck camper, and having fun for the rest of my life!  See you later folks!  Yee ha!"  Somehow, that speech goes over better moments before you retire.
Having recently retired, Stu Pritchard is probably smiling ear to ear reading this introduction.  He has achieved that moment so many of us yearn for; he put his time in, saved, retired, and is now free to go truck camping and horseback riding – his personal bliss – to his heart's content.  After all, isn't that what most of us yearn for; freedom, truck camping, and time to pursue our passions?  Congratulations Stu!  Ride on.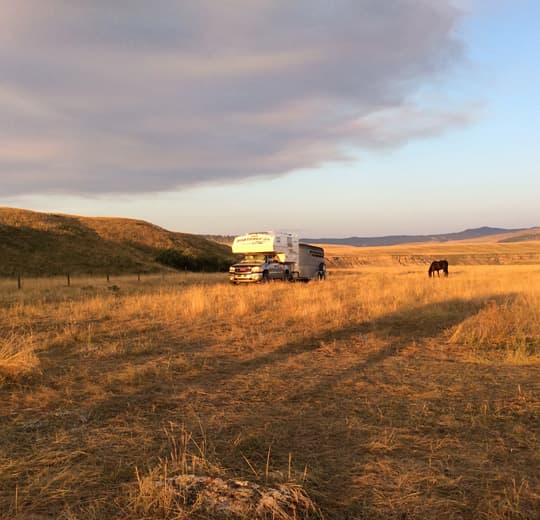 Above: Camping in Old Man River Valley, Alberta
TCM: Take us back in time and tell us how you first got into truck camping.
Stu: I was an Air Cadet during my teens.  One summer I was chosen to attend the Canadian Armed Forces Survival Training School located in Western Canada.  This was my first opportunity to camp in the Rocky Mountains.
I was out in the back country, away from roads and civilization, surrounded by some wonderful vistas that very few people have or will ever see.  This experience planted a seed; this was camping in the true sense of the word.
After finishing my education, my wife and I moved west from eastern Canada to Calgary, Alberta.  Except for a two year assignment in Saudi Arabia, Calgary has been our home for nearly forty years.  In that time we have owned two truck campers, a travel trailer, and a fifth wheel.
Our first truck camper was purchased so we could tow a glider trailer.  I was a very active glider pilot.  We purchased our second truck camper so we could tow a horse trailer.  For the past twenty years we have bred and raised Tennessee Walking Horses on our acreage just outside of Calgary.  Today we own both a thirty-four foot fifth wheel and a truck camper.
We chose hard side campers due in part to the very cold evenings that can occur in the Rocky Mountains, even in the summer, and for safety.  We are in bear and cougar country.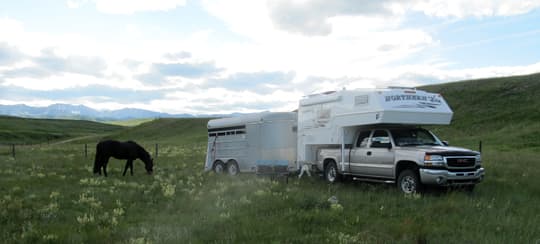 Above: Stu tows a 14 foot 3 inch horse trailer
TCM: How did you outfit your truck camper rig for towing a horse trailer?
Stu: The Northern Lite 8-11 is a short box camper with an overhang.  For towing the horse trailer, I installed the Torklift SuperHItch.  The factory hitch was not strong enough for the horse trailer with an extension bar due to the overhang from the camper.  I also use a weight distribution hitch on the trailer.  A lot of people with large trailers have weight distribution hitches.  They help to put more weight on the front wheels of the truck.
Above: Torklift International's SuperTruss extension bar – click to enlarge
I also have Torklift's SuperTruss extension bar.  The SuperHitch dual receiver has two, 2-inch bar inputs.  There are also two chains that form a triangle from the extension bar to the truck.