Above: Judy's Hallmark Ute has quite a few options to get her off-the-grid for extended periods of time, like AGM batteries, LED lights, and two 70 watt solar panels
TCM: Tell us about your Hallmark.
Judy: Our camper is a 2013 Hallmark Ute for a long bed full-size truck.  Options include dual AGM batteries, all LED lights, compressor fridge, external antenna, two 70 watt solar panels, Blue Sky solar controller, extended pull out for bed for North-South sleeping, roof rack system, and more.  The Ute comes with many items standard with the option to pass on others.
We went with the power pop-up roof lift but declined the power jacks opting for manual as this is our camping-only rig.  The Ute has an enclosed bath with a porcelain toilet, sit down shower, and molded sink.
If we were to choose options again, we would not choose an oven, microwave, or the stereo.  We have yet to use the oven, the microwave uses too much power for our system, and the stereo radio often picks up static when we are in remote areas.
Eliminating all three would add more storage.  Currently, we use the microwave and oven to store supplies.  An iPod with a portable speaker works fine for audio entertainment.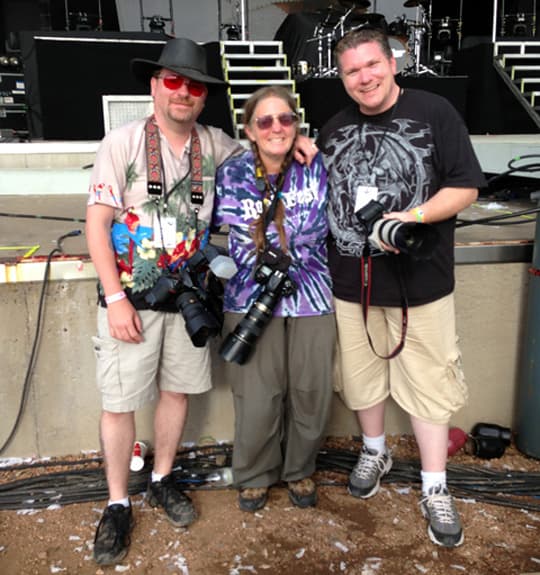 Above: Judy Tilley at RockFest with fellow photographers
TCM: From your website, I see that you're a professional photographer.  Tell us about your photography and preferred gear.
Judy: I am not really a professional photographer since I don't meet the definition; one who derives the majority of their income from photography.  But, I think at times I do professional quality work, especially my concert photography.
My camera bodies are a Nikon D700 and D800.  My professional grade lenses are all Nikon: 70-200mm f2.8, 24-70mm f2.8, 14-24mm f2.8, 85mm f1.4, and 105mm f2.8 macro. Nikon has been my choice since my first real camera, a Nikon F2 Photomic I bought myself as a college graduation present in 1973.
I also use a few filters: several Singh Ray polarizers and a Singh Ray Variable Stop Neutral Density filter for the slower shutter speeds to slow down water.  A few of the gadgets that fill my two Lowepro packs are cleaning equipment, a remote trigger, extra batteries, bubble level, flashlight, drying cloth, and dry packs.
A Gitzo tripod plus an Arca Swiss ballhead and a Really Right Stuff quick release add stability for landscape photography, but is useless for shooting concerts.
Above: Judy's photography of artists at the Mt. Baker Blues Festival – click to enlarge
TCM: Tell us about your concert photography.
Judy: I use the camper as house photographer for the Mt. Baker Blues Festival about fifteen miles from home.  The festival is the 2013 winner of the Keeping The Blues Alive Foundation's best U.S. blues festival and features local, regional and national acts.
I am busy photographing the crowd, musicians, and good times at this three day music festival.  Our camper has power for charging my laptop and camera batteries, has a comfy place to sleep, and keeps me warm at night.  It is a hectic but fun way to spend three days.  I am on my feet each day from the opening act until after the After Hours Jam concludes in the early morning.
For documenting the festival, I get a free VIP ticket which is also good for food and water.  My pass is all access which means back stage, on the stage and in front of the stage.
In the beginning, I slept in a tent with a sleeping bag charging my gear wherever I could find an outlet.  It is infinitely more luxurious and convenient in our truck camper.  For security and access to the musicians, I camp in the musician's area of the campground next to the owner/ promoter.  I have been doing this since 2006.