Judy Tilley takes her Hallmark from the Mt. Baker Blues Festival to the BLM and National Parks of the West capturing music, moments, and memories along the way.

In business and real estate, the mantra "Location, Location, Location" is well known.  Having a hot dog stand on a busy downtown intersection sure beats having the same hot dog stand in a remote farm pasture.  A house overlooking the San Francisco skyline is going to cost a few more bucks than the same house overlooking a dump twenty miles outside of Nowheresville.  Even in 2014, with internet and cell phone access reaching the great majority of places where people actually live, location still matters.
As it turns out, the same can be said for truck camping.  It's not uncommon for truck camper owners to tell us that they bought a truck camper rig to be able to go to the locations they want to go.  From family driveways with limited space, to four-wheel drive only beaches, to remote BLM lands with no services, the desired camping locations dictate the need for a truck camper solution.
For photographer Judy Tilley, a Hallmark pop-up truck camper rig has been the perfect solution to put her on location at the Mt. Baker Rhythm & Blues Festival to capture the annual concert.  The same rig puts her on location at the National Parks, Monuments, and BLM boondocking sites where she and her husband enjoy nature photography, rockhounding, and birding.  In short, a truck camper puts Judy where the Blues play twelve-bars, the light is right, the rocks are ready, and the birds are bountiful.  Location, location, location.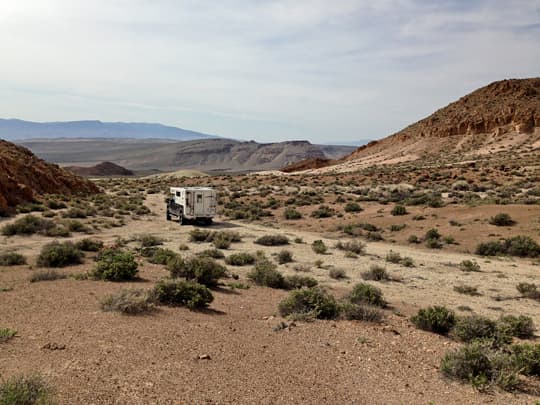 Above: Tony and Judy Tilley's 2008 Ford F250 and 2013 Hallmark Ute on BLM land
TCM: How did you get into truck camping?
Judy: We tent camped when I was younger at forest service campgrounds along the Mt. Baker Highway in the Mt. Baker-Snoqualmie National Forest.  I used an old down filled canvas sleeping bag, circa WWII, that bled feathers so badly that we awoke to downy nose ticklers.  As a teenager, I went on several ten day, fifty mile hikes in the Cascade Range with my church youth group using that same sleeping bag and an Army pack with metal supports that dug into my back.
Years later, we saw pop-up truck campers on small trucks at Cathedral Gorge State Park in Nevada and again in Boulder, Utah.  Rather than fly to Las Vegas, rent a car, and reserve motel rooms, we decided that getting a truck camper would allow us to be closer to the areas we wanted to explore without having to backtrack to a motel room.  Also, we wouldn't have to adhere to a schedule.  I do not enjoy the current flying experience.
After six months of searching daily on Craigslist for pop-up truck campers, we ordered a new Four Wheel Camper Eagle.  Our adventures included a week long trip down the Oregon Coast and several east of the Cascades for longer periods.
We began to bring our dog, Toller, so the Four Wheel Camper soon became too small.  Our Tacoma was a four-cylinder, which was underpowered to ascend mountain passes.  Also, as we were warned on a camper forum, the Tacoma's brakes were inadequate with a loaded bed.  After almost sliding into a guard rail descending a pass, we decided to go big.  The Four Wheel Camper sold easily and we began the search for a big truck and another pop-up camper.
We found a 2008 Ford F250 Super Duty four-wheel drive truck at a local dealer that had installed Firestone Ride Rite air bags with inside controls and Ford's off-road package featuring undercarriage protective plates and more robust shocks.  Since we wanted to begin camping again, we ordered a new Hallmark Ute.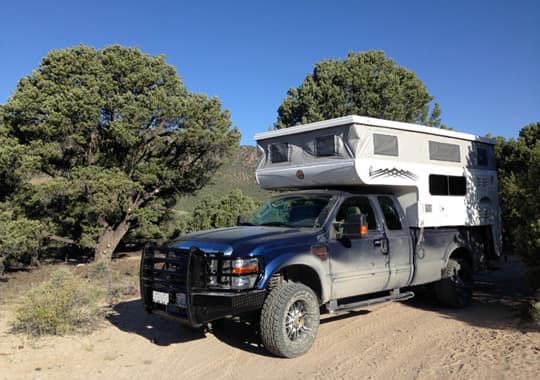 Above: Antelope Canyon, Nevada
TCM: Why did you choose a pop-up truck camper?
Judy: A pop-up truck camper is the best choice for us since we venture off-road frequently.  We can boondock wherever our truck fits without worrying about whether a trailer, fifth wheel, or motorhome can make it up a steep grade or around a tight corner.  If we camp at a campground, we can opt for the no hook-up sites or fit into the cheaper sites tenters use.
Because we have four-wheel drive and high clearance, we can access some of the most remote and scenic areas in the United States.  Our rig has a low center of gravity and excellent wind resistance.  It is also lighter so we are not obligated to add load compensating equipment or dual rear wheels.
Our motto is, "There are no more rainy days".  In other words, we are retired and our days are more limited.  We drove for five days to Hallmark RV, averaging about 300 or so miles a day, staying at Motel 6 hotels at well-placed intervals since they accept dogs.