Judy Tilley takes her Hallmark from the Mt. Baker Blues Festival to the BLM and National Parks of the West capturing music, moments, and memories along the way.

In business and real estate, the mantra "Location, Location, Location" is well known.  Having a hot dog stand on a busy downtown intersection sure beats having the same hot dog stand in a remote farm pasture.  A house overlooking the San Francisco skyline is going to cost a few more bucks than the same house overlooking a dump twenty miles outside of Nowheresville.  Even in 2014, with internet and cell phone access reaching the great majority of places where people actually live, location still matters.
As it turns out, the same can be said for truck camping.  It's not uncommon for truck camper owners to tell us that they bought a truck camper rig to be able to go to the locations they want to go.  From family driveways with limited space, to four-wheel drive only beaches, to remote BLM lands with no services, the desired camping locations dictate the need for a truck camper solution.
For photographer Judy Tilley, a Hallmark pop-up truck camper rig has been the perfect solution to put her on location at the Mt. Baker Rhythm & Blues Festival to capture the annual concert.  The same rig puts her on location at the National Parks, Monuments, and BLM boondocking sites where she and her husband enjoy nature photography, rockhounding, and birding.  In short, a truck camper puts Judy where the Blues play twelve-bars, the light is right, the rocks are ready, and the birds are bountiful.  Location, location, location.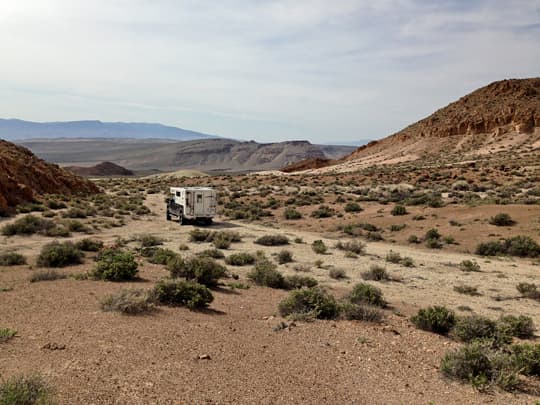 Above: Tony and Judy Tilley's 2008 Ford F250 and 2013 Hallmark Ute on BLM land
TCM: How did you get into truck camping?
Judy: We tent camped when I was younger at forest service campgrounds along the Mt. Baker Highway in the Mt. Baker-Snoqualmie National Forest.  I used an old down filled canvas sleeping bag, circa WWII, that bled feathers so badly that we awoke to downy nose ticklers.  As a teenager, I went on several ten day, fifty mile hikes in the Cascade Range with my church youth group using that same sleeping bag and an Army pack with metal supports that dug into my back.
Years later, we saw pop-up truck campers on small trucks at Cathedral Gorge State Park in Nevada and again in Boulder, Utah.  Rather than fly to Las Vegas, rent a car, and reserve motel rooms, we decided that getting a truck camper would allow us to be closer to the areas we wanted to explore without having to backtrack to a motel room.  Also, we wouldn't have to adhere to a schedule.  I do not enjoy the current flying experience.
After six months of searching daily on Craigslist for pop-up truck campers, we ordered a new Four Wheel Camper Eagle.  Our adventures included a week long trip down the Oregon Coast and several east of the Cascades for longer periods.
We began to bring our dog, Toller, so the Four Wheel Camper soon became too small.  Our Tacoma was a four-cylinder, which was underpowered to ascend mountain passes.  Also, as we were warned on a camper forum, the Tacoma's brakes were inadequate with a loaded bed.  After almost sliding into a guard rail descending a pass, we decided to go big.  The Four Wheel Camper sold easily and we began the search for a big truck and another pop-up camper.
We found a 2008 Ford F250 Super Duty four-wheel drive truck at a local dealer that had installed Firestone Ride Rite air bags with inside controls and Ford's off-road package featuring undercarriage protective plates and more robust shocks.  Since we wanted to begin camping again, we ordered a new Hallmark Ute.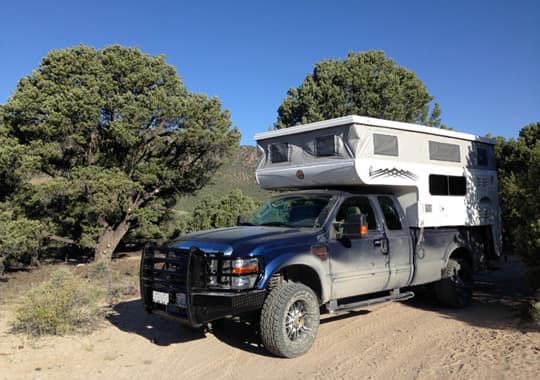 Above: Antelope Canyon, Nevada
TCM: Why did you choose a pop-up truck camper?
Judy: A pop-up truck camper is the best choice for us since we venture off-road frequently.  We can boondock wherever our truck fits without worrying about whether a trailer, fifth wheel, or motorhome can make it up a steep grade or around a tight corner.  If we camp at a campground, we can opt for the no hook-up sites or fit into the cheaper sites tenters use.
Because we have four-wheel drive and high clearance, we can access some of the most remote and scenic areas in the United States.  Our rig has a low center of gravity and excellent wind resistance.  It is also lighter so we are not obligated to add load compensating equipment or dual rear wheels.
Our motto is, "There are no more rainy days".  In other words, we are retired and our days are more limited.  We drove for five days to Hallmark RV, averaging about 300 or so miles a day, staying at Motel 6 hotels at well-placed intervals since they accept dogs.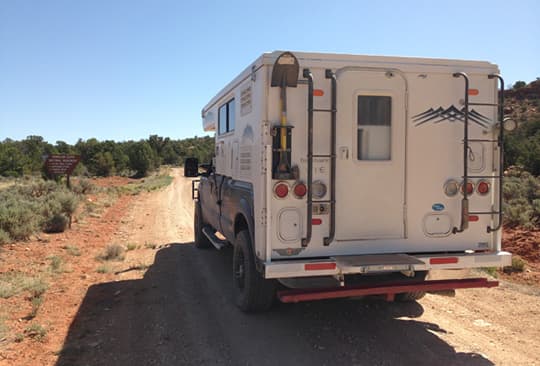 Above: Judy's Hallmark Ute has quite a few options to get her off-the-grid for extended periods of time, like AGM batteries, LED lights, and two 70 watt solar panels
TCM: Tell us about your Hallmark.
Judy: Our camper is a 2013 Hallmark Ute for a long bed full-size truck.  Options include dual AGM batteries, all LED lights, compressor fridge, external antenna, two 70 watt solar panels, Blue Sky solar controller, extended pull out for bed for North-South sleeping, roof rack system, and more.  The Ute comes with many items standard with the option to pass on others.
We went with the power pop-up roof lift but declined the power jacks opting for manual as this is our camping-only rig.  The Ute has an enclosed bath with a porcelain toilet, sit down shower, and molded sink.
If we were to choose options again, we would not choose an oven, microwave, or the stereo.  We have yet to use the oven, the microwave uses too much power for our system, and the stereo radio often picks up static when we are in remote areas.
Eliminating all three would add more storage.  Currently, we use the microwave and oven to store supplies.  An iPod with a portable speaker works fine for audio entertainment.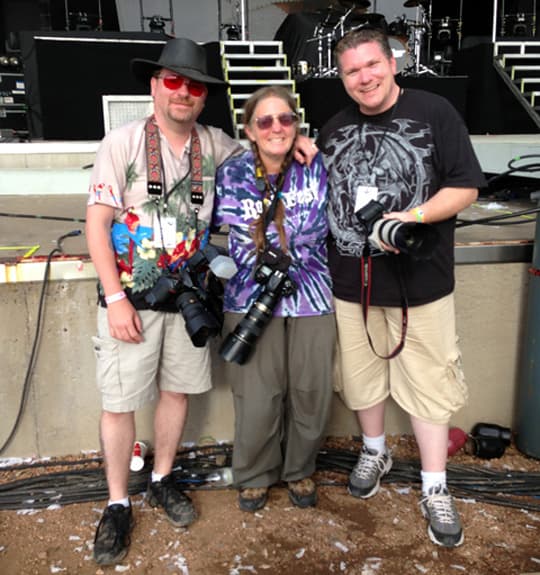 Above: Judy Tilley at RockFest with fellow photographers
TCM: From your website, I see that you're a professional photographer.  Tell us about your photography and preferred gear.
Judy: I am not really a professional photographer since I don't meet the definition; one who derives the majority of their income from photography.  But, I think at times I do professional quality work, especially my concert photography.
My camera bodies are a Nikon D700 and D800.  My professional grade lenses are all Nikon: 70-200mm f2.8, 24-70mm f2.8, 14-24mm f2.8, 85mm f1.4, and 105mm f2.8 macro. Nikon has been my choice since my first real camera, a Nikon F2 Photomic I bought myself as a college graduation present in 1973.
I also use a few filters: several Singh Ray polarizers and a Singh Ray Variable Stop Neutral Density filter for the slower shutter speeds to slow down water.  A few of the gadgets that fill my two Lowepro packs are cleaning equipment, a remote trigger, extra batteries, bubble level, flashlight, drying cloth, and dry packs.
A Gitzo tripod plus an Arca Swiss ballhead and a Really Right Stuff quick release add stability for landscape photography, but is useless for shooting concerts.
Above: Judy's photography of artists at the Mt. Baker Blues Festival – click to enlarge
TCM: Tell us about your concert photography.
Judy: I use the camper as house photographer for the Mt. Baker Blues Festival about fifteen miles from home.  The festival is the 2013 winner of the Keeping The Blues Alive Foundation's best U.S. blues festival and features local, regional and national acts.
I am busy photographing the crowd, musicians, and good times at this three day music festival.  Our camper has power for charging my laptop and camera batteries, has a comfy place to sleep, and keeps me warm at night.  It is a hectic but fun way to spend three days.  I am on my feet each day from the opening act until after the After Hours Jam concludes in the early morning.
For documenting the festival, I get a free VIP ticket which is also good for food and water.  My pass is all access which means back stage, on the stage and in front of the stage.
In the beginning, I slept in a tent with a sleeping bag charging my gear wherever I could find an outlet.  It is infinitely more luxurious and convenient in our truck camper.  For security and access to the musicians, I camp in the musician's area of the campground next to the owner/ promoter.  I have been doing this since 2006.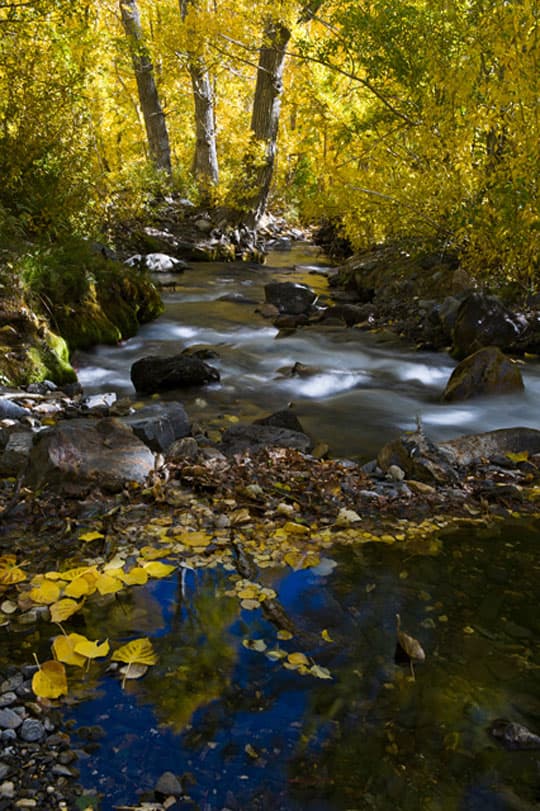 Above: The Fall colors in McGee Canyon, California
TCM: That's a neat gig and a great application for a truck camper. How do you pick the places you want to visit and photograph?
Judy: There are so many stunningly beautiful places to visit and photograph in the United States that to choose where and when to photograph isn't easy.  I have several favorite photographers so I visit their websites to see where they have chosen to venture.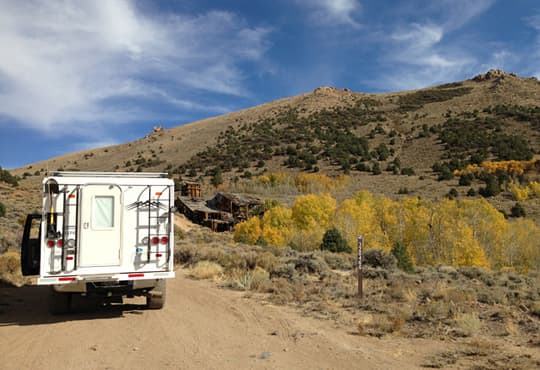 Above: Eastern Sierra ghost town, California
As Chief Navigator and Travel Coordinator, I usually choose an area based on the seasons, for example the Grand Tetons and the Eastern Sierra Nevada for Fall color, and plan around that.  Or, we choose places we haven't been and discover nearby locations that look promising.  Our Benchmark maps are worn out from the research to discover new places as many geographical and historical features are included.
A search online for Plume Rock in Wyoming showed a photogenic rock formation that the early settlers used for route finding.  Hopefully, we can access it, but there are no roads that lead near it.  Google maps also assists me in finding unusual geologic formations, usually in remote areas.  It is challenging to find a route to them.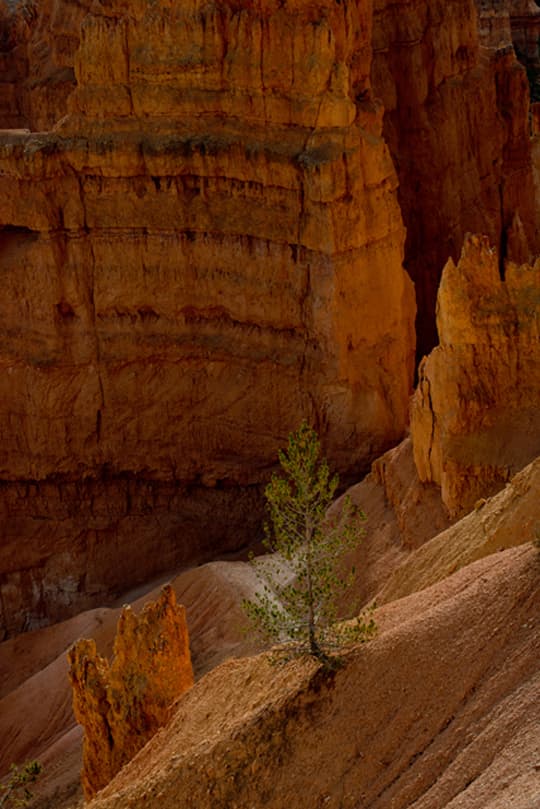 Above: Bryce Canyon National Park, Utah
TCM: Your pictures of the desert/red rocks are amazing. I always find photographing red rocks to be a challenge. What are some tips for taking pictures of red rocks?
Judy: Thank you for the compliment.  Since we are natives of the Pacific Northwest's wet side, the geology of the Southwest fascinates us.  Instead of green, grey, white, and blue, the Southwest displays the warm colors of the spectrum.  There the geology is laid bare to see while it is covered in brambles and other vegetation in our home turf.
The best times for photography are in the early morning or late evening hours, the golden hours, when the sunlight is slanted for that special glow.  With the advent of higher ISO in the latest generation of camera bodies, I am discovering that before sunrise and after sunset can yield some fine photos without the noise or grain that higher ISO levels were previously famous for.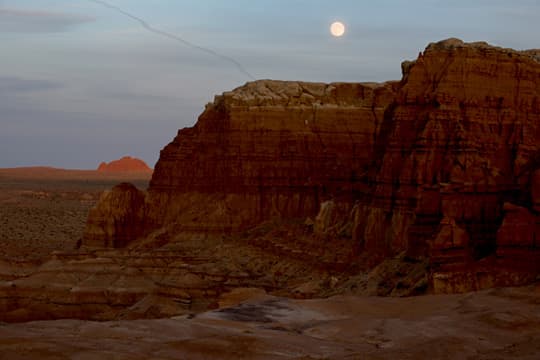 Above: Goblin Valley, Utah
Also, I don't mind overcast days for a softer look, especially for forest scenes, flowers, waterfalls, or red barns surrounded by green fields.  Of course, stormy weather trumps a sunny day anytime for drama and impact.  If it is a blue sky day, the red rock canyons look their best when the light is reflected off the walls, like at Zion or Longs Canyon on the Burr Trail Road.
There are many rules for photographic composition such as leading lines, S curves, rule of thirds, etc., but don't be afraid to break some.  Side and back lighting are preferable to the flat light from straight on or from behind.  Besides, a polarizer is most effective when the sun is at a ninety degree angle to your lens.  The best idea is to look at other photographers' images for inspiration.  Then, shoot and shoot until you have that "aha" epiphany moment and discover your own innate talent and special way of viewing the world.
Unfortunately, we can't arrange the weather to suit our artistic pursuits.  Being there at the right time and place is part research and part luck.  I was at a photography workshop in the Tetons at Mormon Row.  It was raining, a drizzly liquid that can dampen your spirits as well as ruin expensive electronics.  But, our workshop leader told us to be patient because he was here with the same conditions and, after other photographers left, a rainbow appeared over Moulton Barn resulting in a fabulous image.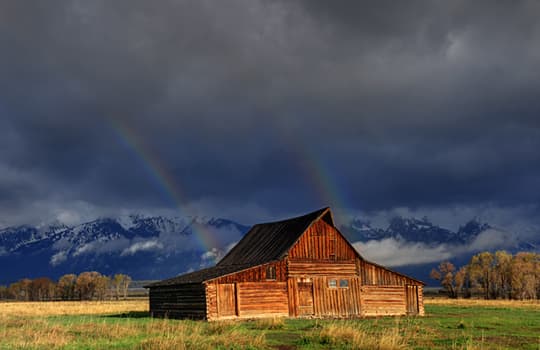 Above: Rainbow above Moulton Barn
We, too, were rewarded with a double rainbow over the barn and they are some of my best shots.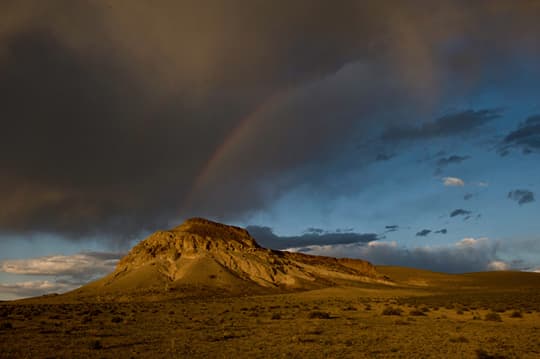 Above: The magic rainbow in Nevada
My husband and I were in Nevada in a very remote area.  The clouds were beginning to gather and the evening light was beginning to glow.  My husband wanted to leave to find a campsite.  But, I had a hunch and said, "I am staying".  I was rewarded with a rainbow above a rock formation, a dramatic sky of greys, blacks, and blues and a very memorable time and images.  It was magic.
TCM: Is all of your traveling for your photography, or do you go truck camping and do other things?
Judy: We enjoy rockhounding and have some eBooks on my iPad mini and paperback books about rockhounding locations. However, some of our best rockhounding finds have been due to stopping along the road for photography or our campsite for the night.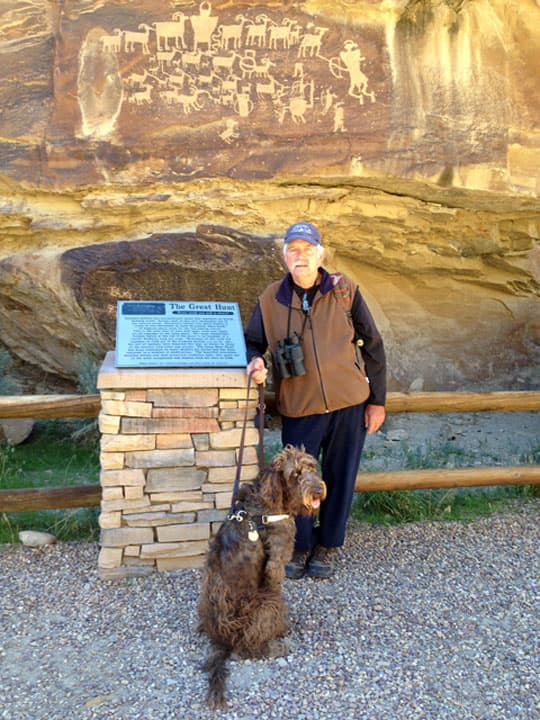 Above: Native American rock art, petroglyphs, and pictographs
Photography is our favorite pursuit as it is a vehicle for bringing us to some of the most beautiful places in this country.  A special fascination we have is Native American rock art, petroglyphs, and pictographs.  History comes alive as you visit areas where Native Americans roamed or where settlers laid down deep grooves as their wagons crossed the West.  We make frequent stops at historical markers to see that bit of history that happened nearby.  When we see a derelict cabin and outbuildings, we wonder what forced the owners to abandon their hopes and dreams.
Above: Mountain sheep in Oregon
We enjoy viewing wildlife while visiting preserves. But, again, we have seen animals while driving or stopping along the road.
While on a USFS road in Oregon, we stopped to check out a canyon and looking up, saw a herd of mountain sheep on the rocky crags above us with four newborns.  We were told by a local that he had been in the area since the 1970s and had only seen them once.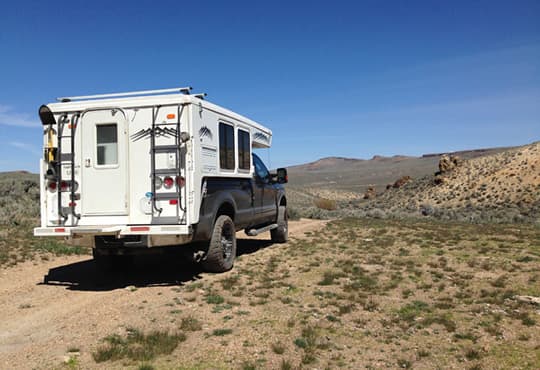 Above: Traveling in the Northwest
TCM: I see on your blog that you have bird tallies for the day. Are you birders?
Judy: We aren't birders per se, but we enjoy watching for them and seeing them in their natural habitat.  We have visited the various wildlife preserves in eastern Oregon (Malheur, Klamath) and Ruby Lake in Nevada among others.
One of our best memories was seeing some nesting California Condors on the graded gravel Rock House Valley Road in Arizona between Highways 89A and 89.  They are magnificent animals.  I am glad they were saved from the brink of extinction.  They are still vulnerable with a population of around 260 or so.  It was a special treat to see them soar on the thermals above the cliffs of Vermillion Cliffs National Monument.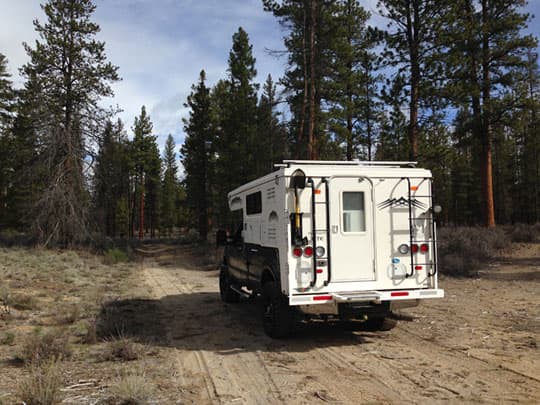 Above: Hole in the Rock, Oregon
TCM: What's your camping lifestyle like?
Judy: Our travels usually last from three to six weeks depending on the time of year and the weather. We grow much of our own food so we try to plan around seed sowing, planting, and harvest.  Summers are stay at home vacations as the weather is sunny and warm. Besides, we avoid the crowds and traffic during the summer high season.
We live on six acres with several ponds, a creek, and old second growth cedar and Douglas fir trees.  We could camp here and actually provide a camping spot for friends or paying customers.  This summer we may go mid-week on logging roads in the Mount Baker National Forest to boondock, but we need a CB setup to avoid logging trucks.
Above: Boondocking at USFS/BLM campgrounds, Drews Creek Campground in Oregon (left and middle) and Black Rock Playa in Nevada (right) – click to enlarge
We enjoy boondocking at USFS/BLM campgrounds.  Finding a place to boondock after being awake since predawn makes for a last minute surprise.  We thought one time that we we were far enough away from civilization in Northern Nevada only to wake up the next morning to discover we were off a road that led to the local fishing hole.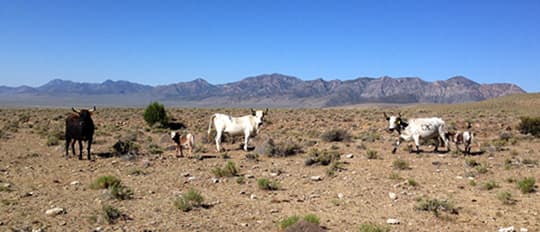 Above: South Six Mile Canyon in central Nevada
There was also the morning we camped at the entrance to South Six Mile Canyon in central Nevada to find a group of curious cattle surrounding us.
Oregon State Parks are some of the best so, along the Oregon coast, we stop at those.  They have free hot showers, clean sites, and they are near the Pacific Ocean.  The length of time at a spot varies. Previously, we might have stayed one or two nights as I pack a lot of traveling into my itineraries.  Lately, though, we are rethinking this mad dash from one place to another to stay longer to become better acquainted with an area.
TCM: Are there any places that you would recommend to fellow truck campers?
Judy: I am glad I was born a Westerner because of all the wide open spaces.  My dad's family lives in the Hudson River Valley area of New York, which is a beautiful area, but there aren't many places where you can escape the crowds.  Well, neither is the area around the I5 corridor of Seattle.  Fortunately, Nevada, Montana, Wyoming, Eastern Oregon, Washington, and Idaho are close by.
Above: Off Highway 6 in Nevada – click to enlarge
We have discovered that Nevada is the next best thing to Utah. It is not Las Vegas and Reno.  Check out Valley of Fire and Cathedral Gorge State Parks.  Lamoille Canyon in the Ruby Mountains is so different from the rest of Nevada's mountains with an actual glacier.  The canyons and ghost towns between Highways 50 and 6 are some of the most unpopulated areas in the country.  A rancher and his (grand)son were the only people we saw in two days of exploring that area.
Above: Judy's red rock photos from Bryce Canyon, Cedar Breaks, and Factory Butte – click to enlarge
Utah's world class national parks are justly famous.  Although the crowds of tour buses don't allow for quiet contemplation at the overviews, we still return to Bryce.  A close second is Cedar Breaks National Monument with the almost same type of geology, but fewer guests to intrude.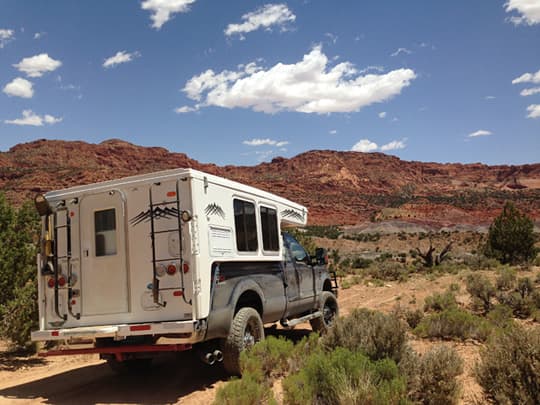 Above: Driving the dirt roads in Vermillion Cliffs, Arizona
Zion National Park in early November for the Fall color will be a repeat for us this fall as you can shoot midday for some of the most colorful images without huge crowds and having to rely on the shuttle.  Cottonwood Canyon Road in the Grand Staircase Escalante National Monument was a big disappointment for photography.  Who allowed power lines to appear in every view that was worth taking along the Cockscomb?  Since they were there we were told before the monument's designation, not much could be done.  The Burr Trail Road in the same monument is also worth a trip for the tall red canyon walls of Long Canyon and the Burr Trail Switchbacks.
Above: Succor Creek, Summer Lake, and Hart Mountain, Oregon – click to enlarge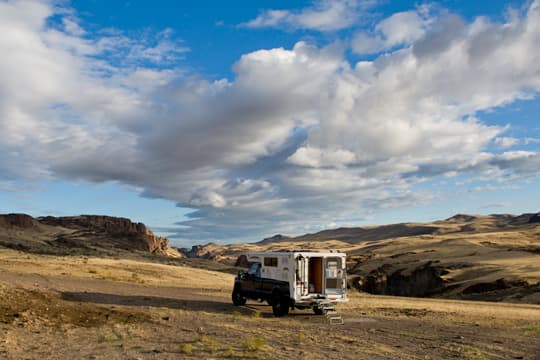 Above: Succor Creek State Park, Oregon
Other favorites are the Oregon Coast, Eastern Oregon's John Day Fossil Beds National Monument units, the Eastern Sierra Nevada in Autumn, and Dinosaur National Monument.  Silver City, Idaho, is a living authentic mining town accessed by a bumpy washboard of a road. We also enjoy a special place in Nevada off Highway 6 that I am keeping secret.
Above: Their dog, Toller, loves camping – click to enlarge
TCM: I see you travel with your dog, Toller. How does he like traveling in a truck camper?
Judy: He seems to enjoy just being with us. Anywhere we are is fine with him.  He occupies the extended cab seat amongst his pack and our camera gear.  He sleeps on the bed with us.
Since dogs aren't allowed on National Park trails, we have taken turns at the viewpoints so one of us is always with him.  In the national forests and BLM lands, he is usually on a leash due to rattlesnakes and bears.
Once we check out an area for snakes, we allow him to run like we did at Nevada's Lunar Crater or Eastern Oregon's Flook Lake in the Hart Mountain area.  Dogs are welcome to run along the beach at Long Beach, Washington.  That is one of his favorite stops.
A new addition joined us last November: a young black Standard Poodle we renamed Blitzen (Bear is too common).  Both dogs were discovered on Craigslist.  He needs to develop better manners and then he will be allowed to keep Toller company since they are best friends.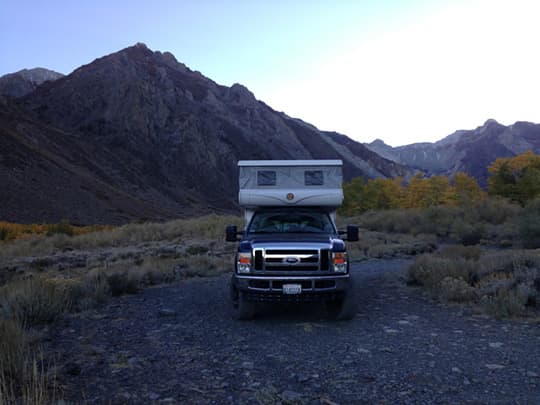 Above: Camping in McGee Canyon, California
TCM: What are your future truck camping plans?
Judy: Long range plans include exploration of Vancouver Island's west side, Banff and Lake Louise, and several provincial parks in interior British Columbia. I used to commercial fish in Southeast Alaska, so I would love to take the Alaska ferry through the Inside Passage to show my husband. Then we will revisit many of the memorable places we have passed through to discover what we missed the first time.
This Fall we leave for a three to four week trip into western Wyoming as my husband has yet to see the Yellowstone/Teton area. Fall is the prime time to catch the aspens in their golden dress up foliage. Then, we will explore western Wyoming like Beartooth Pass, Sunlight Basin, Bighorn area, Plume Rock, Pinedale's Green River Lakes region, the Red Desert and some backroads.  We will be passing through Southern Idaho (City of Rocks, Mesa Falls, Craters of the Moon, etc.) and Eastern Oregon (Steens Mountain Loop, etc.).  We need to return for fall garden chores for a week and then we'll head south and east toward Monument Valley, Canyon de Chelly, revisit Grand Canyon, Zion, Bryce, Burr Trail Road, Valley Of the Gods, and anywhere interesting in between.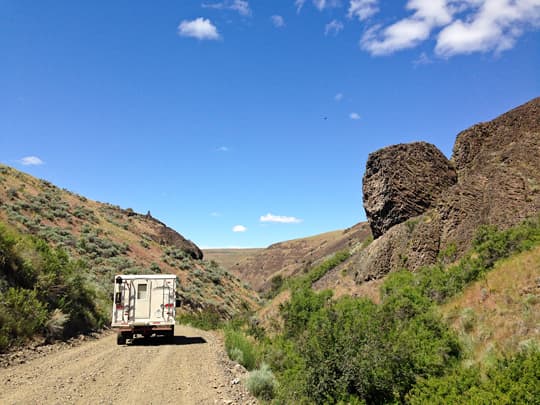 Above: For Judy and Tony having a truck camper is about accessing some of the most remote and scenic areas
TCM: Is there anything else that you'd like to add to your interview?
Judy: The next few years will see some changes in our lives. We may be moving out of the area, possibly to Oregon. Like many empty nesters, our home is becoming too large for the two of us and we need to downsize to lower expenses, upkeep costs, and time. We are unsure at this point. I always thought that when we retired, life would be less complicated. Hah, fooled again.
One of the best parts of camping is meeting like-minded folks.  A nice couple we met on the Olympic Peninsula asked us to photograph their daughter's wedding in August, which was so much fun.  Others have shared special places and favorite campsites.
I want to add my thanks to our civil servants, the National Park Rangers, BLM and USFS staff, and state and county park employees who are working with smaller budgets every year.  They have been very helpful and courteous.  If the public would quit abusing and trashing our public lands, their jobs would be easier.
Truck: 2008 Ford F250 Super Duty, extended cab, long bed, single rear wheel, four wheel drive, diesel
Camper: 2013 Hallmark Ute
Tie-downs/Turnbuckles: Torklift Fastguns
Suspension: Firestone Ride Rite airbags with interior controls
Gear: 2×70 watt flat solar panels/roof rack/High Lift Jack/Ranch Hand Sport front replacement bumper winch ready/inflatable boat