Jeff Casey's kids were thrilled to discover presents from Santa Claus in the back of their truck on Christmas morning.  It was six degrees outside.  Don't miss Jeff's mods!

We are always envious of readers who tell us their parents took them truck camping when they were kids.  They talk about piling into pickup trucks with nothing more than roll-down windows to cool off and and AM radio for entertainment.  No GPS, no heated seats, no cell phones.  Just family, the road, and memories to last a lifetime.
Today many families with children opt for larger forms of RVs.  While they gain interior space, they lose the versatility of a truck camper including camping off-the-grid, parking on main street, and being able to stay in the driveways of family and friends.  Of course everything is a tradeoff, and sometimes a family of five just can't work in a truck camper no matter how many slide-outs it has.  Then again, sometimes they can. (links to Geisenhavers and Avalanche camper articles)
For the parents and grandparents out there who take their kids truck camping, it's an incredible gift you're sharing.  Those lucky children are experiencing travel, adventure, discovery, and the sense of freedom and excitement only the road brings.
Speaking of lucky kids, Jeff Casey and his wife take their children truck camping in their 2012 CampLite 10.0 every chance they get.  Winter, Spring, Summer, or Fall, they venture out from their Texas home base to explore state and national parks, walk through ghost towns, and take in the natural wonders of the wild west.  If there's a school break or holiday on the calendar, Jeff finds a truck camping destination on the map and makes it happen.  Something tell us the Casey kids might be reading Truck Camper Magazine, in 2020.

Above: Jeff's 2011 Dodge 2500 and 2012 Camplite 10.0 in Marfa, Texas
TCM: How did you get into truck camping?
Jeff: I had a travel trailer before I got into truck camping.  The problem was that I couldn't go where I wanted to go with the trailer.  Specifically, I wanted to drive off-road and onto the soft sand at the beach.  Towing a trailer, I would get stuck.
With our truck camper, I can go anywhere.  That's what turned me onto our CampLite 10.0.  With the all-aluminum and wood-free construction, I can drag a tree limb down the side of the camper and I'm not going to tear it up.  She is going to see a tough life.
Our very first trip was to Rockport-Fulton Beach.  That was a two-day deal to get our feet wet.  Then we went to Padre Island National Seashore.
When you cross the bridge and head south, you are actually going to North Padre Island.  There is seventy-five miles of undeveloped, unmaintained beach.  It's all beach travel and at your own risk.  Every mile you drive down the beach you have to turn around and drive back out.  It's a great place if you really want to get away from everything.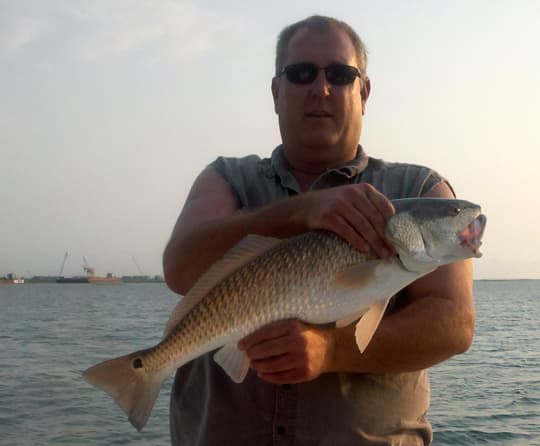 Above: Jeff Casey fishing at Steadman's Reef, Port Aransas, Texas
TCM: That does sound interesting.  What does it cost to get onto the island?
Jeff: The annual permit is $25.  They groom the beach for the first four to five miles and you can drive almost any vehicle in that area.  After that there's a sign that only four-wheel drive vehicles are permitted to pass.  At that point you also lose cell service.  You're really on your own.  There are fisherman down there, and people go out and tent camp.
At the 17 mile mark is Little Shell Beach.  The beach there is covered with small shells.  At mile 27 is Big Shell where you go from quarter-inch shells to one and two inch pieces of shell.  Once you're down that far, your nearest neighbor might be two miles away.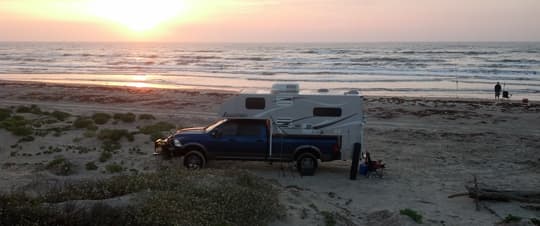 Above: Camping on North Padre Island, Texas
TCM: Wow.  That sounds incredible.  Are there any amenities nearby?
Jeff: Back up at the Padre Island National Seashore headquarters, they've got a gift shop, shower station, and an RV park.  You never have to leave the pavement if you don't want to.
TCM: Do you need to air down your tires for the sand?
Jeff: Yes, but you need to bring your own air compressor to air back up again.
Above: Petrified Wood National Park is a neat place to go, off Route 66, Arizona
TCM: That would be important.  Where else do you go with your camper?
Jeff: Our first long trip in the CampLite was in late fall of 2012.  We took a trip to New Mexico and Arizona and did a park tour.  The more obscure the park, the better.  The harder to find, the better.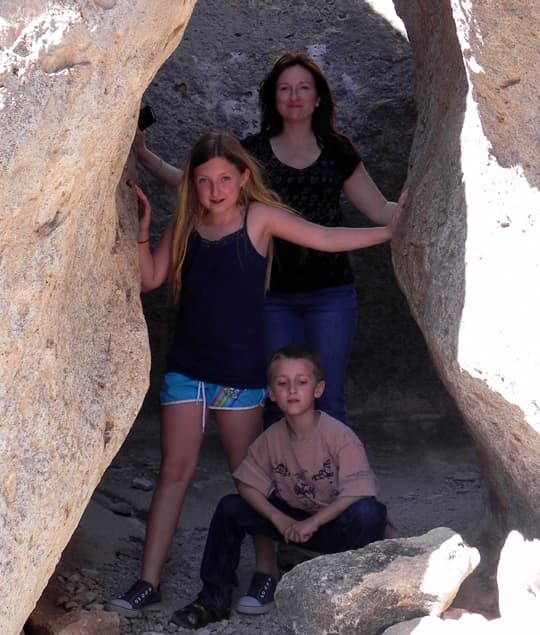 Above: Karen, Colton, and Katelyn at City of Rocks State Park, New Mexico
One of our first stops was City of Rocks State Park in New Mexico.  It's an eroded volcanic cone with big basin flatland and grassland all around.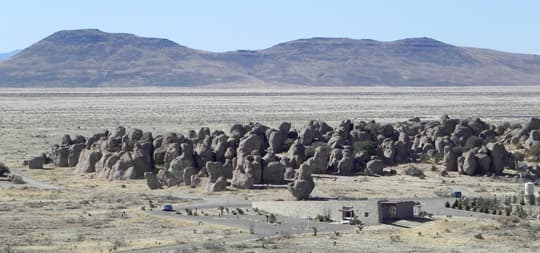 Above: City of Rocks State Park, New Mexico
Then there's a grouping of truck size rocks.  The bigger rocks are literally twenty to thirty feet tall.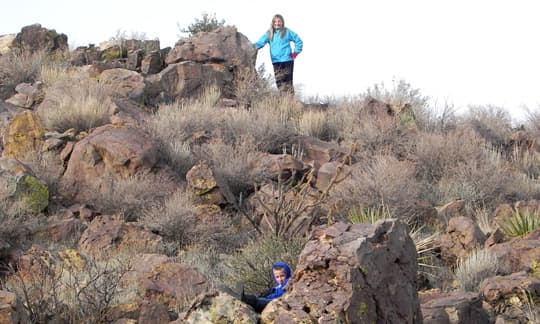 Above: Colton and Katelyn at Valley of Fire State Park, New Mexico
TCM: Now that sounds like a place for a calendar winning photograph.
Jeff: Then we went to Valley of Fire State Park in New Mexico.  It's an ancient 100 mile-long lava flow that can been seen from satellites in space.  We camped there one night.  It's a fabulous full-facility RV park.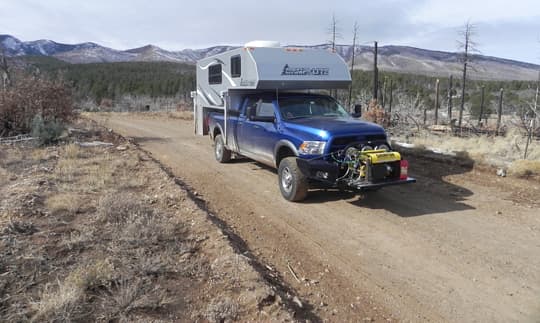 Above: Lincoln National Forest, Alamogordo, New Mexico
After the Valley of Fire State Park, we crossed the continental divide and traveled through Silver City making our way into Lincoln National Forest and into Gila National Forest.  That's where the Gila Cliff dwellings are.  We spent a day and a half there, did a hike, and checked out the cliff dwellings.  My kids participate in the Junior Ranger Program so they got a badge and a stamp in our National Parks Passport.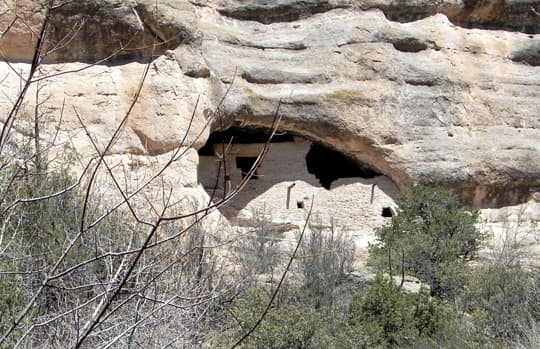 Above: Gila Cliff Dwellings National Monument, New Mexico
TCM: I have a National Parks Passport, too.  It's fun to look back and see what parks we visited, and what date we visited them on.  Where did you go after Gila National Forest?
Jeff: At that point, we flipped a coin.  Heads we would go to Tombstone.  Tails we would drive south to the border trail and go back into Texas.  It was heads so we went to Tombstone, which is an old silver mining town.
We stayed three days in Tombstone and toured the city.  There are ghost tours, trolleys that you can jump on, and the Birdcage theater, which is recognized as one of the most haunted places in the world.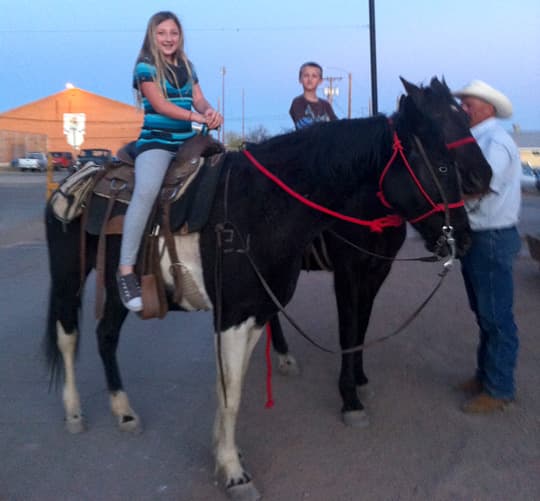 Above: Katelyn and Colton riding horseback down Main Street
As we walked around Tombstone, I noticed a guy walking his horse to attend a reenactment.  I told the guy that his horse had a watch eye, which is where a horse has one blue eye.  He was impressed that I knew what that was, and asked if my kids would like to ride horseback down Main Street.  My kids went crazy, jumped on the horses, and rode them down the main drag, which is normally only open to pedestrian traffic. The kids being able to ride a horse down the main street in a wild west town was the highlight of their trip.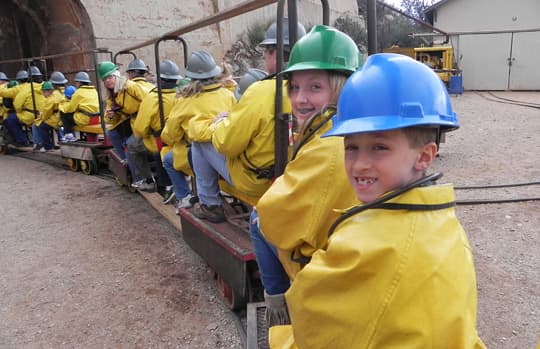 Above: The Old Queen Anne silver and copper mine tour in Bisbee, Arizona
We also went to Bisbee.  Bisbee is in a valley in between mountains and has artisan shops.  It's also where the Old Queen Anne silver and copper mine is.  We rode an old mine car into the mine.  After Tombstone and Bisbee, we headed back east toward Texas and I drove home, only stopping for fuel, which was 1,000 miles.
TCM: That's a long drive.  Where did you go in 2013?
Jeff: Our big trip of 2013 was a nine day trip to the Grand Canyon.  We left a couple days before Christmas.  Our first stop was Valley of Fire State Park before heading north into the mountains of New Mexico near Alamogordo.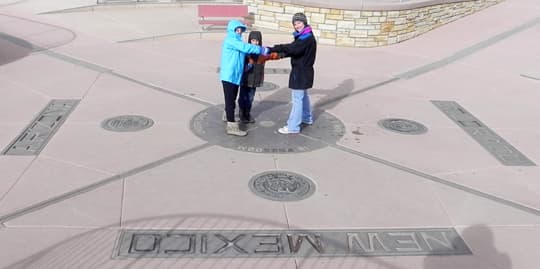 Above: Karen, Colton, and Katelyn at Four Corners Monument
Then we went west to the Four Corners Monument.  We were in Four Corners on Christmas Day and then headed south to Meteor Crater.
Aboev: Wupatki National Monument, Sunset Crater Volcanic National Monument, and the Grand Canyon entrances
From there we set our sights on the Grand Canyon, stopping at Walnut Canyon National Monument and Wupatki National Monument on the way.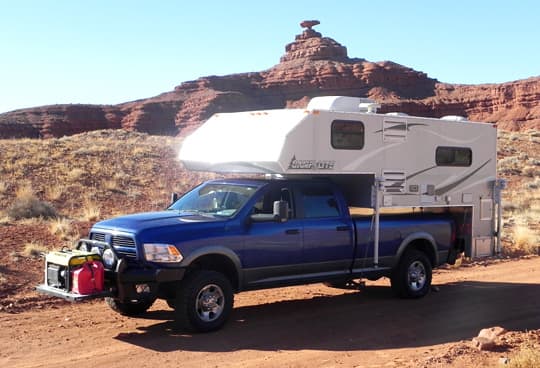 Above: Their truck camper in Mexican Hat, Utah
Above: Photos from Mexican Hat, Utah
From the Grand Canyon we went back into Utah visiting Natural Bridges National Monument, Mexican Hat, and Las Vegas, Nevada.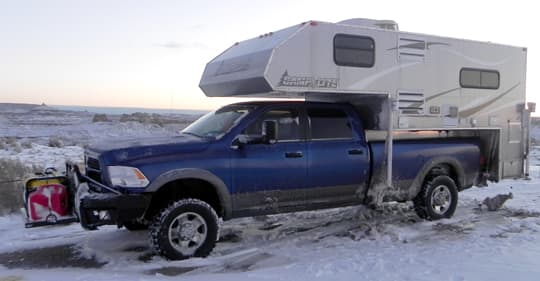 Above: After going through the Four Corners area, the truck and camper needed a wash.  What better place to do it than Las Vegas?
TCM: What did you do in Las Vegas?
Jeff: We rolled into Las Vegas at night.  The whole valley was lit up, so we cruised up and down the strip with our CampLite.  We watched the fountains and then went over to the Blue Beacon truck wash.  After the snow and ice in Utah, our rig was a mess.  The guy at the truck wash said they usually washed a big truck in thirty minutes, but it took an hour to wash our truck camper.
TCM: We have taken our rig to a few truck washes during our travels.  It's amazing how much better a truck and camper can look once they're clean.  Where did you go after Las Vegas?
Jeff: We headed south out of Vegas and stayed overnight at a truck stop across from a casino near the Hoover dam.  It's the last casino coming out of Vegas.
The next day we toured the Hoover Dam via helicopter.  It's called the Big Dam Helicopter Tour.  The kids had a blast.  The ride was only ten to fifteen minutes long, but you fly all around the dam.  The pick up area for the helicopter was right in the casino parking lot.
Above: The helicopter tour was the highlight of the Hoover Dam
From the Hoover Dam we headed east toward Albuquerque.  We stopped at the village of Capitan in Lincoln County, New Mexico.  Capitan is the home of Smokey the Bear. We stayed the night near Smokey Bear Historical Park at the Capitan RV Park.  The next day we toured the buildings and watched their videos.  Then we went over to Lincoln.  Lincoln is the town that was made famous for the Lincoln County wars and Billy the Kid.  If you can't tell, I'm really into the wild west.
Then we got moving back to Texas.  We made a quick stop at Guadalupe Mountains National Park on the drive back home.
TCM: You said that Santa Claus found your truck camper on that trip.
Jeff: My six year old was wondering how Santa was going to find us since we were on the road.  Santa got up at 3:00am and set everything up in the blinding snow.  He put the presents out on the back seat of the truck.  They had been carefully hidden in every nook and cranny.
When we woke up Christmas morning, we ate breakfast and I prolonged the pain for a  while.  As soon as the kids opened the back door to get into the truck, they saw the presents.
TCM: Further evidence that Santa likes truck campers.  How did the CampLite handle the cold being that it's an all-aluminum and composite truck camper?
Jeff: My CampLite is not categorized as a cold weather camper.  Sometimes I leave the heater on in the camper so we don't freeze the holding tanks while we travel.  Over Christmas, we were camping in six degree weather at the Grand Canyon.  As long as the heater was on, we were okay.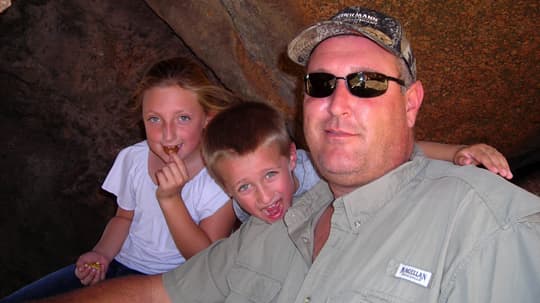 Above: Katelyn, Colton, and Jeff at Enchanted Rock National Monument
TCM: As a resident of Texas, what are some recommendations you have for camping in Texas?
Jeff: Visit Fredericksburg, Texas.  It's a great small town with antique stores and wine tasting shops.  You'll need a full day.  Just east of Fredericksburg is the Lady Bird Johnson wildflower center.  That's a worthwhile spot where you can get native Texas flowers and seeds.
I also recommend Garner State Park.  Folks in Texas will be familiar with it.  It's well known for the Frio river, which is freezing cold.  In the middle of summer, the air temperature will be over 100 degrees and the river will only be 60 degrees.  The river is spring fed.  There is swimming and tubing there on the river.  You can camp all up and down the Frio river.  Our favorite campsite is Seven Bluffs just outside of Concan, Texas.
There is a local lake we camp at northeast of Austin called Granger Lake.  We like going out there for a day or two to get away.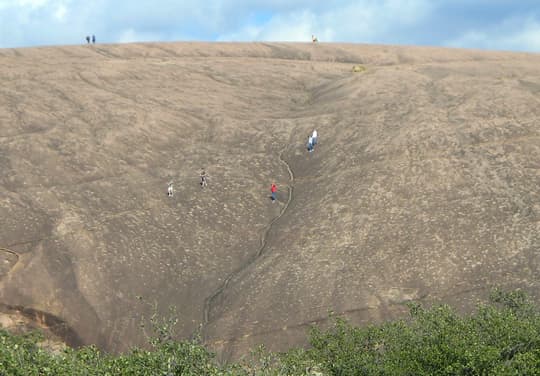 Above: Enchanted Rock National Monument, Texas
There's also Enchanted Rock National Monument.  It's a granite dome north of Kerrville.  Pink granite is famous here in Texas.  Enchanted Rock is an old monolithic lava dome that's eroded away.  The elevation is a couple hundred feet .
Enchanted Rock is a day trip and there's no RV park.  Hiking to the top of the granite dome is a really neat thing to do.  On a clear day you can see the curvature of the Earth.  It's a strenuous mile long hike up to the top, with a steep grade elevation.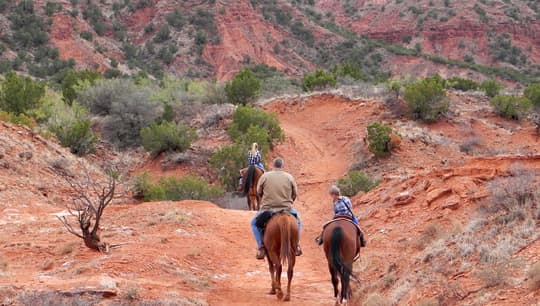 Above: Cap Rock Canyon, Texas
Palo Duro Canyon and Cap Rock Canyon are up north in the panhandle of Texas.  They are beautiful parks with hiking trails.  Cap Rock Canyon is home to the state plains buffalo herd.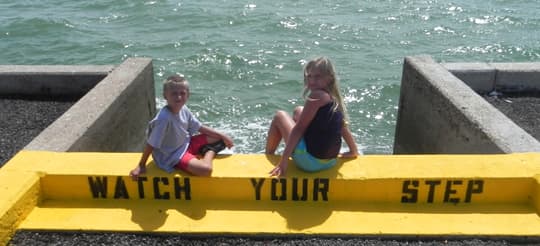 Above: Colton and Katelyn at Port Aransas, Texas
TCM: How are you able to get away on these longer trips with work and Colton and Katelyn's school schedules?
Jeff: I'm a spur of the moment type guy.  Starting out, all I plan out is the final destination, which is our turn around point.  We also try to make use of the holidays that the kids are off from school like the 4th of July, Christmas, Thanksgiving, and Spring break.
Above: Big Bend Ranch State Park, Texas
TCM: What was the Big Bend trip like?
Jeff: Big Bend State Park is where things get interesting.  It's an old ranch that was bought in 1960s.  It's actually called Big Bend Ranch State Park and it's just as big as Big Bend National Park.
You go through Lajitas and Terlingua to get there.  There's a gravel road turnoff that doesn't look like much.  You have to know what you're looking for.  Any of the ranger stations in the area will tell you how to get there.  Just be ready to beat up your truck.
Big Bend State Park has washboard dirt roads for sixty miles that reach the old ranch house in the middle of the park.  That's the ranger station.  It's an improved dirt gravel road, so I was able to go fifty miles per hour.  In some spots you slow down because you have limited sight distance.  Any truck can handle going to the ranger station.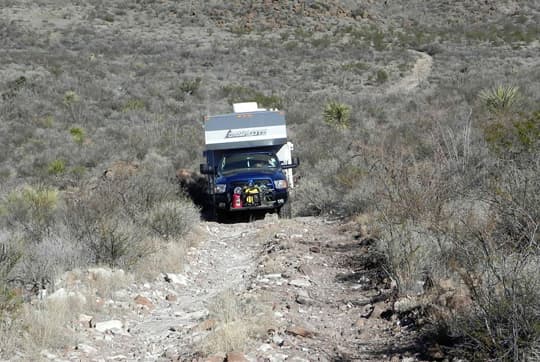 Above: Yedra Road – the road to the campsite, Big Bend Ranch State Park, Texas
The side roads that go to the campsites are harder.  The campsite we stayed at was one and a half miles from the main dirt road.  That mile and a half took us an hour and a half to navigate.  It is straight up and then straight down at a twenty degree angle.  You can also camp at the ranger station.
Above: Big Bend National Park, Texas
TCM: I guess you don't mind beating up your truck in the name of adventure.
Jeff: I don't mind a little desert pinstriping.  That's what we call hair line scratches you put on trucks to get into remote sites here in west Texas.  People think we're crazy taking a $40,000 pickup truck and scratching it up, but it's a truck.  It's made to do that stuff.
West Texas has the most beautiful scenery.  Once you get off the paved roads and into the mountains and trails, it really gets beautiful if you like the high desert.  I'm all about the off-roading.  We want to go and see things very few people have seen.
There's a set of waterfalls in Big Bend State Park that are a must see.  We also spent time in the national park.  There are hot springs right on the Rio Grande River that come out of the mountain with eighty to ninety degree water.  They have a short wall built up around them to make the water pool up.  The kids always have to get in.  It's like a hot tub from mother nature overlooking the Rio Grande and Mexico.
A fun backcountry campsite that is easy for most trucks to get to in Big Bend National Park is Gravel Pit on the Rio Grande.   The kids always want to go there because there's a mountain near the campsite with a 100 foot sheer cliff.  It's actually easy to climb.  Every time we've camped up there we've seen lots of wild Javelina.  We've even seen mountain lion tracks near the campsite.  Most of the other sites in the park are a lot tougher to get to.  Always be prepared to scratch your truck, bring lots of water, and don't forget your shovel.
Panther Gap in the Chisos Mountain Basin is another great place to go.  There's a campground for RVs there.
TCM: It sounds like your kids really enjoy truck camping.
Jeff: They love it!  We're all outdoors people.  We're your typical country bumpkins; hunting, fishing, hiking and exploring.  It's the way we are.  The truck camper gets us out past that 100 mile radius from home without needing a tent or hotel room.  We can get further and further out.  I carry my hotel room on the back of my truck.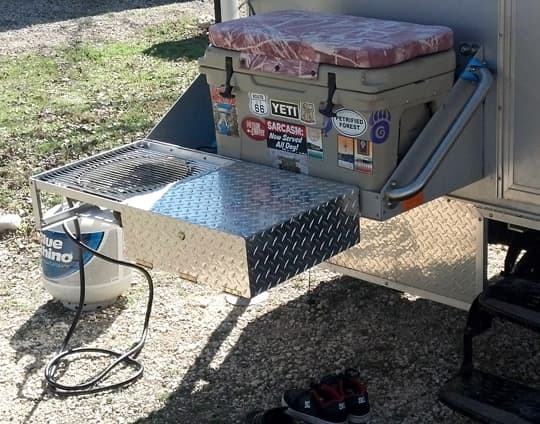 Above: The back rack for the Yeti Tundra 32 quart cooler
TCM: Have you made any modifications to your rig?
Jeff: One invaluable thing I added to my camper is a rack that bolts onto the back for my Yeti Tundra 32 quart cooler.  Before, the only way to take it with us was to throw it on the floor in the camper.  With the rack, it's out of the way.  In that location, the Yeti cooler also acts as a secondary handrail for my kids, helping them get up the camper steps.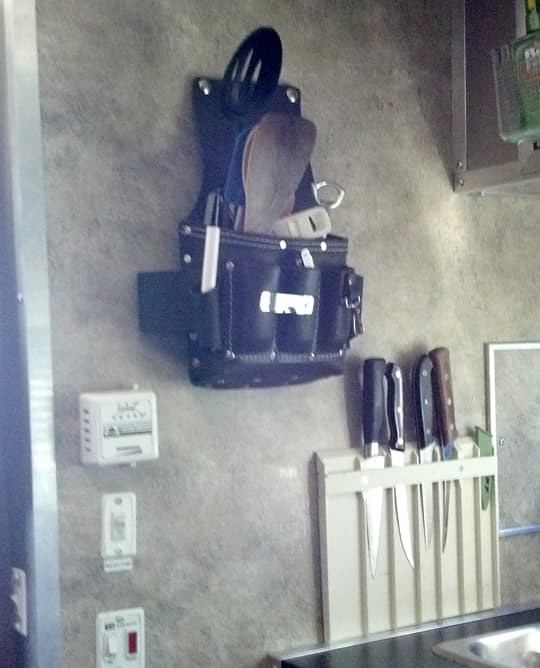 Above: Jeff's utiilty pouch that holds silverware
CampLite put big compartments everywhere.  At first we put things in plastic crates, including our silverware.  It worked, but it was always a pain to find a knife or fork.  I wound up buying an electrician tool pouch with compartments, adding two snaps in the back, and snapping it onto the outside bathroom wall to hold our silverware.  When we're done, I can unsnap it and take it into the house to clean the silverware.  It's great for holding little stuff.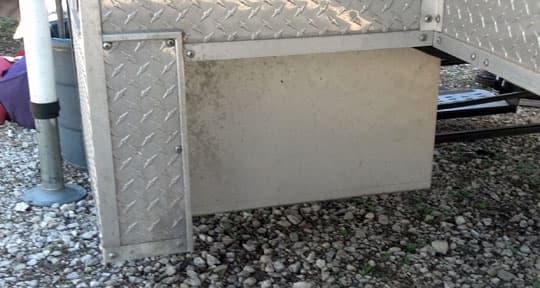 Above: The new battery box on the back rear corner of the camper
One more modification I made was with the batteries.  CampLites only come with one battery and we never had enough power.
Under the right rear corner of camper is a bit of an open space.  I took it upon myself to take the aluminum plate and make a battery box in the back of the camper.  Now we have four six-volt golf cart batteries in there.  I have power for days.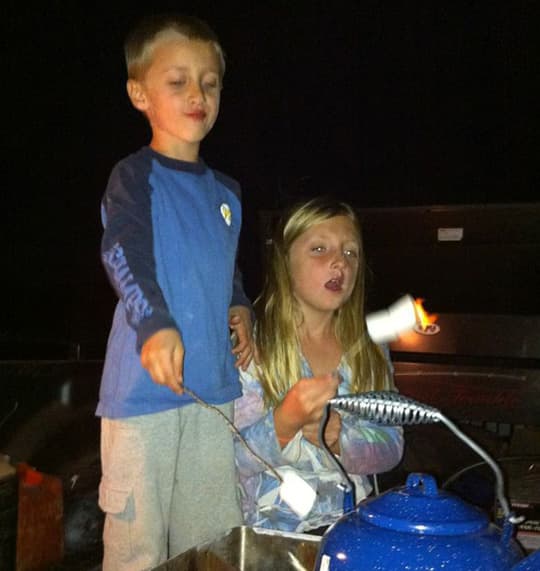 Above: Colton and Katelyn making S'mores
Once I pulled the plastic box out from where the original battery was, I created a three foot deep, one and a half foot tall, and eighteen inch wide storage box on the back of the camper.  It's a great place for tools, chains, and our fancy marshmallow sticks.  We can't go camping without making S'mores.
All the literature says that CampLite truck campers are not designed for cold weather.  In my opinion, it's all in how you camp.  Prepare yourself for it.  When you know it's going to be freezing temperatures, leave the camper heater running.
In near zero temperatures, I keep the camper at seventy-four degrees.  We have a carpet strip down the middle to keep our feet off the aluminum floor.  There is a six inch space where it's bare aluminum and you definitely feel the cold there.  The heater will cycle every ten to fifteen minutes and I burn through a bottle of propane every day and a half.  But we stay warm!  I just bring an extra bottle of propane with me in the rack that I bolted to the back.
Truck: 2011 Dodge 2500, crew cab, long bed, single rear wheel, 4×4, diesel
Camper: 2012 CampLite 10.0
Tie-downs/Turnbuckles: Torklift
Suspension: Added two springs on each side of rear axle of truck, because airbags won't cut it for where we go, Two inch lift on truck, Nitto Grappler M/T tires
Gear: Front rack, Frontier bumper, bull nose grill guard, two receivers on each side and I built a platform to hold the generator, Pro Comp off-road lights