Jeff Casey's kids were thrilled to discover presents from Santa Claus in the back of their truck on Christmas morning.  It was six degrees outside.  Don't miss Jeff's mods!

We are always envious of readers who tell us their parents took them truck camping when they were kids.  They talk about piling into pickup trucks with nothing more than roll-down windows to cool off and and AM radio for entertainment.  No GPS, no heated seats, no cell phones.  Just family, the road, and memories to last a lifetime.
Today many families with children opt for larger forms of RVs.  While they gain interior space, they lose the versatility of a truck camper including camping off-the-grid, parking on main street, and being able to stay in the driveways of family and friends.  Of course everything is a tradeoff, and sometimes a family of five just can't work in a truck camper no matter how many slide-outs it has.  Then again, sometimes they can. (links to Geisenhavers and Avalanche camper articles)
For the parents and grandparents out there who take their kids truck camping, it's an incredible gift you're sharing.  Those lucky children are experiencing travel, adventure, discovery, and the sense of freedom and excitement only the road brings.
Speaking of lucky kids, Jeff Casey and his wife take their children truck camping in their 2012 CampLite 10.0 every chance they get.  Winter, Spring, Summer, or Fall, they venture out from their Texas home base to explore state and national parks, walk through ghost towns, and take in the natural wonders of the wild west.  If there's a school break or holiday on the calendar, Jeff finds a truck camping destination on the map and makes it happen.  Something tell us the Casey kids might be reading Truck Camper Magazine, in 2020.

Above: Jeff's 2011 Dodge 2500 and 2012 Camplite 10.0 in Marfa, Texas
TCM: How did you get into truck camping?
Jeff: I had a travel trailer before I got into truck camping.  The problem was that I couldn't go where I wanted to go with the trailer.  Specifically, I wanted to drive off-road and onto the soft sand at the beach.  Towing a trailer, I would get stuck.
With our truck camper, I can go anywhere.  That's what turned me onto our CampLite 10.0.  With the all-aluminum and wood-free construction, I can drag a tree limb down the side of the camper and I'm not going to tear it up.  She is going to see a tough life.
Our very first trip was to Rockport-Fulton Beach.  That was a two-day deal to get our feet wet.  Then we went to Padre Island National Seashore.
When you cross the bridge and head south, you are actually going to North Padre Island.  There is seventy-five miles of undeveloped, unmaintained beach.  It's all beach travel and at your own risk.  Every mile you drive down the beach you have to turn around and drive back out.  It's a great place if you really want to get away from everything.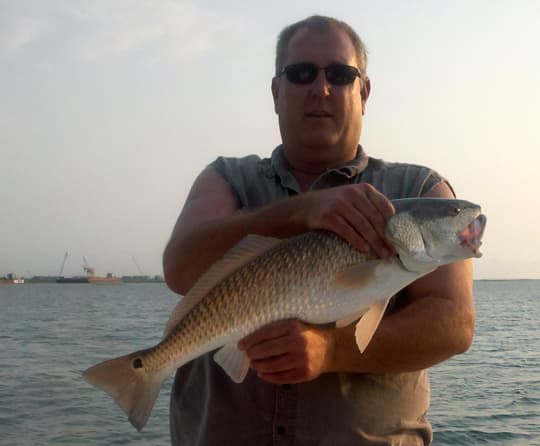 Above: Jeff Casey fishing at Steadman's Reef, Port Aransas, Texas
TCM: That does sound interesting.  What does it cost to get onto the island?
Jeff: The annual permit is $25.  They groom the beach for the first four to five miles and you can drive almost any vehicle in that area.  After that there's a sign that only four-wheel drive vehicles are permitted to pass.  At that point you also lose cell service.  You're really on your own.  There are fisherman down there, and people go out and tent camp.
At the 17 mile mark is Little Shell Beach.  The beach there is covered with small shells.  At mile 27 is Big Shell where you go from quarter-inch shells to one and two inch pieces of shell.  Once you're down that far, your nearest neighbor might be two miles away.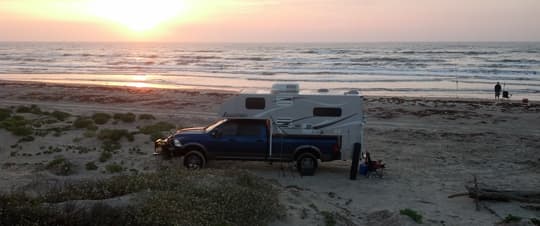 Above: Camping on North Padre Island, Texas
TCM: Wow.  That sounds incredible.  Are there any amenities nearby?