Husband and wife team Mark and Michele launched a successful Colorado wedding photography business and a truck camping lifestyle full of freedom, independence, and discovery.  Dare to dream.

By example, Michele and Mark Sprague offer a vision of how it's possible to live a fulfilling and successful life outside of the normal nine-to-five.  The Spragues saw that future, designed another one, and dared to make it happen.
As fellow entrepreneurs, we know the Spragues' success came with its fair share of blood, sweat, and tears.  You don't get to chart your own course in this world without hard work, old school grit, and sheer determination.  The challenges of running your own business are constant, but it only makes the rewards of freedom and independence that much more meaningful.
Speaking of meaningful, we think you'll find their story, and stunning photography, deeply inspiring.  Their images certainly make us want to return to the Four Corners area and explore more of what that amazing area offers with the go anywhere, camp anywhere capabilities of a truck camper.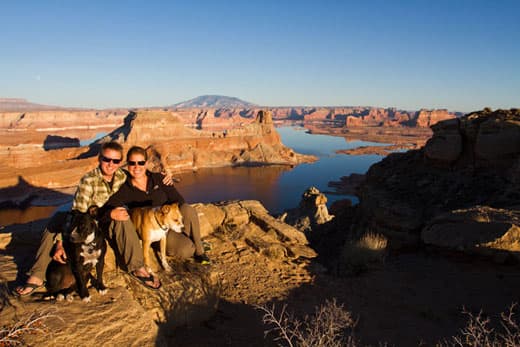 Above: Mark and Michele Sprague and their dogs, Kaia and Cosmo at Alstrom Point, overlooking Lake Powell, Glen Canyon National Recreation Area, Utah
TCM: Tell us about your camping lifestyle before you got the Four Wheel Camper.
Michele: I camped a lot as a kid, but Mark did not.  As adults we thought tent camping would be our thing.  We both love the outdoors and play outside as much as possible.  It's a huge part of our life.  Unfortunately, tent camping did not work for us as we have two excitable dogs.
Off-roading is one of our favorite hobbies, which is why we love living in the rural Colorado Rockies.  We wanted an RV with four wheel drive so we could further explore the backroads and stay overnight with our dogs, but didn't know if something like that even existed.
The first possibility we found was Sportsmobile.  They are amazing four wheel drive vehicles that would allow us to camp overnight, but they come with quite the price tag.  To look for alternatives, we went to the Colorado RV Adventure Travel Show.  Up to that point, we had never seen or considered a truck camper.
That is where we first stepped foot inside a truck camper.  They were roomier than we would have guessed but we still weren't aware that there were truck campers made for off-roading so we weren't sold.
After the show we came across Truck Camper Magazine, which was a huge resource, but it was when we found a used Four Wheel Camper on Craigslist that we started to get excited.
Soon after we went to meet Chris at Rocky Mountain Four Wheel Campers in Denver.  He showed us his Four Wheel Camper rig, and we were sold.  His rig had four-wheel drive, all the amenities we wanted, and an affordable price tag.
After a couple weeks of intense truck research, we decided to get a 2001 to 2004 Ford F250 SuperCab, short bed, 7.3-liter PowerStroke turbo diesel.  It was a very specific truck, and we found two on Craigslist in all of Colorado.  Lucky for us, the first one we looked at was in great condition and the price was reasonable.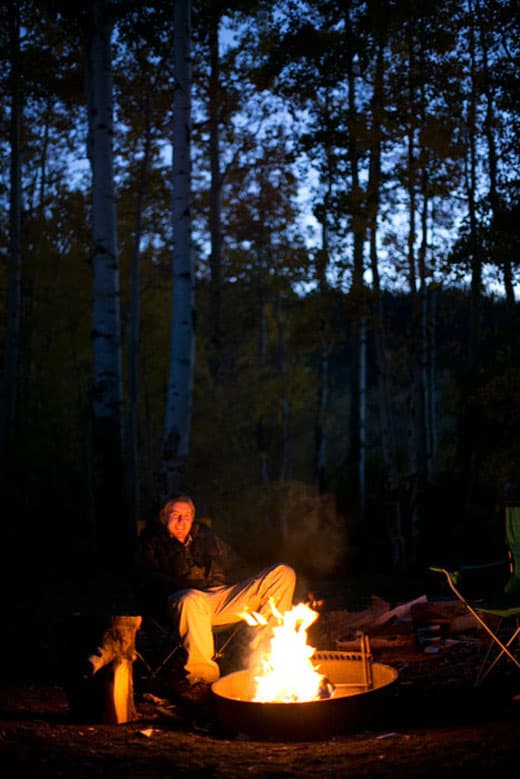 Above: Mark enjoys a fire on the edge of the Flat Tops Wilderness Area in Routt National Forest, Colorado
TCM: In your blog you wrote that you wanted, "…something that could take us to all the remote places that we loved to go".  What remote places are you referring to?
Michele: Before the truck camper we joked that we did a lot of "faux camping".  With BLM and National Forest access right out our back door, we would often go off-roading and find a great spot to build a campfire, cook some food and enjoy the outdoors.  However, with our lack of success at tent camping, we would always go back home that night.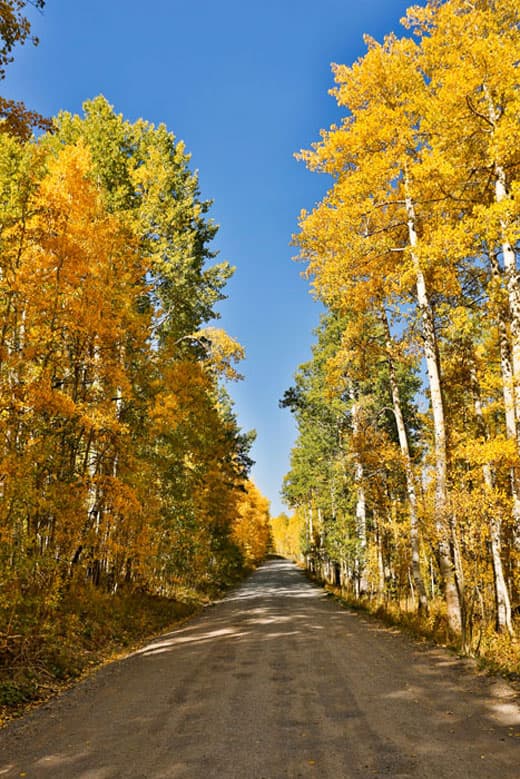 Above: Coffee Pot Road, Colorado