Husband and wife team Mark and Michele launched a successful Colorado wedding photography business and a truck camping lifestyle full of freedom, independence, and discovery.  Dare to dream.

By example, Michele and Mark Sprague offer a vision of how it's possible to live a fulfilling and successful life outside of the normal nine-to-five.  The Spragues saw that future, designed another one, and dared to make it happen.
As fellow entrepreneurs, we know the Spragues' success came with its fair share of blood, sweat, and tears.  You don't get to chart your own course in this world without hard work, old-school grit, and sheer determination.  The challenges of running your own business are constant, but it only makes the rewards of freedom and independence that much more meaningful.
Speaking of meaningful, we think you'll find their story, and stunning photography, deeply inspiring.  Their images certainly make us want to return to the Four Corners area and explore more of what that amazing area offers with the go-anywhere, camp anywhere capabilities of a truck camper.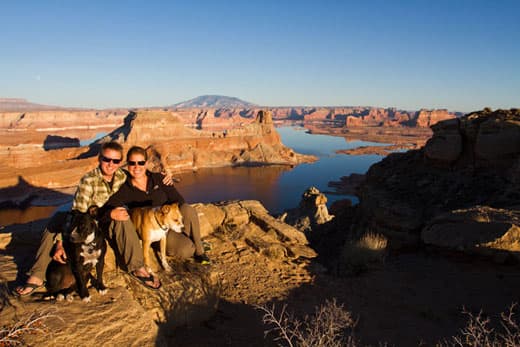 Above: Mark and Michele Sprague and their dogs, Kaia and Cosmo at Alstrom Point, overlooking Lake Powell, Glen Canyon National Recreation Area, Utah
TCM: Tell us about your camping lifestyle before you got the Four Wheel Camper.
Michele: I camped a lot as a kid, but Mark did not.  As adults, we thought tent camping would be our thing.  We both love the outdoors and play outside as much as possible.  It's a huge part of our life.  Unfortunately, tent camping did not work for us as we have two excitable dogs.
Off-roading is one of our favorite hobbies, which is why we love living in the rural Colorado Rockies.  We wanted an RV with four wheel drive so we could further explore the backroads and stay overnight with our dogs, but didn't know if something like that even existed.
The first possibility we found was Sportsmobile.  They are amazing four wheel drive vehicles that would allow us to camp overnight, but they come with quite the price tag.  To look for alternatives, we went to the Colorado RV Adventure Travel Show.  Up to that point, we had never seen or considered a truck camper.
That is where we first stepped foot inside a truck camper.  They were roomier than we would have guessed but we still weren't aware that there were truck campers made for off-roading so we weren't sold.
After the show, we came across Truck Camper Magazine, which was a huge resource, but it was when we found a used Four Wheel Camper on Craigslist that we started to get excited.
Soon after we went to meet Chris at Rocky Mountain Four Wheel Campers in Denver.  He showed us his Four Wheel Camper rig, and we were sold.  His rig had four-wheel drive, all the amenities we wanted, and an affordable price tag.
After a couple of weeks of intense truck research, we decided to get a 2001 to 2004 Ford F250 SuperCab, short bed, 7.3-liter PowerStroke turbo diesel.  It was a very specific truck, and we found two on Craigslist in all of Colorado.  Lucky for us, the first one we looked at was in great condition and the price was reasonable.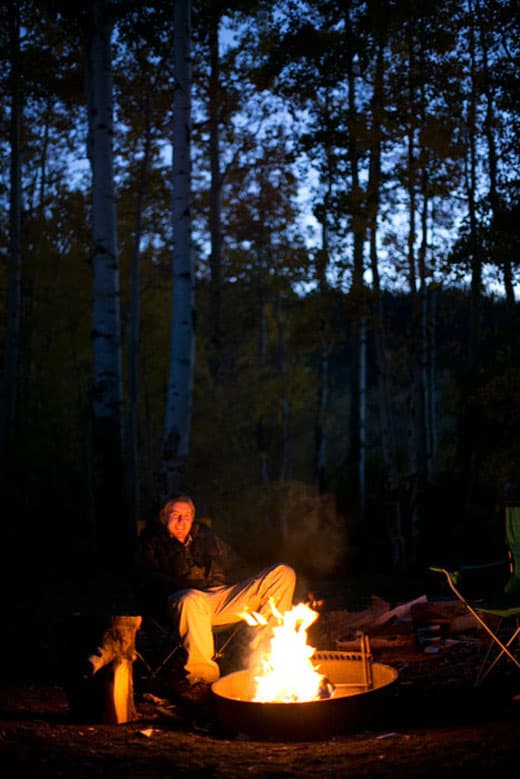 Above: Mark enjoys a fire on the edge of the Flat Tops Wilderness Area in Routt National Forest, Colorado
TCM: In your blog, you wrote that you wanted, "…something that could take us to all the remote places that we loved to go".  What remote places are you referring to?
Michele: Before the truck camper we joked that we did a lot of "faux camping".  With BLM and National Forest access right out our back door, we would often go off-roading and find a great spot to build a campfire, cook some food and enjoy the outdoors.  However, with our lack of success at tent camping, we would always go back home that night.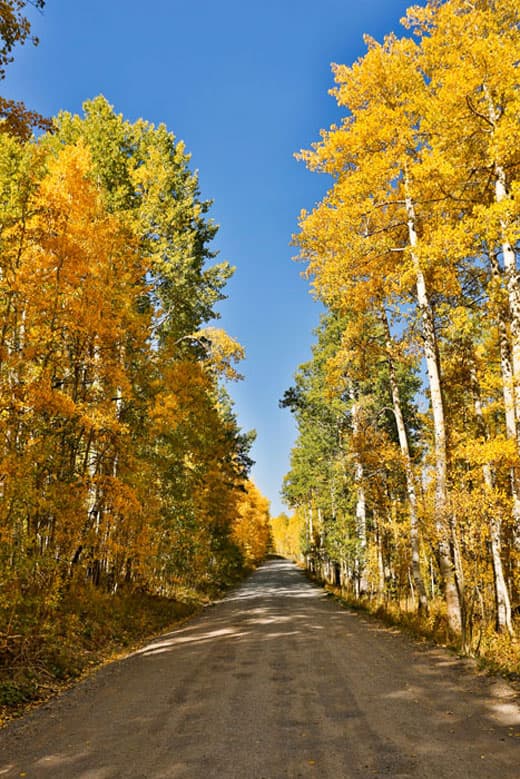 Above: Coffee Pot Road, Colorado
We dreamed of being able to stay overnight and get a break from our hectic summer schedule for a few nights.  Now that we have the camper, that's exactly what we do.  We can get a break in the summer near our house or leave and go thousands of miles in the winter when work is much slower.  The camper has made the dream we envisioned come true.  It's a whole new world for us.
TCM: What do you do that keeps you busy in the summers and gives you more freedom in the winters?
Michele: We're wedding photographers and our high season is from June until October.  During the ideal summer weather in Colorado, we're working weddings every weekend.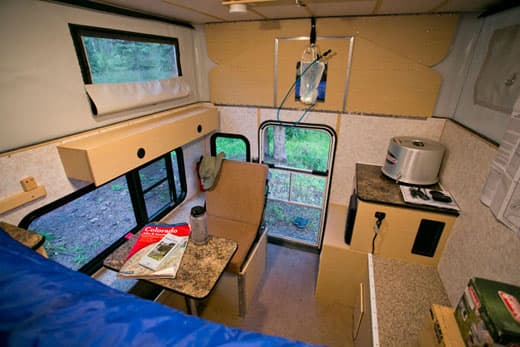 Above: The inside of Mark and Michele's Four Wheel Camper
TCM: That sounds like a very interesting lifestyle; Colorado wedding photography by summer, freedom to go truck camping and travel by winter.  Tell us how you optioned and outfitted your truck and Four Wheel Camper.
Michele: We live at an altitude of 8,000 feet, so our truck needs a lot more horsepower than vehicles do at sea level.  That was a big consideration.  We also have plenty of instances of animals running out in front of us.  The safety of our rig was a big thing.  We added a front grill guard on the truck for added safety in case of animal encounters on the road.  We also added a backup camera on the truck and all LED lighting for improved efficiency.  We never plug in anywhere.  We are always off the grid.
When we were planning our rig, we decided to start with Four Wheel Camper's shell model.  We added the furnace, a solar panel, and two auxiliary batteries.  We also wanted the dinette set-up so that we can work on the road.  We also added a porta potty and a refrigerator that fits perfectly inside our camper.
We love how spacious the Four Wheel Camper shell model is without the full kitchen.  We would rather cook outside.  If we are out camping, we do not want to be stuck inside the camper to do our cooking.  We may want more amenities like a kitchen at some point, but it works great for us now.
Our decision to go with Four Wheel Campers had a lot to do with meeting Chris.  We felt like it was a solid product that fit our needs.  My husband and I run a small business.  We have a lot of admiration for people who stand behind what they're selling.  It was a good fit.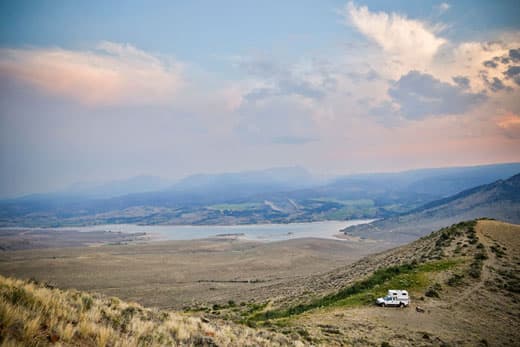 Above: The first night in their Four Wheel Camper on BLM land overlooking Green Mountain Reservoir and the Gore Range, Colorado
TCM: We love the quote on your website from the day you got your new Four Wheel Camper, "Here's what Christmas looks like for a couple of thirty-year-olds looking for their next great adventure".  Tell us about that moment.
Michele: We waited ten weeks for our camper to be made so we were like giddy children on Christmas morning when the day of our install finally arrived.  With a rehearsal dinner to photograph the next day, we had a lot to fit in that day as we were determined to camp that night.
At Chris's shop, I photographed the occasion while Mark, being the hands-on guy that he is, was very interested in seeing how everything worked.
A little twist to that day was that we met Linda Norman on her way back to Pennsylvania.  Meeting her was the cherry on top of the whole day.  Hearing her stories and adventures was a window into what we were about to embark on.
The new community we are becoming a part of is inspiring and incredible.  Talking with her was great.  She gave us her aluminum welded step and said to pay it forward to the next adventurer.  She's a great person.
We left that day and got home quickly.  As soon as we arrived at home, we threw in our sleeping bags and the bare minimum to get out for that first night.  We grabbed the dogs and went to our favorite faux camping spot.  It was a great test for our camper's off-road capabilities.  It was a steep, rocky, rutted road.
I got a workout because I wanted to be outside of the truck camper to take pictures of our rig.  It handled flawlessly.  We pulled up to our camp spot as the sun was setting.  At the time it was the peak of wildfires this past summer.  The sunset was blazing orange.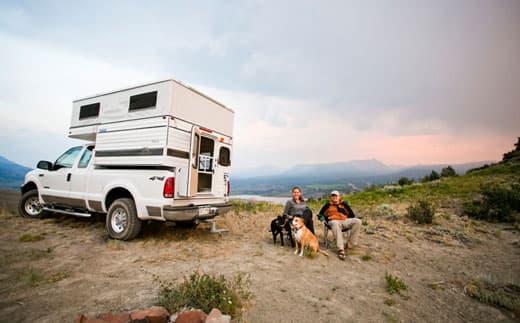 Above: First night with their truck camper on BLM land overlooking Green Mountain Reservoir and the Gore Range, Colorado
We got out our table, got out some food, the dogs ran around, and we took a ton of photos.  We settled in to know it was by far the best purchase we have ever made and that we were in for a whole lot of fun in the years ahead.  We keep saying that a truck camper has to be the best toy an adult can buy.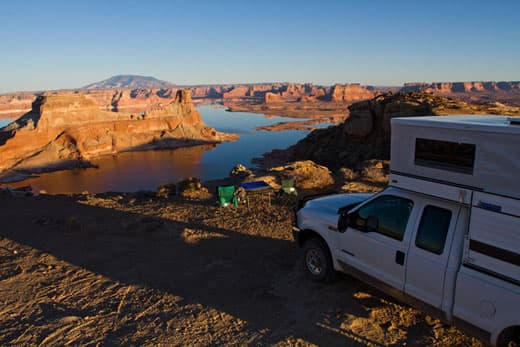 Above: Alstrom Point, overlooking Lake Powell, Glen Canyon National Recreation Area, Utah
TCM: That sounds like a wonderful lifelong memory.  Do you use your Four Wheel Camper rig when you're working at weddings?
Michele: Not yet, but we will.  Using the camper for our wedding photography business is something we hadn't thought about.  Before, we would drive to a wedding and drive back.  Now that we have a truck camper, we can make the most of the things to see and do from here to there and make an adventure out of it.  We can now combine work and play.
Ninety percent of the weddings we photograph are at one of the ski resorts on top of the mountains here in Colorado.  The ceremonies are outdoors and the receptions are inside.  Most of what we do are destination weddings.  Most people are from out of state and come here for the beauty of Colorado.
After a few meetings with Chris, we came to learn that he is getting married this summer.  We hit it off with him and told him that we would love to meet his fiancé.  The next week we talked with them and I think we had drinks and dinner for three to four hours.  We probably could have talked for a lot longer.  They are getting married in Telluride this August and we are really excited that they chose us to be a part of it.
All we do is photograph weddings.  Finding clients who are a good fit is important to our success.  Having fun and putting ourselves out there is how we attract like-minded people.  When we connect we feel we provide better images for them.  And sometimes there's the added bonus of a great friendship.  That is why we like to write about truck camping on our wedding website.  We want people to know about us.  At Chris and Lisa's wedding in August will be camping in our camper with our dogs.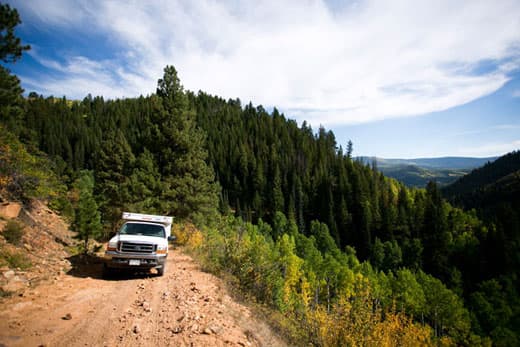 Above: Driving through White River National Forest, Colorado
TCM: I love Day 3 of your journal entry on your website.  It totally captures the essence of truck camping that you don't see when you're looking at the campers at an RV show or searching through our Buyers Guide.  Would it be okay to share that entry with our readers?
Michele: Absolutely.  I keep a journal every night when we are traveling.
"We arrived at the perfect campsite at 4:13pm after a leisurely four-hour drive through the Flat Tops and over Dunckley Pass.  Shortly after taking in the new paradise we had just found it occurred to me that no one I know, except those that do it with us, will ever know what it's like to travel like this.  There is no way to describe what it feels like to drive for four hours on dirt roads, paved roads, over mountains and through valleys to then stumble upon the perfect home for the night where you can listen to the wind rustle the aspen leaves and the streamflow over red rock while watching the sunset beneath a hillside painted in red, orange, and yellow brush.  To sit and breathe the cool mountain air beneath a bluebird sky while observing the fact that there are no signs of civilization for miles around.  To not have a single care in the world except for chopping enough wood for the night's fire and collecting enough water from the stream to put it out.  Although I've used many, there are no words to properly describe what it feels like to be right here, right now.  If I could use only one it would be… paradise."
You reading it back to me was surreal.  I'm glad you enjoy my writing.
Above: Routt National Forest on the edge of the Flat Tops Wilderness Area, Colorado
TCM: How do you decide what you want to do when you go truck camping?
Michele: It starts with the excitement and anticipation of the trip.  That involves maps spread out all over the house.  I am not the best map-reader, but I still love to scour the map for new and fun things to see.  Mark and I thrive off of seeing new things.  That's where our adventures start.
Then we get an idea of the direction we want to head.  For example, in October, it was the end of the wedding season and we wanted to head out west.  The leaves were already off the trees here in the higher elevation, so we wanted to get lower in elevation to see the leaves change.  We had a general idea of where we wanted to head.
On our trip, we came across McInnis National Conservation Area and said, "Let's check it out".  That's the best aspect of truck camping.  If it's a cool place, we stay for as long as we like.  If not, we move on and find something else.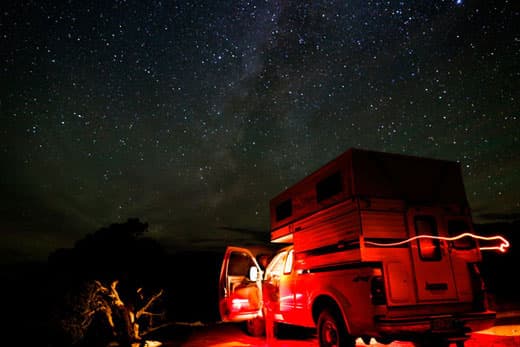 Above: McInnis National Conservation Area, Colorado
I have established one rule; we need to get to our campsite before dark.  We want to get settled and never be in a rush.  We try to settle into our spot around three to four in the afternoon.  Sunset is my favorite part of the day.
Above: Valley of the Gods, Utah
TCM: What do you love about sunset?
Michele: There's something about nature putting on an amazing show for us.  Too few people take the time to appreciate it.  Over the summer, when I'm up to my ears in work, I should take five minutes to see it, but I don't always do it.
When it comes to truck camping, sunset is the time to appreciate everything.  That's a ritual we take.  After that, we enjoy a fire, and there's nothing better than a campfire.  It never gets old.
Above: Alstrom Point overlooking Lake Powell, Glen Canyon National Recreation Area, Utah
Once night falls, we take more photos and retire to the truck camper to look through our photos from the day and reflect on what our day was like.  Then we plan the next day and the next adventure.  It's all fun, and nothing feels like a chore.  Every single part of it is fun.
Above: Canyon Rims National Recreation Area, Utah
TCM: I see you have two dogs.  How do they like your new camper?
Michele: Cosmo is the tan dog and Kaia is the black dog.  They are rescues from Arizona.  We did a few tent camping nights with them that didn't work out.  Kaia is a huge wimp.  She would shake all night and got wound up at the slightest noise.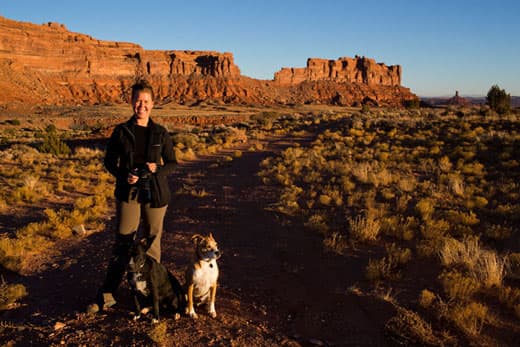 Above: Michele and Cosmo in Valley of the Gods, Utah
Our truck camper has been amazing for them.  They are now comfortable, seasoned travelers.  The dinette turns into a bed and Kaia sleeps in front of the furnace.  She never gets cold, which is ideal for her.  Our two dogs know when we are going truck camping and are thrilled.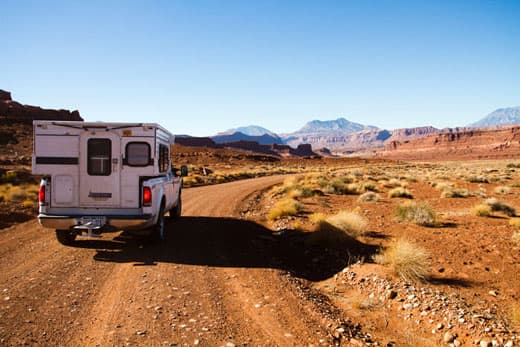 Above: Headed to a remote campsite on the eastern edge of Lake Powell, Utah
TCM: Where have you taken your truck camper so far?
Michele: This summer we only camped in Colorado due to our wedding photography schedule.  Then, in November, we left the day before Thanksgiving to go down to Arizona.  We go every year and stay with my dad.  We used to take that trip in our Subaru.  Traveling on Interstate 70 for hours was not fun.  This year we were able to travel on the lesser-known two-lane highways.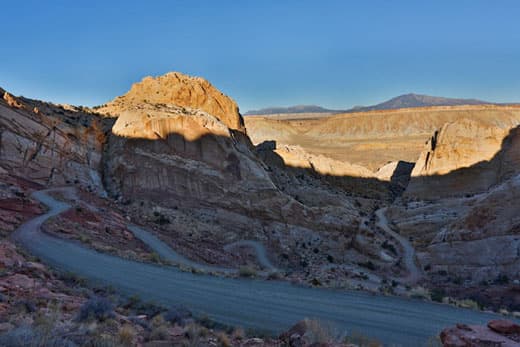 Above: Burr Trail Road, Capitol Reef National Park, Utah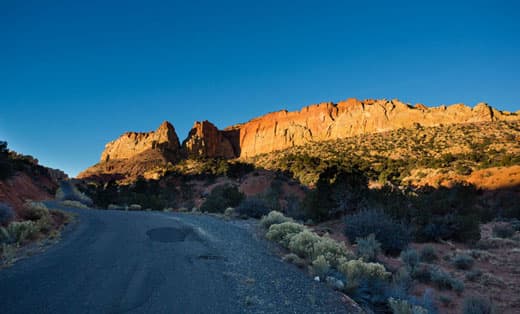 Above: Sunrise in Grand Staircase Escalante National Monument, Utah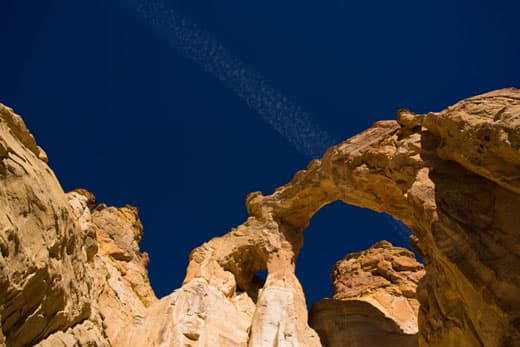 Above: Grosvenor Arch, Grand Staircase Escalante National Monument, Utah
It was much better to go through Utah, take our time, and camp along the way.  The trip was amazing.
When we were in Los Angeles to visit family, we stayed at my cousin's house.  Everyone laughed at us, and said, "Don't you want to stay inside?"  We told them we had a comfortable bed and our own space in our camper, and that we wouldn't have to bother them with our stuff.
No matter where we went, we were at home.  We slept in the camper for six weeks.  When we got home, we realized that our bed at home is so different.  We actually bought a new bed at home to be as comfortable as the one in the camper.  That shows how comfortable we were in the camper.  It's quite a treat.
Traveling in the camper feels like every day is a new adventure.  At home, you know what your day is going to be like.  On the road, it's always new and exciting.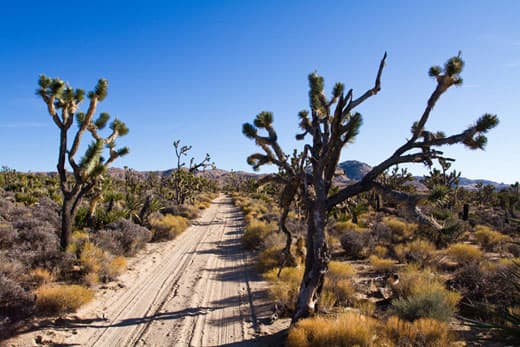 Above: Mojave National Preserve, California
TCM: Where do you plan to go in the future with your camper?
Michele: We have quite a year planned and we're excited about it.  We are going on quite a few different trips.  We're going back to Arizona and we'll do another trip through Utah.  We have just barely gotten our toes wet with Utah.  Hopefully, that will be in the spring.
Mark is from Iowa and we always dread the boring drive back.  Going with the camper we can now make a big trip out of it.  We're thinking of detouring and checking out South Dakota on our way.  We are looking forward to that.
In June I will be running my second marathon in Provo, Utah.  We will go there with the camper.  During my first marathon, I learned that it's hard to stay in a hotel and eat at restaurants before the race.  You get off your routine before the big endeavor.  Now I have my own bed, can make my own meals, and stay right near the starting line because it's being held near the national forest.
From June through September we usually have a wedding every weekend.  As of now, we actually have two consecutive weekends in July where we have nothing planned.  This is an opportunity for us to go out in the middle of July.  We have officially marked that time off and we will head north.
My uncle built a house near Sandpoint, Idaho.  We'll take two and a half weeks to trek through Montana, Idaho, and Wyoming.  In August, we have Chris and Lisa's wedding in Telluride and will make a week-long trip out of it, camping on the way there and back.  So far that is what's in the works.  As the year progresses there will be more to come I'm sure.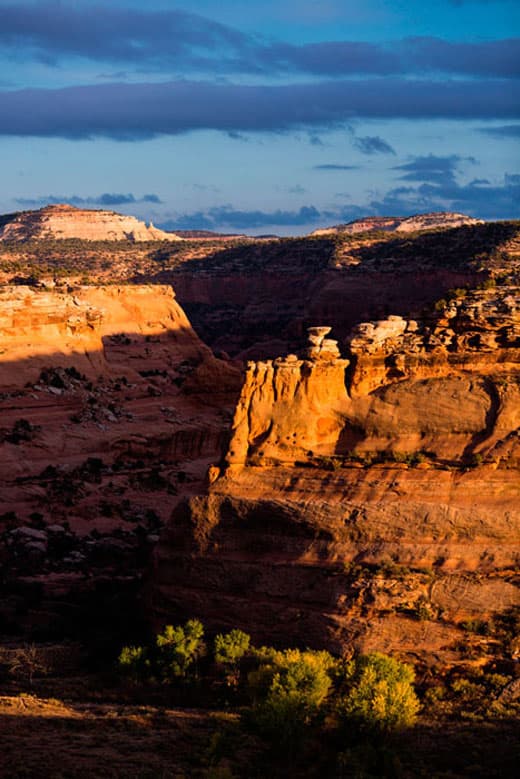 Above: McInnis National Conservation Area, Colorado
TCM: Is there anything else that you would like to add to your interview?
Michele: Our truck camper allows us to maximize our free time whether it be an overnighter during the summer or traveling for two months during our off-season.  We've built our business around the idea that lifestyle is more important than the dollar signs in our bank account.  Our truck camper has really brought that idea to fruition.
It may be cliche, but life is short.  If you dream of owning a truck camper, then make it happen.  Whether you buy new or used, get out there and do it.  Money comes and goes, but time is something we can never get back.
I also want to say that our public lands are the greatest treasure.  They are out there for us to enjoy.  I could never afford a plot of land in some of these amazing places, but for that night, it's our home.  And then we leave it untouched for the next person to enjoy.  It's an awesome thing.  We're so inspired by the great outdoors and want to inspire others to get out and do the same so we've started a website dedicated to our camping adventures: twohappycampers.com.
To visit the Four Wheel website, go to fourwheelcampers.com. Click here for a free Four Wheel brochure.
Mark and Michele Sprague's Rig
Truck: 2001 Ford F250 7.3L Powerstroke Diesel super cab short bed 4×4
Camper: 2012 Four Wheel Camper Hawk Shell model
Tie-downs/Turnbuckles: Interior FWC turnbuckles
Jacks: Rieco-Titan Jacks
Suspension: N/A
Gear: N/A