TCM:
What's been your favorite off-road experience?
Jim: There are endless possibilities of where you can go and what you can do in the BLM lands, national forests, and parks.  My favorite experiences have been in Utah, Colorado, and parts of Nevada.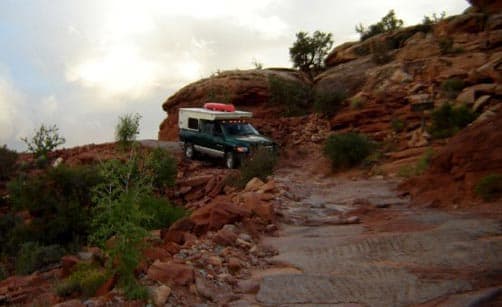 Above: Descending the last segment of Elephant Hill
Elephant Hill through the Needles District of Canyonlands allows for some pretty rough and remote off-roading.  I need to start breaking out and seeing other areas and states.  I love exploring.

TCM: What kind of training or practice do you recommend before someone takes their truck camper off-road?
Jim: My training has been a culmination of over thirty years of recreational four wheeling with Jeeps and trucks on many types of trails and surfaces, from the barrier beaches of Long Island and the east coast, to the mountains and canyons of the Rocky Mountains, through Utah, and the desert Southwest.
My experience has helped me to learn a broad range of off-road skills.  I was among a group chosen by my career fire department a couple years ago to attend an off-road recovery class by professional instructor Bill Burke.  After the class, another off road experienced firefighter and I helped instruct the rest of the department in basic off-road driving and recovery skills with our wildfire four wheel drive trucks.
Although I feel I know quite a bit, there is always more to learn.  Last Spring I put myself through a few more classes on recovery and other basics at the Overland Expo.  I believe that my years of practical experience, trial and error, breaking a few things, combined with my continued interest in professional instruction and classes, will help to give more credence to my off-road opinions and advice.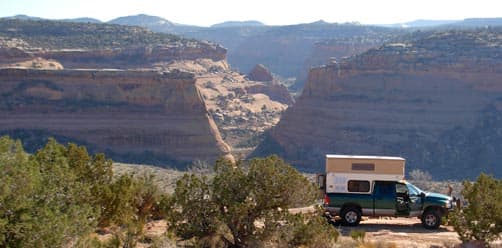 Above: Jim's Hallmark La Veta in Rabbit Valley
TCM: Do you recommend the classes at the Overland Expo to someone who is interested in improving their off-road skills?
Jim: Yes.  Bill Burke and the Overland Expo are two that I've experienced and can recommend.  The Overland Expo gives a great overview of overland travel skills and techniques.  It has great stuff for beginners up to the experienced.  They also have some great hands-on classes at the Expo, usually in one to two hour time blocks.  You see lots of new innovations and products, and get to meet a lot of the who's who in the overland industry.  It's well worth it.  I'm hoping to go again this year for the second time.
Bill Burke is a more of a personal trainer, and I believe he works with individuals as well as groups.  Bill offers detailed, in depth, hands on training from a few hours to a few days.  I personally learned a bunch from both Bill and the Overland Expo classes.

Above: Jim using his winch on Buena Vista trail
TCM: How do you know whether or not you can make it through a trail ahead of time?
Jim: I make a decision based on my past experience, knowledge of my truck's abilities and limitations, plus my skill set for off-roading in general.  I personally may attempt more, or less, than others out there, based on my own levels of experience.
There may be obstacles on a certain trail that the truck camper won't negotiate on its own.  But, I may be able to winch, or build up the trail in a small spot by hand to get through.  I just have to make a determination of, "is my current objective worth that effort, and what are the likely consequences of a failed attempt?".
Sometimes I have parked at a particular juncture and walked a mile or two of trail to see what lies ahead.  Early this fall, I did a four mile walk ahead on a tough trail to get out of Sinbad Valley on the Colorado-Utah border.  The whole way I'm saying to myself, "rough trail, but very doable".  When I got to the end there was a locked gate for private property that maps did not indicate.  I was glad I walked it first despite the distance.
Also, there have been some hard trails that I have pre-driven in my Jeep, and thought that someday I'd like to return with more gear and the big truck for an extended stay.  That was the case with Beef Basin and the Needles District of Canyonlands.