Our first trip in the camper was driving back to Oklahoma for my father-in-law's 80th birthday.  This was a two week trip and we had a great time.  Since then we have taken it to Moab, Utah, Northern California to the Rubicon Trail, and several other states.  It has also been our home away from home here in Washington.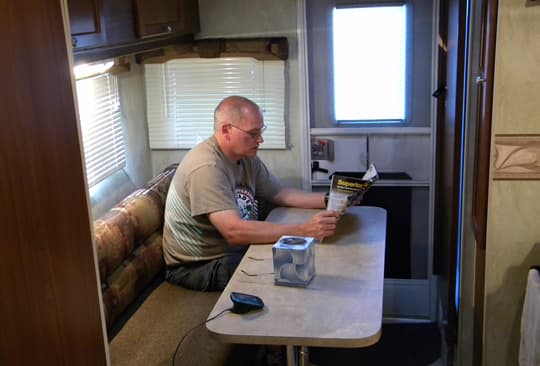 Above: Ron hanging out in his Wolf Creek 850
TCM: What led you to trade up to an Arctic Fox?
Ron: Initially we bought Wolf Creek for just me to go Jeeping with my club.  My wife didn't want to go camping, and the Wolf Creek 850 was fine for just me.  But, for two people, it's a bit crowded and there was very little storage.
After two and a half years, my wife went with me for a weekend and said, "We need something bigger".  That's all it took.  I was like, "Okay" and I started looking for another truck camper.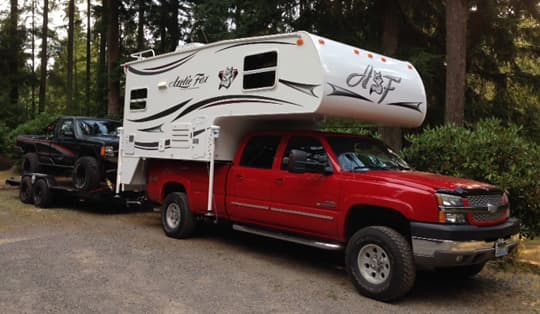 Above: Their new 2014 Arctic Fox 865
I wasn't interested in a slide-out.  We just purchased an Arctic Fox 865 non-slide camper, which is very new and has only been used twice so far.   The Arctic Fox 865 is roughly the same size as the Wolf Creek 850, but has a lot more storage and, in my opinion, is better laid out.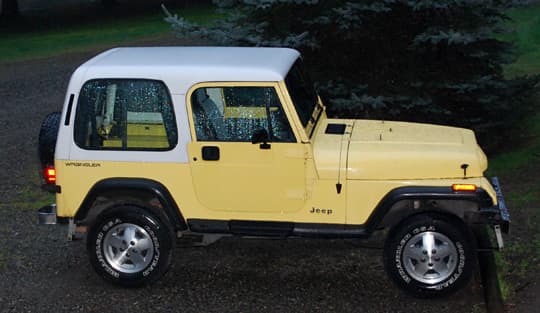 Above: Ron's first Jeep, a 1992 Jeep Wrangler YJ, before the mods were added
TCM: In 2010, we borrowed an Arctic Fox 865 and loved it.  We took that camper down to the Florida Keys and had a great time.  We especially like how the rear windows offer a panoramic view out the back of the camper.  Tell us about your Jeep and wheeling adventures.
Ron: My first Jeep was a 1992 Jeep Wrangler YJ.  I owned that Jeep for five years.  After I bought it, I installed a bigger lift and bigger tires, but I didn't know what else to do.  Then I started going to the four-wheel drive club meetings and trail runs.  I didn't know anyone there when I showed up.
On my first trail run I broke the rear axle of my Jeep on the second day.  For a stock Jeep, the rear axle is not very strong.  Friends helped me get off the trail, put my Jeep on their trailer, and towed it behind their RV.  That's when I knew I had found a good club.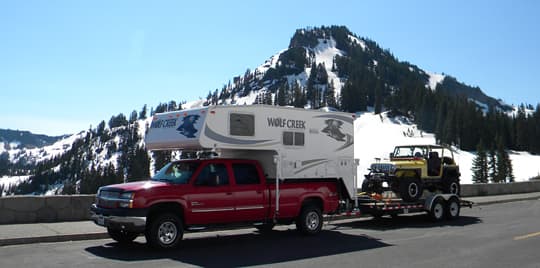 Above: The 1992 Jeep Wrangler YJ behind the Wolf Creek and Chevy rig
TCM: Clearly you made some good friends.  That's what we love about the truck camper rallies.  So what did you do with your Jeep after the rear axle broke?
Ron: The Wrangler was totally stock when I got it.  I added heavy duty front and rear bumpers, rock sliders that go under the doors to keep rocks from crushing doors, heavy steel tube fenders to not crush my fenders, an upgraded roll cage, a winch, lights, a CB radio, new interior seats and carpeting, and a center console.
Above Left: The 1992 Jeep Wrangler YJ after after the lift and tires were installed.  Middle and Right: Fordyce Creek in northern California. – click to enlarge
TCM: Sounds like you turned that Jeep into a tank.
Ron: That's the idea.  I also carried a CO2 tank for airing up tires and an air compressor that runs the lockers in the axle's differentials.  You can lock up the axles in a true four-wheel drive vehicle this is when all four tires are spinning at the same time.