Tim and Ginger Burk urge us to hit the off-road truck camping fun button with a go cart, canoe, tricked-out Suzuki Samurai, and dune buggy.  Don't forget the Shitzu!

By nature, truck campers are an interesting lot.  Some of us are happy leisurely driving our truck campers to full-hookup campgrounds and relaxing for a week or more.  Others have to be constantly on the move, avoid campgrounds like the plague, and go wild with every off-road opportunity imaginable.
The attitude with this second group seems to be, "bring it on" with a wide variety fishing, hunting, surfing, skiing, ATVing, snow mobile riding, mountain goat chasing, and cannonball naked cliff diving.  Okay, we're exaggerating a little with the mountain goat chasing, but you get the idea.  Some of us like to chill out when we go truck camping, and some of us like our hair on fire.  Most of us are somewhere in between.
Tim and Ginger Burk may not be ready to jump from the cliff, but they are certainly more in the second category than the first.  Even though they both still work full-time, they have made it a life priority to have as much fun as possible.  That means truck camping with their Eagle Cap 950, taking on serious Jeep trails in their uber-modified Suzuki Samurai and dune buggy, and always bringing more toys.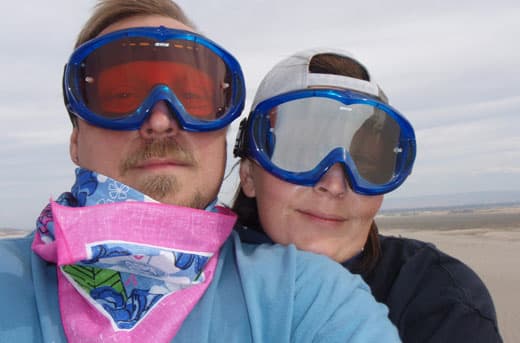 Above: Tim and Ginger near St Anthony, Idaho
TCM: How did you get into truck camping?
Tim: My wife, Ginger, and I have been married for almost eight years and have already owned three truck campers.  Our first was a 1970 truck camper that we bought for $500.  We used that old camper for about a twenty-five days during the first year we were together.  Then we decided to get a nicer camper with things that actually worked.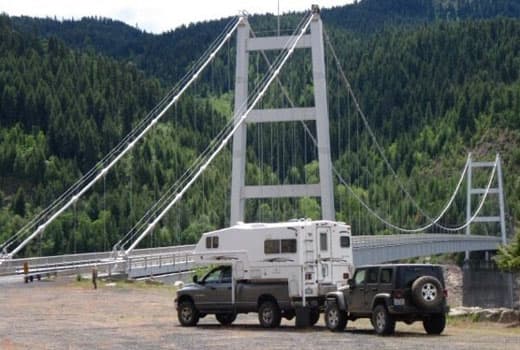 Above: Dworshak Reservoir Bridge, Idaho
Then we took a big step up and bought a Northern Lite.  We used the Northern Lite for about thirty to forty days of camping a year.  That camper was awesome, but we eventually decided that we wanted a slide-out camper.
That led us to our third and current truck camper, a 2010 Eagle Cap 950.  It features a dinette slide and a lot more room.  Now we camp about forty-five to sixty days a year.  The more comfortable we are, the more we camp.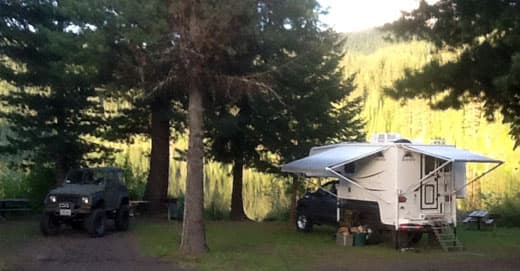 Above: One of their favorite secluded lakes near Elk River, Idaho
TCM: How did you end up choosing the Eagle Cap?
Tim: We were actually at a RV show looking toy haulers for our Suzuki Samurai.  The least expensive toy hauler that could enclose our Samurai was around $80,000.  Not to mention that the thirty-eight foot length of the toy hauler would really limit where we could go.
That's when we noticed a dealer who carried Eagle Cap truck campers.  I stepped into the Eagle Cap 950 and my friend, who works at the dealership, started talking to me about it.  A few moments later, Ginger came over to check it out.  Almost immediately, she liked the bathroom and the slide-out.  Right then I knew we were getting it.
The only real downside to a larger slide-out camper is weight.  Our rig is probably over 1,000 pounds heavier with the slide-out Eagle Cap than it was with the non-slide Northern Lite.  As a result, the rig is not as comfortable to drive as it was with the Northern Lite, but we have a lot more room.
With a non-slide, it's not reasonable for more than two full-sized adults to live comfortably.  We're not huge people, but we were in each other's way in the non-slide during crummy weather and meal time.  With our slide-out Eagle Cap, we have had four adults comfortably in the camper.

TCM: Tell us about the Suzuki Samurai.
Tim: At 2,500 pounds, the Samurai is the biggest and heaviest toy we tow.  We were towing a Jeep Rubicon for awhile, but it was too heavy.  That's when I built the Samurai, and haven't gone back.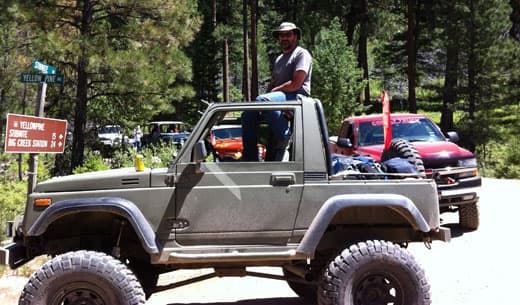 Above: 4th of July parade in Yellowpine, Idaho; Tim's friend, Sean Bray
TCM: You built the Samurai?
Tim: It's a heavily modified 1988 Suzuki Samurai coil sprung VW turbo diesel.  Essentially, it's a street legal ATV.  With the VW turbo diesel, it gets thirty-eight miles per gallon.  It's extremely easy to pull in and out of gas station, the top comes off, it rides nice, and it's reliable.  I could take it 1,000 miles and not worry about it.  It's tiny inside but it's just the two of us, and our dogs that are seat belted in.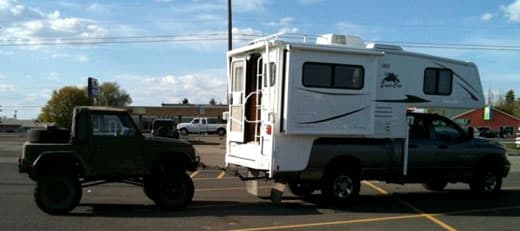 Above: Pre-trip shopping at the local grocery store
The stock Samurai is lower to the ground and has leaf springs, so the ride was rough and choppy.  When my son joined the army, I wanted him to have something fun to drive.  It has coil springs now and is lifted six inches.  He loved it, but he is now married with a family.  So, now we use it for our toad.
The stock motor is way underpowered and not that good for fuel mileage; about twenty-five miles per gallon.  With the VW turbo diesel, we are now getting thirty-eight miles to the gallon.  It's a 1983 vintage motor, 1.6 liter engine, from a VW quantum.  The Samurai always starts conversations.    I've spent more time and money on it than I should.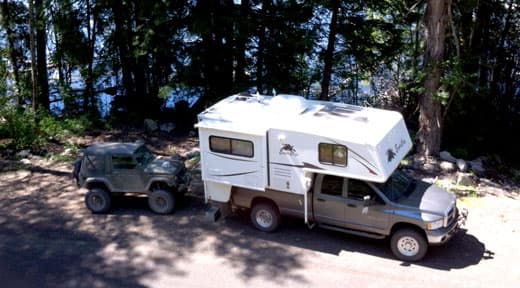 Above: Headed back from nowhere Idaho near Mccall
TCM: A lot us can relate to expensive hobbies.  What do you use to tow the Samurai?
Tim: I have a normal receiver hitch with an eighteen inch extension.  I also have a wireless backup camera on the camper so I can watch what I'm towing.  When I'm towing the Samurai, I really can't tell a difference in miles per gallon or handling.
The best part about the Samurai is that it's street legal.  My wife goes to a week-long school in Salem.  I take her to class in the Samurai and then I go explore.  If we need a loaf of bread, we take the Samurai.
In Idaho, we take our buggy because that is street legal there.  The buggy is more fun than the Samurai, but it does not have a heater or a top.  I've been working on a design for double decker trailer, so that I can bring two toys at the same time.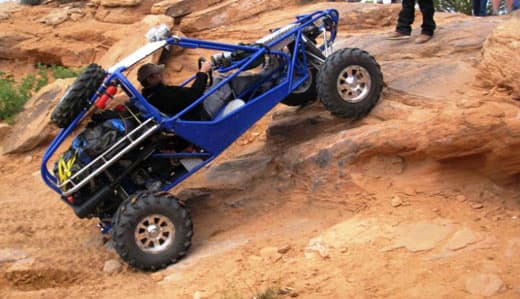 Above: Buggy on the rocks in Moab, Utah
TCM: That sounds like a great idea, but you will likely need a truck with more payload capacity if you're going to tow a double decker trailer with the truck camper.  Where are your favorite places to take the Samurai or buggy?
Tim: We've been to Moab three times, but we have always taken the buggy, never the Suzuki.  Moab being the mecca of off-road adventure, I have yet to go there with the Samurai, but we always have fun with the buggy there.
Each year we take a week and go off-roading with the Samurai.  This year we'll go to Yellow Pine, Idaho with a Jeep group.  Last year there were forty-five Jeeps.  We can do anything they can do in the Samurai.  Our common interest is being off-road.  The off-road community is very helpful.
I've always been an off-road fanatic.  I have been driving off-road my whole life.  Some people look at what we do and say that it looks extreme, but it's really not.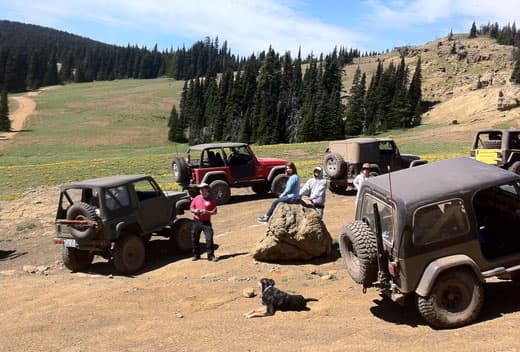 Above: Playing on the rocks at the PNW Trail Jam near Naches, Washington
TCM: Do you always tow toys with your truck camper rig?
Tim: I can't think of a time when we haven't taken something with us.  I towed my backhoe.  I'll tow a go cart when we take out my nieces and nephews.  We'll even take a canoe.  It's all about the toys.
TCM: Since a lot of the places you go are off-road and off-the-grid, how have you prepared your camper for extended boondocking?
Tim: We have four AGM Group 27 batteries.  Two are in the camper and two are under the back seat of the truck on the floor.  I have 165 watts of solar panels and an inverter.  We also just bought a wind generator.
We have a variable speed water pump and I have LEDs for all the interior lights.  We also have an onboard Onan generator and a Honda inverter generator.  The Honda is incredibly quiet.
For water I have a ceramic water filter and extra pump.  I can pump from almost any water source and the water is potable.  I always bring a bucket just in case I can't reach the water source with a hose.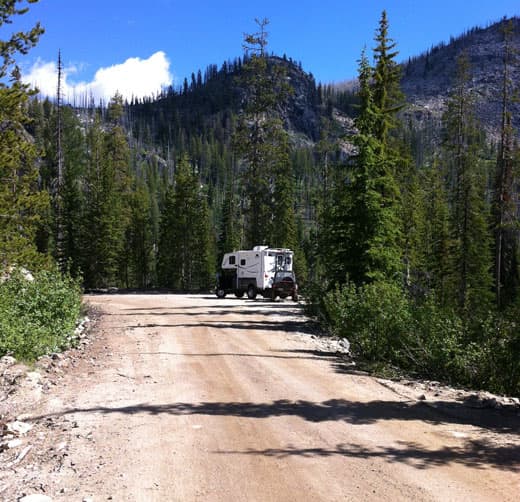 Above: The back way to Yellow Pine, Idaho
TCM: You and your wife still work full-time.  How do you fit your truck camping lifestyle into your work schedule?
Tim: Ginger has been at her job for more than eighteen years and I have been at mine for twenty.  We get a fair amount of vacation which we save mostly for our summer trips.  She gets Fridays off, and I can take days off.  We work hard to get chores done during the week so when Friday rolls around, the camper is on the truck, the toad is hooked up, we are packed up, and we go somewhere to play.  Life is good.
We live in a rural area, so we're not close to people, but if I'm home something always needs attention.  I'm painting or building a fence, so I can't relax.  When we go out camping I have to look for something to do.  Camping forces me to do nothing.  There is nothing more wonderful.
Last year we went to a campground we had never been to before.  It was not crowded, and the back door of camper backed up to this large creek.  The birds were chirping, I was drinking my coffee, watching the river go by, and sitting by the person I love in this world more than anyone else.  How can it get better than that?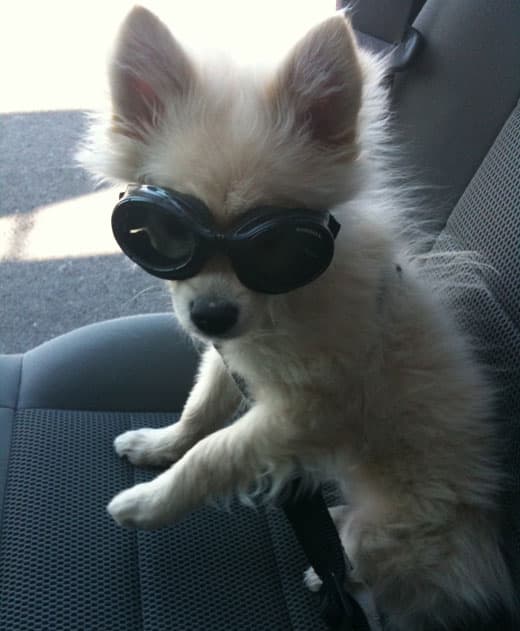 Above: Heiri With his new Doggles, ready for adventure.
TCM: It doesn't.  Earlier you mentioned your dogs.  Do they always come with you?
Tim: We have six dogs, four of which are rescues, and three of which actually come with us on camping trips.  The other three bigger dogs stay home.  My mother-in-law stops in and checks on them.  The little ones come everywhere with us.
Heiri is our only male dog, a twelve-pound Pomeranian-Chihuahua mix.  He took away my wife's sadness when my son left the house for the Army.  Fiona is our Shitzu and she is just happy all the time, sitting by the campfire.  And Joey is the Papillon, who is a cuddly lap rat who follows me around.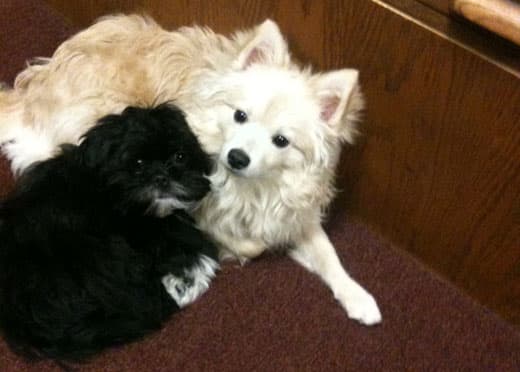 Above: Heiri and Fiona relaxing between trips
TCM: Sounds like a full house!  We sure enjoy having our cat Harley with us when we travel.  Is there anything else you would like to add to your interview.
Tim: I learned an important life lesson from a friend who scrimped and saved.  He was going to retire early at the age of forty-five.  At forty-three he passed away.
While I don't want to be six bazillion dollars in debt, I don't want to wait to have fun either.  I don't know what's going to happen.  Lord willing, I will be healthy until I kick the bucket.  Besides, what else would I do on the weekends?  Sit and mow grass?
Hit the fun button and get out there.  If it's outdoors, I'm in.  Let's go!
Truck: 2005 Dodge Ram 3500, single rear wheel, diesel, long bed, 4×4, quad cab
Camper: 2010 Eagle Cap 950
Jacks: Happijac wireless electric
Tie-downs/Turnbuckles: Happijac
Suspension: 19.5" wheels and tires, Hellwig rear sway bar, air bags in the rear, custom made bump stops for overload springs, cab control air bags, Bilstein shocks
Gear: As a Scoutmaster for the Boy Scouts, be prepared is my motto.

Do you travel with toys like Tim and Ginger Burk do?  Please share your story about traveling with your toys.