Tim and Ginger Burk urge us to hit the off-road truck camping fun button with a go cart, canoe, tricked-out Suzuki Samurai, and dune buggy.  Don't forget the Shitzu!

By nature, truck campers are an interesting lot.  Some of us are happy leisurely driving our truck campers to full-hookup campgrounds and relaxing for a week or more.  Others have to be constantly on the move, avoid campgrounds like the plague, and go wild with every off-road opportunity imaginable.
The attitude with this second group seems to be, "bring it on" with a wide variety fishing, hunting, surfing, skiing, ATVing, snow mobile riding, mountain goat chasing, and cannonball naked cliff diving.  Okay, we're exaggerating a little with the mountain goat chasing, but you get the idea.  Some of us like to chill out when we go truck camping, and some of us like our hair on fire.  Most of us are somewhere in between.
Tim and Ginger Burk may not be ready to jump from the cliff, but they are certainly more in the second category than the first.  Even though they both still work full-time, they have made it a life priority to have as much fun as possible.  That means truck camping with their Eagle Cap 950, taking on serious Jeep trails in their uber-modified Suzuki Samurai and dune buggy, and always bringing more toys.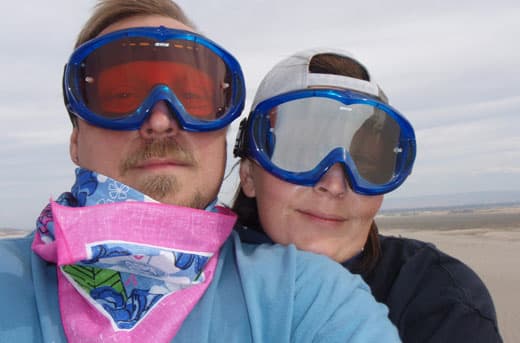 Above: Tim and Ginger near St Anthony, Idaho
TCM: How did you get into truck camping?
Tim: My wife, Ginger, and I have been married for almost eight years and have already owned three truck campers.  Our first was a 1970 truck camper that we bought for $500.  We used that old camper for about a twenty-five days during the first year we were together.  Then we decided to get a nicer camper with things that actually worked.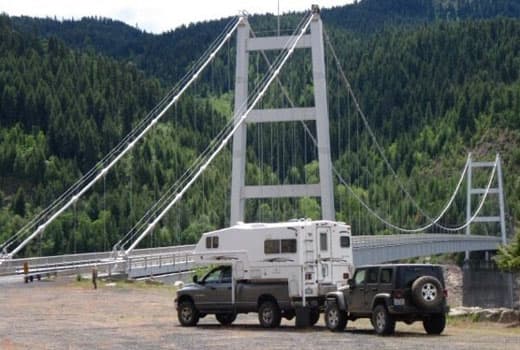 Above: Dworshak Reservoir Bridge, Idaho
Then we took a big step up and bought a Northern Lite.  We used the Northern Lite for about thirty to forty days of camping a year.  That camper was awesome, but we eventually decided that we wanted a slide-out camper.
That led us to our third and current truck camper, a 2010 Eagle Cap 950.  It features a dinette slide and a lot more room.  Now we camp about forty-five to sixty days a year.  The more comfortable we are, the more we camp.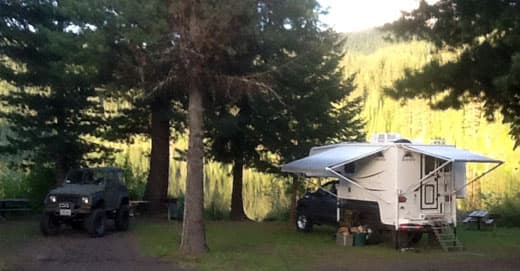 Above: One of their favorite secluded lakes near Elk River, Idaho
TCM: How did you end up choosing the Eagle Cap?
Tim: We were actually at a RV show looking toy haulers for our Suzuki Samurai.  The least expensive toy hauler that could enclose our Samurai was around $80,000.  Not to mention that the thirty-eight foot length of the toy hauler would really limit where we could go.
That's when we noticed a dealer who carried Eagle Cap truck campers.  I stepped into the Eagle Cap 950 and my friend, who works at the dealership, started talking to me about it.  A few moments later, Ginger came over to check it out.  Almost immediately, she liked the bathroom and the slide-out.  Right then I knew we were getting it.
The only real downside to a larger slide-out camper is weight.  Our rig is probably over 1,000 pounds heavier with the slide-out Eagle Cap than it was with the non-slide Northern Lite.  As a result, the rig is not as comfortable to drive as it was with the Northern Lite, but we have a lot more room.
With a non-slide, it's not reasonable for more than two full-sized adults to live comfortably.  We're not huge people, but we were in each other's way in the non-slide during crummy weather and meal time.  With our slide-out Eagle Cap, we have had four adults comfortably in the camper.